There's this bar on the corner of Howell Ave. and Howard Ave. that I drive by fairly often. The business—called Gingerz Sportz Pub—opened in early 2017, which has given me ample opportunity to stop by. However, I never bothered to pay a visit to the establishment, despite living just a few miles away and passing through that high-traffic intersection with regularity, and I can't quite figure out why.
Maybe it's because I've never heard any feedback one way or another about the place. Could it be the superfluous use of the letter Z? Did I unconsciously just write off a local business before ever giving it a chance? Most likely, my failure to set foot inside Gingerz is due to the unfortunate yet all-too-real human tendency to bypass new, different, and potentially unsatisfying experiences in favor of familiar and well-documented ones. I truly try to break those patterns (both for my personal growth and for the sake of my career), but I'm not immune from falling into old habits more than I'd like to admit.
A few months ago, while driving past this bar and grill for probably the 200th time with no intention to stop, I noticed a message on the Gingerz sign. It immediately piqued my interest. It simply read: "COME IN FOR THE CRAIC."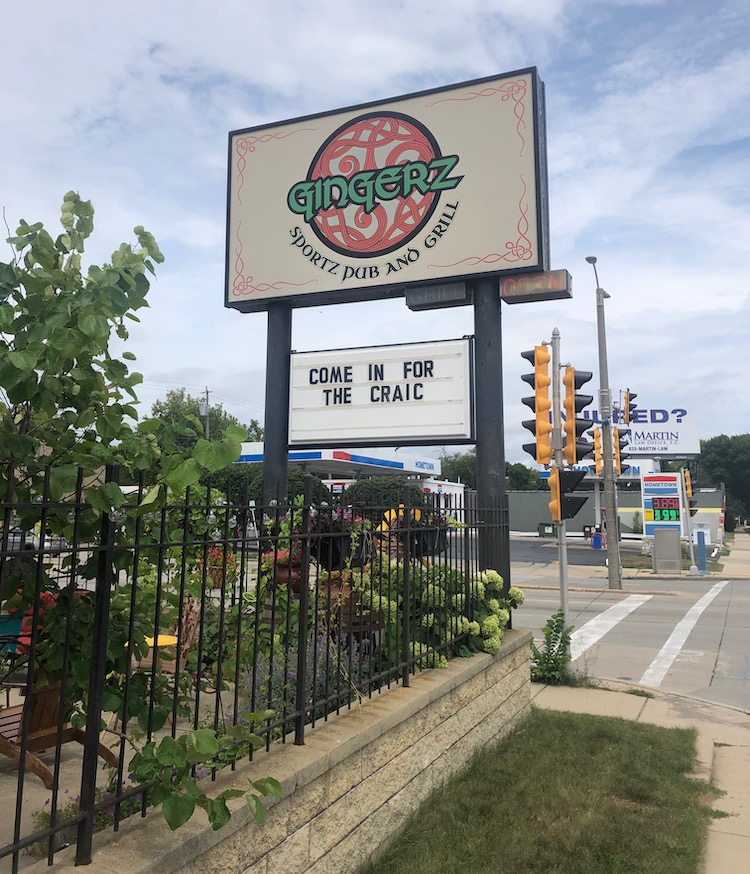 I thought to myself, "What the hell is 'The Craic?'" Then I forget about it for a week or two until I saw it again, once again igniting my curiosity…until whatever podcast I was listening to, or a terrible driver about to hit me, or any number of other distractions got in the way of my remembering to find out the answer. That pattern continued over and over again until this weekend, when I finally decided I would NOT seek the answer to this commuter's query through any conventional means. Rather, I would heed the unwavering and unchanged command of the sign. Yes, I would invite some mystery into my life and "COME IN FOR THE CRAIC."
Because I was intentionally keeping myself in the dark, I wanted to prepare as best as I could for whatever might come after I requested "The Craic." If it was a massive and/or extremely boozy drink, I wanted to have enough food and water in my system to be able to handle it, and I also wanted to make sure I parked somewhere I could leave my car for a few hours if need be. Conversely, if it was some type of food challenge, I didn't want to be too full to at least give me a chance to take it down. Or maybe it was just some type of ultra-traditional Irish dish akin to haggis in Scotland. I brought $43 with me, figuring that was good for at least one Craic. And if The Craic wasn't immune from inflation, I brought my debit card, too. I was ready…or as ready as I could be with zero awareness of what the Craic actually was.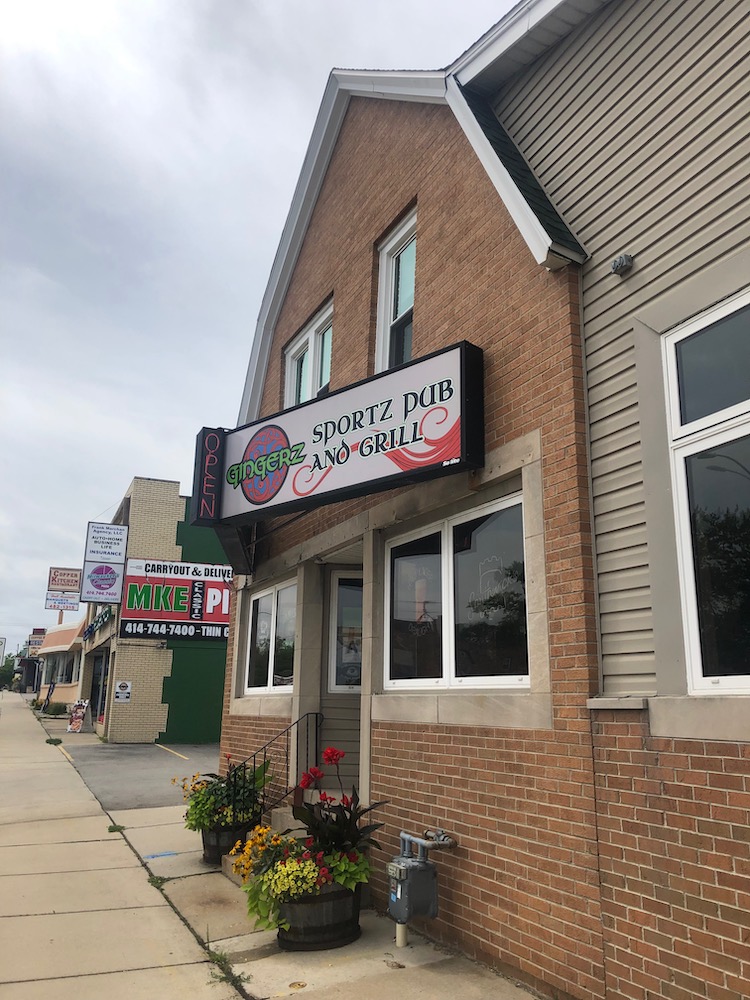 Yesterday, following months of uncertainty and silent speculation, I finally walked into Gingerz Sportz Pub for the first time (after finding the proper entrance…on the south side of the building, not the door facing Howell). As I turned in from the vestibule, I instantly found myself standing right in front of the bar and two employees. They greeted me and asked what I would like to order. It was now or never.
I anxiously stumbled and searched for my words, knowing full well I was about to make an awkward request. Eventually, something close to "Your sign says to come in for The Craic. Can I please have whatever that is?" escaped from my lips. One of the bartenders smiled and (understandably) laughed a little before giving me the answer I had been wanting to know on and off for much of 2023.
"Craic is an Irish word for fun or entertainment," they said. The other Gingerz employee confirmed the term (pronounced "Crack" apparently) meant fun, enjoyment and the like, adding I "could find it here."
Feck. So it looked like my award-winning and soon-to-be viral tale of drinking, eating, or experiencing THE CRAIC in all its imagined glory was out the window. Oh well. I figured I was there already, so I might as well get a drink. A proper pint of Smithwick's Red Ale set me back a mere $5 before tip. I felt my Craic level increase ever so slightly.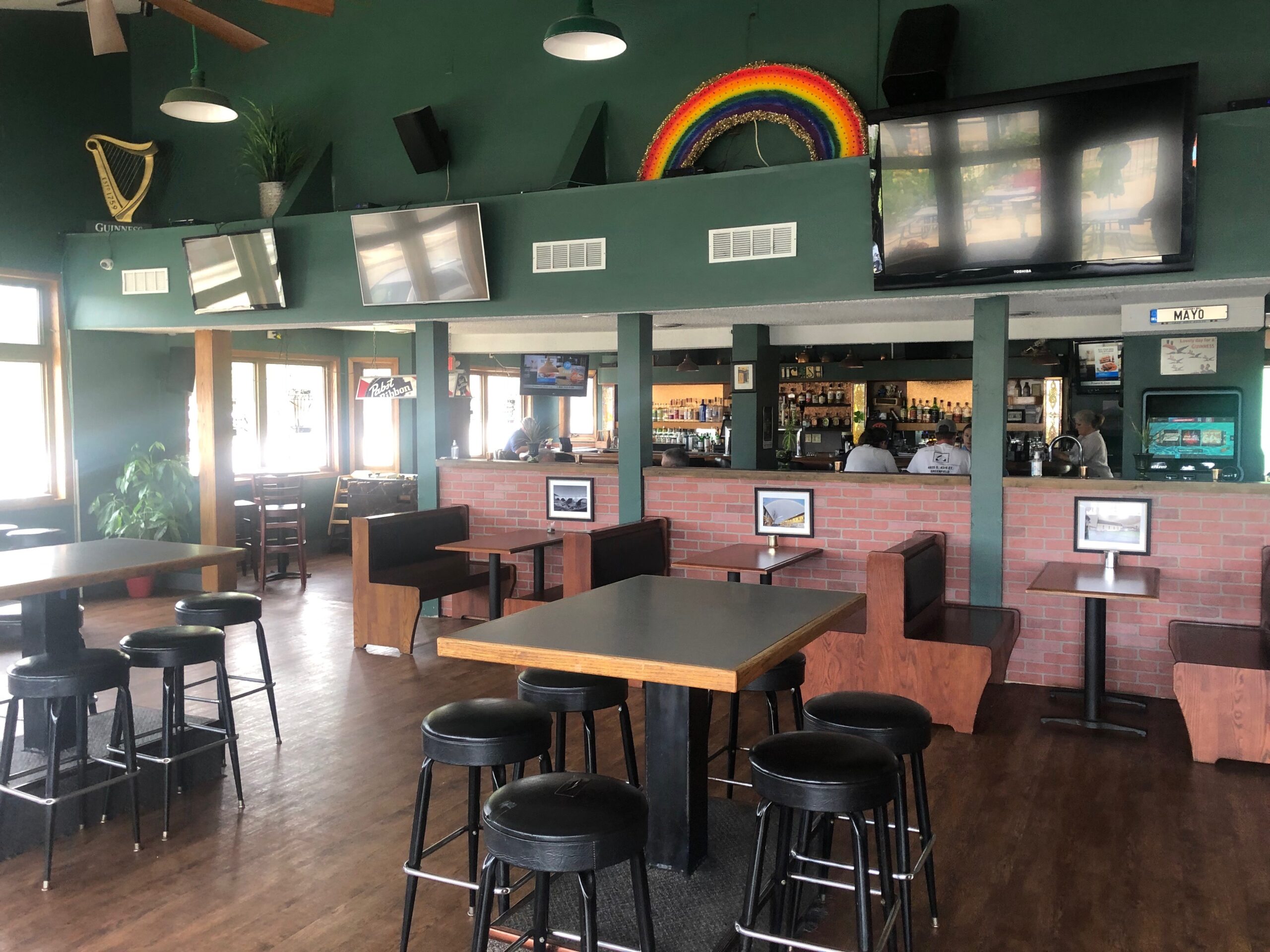 I asked for a food menu as well, but was told they had just finished up their Sunday Irish Breakfast service and the kitchen wouldn't be reopening until 1 p.m. It was good to know there was a weekly Irish breakfast option close to me if I ever wanted some potential Craic in the near future. I took a look at the menu anyway and asked if the patio was open. It was, so I took my drink and headed there. On my way, I noticed the spacious dining area, complete with tons of natural light, ample seating, and a few TVs…including a 132-inch (!!!) HD projection screen perfect for sports (or Sportz) viewing.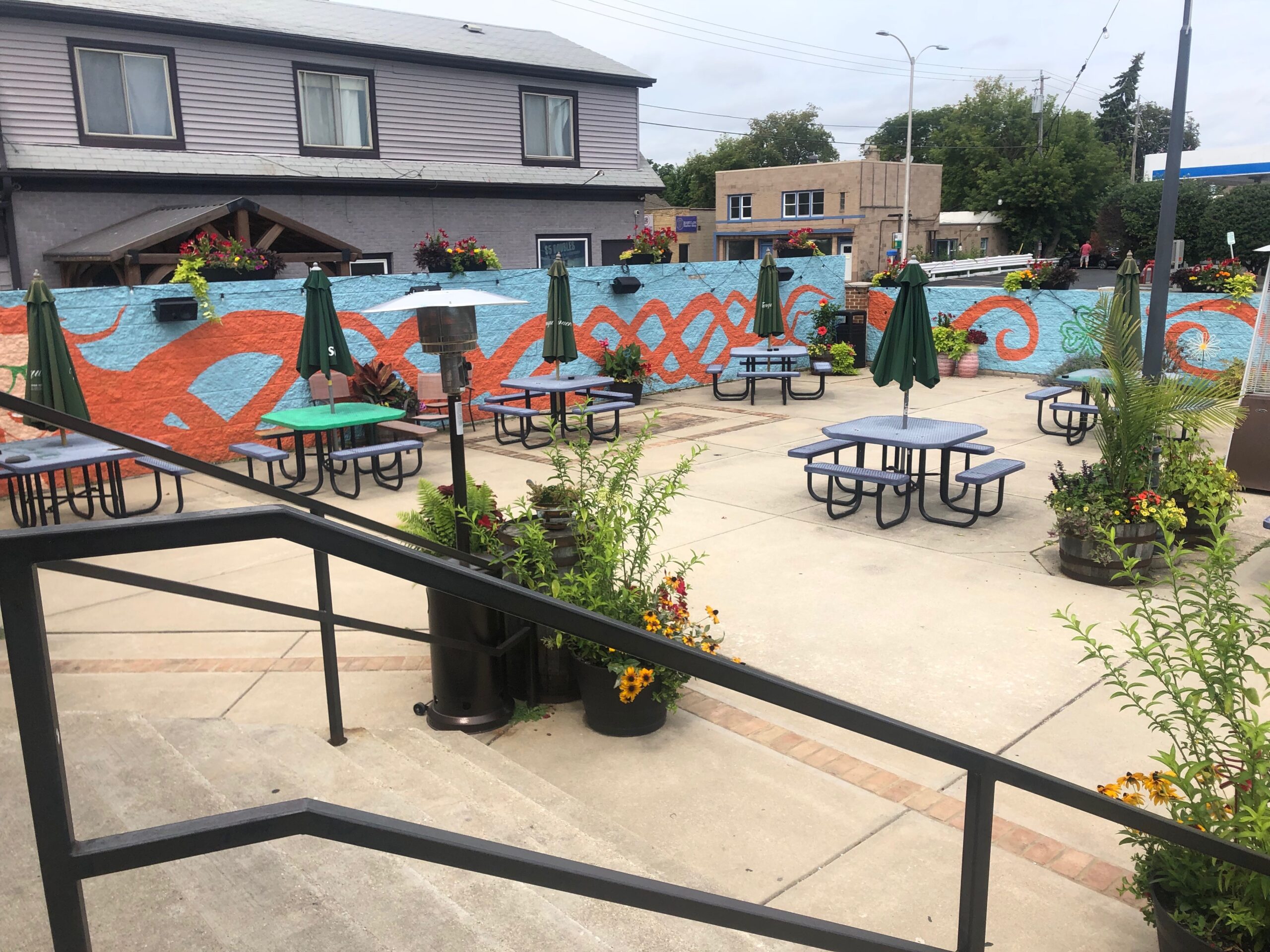 Then I got to the patio. I've seen it from afar while stopped at the Howell or Howard intersections. I recall holding my phone over the fence for one of those patio round-ups we used to post far too often. Yet, with this being my first visit to Gingerz, I had obviously never actually sat out there.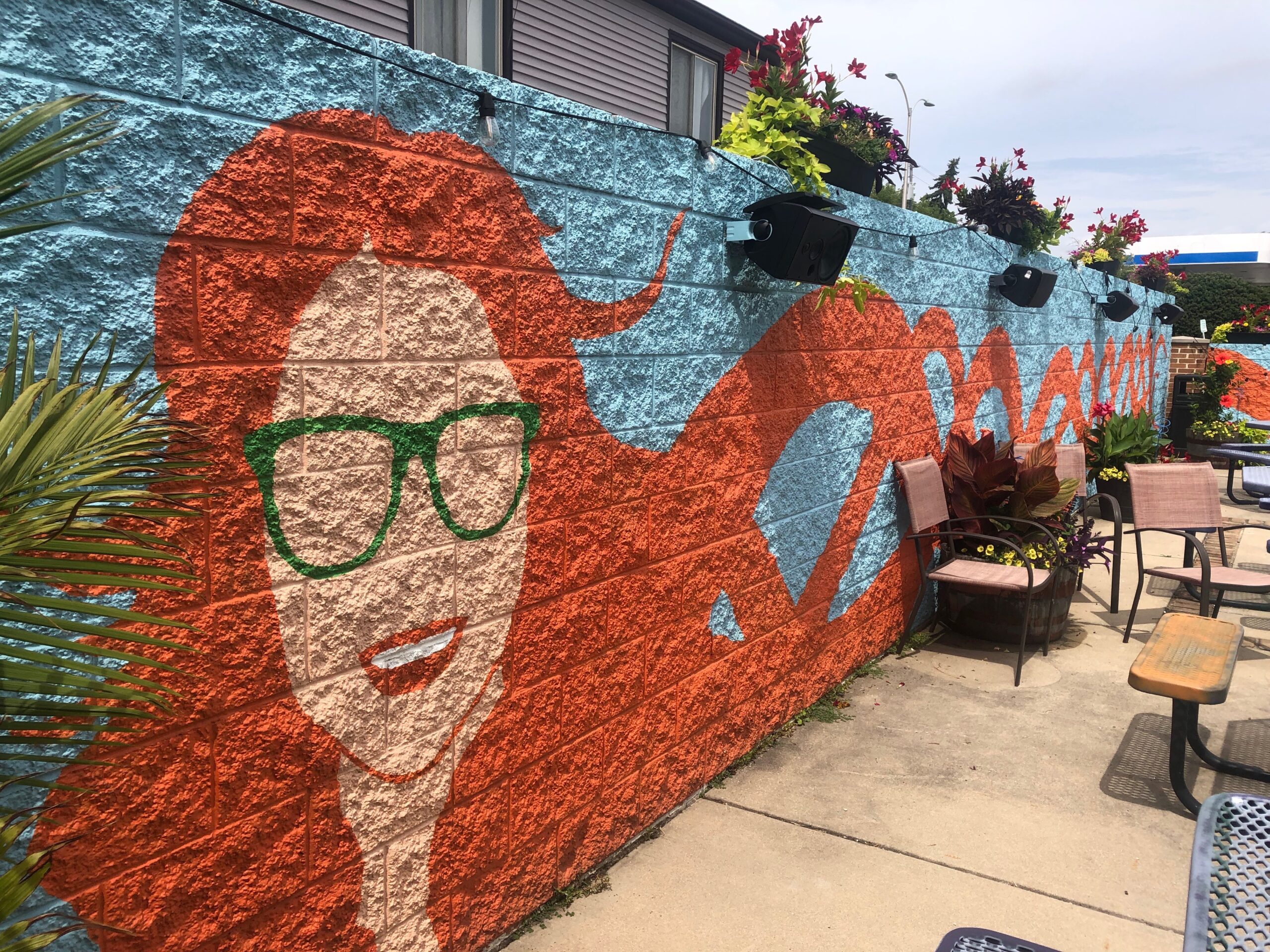 Sure, it's nestled against the corner of two busy streets, but it's really nice! It's bright, full of plants, clean, and has lots of seating. I could definitely see myself enjoying a meal, some drinks, or a game of bags with friends out there. While I sipped my Smithwick's on my own private patio, I looked over the menu. A lot of items sounded legitimately good. It was at the moment that I decided that my first trip to Gingerz Sportz Pub, albeit with an admittedly strange motivation that brought me there, would not be my last.
I learned that—while it's tough to find "The Craic" while sitting alone outside during the one-hour span food wasn't being served—Gingerz does have a lot of ingredients for fun, enjoyment, or whatever "The Craic" means to you. The staff is super friendly. The food seems good and wide-ranging. The beer selection is solid. The patio rules. And it appears they even did a meat raffle not so long ago. It's positively Craic-ing!
I'm sorry and borderline embarrassed it took an odd message on an exterior sign to finally lure me in, but I'm legitimately glad it did. I came in for The Craic. Instead, I found a new-to-me local haunt I'm going to return to soon, as well as a reminder that it's important to try something new, take a closer look at unfamiliar businesses that are right under your nose, and leave room for new experiences…even if you're only doing it because a sign told you to.