Since 2016, Milwaukee Record and Company Brewing have joined forces to make a delicious spiced porter called "Milwaukee Record Re-Porter." For the uninformed, Re-Porter is Company's Night Rye'd Porter that has been infused with cinnamon, cacao nibs, medium roast coffee, vanilla bean, and three types of chiles.
Now in its fifth year of existence, the seasonal brew is generally well-received by beer enthusiasts and has helped raise thousands of dollars for local charities since its launch. A little over two weeks ago, Company Brewing released this year's batch of Milwaukee Record Re-Porter, with a portion of proceeds being set aside to benefit Milwaukee Women's Center. You can pick it up at the brewery itself and at a few other bars and retail locations in and around Milwaukee right now.
If you want to support an area brewery and a deserving local organization by buying some Re-Porter, BUT you either don't drink or you're one of those "I don't like dark beer" people, that's totally fine. If that's the case, I might have another way you can enjoy Milwaukee Record Re-Porter.
A few years ago, I found a recipe for some tasty and fudgy brownies that are made with the shockingly amazing combo of black beans and beer (specifically a porter style of beer). Through the years, I've adapted and refined the original recipe—which, sadly, I can't find anywhere online to properly credit the baker who came up with it!—to make the dessert my own. Of course, the most notable difference in my recipe is the use of Company Brewing's seasonal Milwaukee Record Re-Porter. Since I won't be able to share my Re-Porter brownies with you during Packer games at Cactus Club this year, I figured the least I could do would be to share my recipe. Enjoy!
Ingredients
• A can of black beans
• A can of Company Brewing's delicious Milwaukee Record Re-Porter
• 1½ cups of white flour
• 1 cup of sugar
• 1 cup of brown sugar (I prefer dark brown sugar, but light brown sugar works too)
• 1¼ cups unsweetened baking cocoa
• 1 tsp of salt
• 1 tsp vanilla (or vanilla extract)
• 1 tsp of baking powder
• 1¼ cups chocolate chips (or sub in carob chips for vegan-friendly option)
Preparation
• Preheat oven to 350 degrees Fahrenheit and prepare a 9″ x 13″ pan with cooking spray
• Rinse black beans. Put black beans and a can of Milwaukee Record Re-Porter in a blender and puree until smooth
• Mix flour, both types of sugar, baking cocoa, salt, and baking power in a bowl. Stir well with either a wooden spoon or a rubber spatula while mixing in the bean/beer puree and vanilla. Stir in chocolate chips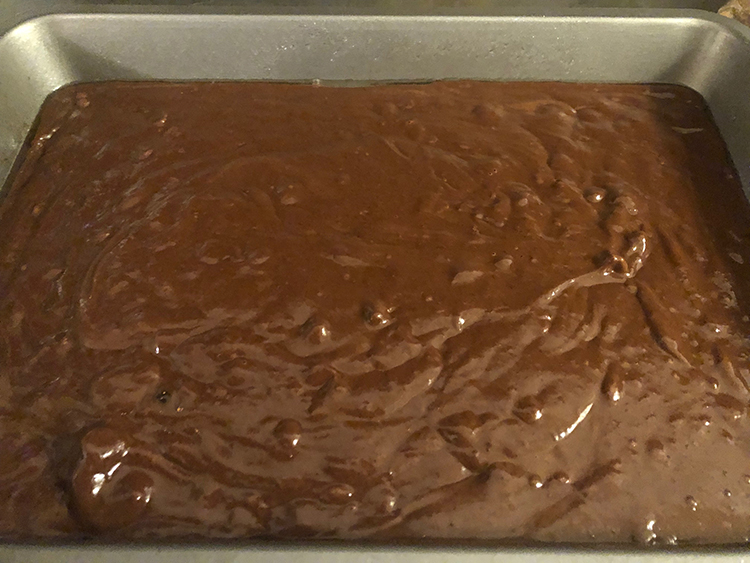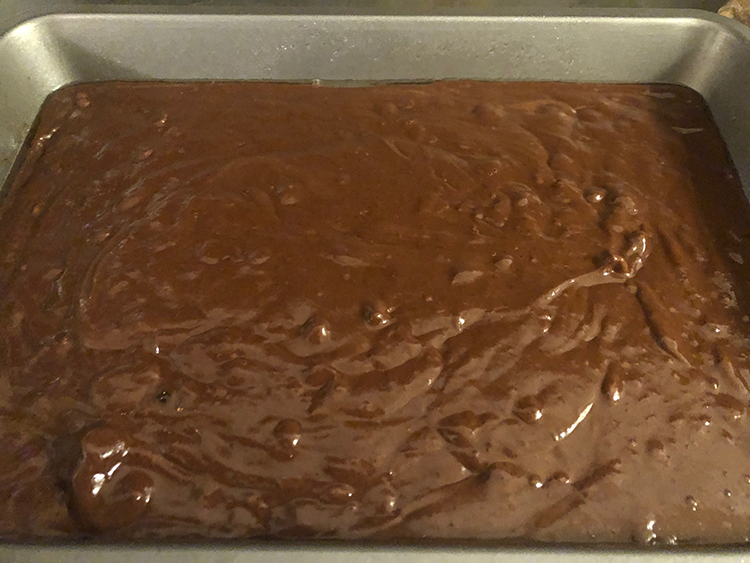 • Pour the batter into the pan. It will look like the above image. Put it into the oven and bake for 25 minutes (or 30 minutes if you don't want them to be a little soft in the middle)
• Removed from the over and cut once completely cooled
• Enjoy