Caleb Westphal hasn't missed a Friday night fish fry since 2013. Follow along with his record-in-the-making here.
The last time I went to McBob's (4919 W. North Ave., 414-871-5050) for fish was about four years ago. I had good memories of the experience, so I thought it was time to return. Maybe it was because five of the last six places I've gone to have been all you can eat, or maybe it was because the restaurant was not as packed as places I've been the past few weeks, but the experience was pretty average this time. Don't get me wrong, it still had some good qualities, but I left wanting more.
As you enter this Irish pub you find the lighting dim with green lights hung around the bar and dining area. I grabbed a seat in the dining area and ordered a pint of Pabst and clam chowder. I was happy to see that there was a Friday happy hour and my beer was only $2. The chowder was really peppery which gave it a bit of a kick. As you may know, McBob's is no stranger to bringing the kick; it's a perennial winner of "Best Heat" at WMSE's Rockabilly Chili Fundraiser. The chowder also had a lot of red potatoes in it, and I thought it was pretty decent overall.
Although McBob's doesn't have AYCE on the menu, it does have a variety of options. You can choose walleye, perch, or grouper ($12.25 each), a combination of two of those ($13.50), or all three ($15.50). McBob's also serves fish frys during lunch for a cheaper price, and all of these meals can be purchased on both Wednesday and Friday. For some idiotic reason I chose to get only two types of fish, the walleye and perch, instead of getting all three. So, it was mainly my fault that I left hungry.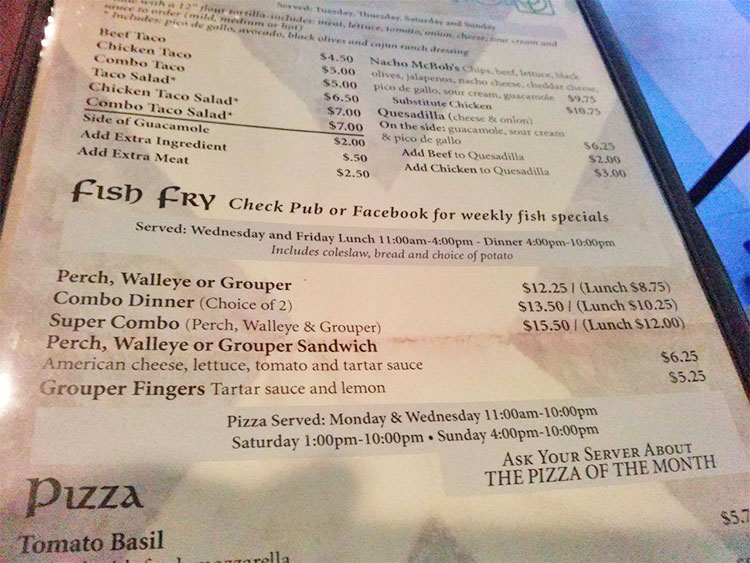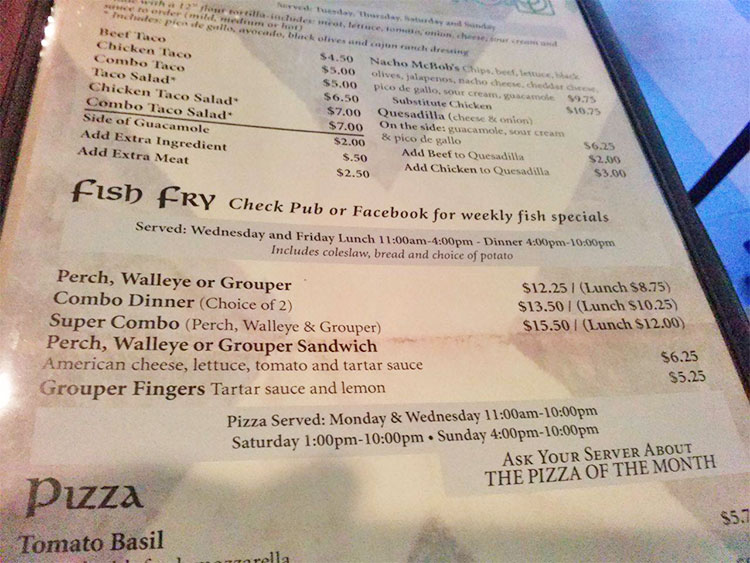 The perch and walleye dinner comes with two pieces of perch and one piece of walleye. Perch is almost inherently good wherever you go and there was no exception here. It was really tasty with a thin dark breading. However, I was disappointed that you only get two small pieces, and I could have gone for a few more. Although the walleye was a pretty big piece, I wasn't that impressed with the flavor. The potato pancakes were appetizing but seemed closer to hashbrowns, without onions, than they did pancakes. They were still really good, though. The coleslaw was a standard creamy slaw, and the bread was a buttered marble rye.
McBob's has a decent fish fry, but after going to so many places since I've last been there it didn't rank as high as I anticipated it would. I wouldn't rule out trying it again, but I think the next time I'm in there I'm going to be getting something else. As I was eating my fish I saw numerous plates of corned beef and reuben sandwiches coming past that looked amazing. That's what I'll be getting, and I don't think it will take me four years to get back.
Rating: Fish combination options, cheap beer, great tasting but not enough perch, mediocre walleye, original clam chowder, fish available earlier in the day and on Wednesdays. 3 out of 5 stars.