It's an exciting time in Milwaukee dining. Outstanding new restaurants are opening brick and mortar locations throughout the city and the surrounding suburbs at an amazing rate. An ever-growing menagerie of food halls and food truck parks have become dining hubs and now serve as incubators that allow exciting culinary endeavors to find their footing. Food vendors have a noticeable presence on city streets, on bar patios, and at farmers markets and festivals like never before.
Another somewhat recent happening is the increasing number of restaurants opening locations inside of other businesses. Adding to collaborations like Trouble Makers Cocina setting up shop in Central Waters Brewing's Milwaukee Taproom, The Truck Stop bringing eats to The Garage, and The Saucy Swine serving up barbecue at RedBar is another prime local food and drink pairing. Since the end of September, Fox Den has been giving customers at Great Lakes Distillery an opportunity to indulge in "smashin' patties and foxy bites" while enjoying the Walker's Point establishment's award-winning spirits.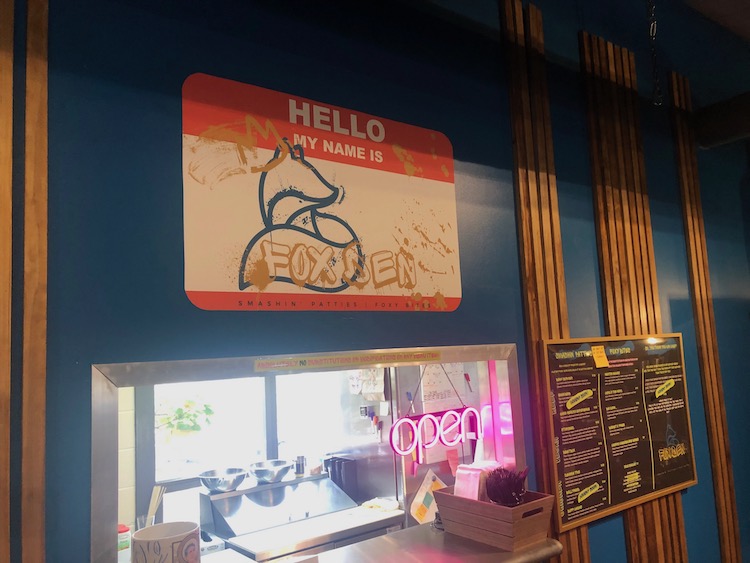 Originally started as a truck back in June, the young comfort food concept is the brainchild of Sherrilynn Law and Jacob Neitzer. The pair has decades of combined food service experience in both front of house and kitchen capacities. They've worked together since 2016, but—following some unsavory experiences they each endured in the food industry—they decided to formally partner up last year to get Fox Den into motion. Disappointment struck again shortly after their foray into the food truck business, but as that door closed, a widow of opportunity opened. That window just so happens to be near the gift shop of a longstanding area distillery.
"Having Fox Den operate out of Great Lakes Distillery came about in a kismet sort of way," Law says. "Jake and I had just learned that we would no longer be able to keep leasing the truck we had been working out of. At the same time, we also found out that The Galley was no longer going to be at Great Lakes Distillery and the kitchen space there would be available. It all kind of came together."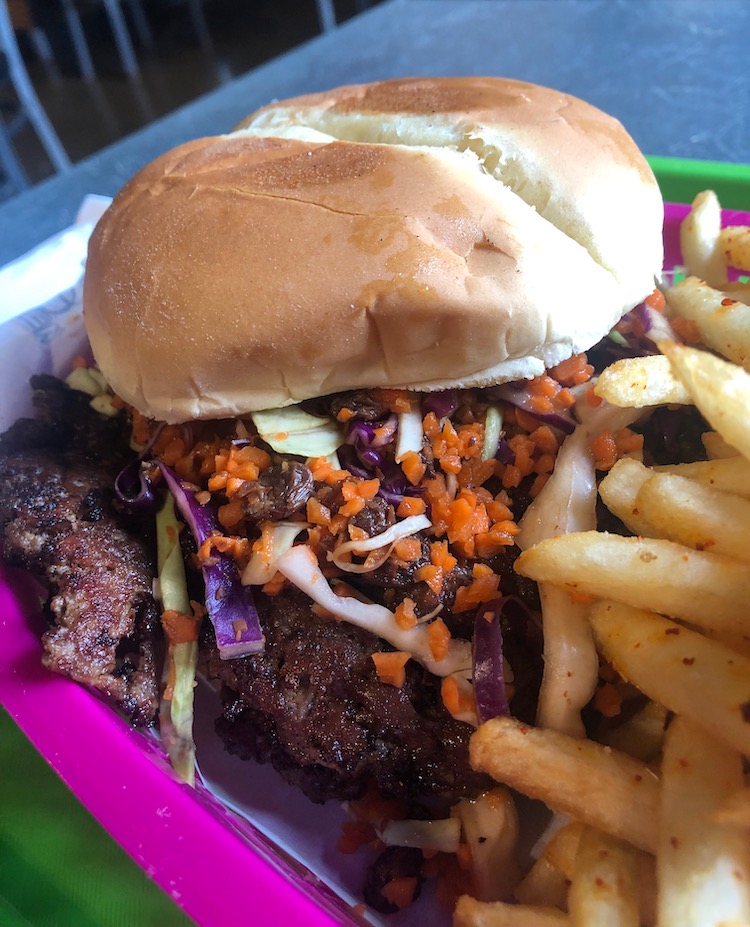 Fox Den quietly started serving some of its specialty smash burgers and eclectic collection of side dishes out of Great Lakes Distillery this fall. With the waters appropriately tested and cravings created for oodles of distillery customers, the restaurant opened in full last weekend. At this point, customers can choose from eight inventive and indulgent smash burger creations. There are three beef-based burger varietals, including the "Chimi Hendrix Experience"—pictured directly above—that's topped with a decadent cheddar and chorizo spread, a fresh Dominican slaw that's rich in chopped vegetables and raisins, and as the name might suggest, a slathering of chimichurri between a mushy bakery bun. It's massive, it's messy, and it pairs extremely well with a cocktail (such as the gin and tonic pictured up top).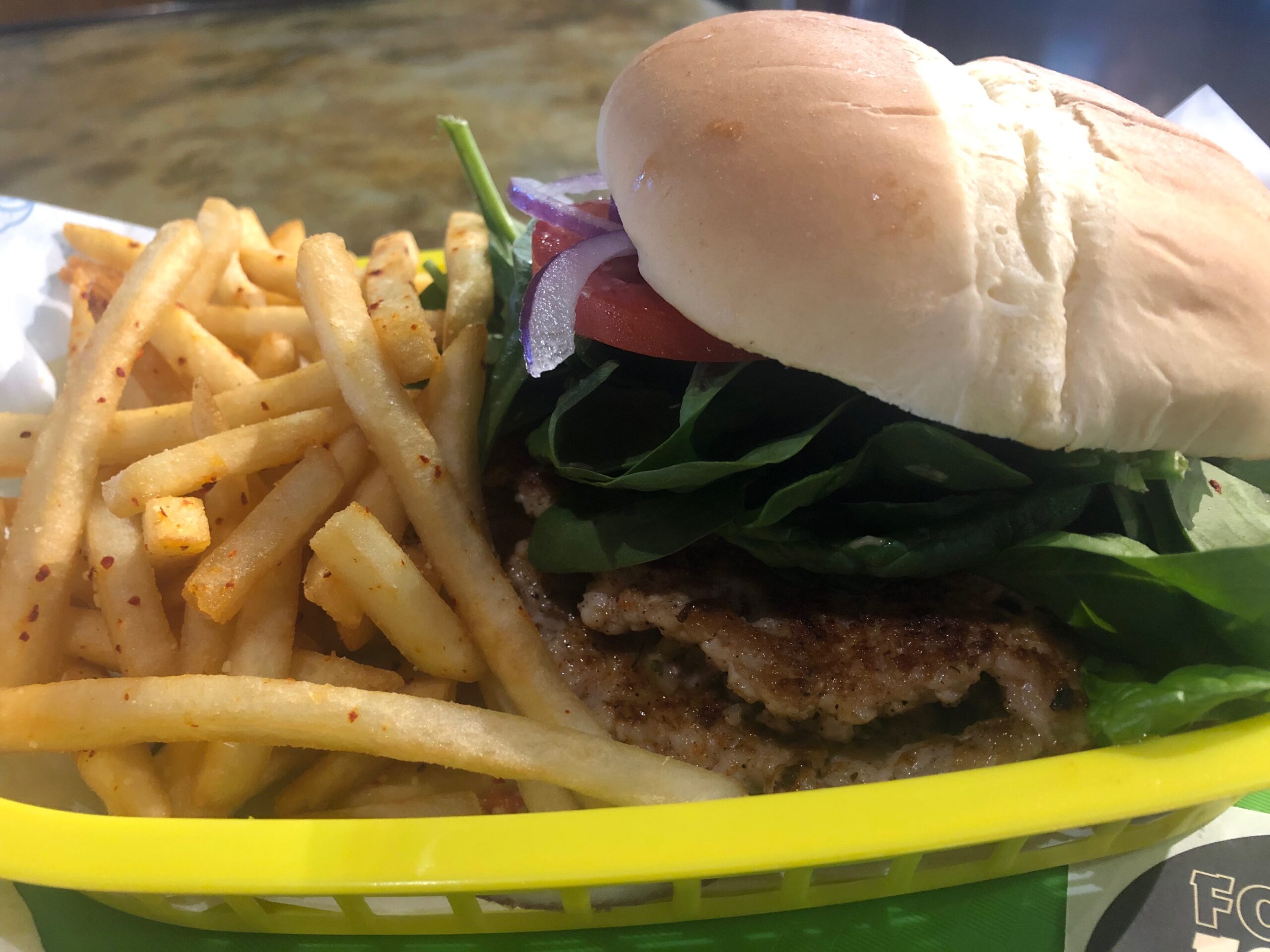 If you're seeking something on the lighter side…at least comparatively speaking, consider partaking in the delectable, Next Generation-nodding "Deanna Troi," which is a Greek-inspired double chicken smash patty burger that's blanketed by a heap of spinach, raw onion, tomato slices, olives, and a creamy house aioli. For the vegan who's grown tired of ordering a redressed Impossible or Beyond burger, Fox Den has you covered with a dynamic duo of options anchored by house vegan patties. In all, the restaurant is serving up a familiar food favorites, but with combinations and ingredients not usually seen on burgers elsewhere.
"We really wanted to take a staple of American culture that everyone is comfortable with and put our own weird little spin on it," Law says. "We shared an observation that the industry was oversaturated with the same representation of what could potentially be an incredibly versatile canvas, and at that, took up the helm of doing something excruciatingly common in a rare and strange sort of way."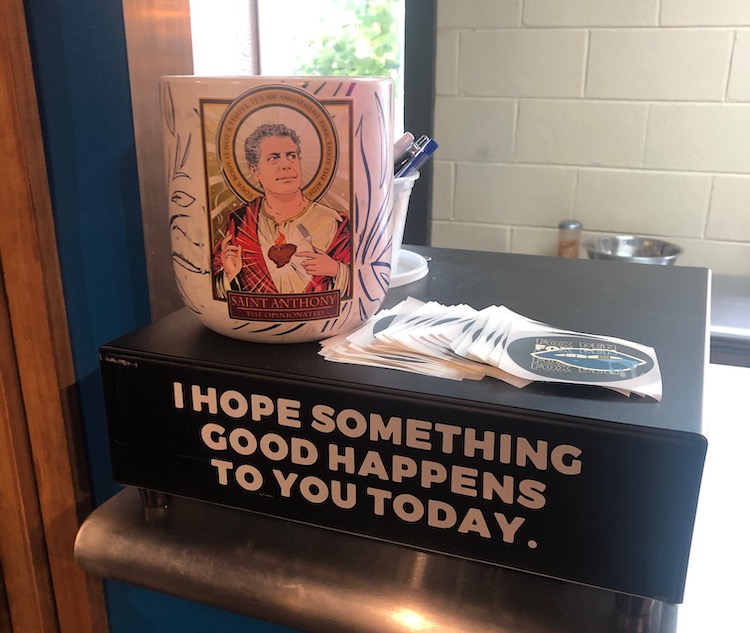 Many of the so-called "foxy bites" Fox Den offers are decidedly less common fare than you'll find at your average burger joint. On the list of sides, you'll find items like Wonton Nachos layered with pickled vegetables and bulgogi beef (or "bulgogi tofu"), fried pork Bao Buns, and Churro Cheesecake Bombs alongside more common options like Clock Shadow cheese curds and a basket of their standout fries that are akin to McDonald's with a noticeable, game-changing dusting of chili flakes and coarse grains of salt.
Having now experienced its grand opening, Fox Den will be serving up "smashin' patties and foxy bites" inside Great Lakes Distillery on a daily basis. Whether you'd looking for something tasty to pair with your spirit or you're just looking for a bite to eat sans beverage, just walk into the distillery and hang a left to find the latest restaurant cooking up goodness inside the walls of another active business.