In 2011, a little British pub called Three Lions Pub popped up in the northern part of Shorewood. A safe haven for soccer hooligans and an occasional karaoke host with traditional British food and a fun-loving nature, the suburban pub was among the few catalysts that helped advance the process of Shorewood pulling the figurative stick from its ass. Almost four years after Three Lions' concept jumped the Atlantic and landed on Oakland Avenue, Red Lion Pub (1850 N. Water St., 414-431-9009) roared into the Water Street space Brocach occupied since 2007. A group composed of owners from unabashed Brit bar Three Lions and owners from laid-back eating challenge emporium Red Rock Saloon met in the middle, both geographically and conceptually, to open a hybrid pub on Tannery Row that catered to a young crowd and adhered to the European theme. A few weeks after its December 5, 2014 grand opening, Milwaukee Record stopped by Red Lion to see if the odd pairing of two successful but drastically different bars would pay off.
The space: The overhaul is apparent right away via the swapped-out Brocach signage and removal of all things green from the ex-Irish bar's exterior and interior. There's a phone booth (decoration only…imagine if people still used those!) tucked beside a wall to the right of the bar—one of the few walls without a TV mounted to it showing soccer. If futbol isn't your thing, there's an excellent view across the Milwaukee River to pull your attention away from impending 0-0 ties. With hardwood floors, onyx tables and stools, and all-around sparing decor, Red Lion offers a classic and cozy pub feel with some modern music accompaniment and electronic amenities.
The service: Arriving at the tail end of the brunch hour, the bar was essentially ours. As a result, our bartender was right on top of our order, being one of her only customers and all. At times, she was almost too attentive and willing to come by and check on us and our guest frequently (halting conversation each time)—a likely/acceptable byproduct of not having enough to do during our off-hour visit.
Milwaukee Record's food/drink: Before we shuffled through both the brunch and match-day food menus, we scanned the pub's lengthy list of bottled and draught beer options for something to sip as we perused. With close to 60 combined options, we quickly eliminated all but 14 by focusing on the tap lines. Per the bartender's recommendation, we started with a pint of Fuller's London Pride, an easy-sipping (4.7 percent ABV) English IPA.
Eventually, we ditched the match-day menu altogether and focused on brunch fare. Yes, there were some offerings whose reputation crossed the pond—things like Scotch eggs, mushrooms on toast, and chip butty—and usual brunch fare like French toast, eggs Benedict, and biscuits and gravy. We went an entirely different direction and ordered the Pub Burger ($9), a half-pound hunk of beef with lettuce, tomato, and onion nestled within a brioche bun. The side of seasoned potato wedges (or chips, if you're married to this British theme) that accompanied the burger were the highlight of the meal with their crispy outsides, soft and moist innards, and a subtle kick of spice. The soft bakery bun carried the burger. We've had far worse bar burgers (on the East Side alone), though the patty was a mite dry and lacking in seasoning.
Not exactly bowled over with the London Pride, we echoed the proud libation with a pint of Lion's Pride, an 8.6-percent ABV chest-burner of an imperial the bartender said was the bar's top seller so far, and with good reason. It's evidently made in Milwaukee. In all, the two pints, burger, and fries, er…chips came to $21.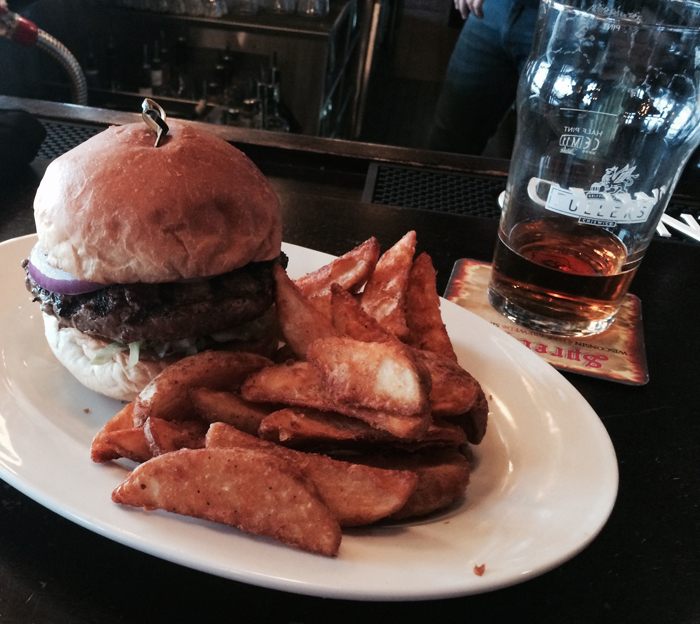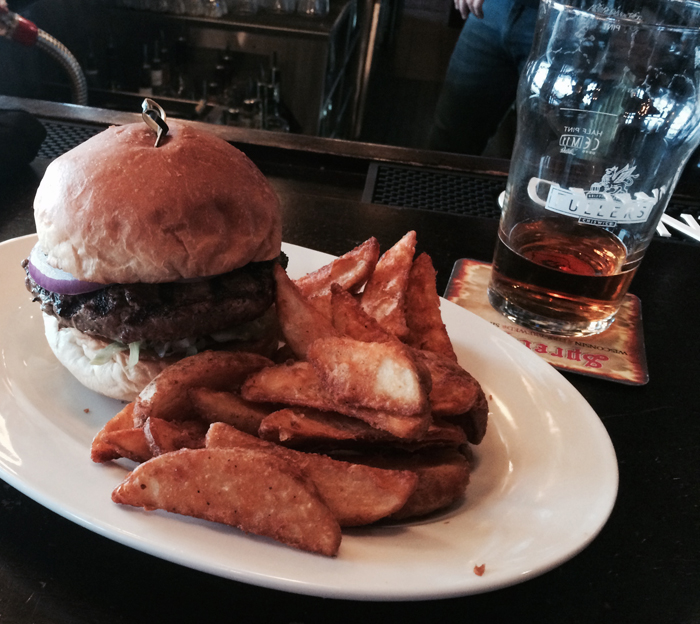 The verdict: With a business model that proved successful at nearby Three Lions combined with a location and property that far outshines its Shorewood sister pub, The Red Lion is on its way to being the pride of British bars in Milwaukee.