For every Milwaukee-area restaurant that promptly opens without warning or anticipation, approximately one dozen land nowhere near the neighborhood of their projected launch date. It's not as much a Milwaukee-specific problem, as it is the byproduct of things like an incessant gauntlet of governmental red tape, unforeseen issues confronted during the construction/renovation process, not being up to health code, or any number of other issues that make most of the world say "fuck it" and never start that bar or restaurant they've long dreamed they would open. Bay View's District 14 (2273 S. Howell Ave., 414-744-0399) landed squarely in the camp of tardy starters, which was especially tough to take after learning it was to be a growler bar and microbrewery. Since the projected opening date, the calendar year changed, three seasons came and went, a cluster of nearby bars and restaurants started serving, and construction on a heinous-looking art exhibit/bus stop across from the brewery-to-be both started and was completed before District 14's "open" sign was illuminated for the first time.
Some 10 months after its anticipated open in December 2013, the newest bar in Milwaukee's 14th district was finally ready to roll out the barrels of in-house brews in mid-September—at least in a soft open capacity. With the better part of a year to salivate, speculate (Was this going to be another Irish Genie-type hop-tease?), and do that creepy peer-into-the-window thing whenever in the vicinity, Milwaukee Record finally had an opportunity to taste the beverage from the business that's been taunting much of Bay View since 2013.
The space: Even before entering District 14, a great deal of the delay was explained to us on sight alone. Most recently, the site was a long-vacant, dingy, beige-sided monstrosity with a flimsy green canopy that was coalescing to undoubtedly diminish the property value of neighboring Cafe Lulu. Now the building's façade is stripped and sanded. A canopy no longer obstructs the (since-replaced) exterior windows, and a small-but-sleek D14 sign protrudes ever so slightly. The interior further excuses the delay, as elegant new hardwood flooring stretches across the entirety of the long, narrow brewpub. The aisle is flanked on one side by a short row of tables, an electronic dart board, local paintings left behind after last month's Bay View Gallery Night, and a small window-lined room with a shimmering, sparsely-used vat. On the other side, a vast and varnished bar extends about half the length of District 14's northern wall. The dim interior adds to the timeless feel, but the wall mounted flat screen televisions suggest at least partial acceptance of modern amenities. We even spied an unfinished canoe tucked in a ceiling-adjacent nook near the rear of the establishment.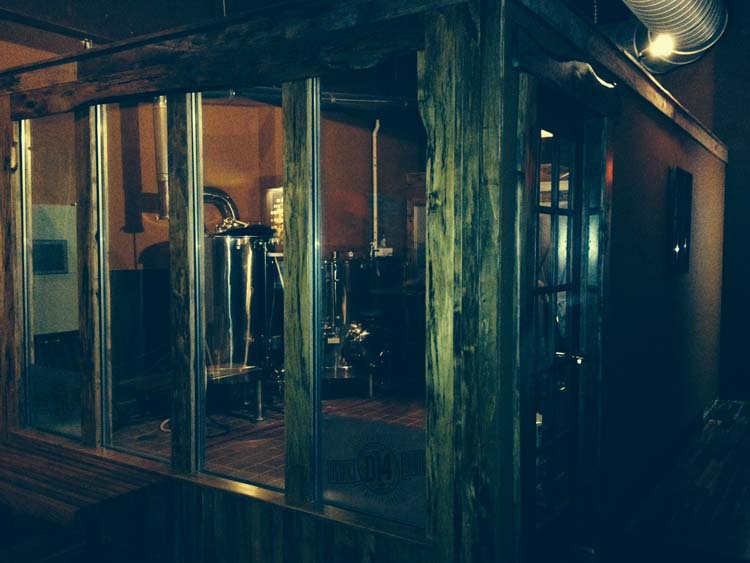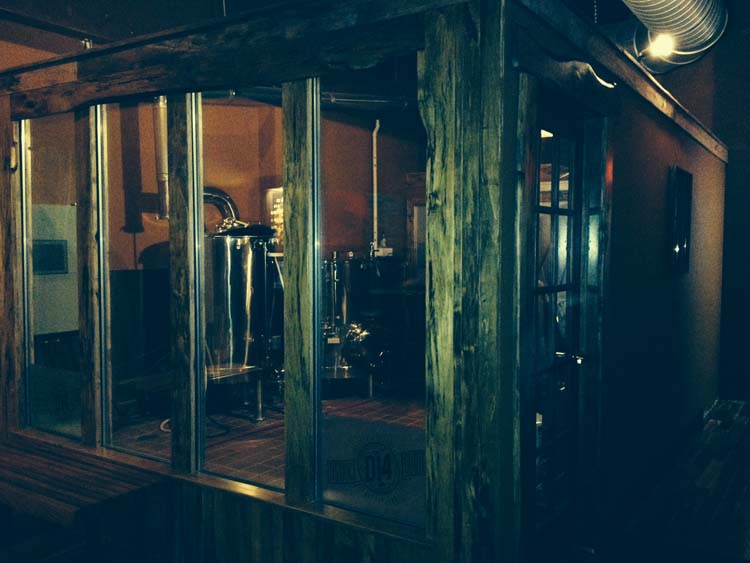 The service: We plopped down at the end of the bar and were quickly approached by one of three bartenders. Even during what could be classified a weekend rush by soft open standards, she was chipper as she described D14's available beers and even offered recommendations. She also pointed out the liquor selection, which was a modest variety of vodkas, whiskey, rum, and gin.
Milwaukee Record's drinks: Being part of District 14's ongoing soft open, beer options were limited. Instead of taking pint-sized gambles in $5 increments, we were happy to see a beer flight with all four of D14's current beer varieties was available. At $8 for a quartet of diminutive sampling glasses, it was a tad less bang for one's buck, but the best way to get a taste of each brew. Growlers weren't yet available.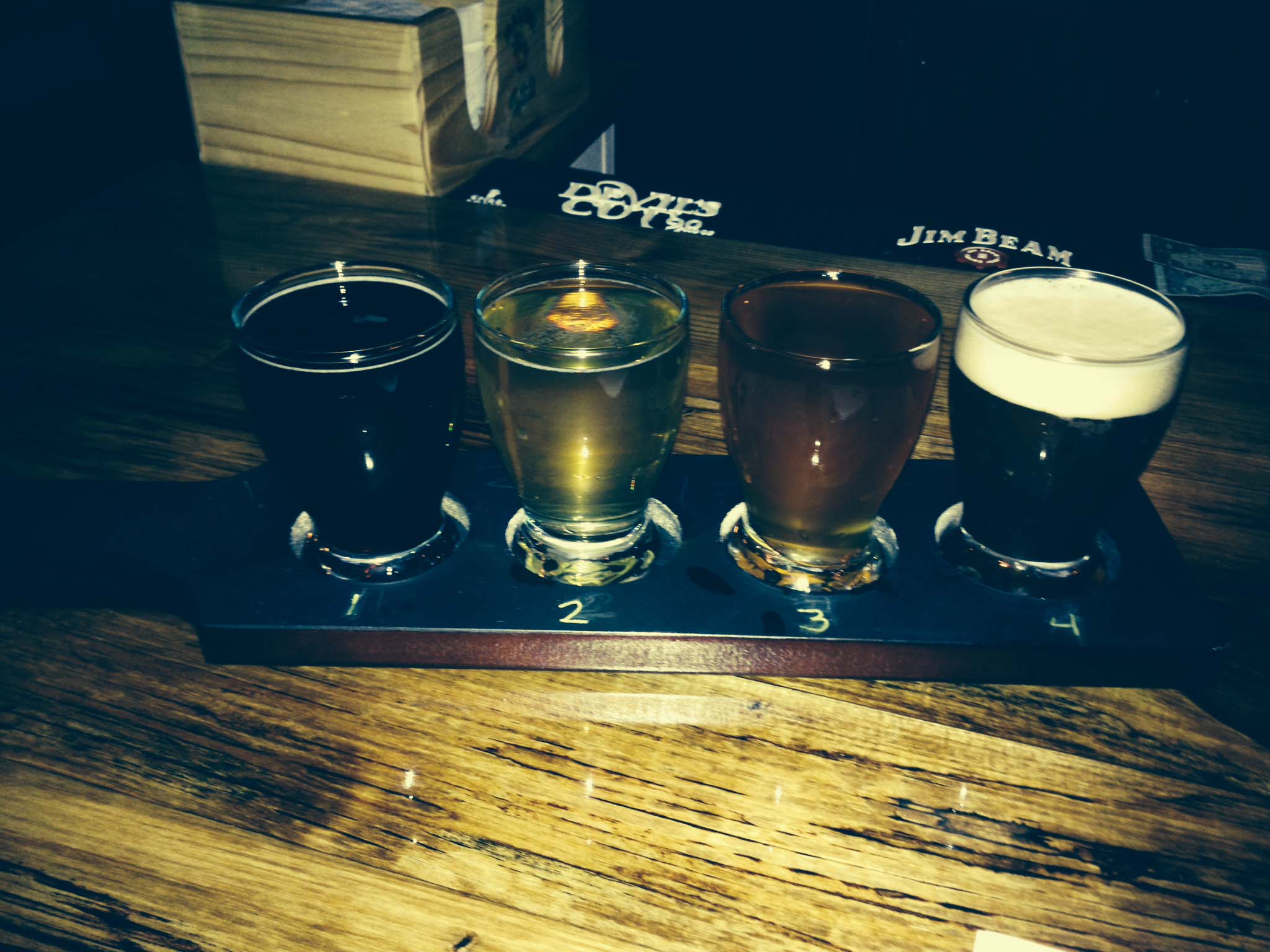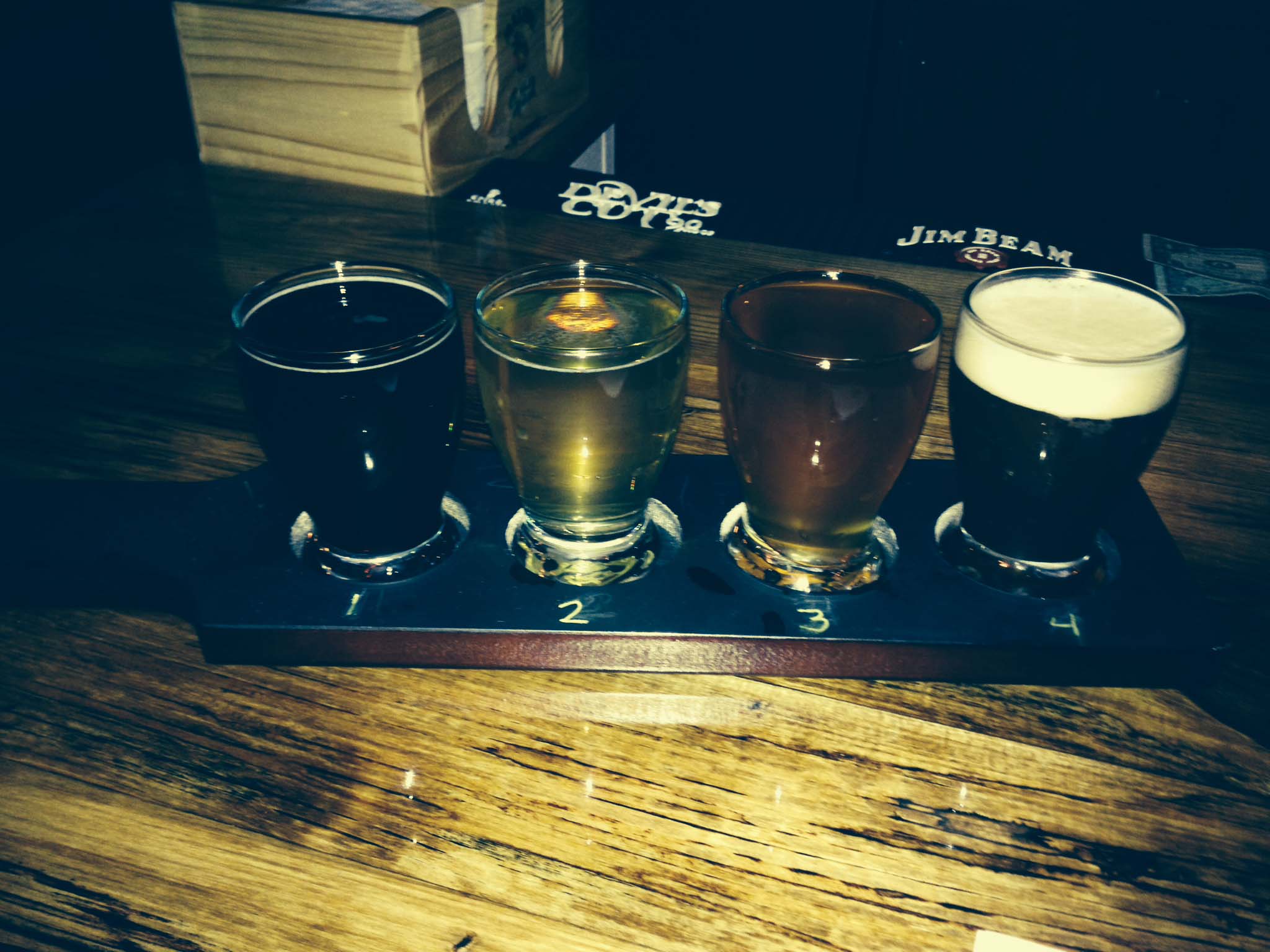 The frothy foursome populating the tap lines featured "Sexual Chocolate" porter, Dirty Blonde, Golden Saison, and the "Taillight" Amber. We sipped from left to right, starting with the Sexual Chocolate. Though the hue and hint of dark chocolate checked out as a porter, the warming chest tingle made us think it was something of a porter-stout hybrid. At 6.3 percent ABV, Sexual Chocolate was the only one to crack the five-percent threshold. It was promising (better than anything St. Francis Brewery has managed to date, though that's not saying much). Neither the Dirty Blonde nor Saison seemed to depart from the bullet points of a homebrewer's recipe book. They were conservative takes on basic beers. This was the inaugural batch of the amber, which was deceivingly dark for a beer that seemed to be missing a few ingredients. A D14 Facebook status likened it to a red. We weren't tasting it…or anything, really. The chalkboard beer list mounted behind the bar had six blank sections in addition to the four available brews. Hopefully an IPA finds its way to the slate soon.
The verdict: Now that the wait is over, the fixer-upper is in pristine standing, and people are coming through the doors—the only detail left to address is, unfortunately, the most important one: the beer. Hopefully owner/brewmaster Matt McCulloch takes more risks with future batches. After all the time, money, and re-zoning to get District 14 operational, why not go for it? We'll chalk this safe cast of works-in-progress up to being a soft opening symptom. Even after the meek introduction, we promise to return soon with hopes of seeing a better (and better-crafted) variety of beers chalked up on the board.