Last month, St. Francis welcomed a new carryout restaurant specializing in pizza and sandwiches made from locally sourced ingredients. Fat Dan's Pizza & Sammiches (4241 S. Packard Ave., 414-483-3287) opened February 27 in the former home of Frank De Rango's Pizzeria.
Owners and friends Dan O'Brien and husband and wife Tesa and Joe Schulte have worked in the food industry for many years. O'Brien previously worked as a restaurant manager, and the Schultes have extensive restaurant experience.
"Joe and I have been in the business since we were teenagers," Tesa says.
The Schultes also own Racine restaurant Blue Bear, which was voted Best Breakfast and Best New Business in the Racine Journal-Times in 2017.
O'Brien, whose family has lived in St. Francis since the late 1940s, ("Since it was the town of Lake,") scouted out locations for the restaurant for several years before the Packard Avenue location became available. The Schultes, who live in Wauwatosa, agreed it was the right choice for the restaurant.
According to Tesa, using fresh ingredients from area vendors such as Burlington's Yuppie Hill Poultry and East Troy's Hometown Sausage Kitchen, as well as offering vegan and gluten-free menu options, sets Fat Dan's apart from the competition.
"Everything is done from scratch. Literally everything, from the sauces to the soups," she says. "There's a million carryout places on this side of town. We wanted to stand out."
Tesa, who has dietary restrictions, created a menu in which 90 percent of the items are available gluten-free after experiencing frustration with a lack of food options while dining out.
The restaurant's specialty pizza options include meat lover's food paradise The Whole Hog (Berkshire ham, bacon, pulled pork, caramelized onion, smoked gouda, cheese sauce, mozzarella) and The Southern Hog (Carolina-style pork, sharp cheddar, red sauce, mozzarella, red onion), a great choice for barbecue fans. Other popular choices include Chorizo and Cotija Cheese (habanero cream cheese, black olives, pickled jalapeños, red and yellow peppers, chimichurri sauce.) All 12-inch pizzas are available gluten-free.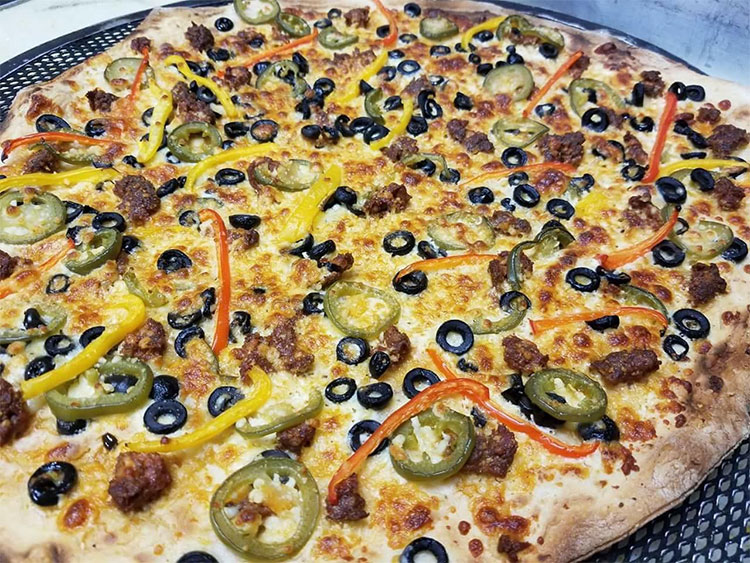 The Friday fish fry (wild-caught cod, malt vinegar coleslaw, applesauce, homemade marble rye bread) has already proven a hit with customers. Sandwich choices include standard turkey and ham subs, Reubens, hot Italian beef, and the 5XL Hoagie—over three pounds of ham, provolone, veggies, and red wine vinaigrette.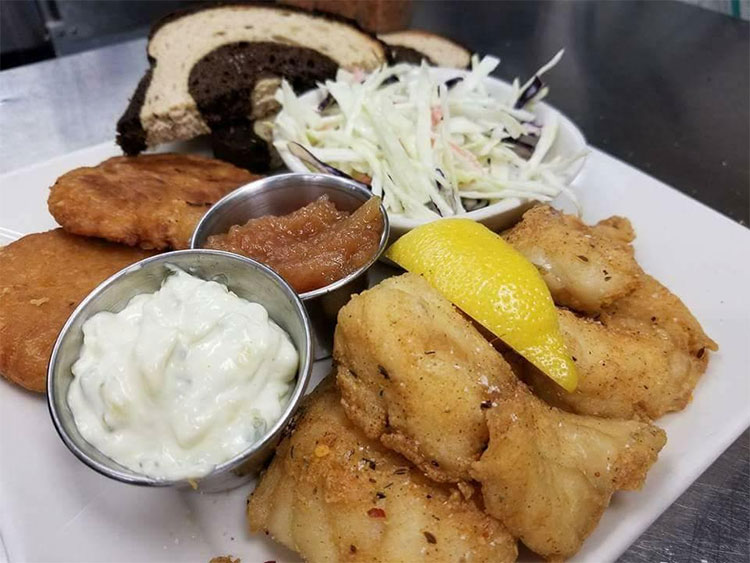 Fat Dan's also offers healthy and vegan menu choices such as the veggie burger, hummus wrap, and hummus plate. One of the most popular vegan dishes, Tesa says, is the Cajun cauliflower bites, which is made with an almond-milk-based avocado cilantro sauce.
For dessert, customers can choose from gluten-free chocolate chip and other cookies, a raspberry seven-layer bar, and other sweet goodies.
As the restaurant is in its infancy, the Schultes say they have future plans for menu items, but plan to hold off until they are a bit more established in the community.
"We're going to wait to see what customers want," Joe says.
The owners may open the restaurant for lunch in the future, as well as offer catering for area business and events.
"If there's a demand, we'll fill it," O'Brien says. The restaurant delivers food within an approximate 10-mile radius.
Fat Dan's has forged a community connection by holding fundraisers for area high schools. The owners say they are interested in partnering with local organizations such as the St. Francis Lions Club to host future fundraisers.
"We can help the community and let people know we're here," Tesa says.