For decades after it opened in 1982, Koppa's (1940 N. Farwell Ave.) served as both a quirky East Side grocery store and a quirky East Side deli. (Could it be considered a bodega? Maybe!) Kitschy decorations, funky taxidermy, and an in-house Atari 2600 game station complemented the store's so-called "Fulbeli Deli." The Obi-wan Bologna. The Bread Favre. An entire galaxy (Mars, Saturn, etc.) of other sandwich selections. Those deli sandwiches—sometimes dubbed the "world's best sandwiches"—were good.
Until they weren't. Ownership changes in the 2000s and 2010s marked the beginning of a slight but noticeable decline for Koppa's sandwiches. (Vern Koppa sold the store to his son Ken and business parter Peter Schmidt in 2003; in 2013, Koppa's was sold to Krishveer, LLC.) Then came the pandemic. And though Koppa's deli did reopen "post"-pandemic, that return proved short-lived. These days, the deli is shrouded in a blue tarp.
Happily, that's all set to change. On Saturday, March 18, Koppa's will celebrate the glorious return of its deli with a special event full of sandwiches, discounts, and more. The event will run from 10 a.m. to 5 p.m.

Taylor Tiwari and her family took over operation of Koppa's in 2017. Tiwari works on-site, where she manages the deli.
"The sandwich menu will be the same," Tiwari tells Milwaukee Record, "but we will slowly add back in some deli salads, your typical deli meats and cheeses available to take home, and we also plan to bring in desserts within a few months of opening back up. We'll be starting back with just sandwiches, but as soon as everything is up and running smoothly, we'll begin adding the other goodies in."
In various Reddit posts, Tiwari details numerous problems that have plagued Koppa's and its deli in recent years: the pandemic (of course), staffing issues, supply chain issues, old equipment, and inexperienced employees. The March 18 event, however, will represent a fresh start.
"More than anything, we want people to know that we are so grateful for the support that has allowed this store to be open for almost 60 years," Tiwari says. "The community is what makes Koppa's what it is. We want to help bring it back to the community hub that it has been in past times, and the deli is a huge part of that."
In January 2017, Koppa's was the very first subject of our recurring "Mandatory Milwaukee" feature. Here's what we had to say back then:
Located at 1940 W. Farwell Ave., Koppa's is a quirky Milwaukee holdover from a quirkier Milwaukee time. A weathered, old-school facade gives way to a small-ish, old-school grocery store adorned with mounted taxidermy animals, floral-print recliners, and enough random bric-a-brac (dig that Jabba the Hutt) to make a northern Wisconsin hunting cabin blush. A small dining area, a walk-in cooler, and the deli/Atari back half all give off the vibe of a grocery store as imagined by a convenience store owner leafing through a Sears catalog from 1979. In a time when much of the East Side's once-bohemian charm is giving way to luxury apartments and even more luxury apartments, Koppa's is an irreplaceable link to Milwaukee's past. A Whole Foods it ain't.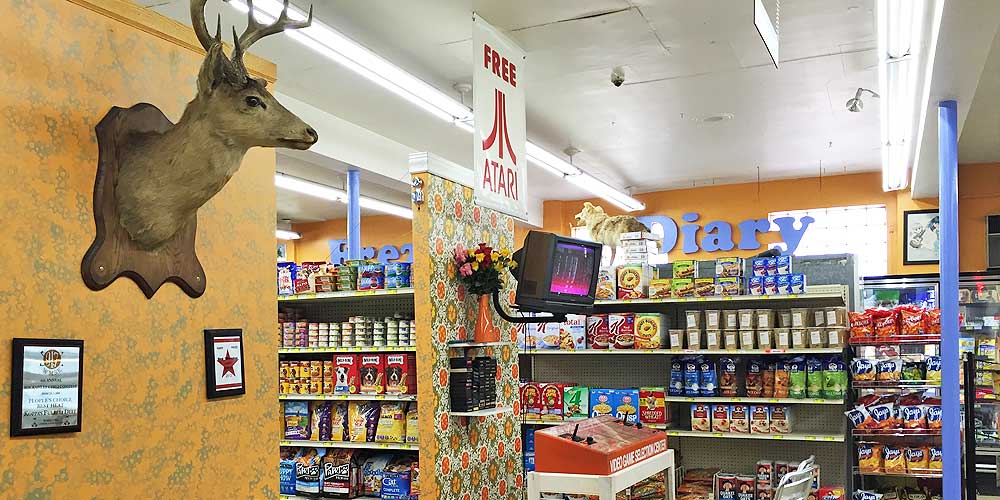 Exclusive articles, podcasts, and more. Support Milwaukee Record on Patreon.
---
RELATED ARTICLES
• Mandatory Milwaukee: Koppa's combines tasty sandwiches, taxidermy, Atari