It's an unprecedented and incredibly difficult time for restaurants right now. It's especially tough for restaurants in Wisconsin, where COVID-19 numbers are currently off the charts. Wanting to highlight local establishments who are keeping food quality high while also keeping its customers and employees as safe as possible, we're going to focus on restaurants that have completely shifted to carryout and/or delivery service in a series we're calling "Carryout Chronicles."
Over the course of this young series, we've focused entirely on restaurants that almost exclusively offer lunch and dinner service. Part of that trend was purely coincidental. The rest is due to the fact that far more establishments in Milwaukee—especially restaurants that have fully committed to carryout during the COVID-19 crisis—seem to focus on those two meals, leaving customers on their own when it comes to figuring out breakfast. Though breakfast to-go is a less common occurrence in and around Milwaukee than lunch and dinner items, it's not altogether impossible to find a delicious way to start your day. You just have to know where to look.
With a place like Allie Boy's Bagelry & Luncheonette (135 E. National Ave., 414-988-0388) around, finding a top-notch—and a top-nosh—breakfast that holds up to the rigors or carryout isn't an issue. Since officially opening last May, during the early stages of the still-very-active pandemic, the Walker's Point restaurant that's owned and operated by spouses Staci Lopez and Ben Nerenhausen has offered the city excellent bagels, inventive riffs on deli sandwiches, and other gourmet-caliber "noshes" to help get commuters and homebodies who are sick of the same old breakfast through the morning.
Policies And Procedures
In "normal" times, Allie Boy's and its Harbor District-adjacent space that most recently served as Drink Wisconsinbly's original location have all the makings of a comfortable dine-in experience that's complete with a nice patio for use in warmer months. However, since any semblance of normalcy is lacking at the moment, the restaurant is currently operating under a carryout-only model. Orders can be placed online (and bulk orders can/should be placed over the phone at 414-988-0388). Or if you wish to take a risk of waiting and place an order on-site, that's possible as well.
We ordered online last weekend and we're given an estimated pick-up time 30 minutes after our 9 a.m. order was processed. We pulled up at the assigned time and gave our name. Since the order wasn't quite ready, we were asked the model of our car and told to wait for it to be brought out to our car curbside. No more than five minutes later, we were given our order.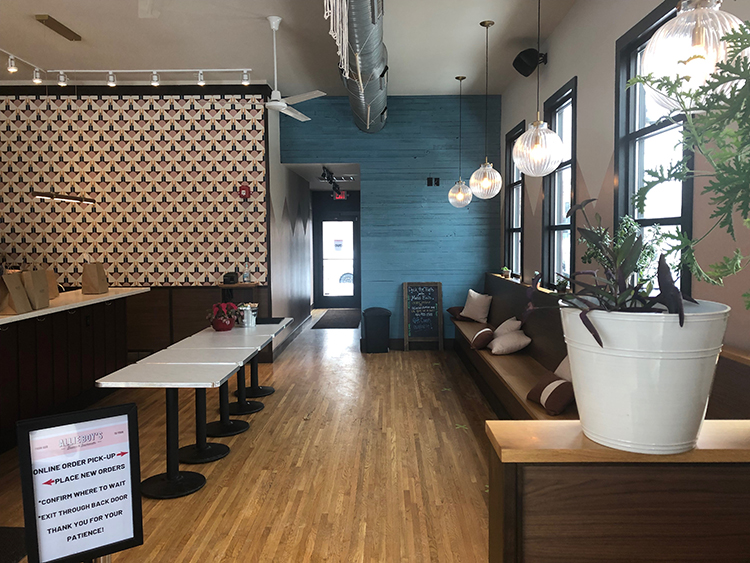 It was as easy as that! And if you don't feel comfortable going inside to get your items, you can call when you arrive and an employee will bring it out for you. Of course, customers are expected to wear face coverings while inside and asked to keep proper distance from staff and patrons as well. That should be obvious by now. If you can't be considerate during a goddamn pandemic and that's too much to ask, you deserve nothing more than a frozen grocery store bagel.
Carryout Quality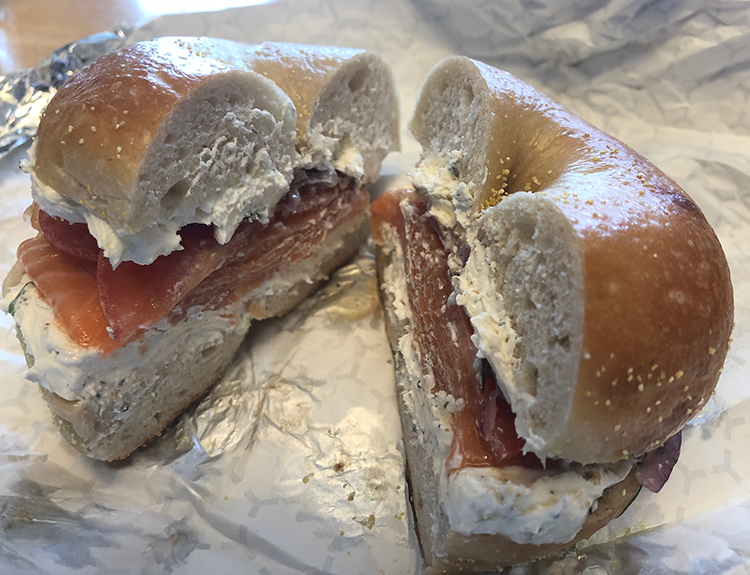 The husband-wife ownership duo has personal roots in New York City and the Middle East, and they've merged those diverse backgrounds with extensive culinary experience into crafting their menagerie of deli classics with and inventive twist that, at times, flirt with fine dining. Though we're eager to work our way through Allie Boy's list of seven bagel varieties, its array of schmears, its six bagel sandwiches, the holy trinity of bagel tartines, its handful of snackable items known as "noshes," and a handful of sweets, we decided to partake in two of the young restaurant's most popular items during our maiden voyage.
The Classic ($13) is a plain bagel that's liberally packed with house-cured lox, onion, crushed capers, tomatoes, sprigs of fresh dill, a Greek yogurt spread called Labneh, and a spring herb schmear. Yes, $13 is on the steeper side for a sandwich. However, it's massive, the ingredients are of exceptional quality, and it's well worth both the price and its standing as one of Allie Boy's best-sellers. This baby is officially in our monthly rotation now.
While we were already full to the gills from our Classic, we couldn't pass up an opportunity to try another (slightly less hedonistic) offering. The Everything Bagel ($2.50 plus $1.50 to $3.50 with schmear) is another one of the most popular items Allie Boy's offers.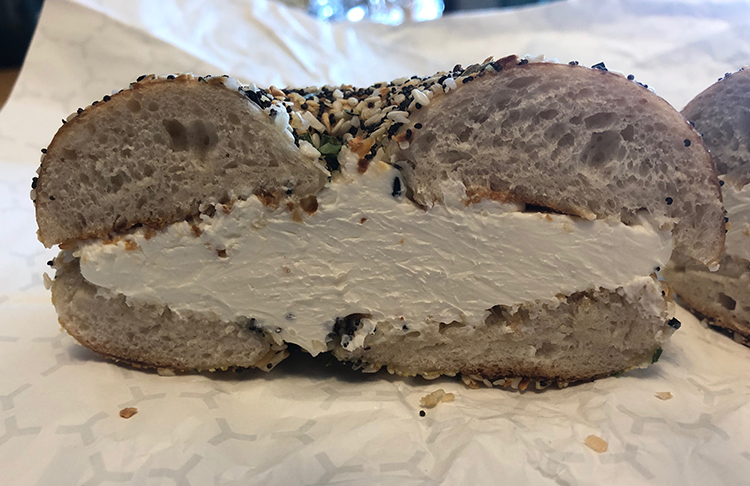 That distinction comes with good reason, as the fluffy, lightly toasted bagel was irresponsibly coated with a delectable blend of sesame and poppy seeds, green onion, garlic, herbs, and pretty much anything else they had on hand. The crunch and savoriness of the bagel's exterior was balanced with a veritable brick of plain cream cheese slathered between the two bagel slices. This, too, had the makings of a full-on meal that could be enjoyed on the go or from the comfort of home.
Though each item we ordered was far from being an exotic bagel choice, both the lox and the Everything were the best executions of either type that we've ever had. If those options aren't to your liking, though, you'll be happy to know there's a bunch of other things to choose from.
Other Info
Allie Boy's is open Wednesdays through Sundays from 8 a.m. to 2 p.m. You can place orders ahead of time online if you'd like to save yourself the trouble day-of. Standard bagels can be orders in bulk, with six of them running $14 and a dozen for $25. Coffee drinks (including a special Allie Boy's "Bagel Brew" made by Anodyne) and tea are also available. That's about all you need to know! If you're looking for a special way to start your day, we strongly suggest heading to Allie Boy's Bagelry & Luncheonette for "Milwaukee's Finest Nosh Since 2020."