Caleb Westphal hasn't missed a Friday fish fry since 2013. Follow along with his never-ending adventures here. This week: Belly Up Bar in Menomonee Falls.
What was intended to be one week off from the column turned into three. Fish fry #432 was at Stella's Fish Cafe in Minneapolis: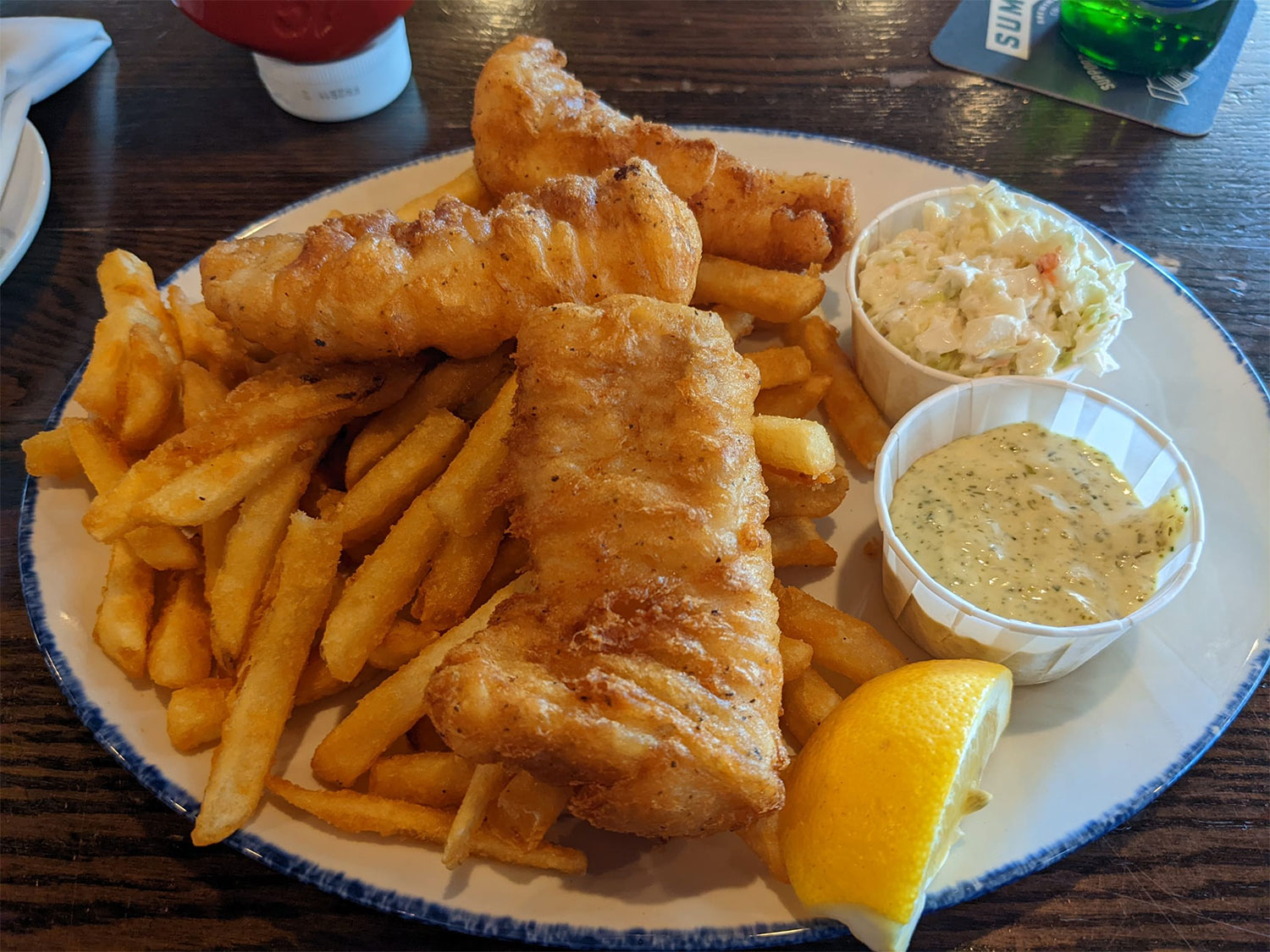 By the time the next Friday came around, I was quarantined with COVID-19. My symptoms were mild—perhaps in part due to being boosted—so my larger concern was what my fish fry would look like. My freezer had some cod that I had bought as backup fish for last New Year's Eve's homemade perch fish fry, and I decided to pan fry it. I ordered some potatoes for delivery so I could make pancakes, as well as some pre-made coleslaw, deciding I should cut myself some slack on the slaw front due to my illness: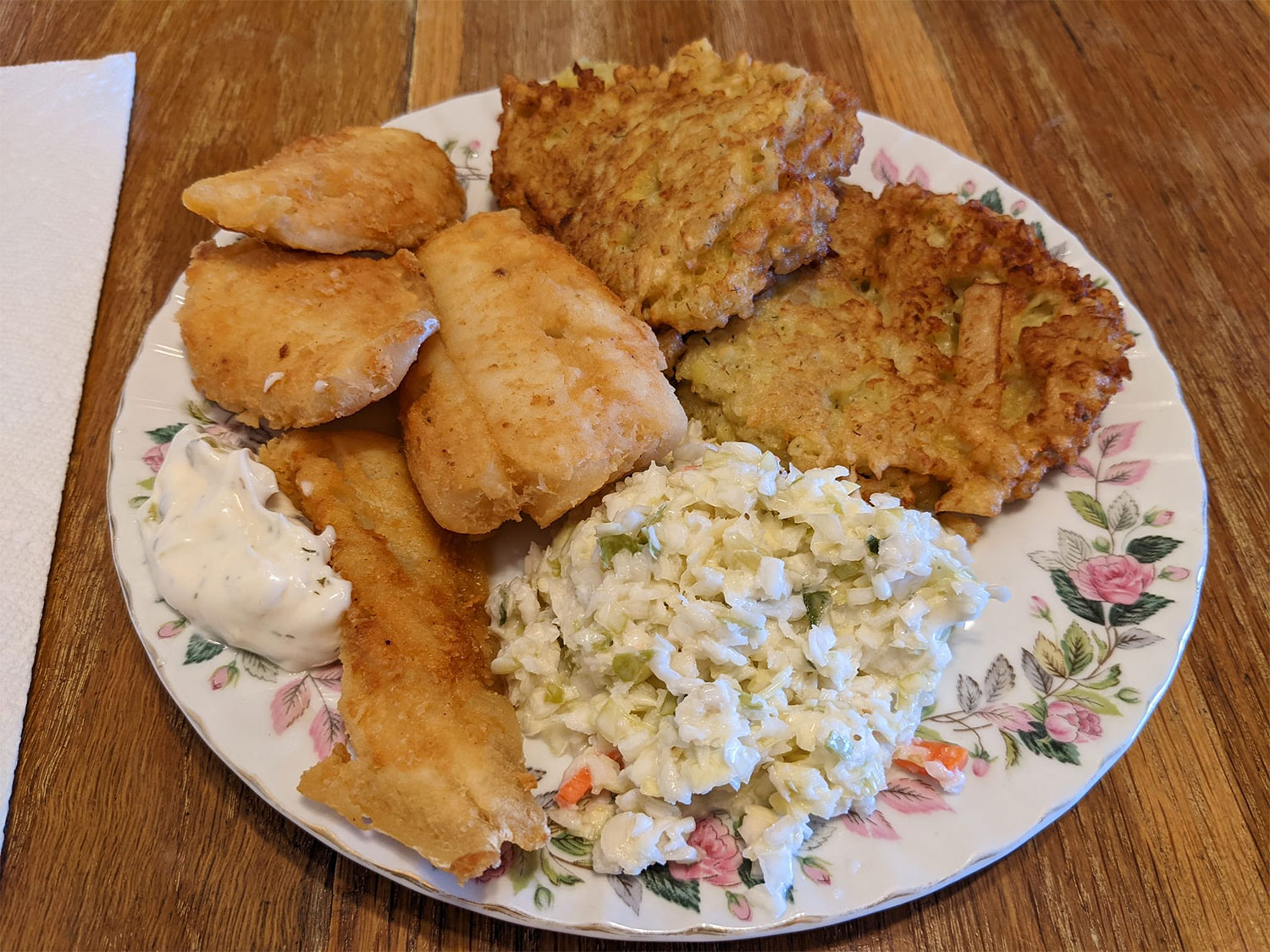 By fish fry #434 I no longer needed to quarantine, but since CDC guidelines recommended I still be masking, I opted from eating indoors and instead grabbed fish from the Packing House drive-thru: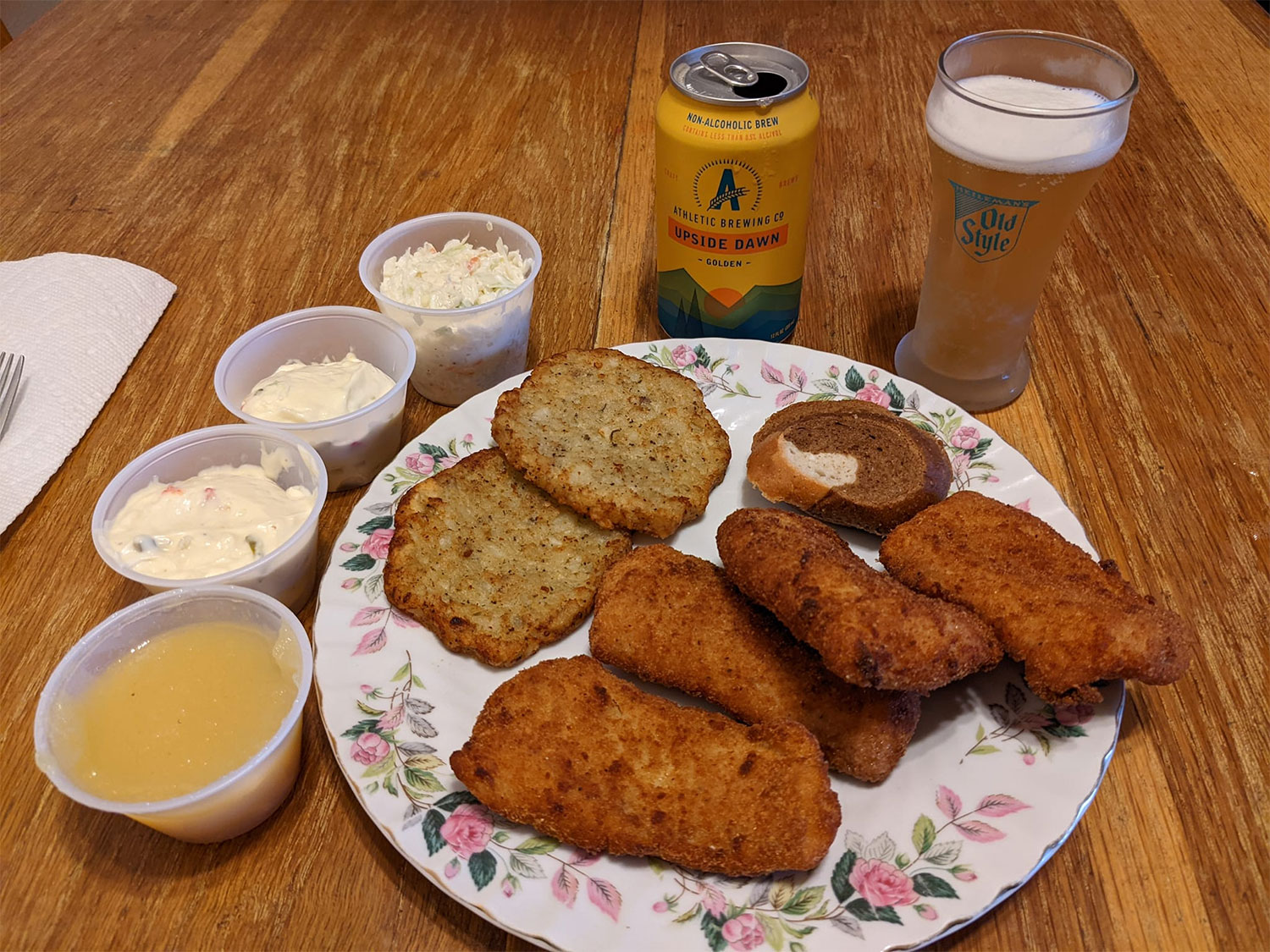 It was just after 4 p.m. when I walked into Belly Up Bar in Menomonee Falls (N88W18384 Christman Rd., 262-255-2653) for fish fry #435 this past Friday. I made a point to sit at the bar, instead of at one of the eight or so tables that surrounded it, so I could fulfill the summons of the establishment's name. The long, rectangular shaped bar, which seats 20-25 people, was just starting to fill up, mainly with sexagenarian or septuagenarian men, sometimes swearing, sometimes sitting in silence and sipping beer. "I'd like a light beer and a fish fry," one guy said as he sat down. "You want a fish fry? I'll buy you a fish fry," he later told another guy who walked in and sat near him. Someone else sat down next to me, and was brought a beer even though he didn't order one. He drank two beers in silence and left.

I asked for a menu. Except for chicken and chicken tenders, everything on it was seafood. Listed were cod, either beer battered, breaded, or Cajun ($12/ two-piece or $13.50/ three-piece); grilled cod with butter and onions, seasoned with Old Bay ($14) ("I think you will like it!!!"); perch, available beer battered, breaded, or Cajun ($18); shrimp ($13.50); scallops ($18) ("Gotta love um!"); and a seafood dinner, which consists of three shrimp, five scallops, and one piece of fish ($18 with cod/ $19 with perch). Belly Up used to have homemade potato pancakes, but for some reason—I didn't ask why—they no longer do. Potato choices are french fries, homemade German potato salad, American potato salad, and potato spuds, a kind of cheesy tater tots. I ordered the three-piece beer battered cod with french fries.

The bartender set a wooden tray on the bar, and it wasn't long before the food came out and was set on it. The paper-cupped coleslaw was a triple threat of sweet, creamy, and celery seeds. The sweetness hit first, then the rest. Made primarily of green cabbage, it also had some red cabbage and carrot. Light rye bread sat next to it on the tray. Halved, lightly buttered, and sandwiched together, it had a strong caraway seed-inspired flavor. While not much can be said about the french fries, they were cooked and salted with care.
The cod was rather chunky and of a moderately good quality. All three pieces stayed remarkably hot throughout the meal on account of the batter that covered them—the third piece was still steaming as I cut it open. The batter was thick and soft, and had just a hint of beer flavor. The tartar was thin, acerbic, and largely devoid of relish.
Belly Up Bar might not be a destination spot for a fish fry, but it's easy to understand why it's the neighborhood bar of some. Like any respectable neighborhood bar, it does offer a fish fry, and the fry is satisfying enough for anyone who bellies up to try at least once.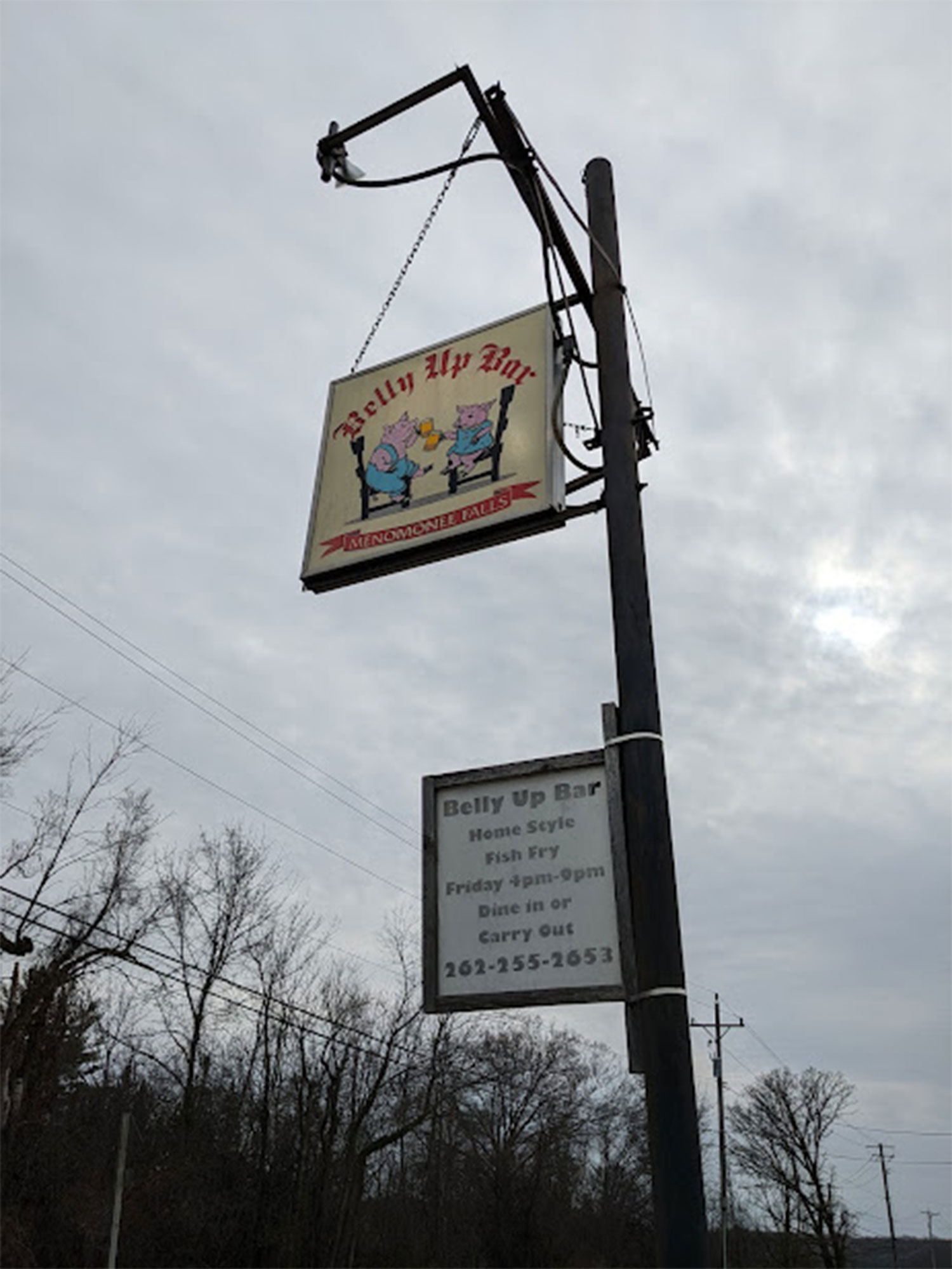 This fish fry column has been running on and off for over five years, and it's time for me to step away from it once again. I haven't decided if it will return at some point or if this will be the end, and I'm leaving my decision on its future open-ended. The initial shutdown of the pandemic didn't permanently knock it or my Friday streak out, and neither did my own COVID-19 experience (I made the decision to step away from the column before that). These feel like their own victories in such uncertain times. Rest assured that I'll continue to seek out fish frys all over the greater Milwaukee area and beyond until there's no breath left in me. Thank you all for reading. Keep the faith and keep eating fish!
Takeaways: Steaming hot fish in a thick beer batter; strongly flavored and thin tartar; sweet slaw; no more potato pancakes but a number of other potato choices.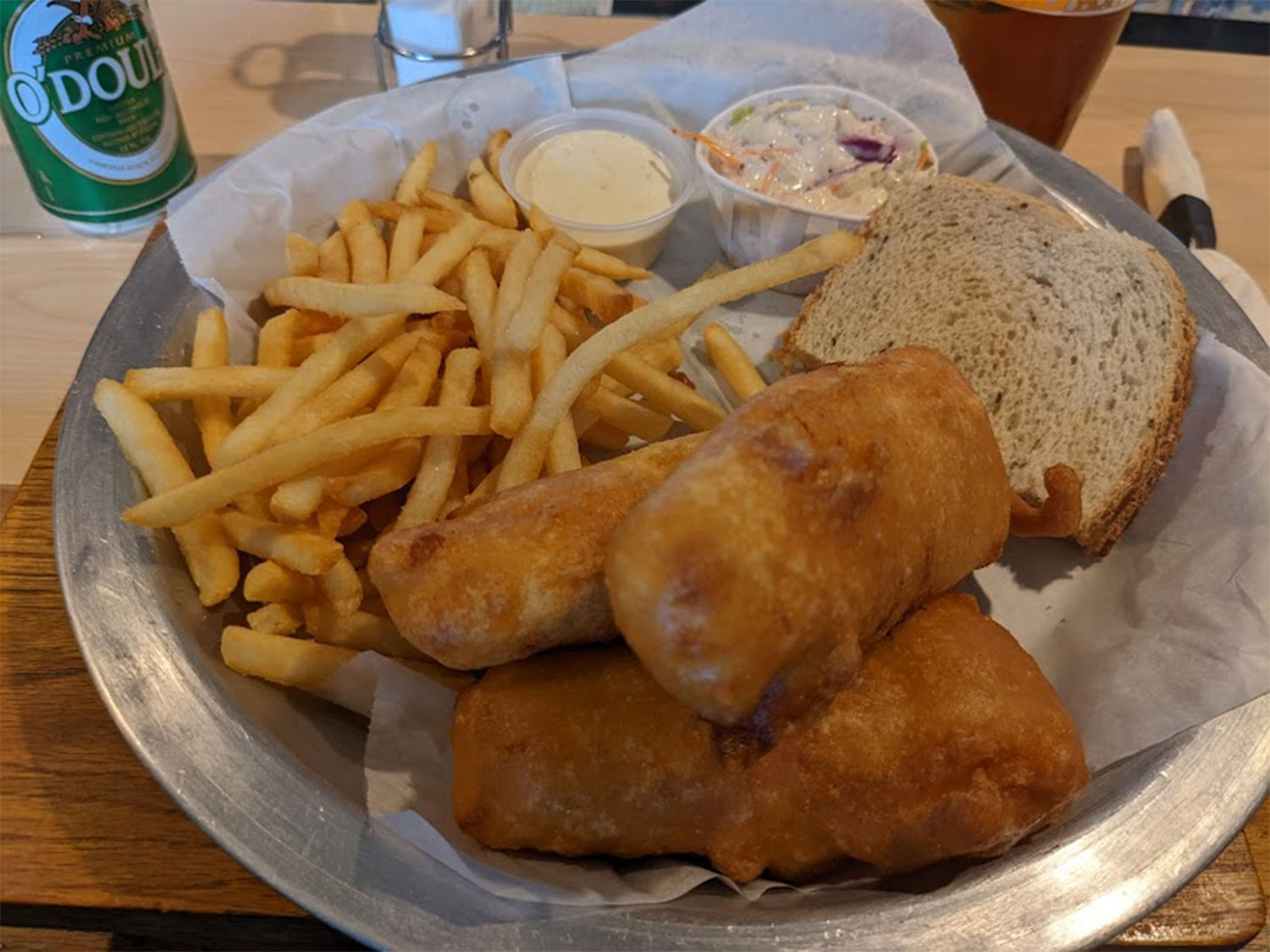 Exclusive articles, podcasts, and more. Support Milwaukee Record on Patreon.
---
RELATED ARTICLES
• The best fish frys in Milwaukee (and beyond)