Caleb Westphal hasn't missed a Friday fish fry since 2013. Follow along with his never-ending adventures here. This week: Colonel Hart's.
"We've got Heineken" usually isn't the answer I'm looking for, but when the question is "Do you have any non-alcoholic beers?" I'll take it. I'm doing one of those dry Januarys—at least that's where I'm at right now, we'll see if it holds—and there's no way I'm having a fish fry with a glass of water if some substitution suds can be procured.
A cooler door swung open and bottles shifted: "There's a real one." No good, an actual Heineken won't help. A second cooler door swung open: "We could water down the Bud Light." I was beginning to think I'd have to order a Kiddie Cocktail when the bartender pulled out one of the sought-after Heineken 0.0's.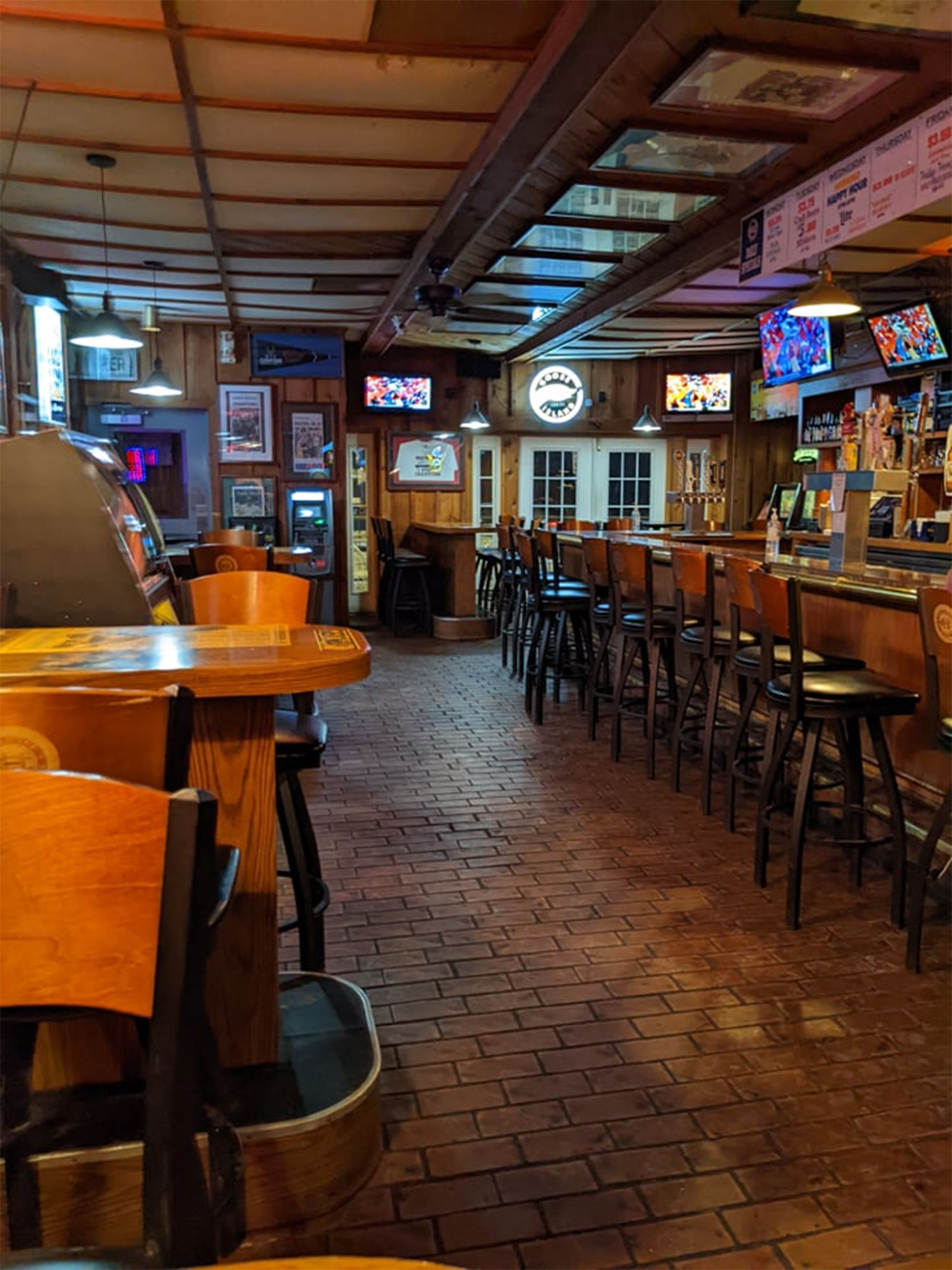 It was a few ticks past 5 p.m. and I was at Colonel Hart's in Wauwatosa (7342 W. State St. 414-476-3070). Located just west of Leff's Lucky Town and other Friday fish fry haunts like Saz's State House and Spitfires on State, Colonel Hart's has been a staple neighborhood Tosa bar since the mid-1980s. It's named for Hart Park, located across the street, which in turn is named for Charles Hart, who is credited as being the first settler of European descent in the area, but who most certainly was not a colonel. In the four decades prior to being Colonel Hart's, the location was home to watering holes like Pep's Place, Kutschenreuter's Tavern, Encore tavern, and Hans Lix tavern.
Colonel Hart's can easily be put in the camp of a sports bar, but it is not the televisions on the walls that makes it so. Rather, it is the extensive collection of sports memorabilia found just about everywhere one looks, from the walls, to the ceiling, to the tops of the tables. Photos, T-shirts, newspapers, magazines, and pennants are all there. Some of these items nod to the past, like a pennant for the National League Champion Milwaukee Braves from 1957 and an issue of Sports Illustrated from when Hank Aaron broke the home run record in April 1974. Other items are firmly in the present, like a framed newspaper from last year with the headline "BUCKS IN 6!"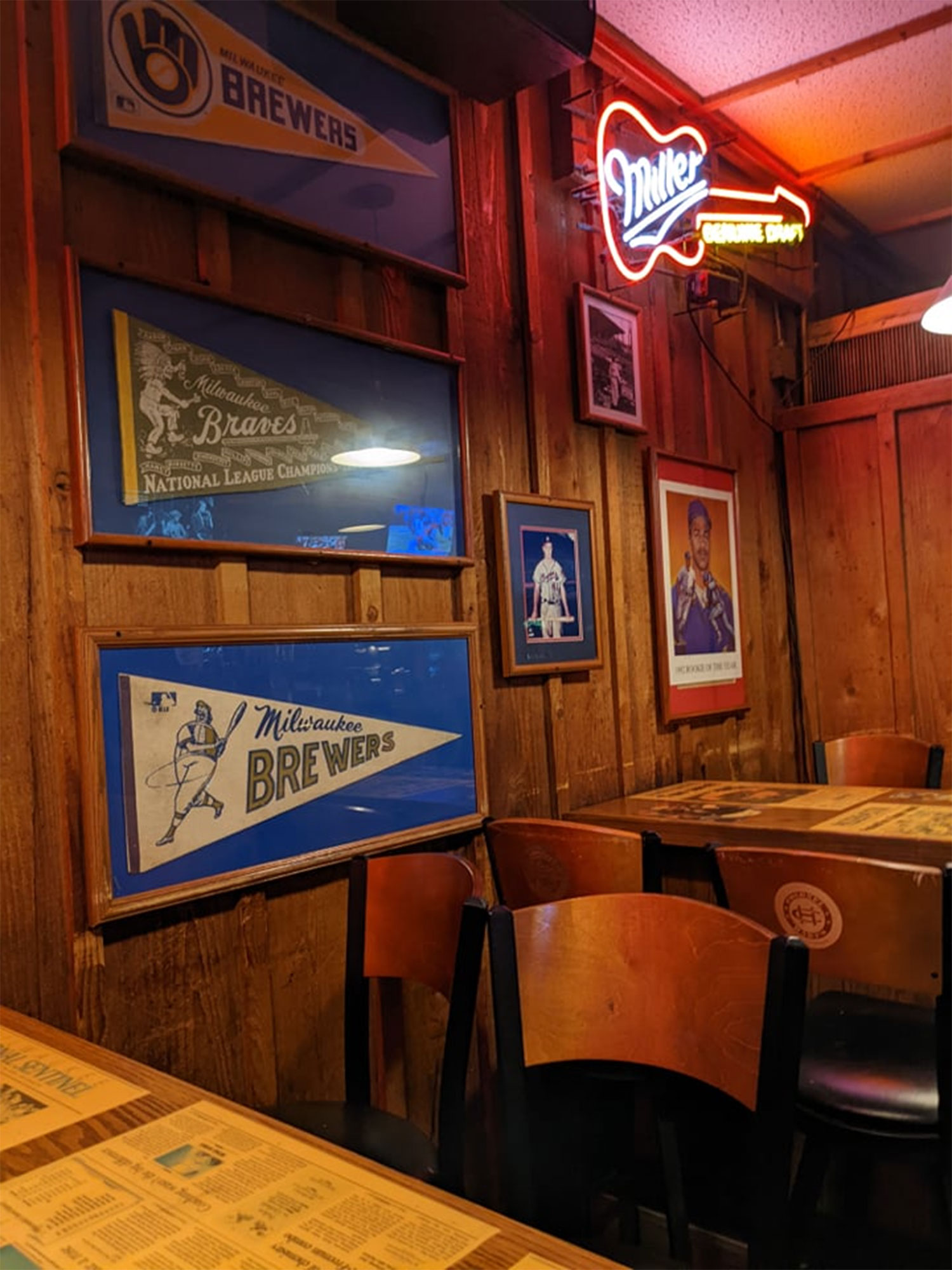 Some of the half dozen or so large booths in the back were occupied, but just one person was seated at the bar (this increased tenfold during my time there). With a menu in hand, I took a seat at one of the tables near the bar. The part of the menu devoted to Fridays starts off by proclaiming Colonel Hart's to have "Wauwatosa's Best Fish Fry." Cod and perch are both available, priced at $9.50 for a two-piece meal or $11.95 for a three-piece. Shrimp is available as well, for $9.95. The meals come with a choice of french fries or chips, along with rye bread and slaw. I went with the three-piece cod with fries, and ordered a bowl of chowder. Most restaurants have both cups and bowls, but Colonel Hart's just serves bowls, and has them at the cup-worthy price of $3.
The chowder arrived promptly, and presented itself with seemingly contradictory qualities: it was both light and airy, but also thick and gravy-like. No spoon could easily separate its ingredients, which were ensconced in one chowder mass. Besides the clam, the most noticeable ingredients were the skin-on potatoes, which after cooking were close to being skin-off potatoes. But the peppery heat that hit the back of the throat with each spoonful was perhaps the chowder's most salient characteristic.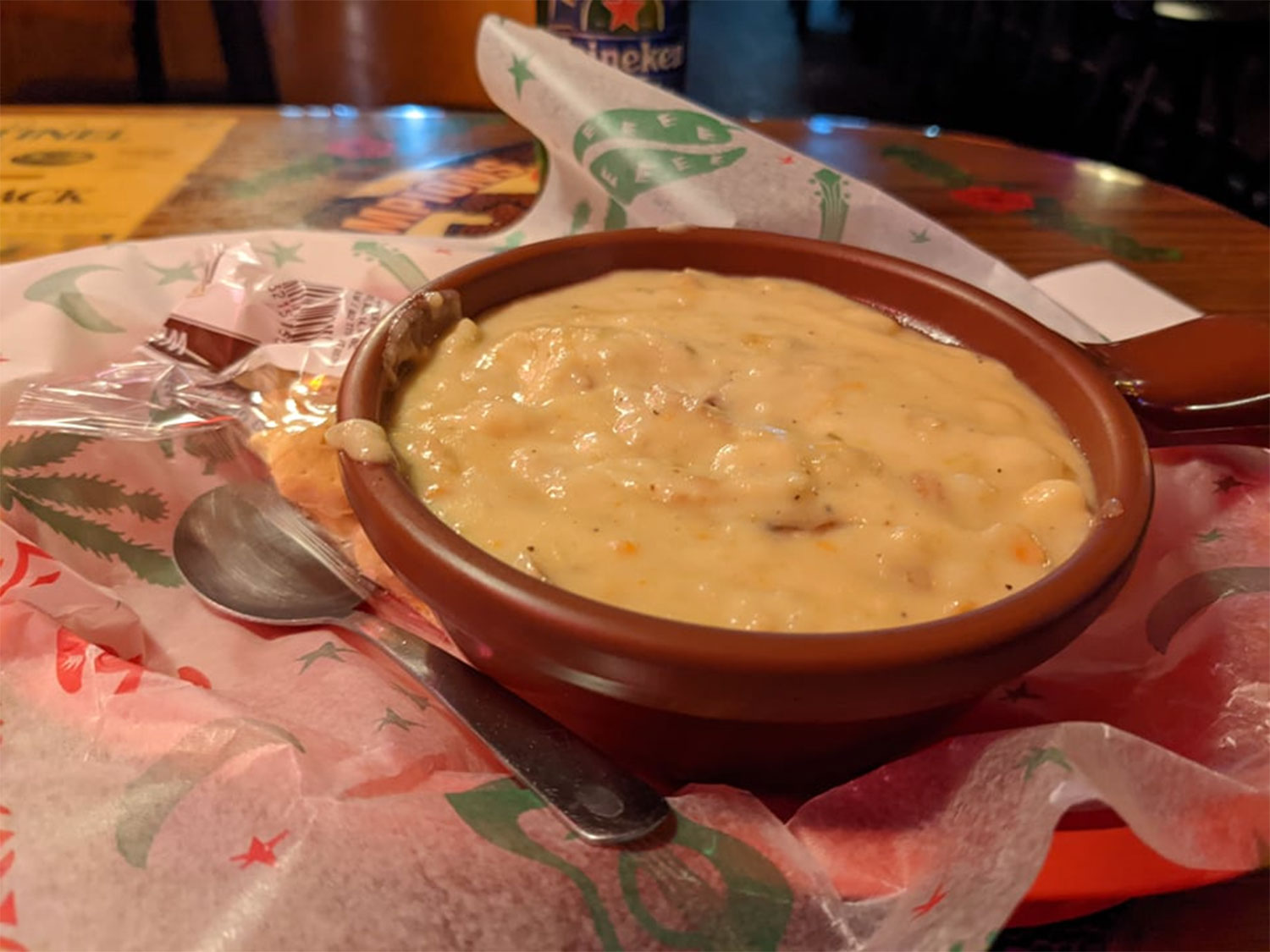 The sound of bubbling oil came from a nook in the middle of the back bar, and it wasn't long before a fish fry revealed itself to be the provocateur. Thin breading with a modicum of seasoning covered three medium-sized, rectangular-shaped pieces of cod. They do-si-doed with a typical tartar. Beyond mayo and relish, the tartar looked to have a faint amount of dill, but not enough to sway the trajectory of the flavor.
Well-salted julienne cut french fries, augmented with a Cajun seasoning, were hidden underneath the cod. The creamy slaw primarily consisted of green cabbage, but carrots and red cabbage were mixed in. Lastly, a thick half slice of marble rye was well-buttered, but a little on the crusty side.
The fish fry isn't the only special Colonel Hart's has on Friday nights. Shots, bombs, and drinks are half off from 10 – 11 p.m. as part of their "Friday frenzy." But I'm teetoling this month, and really, the only Friday frenzy I'll ever need is a fish fry anyway. Is the fish fry at Colonel Hart's the best one in Wauwatosa, as they claim? That's debatable, but they at least are putting in an admirable effort with it. If you are looking for a sports-themed neighborhood bar to serve as your fish fry's backdrop, this might be the place for you.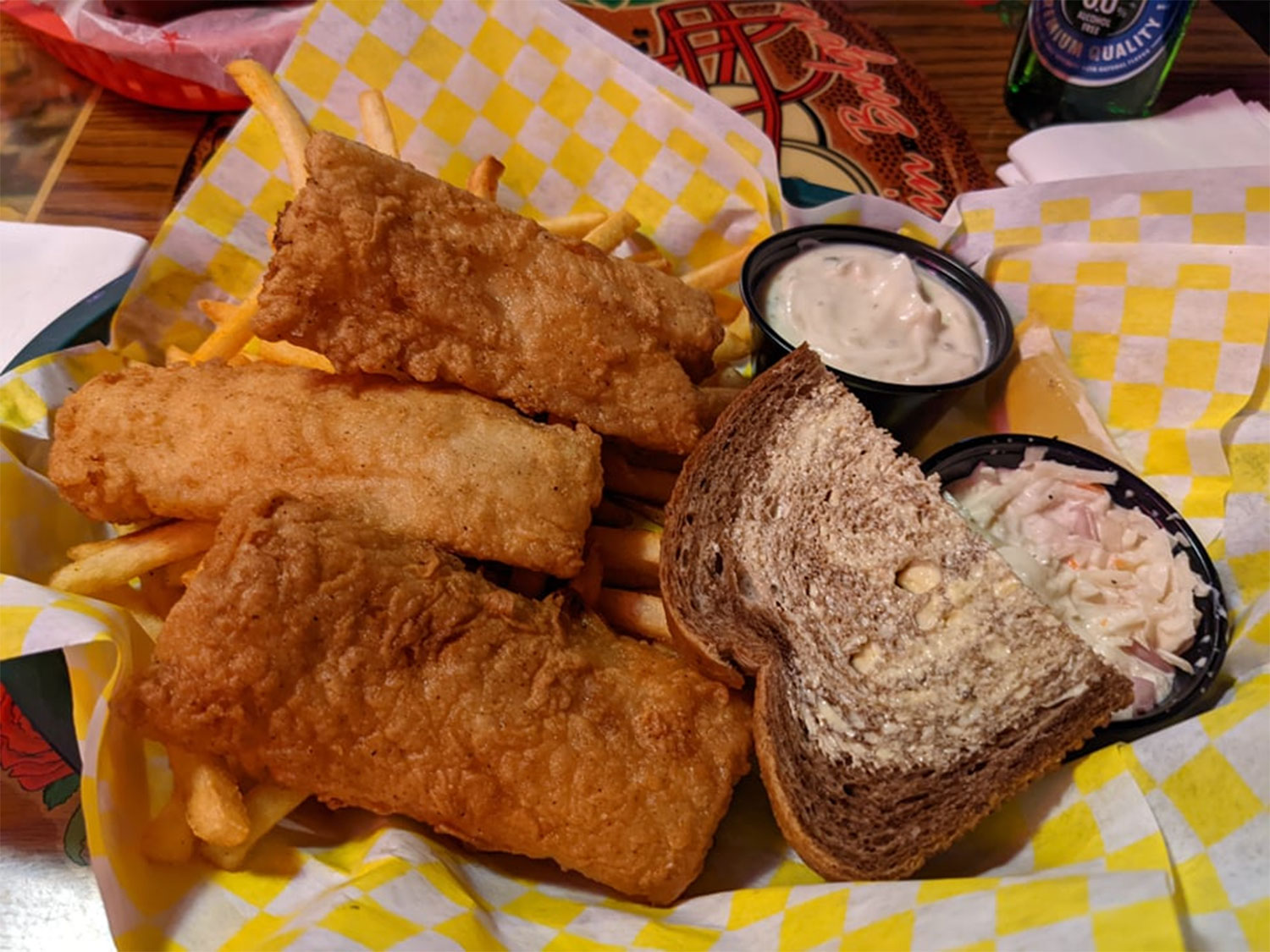 Takeaways: Like most places in most cities, it claims to be "Wauwatosa's Best Fish Fry"; sports memorabilia everywhere; commendable chowder with seemingly contradictory qualities; food comes from a bubbling nook; lightly breaded and seasoned cod; lots more seasonings on the french fries; come for the fish fry, stay for the Friday frenzy; for those keeping score at home, Friday Fish Fry #418, on New Year's Eve, was High Life battered perch from St. Paul Fish Company.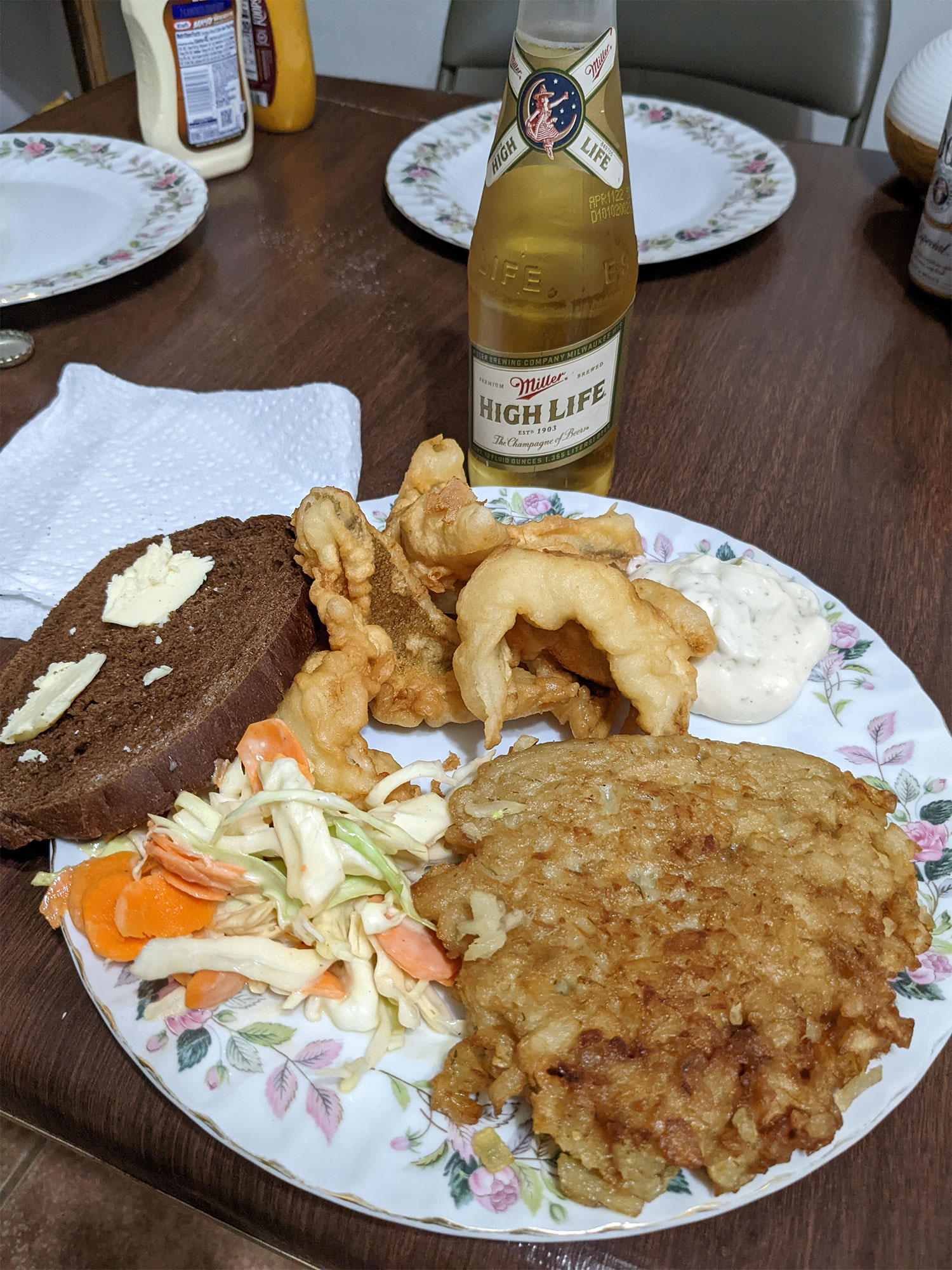 Exclusive articles, podcasts, and more. Support Milwaukee Record on Patreon.
---
RELATED ARTICLES