Caleb Westphal hasn't missed a Friday fish fry since 2013. Follow along with his never-ending adventures here.
There's been a lot of adapting over the past few months. People have adapted to new work environments. Some are now working from home, some have found themselves unemployed, and others (heroes) are working in jobs that put them at a higher risk for COVID-19. Kids have adapted to home life. The last holdouts from using video chat programs have adapted to the technology (at least I think I have). Restaurants have adapted to new ways of doing business. One of the places that may have adapted the quickest is Don's Diner & Cocktails—or as it now goes by: Don's Grocery & Liquor (1100 S. 1st St., 414-808-0805). Within days of the closing of bars and restaurants in the city, the chic diner known for their booze-filled milkshakes and 10¢ Martini Lunches transformed itself into a grocery and liquor store. Takeout food remained available as well, including Friday fish frys.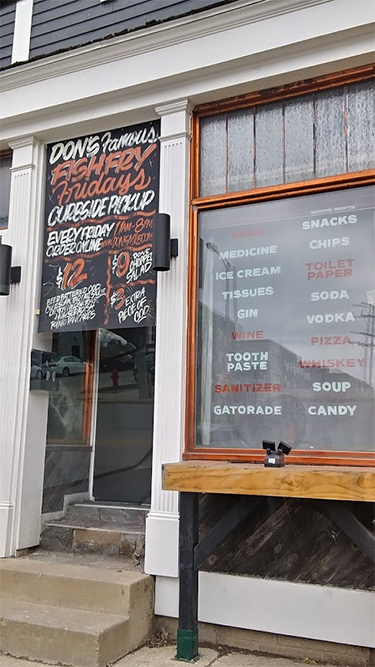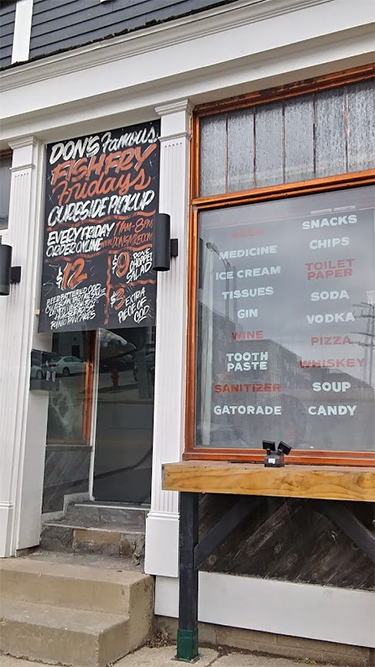 Located on the southeast corner of S. 1st Street and W. Washington Street, Don's opened in October of 2018. The location had previously been home to c.1880, and prior to that establishments such as Marchese's Olive Pit, Lava Java Espresso Bar, and the 1100 Club resided within its walls. Don's is part of the Stand Eat Drink hospitality group, which also counts Movida and Hotel Madrid as part of its fold. The diner is named after Don Gersonde, who according to its website, "was a World War II veteran, Milwaukee Police Captain, and diner guy." He was also the grandfather of Aaron Gersonde, one of the partners of Stand Eat Drink.
While Don's was quick to adapt in March, I have been slow to get there for a fish fry since they opened a year and a half ago. On several occasions I've gone past and seen fish frys advertised on their marquee, but both of the times I've gone inside have not been Fridays. On my most recent visit, in December, I had a shake and one of the best burgers I've had in recent memory. After driving past on my way to last week's fish fry, I all but made up my mind that I would go there next.
Don's is open from 11 a.m. – 7 p.m. daily, and fish frys can be pre-ordered online to be picked up curbside on Fridays. They offer fried cod for $12, which comes with potato pancakes. Old Fashioned Kits are also listed on their fish fry menu, as are $8 six packs of Montucky Cold Snacks Tallboys. (Miller Lite and Miller High Life are also available for purchase—although I didn't realize it at the time.) I put in an order for a fish fry, and because I was almost out of Hamm's, I decided to get a sixer of Cold Snacks as well. I know it's what the cool kids have been drinking for years, but I'm pretty sure it was my first time buying the beer. I'm adapting.
There was one car ahead of me when I arrived, and after they received their food, a worker came up to my vehicle, so I didn't end up having to call to say I was outside. I noticed their shirt said "Look for the helpers," which is taken from the Fred Rogers quote about the importance of keeping an eye out for those doing good during times of trouble. It turns out Don's has adopted the slogan and is selling T-shirts with it, and has also painted it on their bright yellow company vehicle. I told the worker my order number and name, and my food and beers were quickly brought out.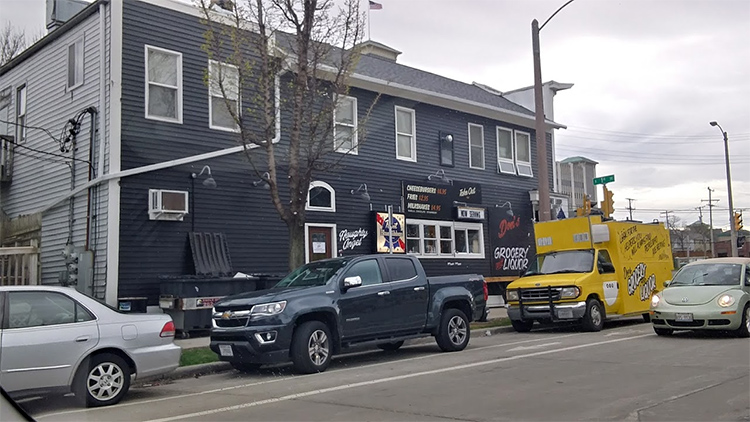 At home, I opened the box to find three pieces of fish, two potato pancakes, rye bread, coleslaw, and tartar sauce. The menu had said the fish was beer battered, but it looked more like it was breaded to me, and there really wasn't any beer flavor to it. Regardless, whatever was coating it was more than acceptable. Full of character, its texture was similar to the breading on fried chicken, but it was thin and had a balance to it that was neither overly crunchy nor salty. The fillets themselves were not large by any means, but if you were to ascribe a number to them in regards to their overall quality, they'd be at least a seven and perhaps an eight out of ten. The tartar was full of green goodness, with relish and lots of fresh dill. There was another flavor peaking through as well, but no matter how hard I tried, I couldn't pinpoint what it was.
The potato pancakes were well-browned on the outside, but not crispy, except for a smidgen on the edges. The hint of softness on their exterior was even more pronounced once you cut inside. They also had the taste of horseradish, but it was subtle, and wouldn't have been strong enough to knock you off of a horse if you happened to be sitting on one. The piece of artisan-like rye was toasted, buttered, sliced diagonally, and packed with plenty of flavor. The common company of green and red cabbage and carrot made up the coarsely cut coleslaw. It was devoid of seasoning and the cream that coated it had a buttery consistency. The slaw was rather unaffecting, but overall this fish fry is likely worth your time. I wouldn't name it as my favorite, but it is good, and I don't think you would be making a mistake by trying it.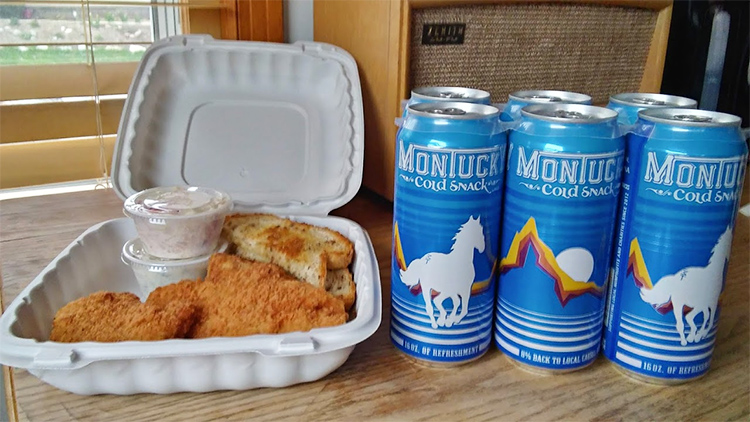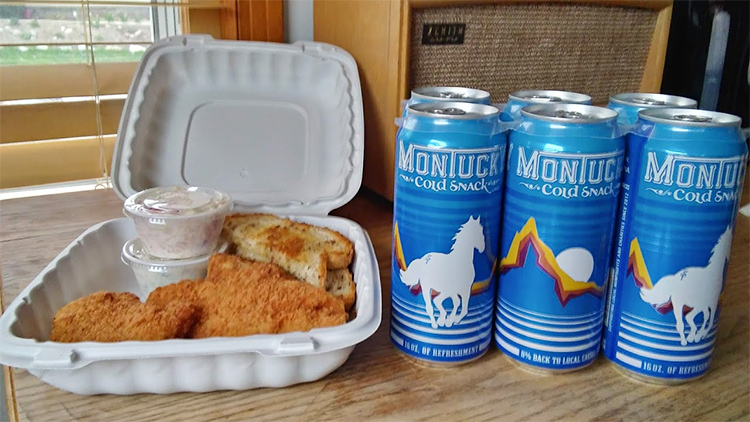 So there it was, another week tallied up in the books. At times I wonder where I am headed with this now. How many iterations of this story can I write before it becomes banal and trite? What will Friday fish frys in Wisconsin look like in two months? Or six months? Or a year? The food has always been central to each fish fry, of course, but just as integral has been going to a packed place where people were coming together for the same ritual.
I often would sit at a table alone and smile inside (or outwardly, probably) while watching families or friends join together. When I've been lucky, my own table has been full and I've gotten to share the fish fry experience with others. I've often dreamed of someday having a family of my own to share the magic with. Sharing the magic is what matters. There really are no answers right now as to what the near future of fish frys or anything else will look like. But like a diner that changes into a grocery store, we adapt. And we keep adapting. And we eat fish and stay strong and dream.
Takeaways: From diner to grocery store, but there still is takeout, including fish frys; you can pay for everything online in advance; I don't care what they are covering the fish with, I kinda like it; fresh greens in the tartar; subtle horseradish pancakes; you can purchase a gift card for someone so they can buy some fish frys; I think I drank my first Montucky Cold Snack; "Look for the helpers," they are bringing fish frys.