Depending on which news sources you follow, Milwaukee is going through either a "renaissance" or a "reinvention." Or maybe it's a "reboot" or a "reimagining," like that crappy Tim Burton version of Planet Of The Apes. However you want to define it, it's safe to say that Milwaukee is currently building a lot of new shit.
• On Tuesday, October 10 at 10 a.m., Discovery World will host a groundbreaking ceremony for its $18 million expansion. Per Discovery World, "the project will add nearly 20,000 square feet of accessible public space to Wisconsin's largest Science and Technology Center and provide the organization with versatility to help achieve a bigger impact on the community while also forging an important path toward long-term financial sustainability."
The expansion's first phase will include a pavilion on Discovery World's north lawn, "providing lunchroom space for visiting school groups, expanding available educational space for field trips and summer camps, offering opportunities to host special events and weddings, and showcasing large traveling technology or freshwater exhibits." The second phase is even more ambitious:
The second phase of the expansion will significantly reshape major exhibit space and reimagine the ways in which visitors engage with the facility. When fully functioning, the improvements will double the amount of exhibit and program space currently available in the Discovery World Technology Wing. The project will result in the transformation of one of the facility's two theaters into a new Grand Entrance and Exhibit Gallery as well as open a Mezzanine Level previously inaccessible to the public. Two new permanent exhibit experiences will be added, including a new 5,000 sq. ft. exhibit focusing on public health, medical research and careers in health care.
Phase one (in which Doris gets her oats) will be completed by mid-2018. Phase II will be completed by the end of 2018. [Discovery World]
• The Milwaukee Bucks unveiled updated plans for their new arena's "entertainment block." A (mostly) covered beer garden will connect the plaza in front of the new area to Old World 3rd St. Along with beer (natch), the beer garden will have a big-ass TV. [Milwaukee Journal Sentinel]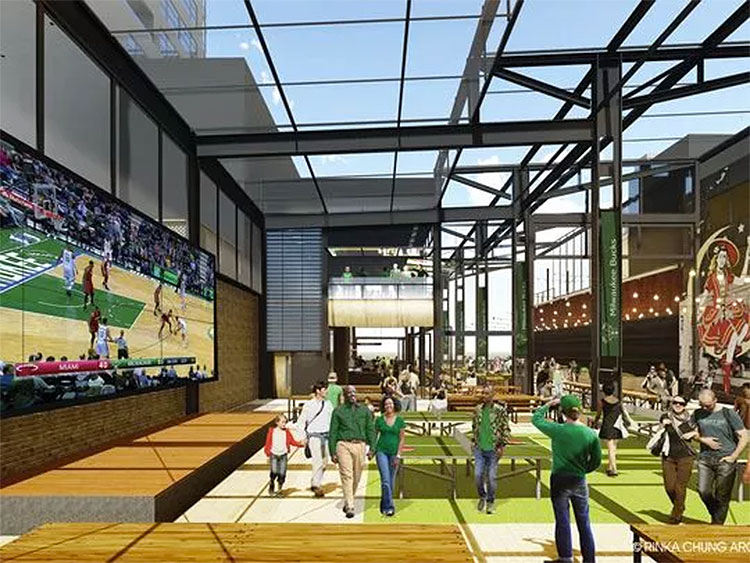 • Work is well underway in transforming a disused, nearly three-acre warehouse on the old Pabst Brewing Co. lot into the new home of Milwaukee Brewing Co. Two new apartment buildings and a 150-room hotel are also coming to the so-called Brewery neighborhood. [Milwaukee Business Journal]
• Speaking of expanding breweries, Spike Brewing recently made a move from a 2,500-square-foot facility near Nash and Fratney, to a 20,000-square-foot facility at 3866 N. Fratney St. [Milwaukee Business Journal]
• Community Warehouse—a nonprofit, faith-based organization that sells discounted home improvement products—recently opened in the old Value Village space at 324 W. North Ave. [Milwaukee Neighborhood News Service]
• Want a peek inside the Mackie Flats, a.k.a. the 25 new apartments in the renovated Mackie Building (home to the Swingin' Door Exchange) that run between $990 and $2,490 a month? Gaze upon them and weep. [Urban Milwaukee]