Caleb Westphal hasn't missed a Friday fish fry since 2013. Follow along with his never-ending adventures here.
As much as I love the open road, I detest a lot of things related to roads, such as people who drive exceedingly fast or slow on them, people who don't go into the nearest lane when making a turn, people who don't use blinkers, pedestrians who don't use crosswalks, and the eight billion potholes in Milwaukee. But there is nothing I hate more than sitting in traffic. I had plans to head to Madison last Saturday morning, but when 3:45 hit on Friday and I had yet to make up my mind where to get fish, I suddenly decided to head out of town, hurriedly packed up everything I needed for the weekend, and was out the door by 4:30. Of course, traffic was already slowed down on I-94, but it was worth driving through—there was a fish fry beyond it!
I've had fish frys at a few places in Madison, including Oakcrest Tavern, the Great Dane, and most recently, Toby's Supper Club, in September 2016. This time I picked Dexter's Pub (301 North St.; 608-244-3535), a place Mike Seidel of Madison Fish Fry lists as the fourth best location to get a fish fry in the city. Located on the city's east side, Dexter's is a corner bar with a wide variety of food options and a large selection of tapped craft beer offerings.
Dexter's is divided into two main rooms. In the front half of the building there is an old-school-looking dining room with about 15 or so tables. Towards the rear of the building is the bar area, which has a little bit newer of a feel to it. Shiny beer taps line the back bar, and flat screens display what beer is available. Eschewing the beer (at least for the first drink), a friend and I grabbed Old Fashioneds while we waited for another friend to arrive. Mildly muddled and generously poured with brandy, the Old Fashioneds were a classic take on the cocktail. Our friend arrived and a table opened up shortly thereafter.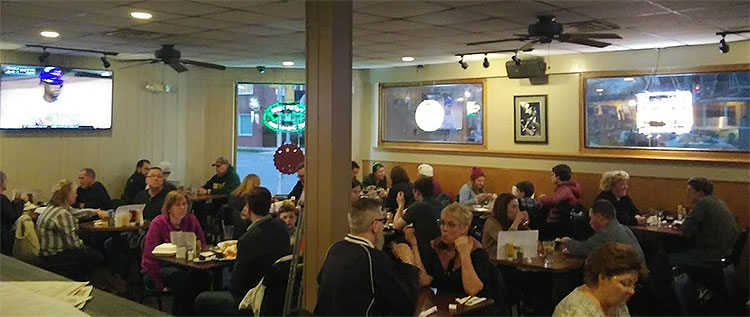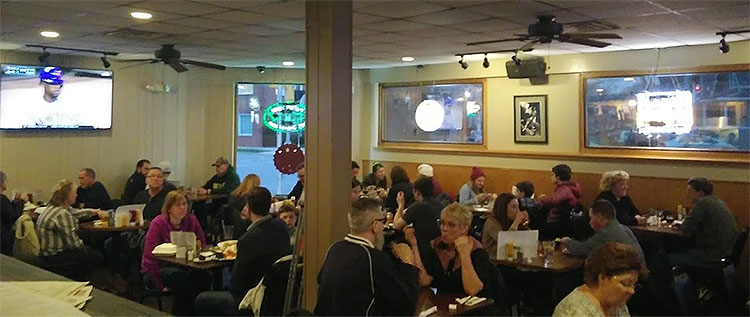 On their menu, Dexter's makes a point to note that all of their fish besides catfish is wild caught in North American waters using sustainable methods. Their Friday seafood options include Northern Atlantic cod, beer battered or baked ($13.99); Bering Sea king salmon ($17.99); Canadian walleye, lightly breaded or seared lemon-pepper ($17.99); Canadian bluegill ($15.99); Cajun po' boy, catfish ($12.99) or shrimp ($13.99); and jumbo Gulf shrimp ($17.99). Potato choices include brew fries, waffle fries, pub chips, or a baked potato (after 5:30). Fish frys are available from 11 a.m. to 10 p.m. I went with the fried cod with waffle fries, and added on a cup of clam chowder ($2.49).
"Was that bacon in the chowder?" I asked my waitress as she took my empty cup. Wide-eyed concern gripped her face as she inquired if I wasn't supposed to have bacon. "You almost gave me a heart attack," she added. Besides the small bacon chunks, the chowder was filled with potato, clam, and an ample amount of herbs. It had a smooth and balanced consistency, and a welcoming sweetness.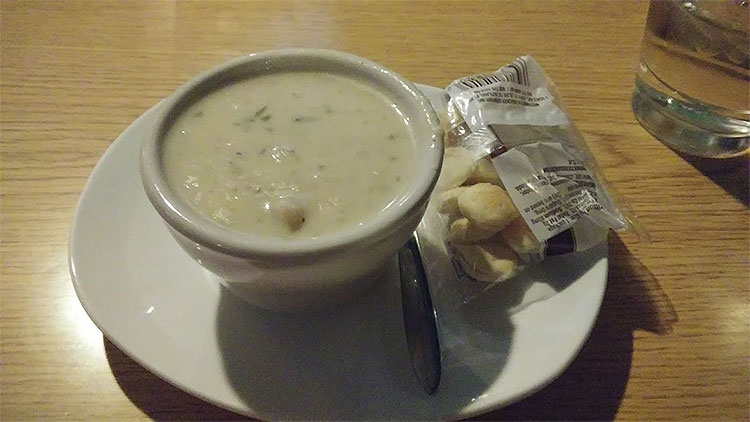 Although only two pieces of fish came with the meal, they were quite large. The beer batter was some of the most flavorful and unique I have ever had, and it overshadowed everything else on the plate. It was thick and almost like a breading, had some green herbs in it, and was so good I couldn't help but tear some of it off the fish to eat on its own. The fillets were decent and the tartar was above average, but the batter was the star.
The half-slice of rye bread was hearty and grainy, as well as pliable. This was not some banal, store bought-bread. Rather, it came from Madison Sourdough, a local bakery. The waffle fries were top-notch and cooked to perfection. Nothing stood out to me about the coleslaw, which was lightly coated, and dotted with a few flecks of seasoning.
No matter where you travel in the state on a Friday, you will always find a place to fill your road-weary stomach with fish. Sure, some areas may be more likely to serve waffle fries than potato pancakes, but in the end, the fish remains. If you find yourself in Madison on a Friday night, Dexter's is well worth your time.
Takeaways: There's bacon in the chowder and the chowder is good; standout beer batter; artisan rye bread; lots of craft beer on tap; old-school vibe with a touch of new school; within walking distance of other fish frys—I went a few blocks down the road to get a beer at a bar called the Tip Top Tavern, and they had a fish fry too!