Milwaukee Comedy Festival is coming off its biggest and best year yet. Following a year that found oodles of touring talent making their way to Milwaukee to perform to jam-packed rooms (and with the opening of The Laughing Tap comedy club in the meantime), organizers had their sights set on an even bigger things for this year's 15th annual Milwaukee Comedy Festival. Of course, COVID-19 had other plans.
In April, Milwaukee Comedy Festival organizers announced the event (originally scheduled to take place in early August) would be postponed until October on account of the pandemic. Instead of risking people's health with a massive event for the festival's 15th year, producers decided to shift focus to celebrate "14 1⁄2 years of laughs" with a smaller, more regional iteration.
Today marks the first day of the festival, which runs from October 7 through October 11. With nine shows planned over the next five days, there are likely lots of questions. Here's everything you need to know about the safety precautions organizers are taking, safety measures attendees must follow, ways to watch virtually, and who will be performing.
Safety Measures
Obviously, this year's festival comes with a number of safety measures on account of the still-raging pandemic. Most importantly, ticket sales have been reduced considerably for each show. Even before Governor Evers' 25 percent occupancy order this week, all participating Milwaukee Comedy Festival venues were limited to 25 percent occupancy (and even less in some cases). Tickets for shows at Dandy and Captain Pabst Pilot House are limited to 30 people. Laughing Tap shows will have seating for 20 and the Lakefront Brewery finale will have seating for between 40 and 60 people, depending on group sizes.
Seats will be liberally spaced, with most arranged in pairs. Attendees will also be required to wear face coverings at all times and maintain a safe social distance from people not in their party. If you can act like a grown-ass adult and follow those extremely reasonable and totally understandable rules, you can buy tickets to each show here.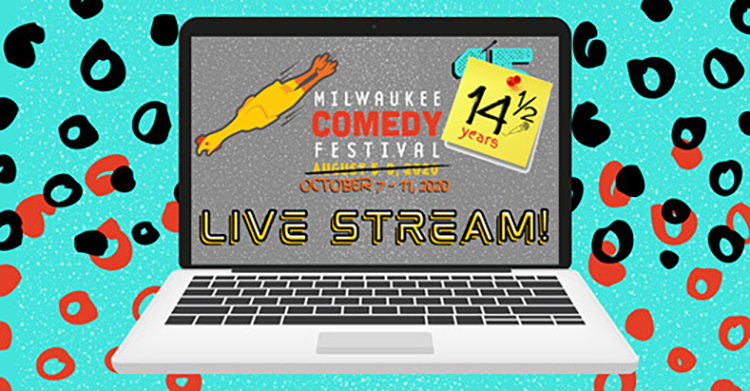 How To Stream
If you don't feel comfortable attending any of the shows in person, that's no problem. Festival organizers have figured out a way to let people watch the Milwaukee Comedy Festival from the comfort and safety of their own home. Each show will be live streamed. You can see all nine shows and all 28 comedians for the low price of just $15. You can buy your virtual ticket to the live stream here.
The Lineup
Last month, Milwaukee Comedy Festival announced the lineup for the five-day and nine-show affair (lineup is subject to change!). This year's festival headliner is Mary Mack, a comedian who's a recurring voice on Hulu's Solar Opposites and who has performed on Conan. While there will be a few other comics from out-of-state taking the stage over the course of the festival (including former Milwaukee sports radio personality Ramie Makhlouf), a sizable portion of this year's event will highlight in-state comedians. Some of that homegrown talent includes Dana Ehrmann, Ton Johnson, John Egan, Elijah Holbrook, and Jeff Spankowski.
Between the local heavy-hitters and stand-ups from elsewhere, you're bound to see something special this week.