Even though it's already snowed a few times, the daylight hours have dwindled significantly, and the Packers have pretty much locked up the NFC North, it's technically not even winter yet. Yes, the season will officially begin on Monday. Though winter's arrival officially ushers in a cold, harsh, and emotionally-testing period of inactivity that lasts until mid-March, Milwaukee has made sure to combat the seasonal doldrums with a ton of great shows in recent years.
After being forced to face last winter head-on at the height of a pandemic, the wide availability of vaccines and the tightened safety protocols at most venues in and around the city had made live and in-person entertainment possible again this year. The city will once again be abuzz with a steady helping of top-tier touring comedians and bands, stacked local shows, a flurry of rescheduled events, and even a festival or two thrown in for flavor. If the prospect of another Wisconsin winter has you down in the dumps, here are 21 standout events that might help warm your spirit.
Thursday, December 23
Here's To You Friend, An Ode To Mike Hoffman @ The Cooperage
Accomplished Milwaukee musician and producer Mike Hoffman passed away in October, leaving behind a varied and impressive legacy and a ton of friends in the city's music scene. Many of those people will come together at The Cooperage to celebrate his life and the music during Here's To You Friend, An Ode To Mike Hoffman. The free event will feature performances by The Delta Routine, Semi-Twang, and legions of other musicians touched by Mike.
Breaking & Entering Presents: Wave Chapelle + Von Alexander, Bre Bougie, Hektik @ Cactus Club
Twas the night before Christmas Eve and all through the Cactus Club, people were stirring as they were enjoying an outstanding lineup put together by the Breaking & Entering guys. Start the holiday festivities a night early with some high-quality hometown hip-hop, including Wave Chapelle, Von Alexander, Bre Bougie, and Hektik.
Thursday, December 30 to Friday, December 31 (and Sunday, January 2)
Nate Craig @ The Laughing Tap
Nate Craig has come quite a way since leaving the Badger State. Since moving to L.A., the Wisconsin-born comedian has become one of Bill Burr's go-to openers, he's amassed a wealth of TV credits, he's written for Ridiculousness and A Prairie Home Companion, and acted opposite Emma Stone and Jonah Hill on the Netflix's Maniac. Though his acting and writing résumés have grown a great deal through the years, Craig is still a stand-up comedian first and foremost. The comic will return to his native state for a total of three performances, including a New Year's Eve show and a "Hangover Show" the afternoon of Sunday, January 2.
Friday, December 31
Horseshoes & Hand Grenades + Buffalo Gospel @ Pabst Theater
Say goodbye to 2021 in style with what's sure to be a fast-picking, boot-stomping, and rowdy New Year's Eve performance by two Wisconsin powerhouses. Midwestern bluegrass mainstays Horseshoes & Hand Grenades will be joined by Milwaukee-Nashville country outfit Buffalo Gospel. There's a lot going on this December 31…especially compared to last year's final day, but this potent Pabst Theater pairing is definitely worthy of your New Year's Eve event consideration.
Thursday, January 6 to Saturday, January 8
Ms. Pat @ Milwaukee Improv
The life story of Patricia Williams (aka Ms. Pat) is nothing short of astounding. Once a teen mom who was selling drugs in Atlanta, she turned her life around and, by way of her incomparable perspective and undeniable talent, shifted her focus to comedy. In the years that followed that significant life change, Ms. Pat has amassed an abundance of TV credits, started a popular podcast, wrote a critically-acclaimed and NAACP Award-nominated memoir, and has toured extensively. Ms. Pat will drop by Milwaukee Improv in nearby Brookfield for a total of five shows spread between three January nights.
Saturday, January 8
Milwaukee Record presents N/A Day: A "Dry January" Beverage Festival @ The Cooperage
Join Milwaukee Record for the inaugural N/A Day on Saturday, January 8. From 12-4 p.m. that day, The Cooperage will play host to a "Dry January" beverage festival, which will feature dozens of local and national vendors giving out samples of some of their finest non-alcoholic offerings. The event—which is presented by Milwaukee Record and sponsored by Athletic Brewing Company, Budweiser Zero, Lagunitas IPNA, and WMSE—will feature a vast and varied array of booze-free drinks, including non-alcoholic beer and seltzer, kombucha, tonic, batched mocktails, N/A wine and spirits, craft sodas, and more. Admission is $20 in advance—or $25 the day of the event—and includes samples from every participating vendor.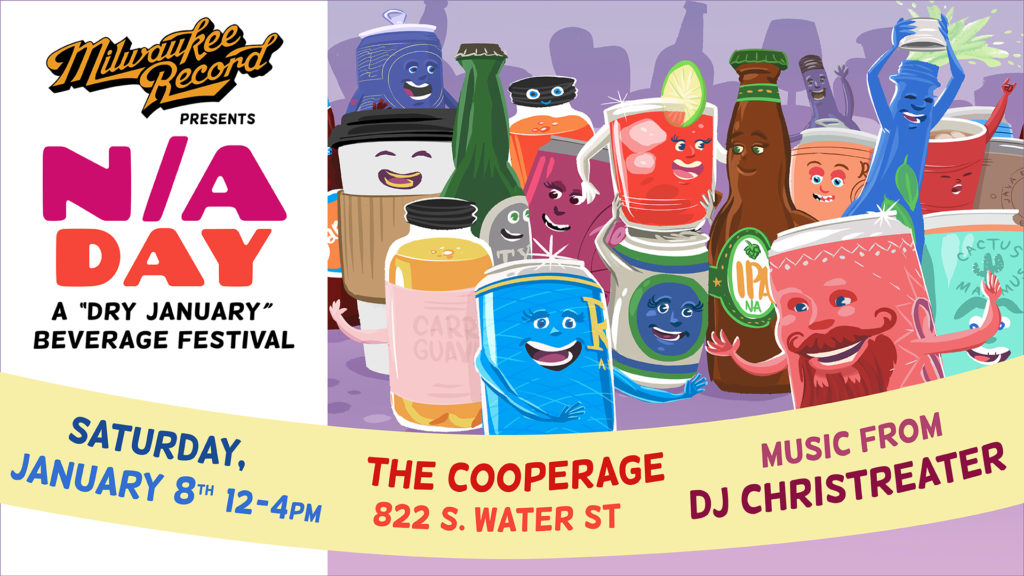 Monday, January 10
mewithoutYou + Unwed Sailor @ X-Ray Arcade
Has it already been 16 years since mewithoutYou released Brother, Sister? Since mewitoutYou is about to embark on a 16-Year Anniversary Tour in honor of the iconic album, we're going to say it has. That tour will stop in Cudahy for a Monday night performance at X-Ray Arcade. Unwed Sailor will play in support.
Friday, January 14 and Saturday, January 15
Yule Ball @ Turner Hall
Celebrate five years of the Yule Ball with two nights of Harry Potter-focused fun presented by our friends at Awkward Nerd Events. In addition to the expected revelry of previous Balls, this year's installment will also feature a Pride Night with drag performances on Friday and the first ever Triwizard Tournament on Saturday.
Sunday, January 23
Low Cut Connie + Robert Finley @ The Back Room @ Colectivo
Over the course of the project's decade-long existence, Low Cut Connie—a project headed up by singer/pianist Adam Weiner has released six acclaimed albums, toured the world, earned high praise from legendary musicians like Elton John and Bruce Springsteen, and has become a favorite of two United States Presidents. Weiner has been especially busy since last March, performing more than 100 "Tough Cookies" livestream shows to millions of viewers all over the world and releasing the latest Low Cut Connie album. Finally able to hit the road again, Low Cut Connie will treat The Back Room @ Colectivo to an in-person performance. Joining Weiner is opener Robert Finley, a blind blues singer whose album, Sharecropper's Son, was one of our personal favorite records of 2021.
Wednesday, January 26
Milwaukee Record presents 'Clueless' @ Avalon Theater
Loosely based on Jane Austen's novel Emma (if it took place in mid-1990s Beverly Hills, that is), Clueless follows affable and affluent teen Cher Horowitz (played by Alicia Silverstone in a breakout and career-defining role) as she navigates the high school hierarchy and broadens her world view. The Amy Heckerling-written/directed film also features Stacey Dash, Paul Rudd—looking remarkably similar to the way he does today—and the late, great Brittany Murphy. The low-budget movie grossed more than $56 million during its theatrical run en route to becoming a cult classic that's still regularly quoted and widely enjoyed today. We hope to, like, totally see you at Avalon Theater on January 26. As if you would miss this.

Jeff Rosenstock @ Turner Hall
Prolific ska-punk troubadour Jeff Rosenstock is coming to Turner Hall in January. If you know Jeff Rosenstock, you're probably well aware of this and you've already bought your ticket. On the off chance you didn't know about this, now you do.
Friday, January 28
Doughboys Podcast @ Turner Hall
In January of 2020, Doughboys—a popular chain restaurant podcast—came to Milwaukee for a long-awaited live show at Turner Hall and to finally review Culver's for the first time in the show's history. Joined by comedian Carl Tart, hosts Nick Wiger and Mike "The Spoonman" Mitchell (a.k.a. "Mr. Slice") delighted a ballroom full of fast food fanatics by discussing the beloved Wisconsin-based chain and some other area eating institutions before sampling some local brewdogs Milwaukee Record procured for their "Drank Or Stank" segment. On January 28, Mitch, Wiger, Emma, and a special guest TBA will return to Tuner Hall to review another Wisconsin chain. Will they go to Cousins? Is a Rocky Rococo review in our future? There are a lot of great ones to choose from, so it's bound to be great.
Saturday, February 5
Mitten Fest @ Burnhearts
After taking 2021 off on account of, well, everything, Burnhearts is planning to bring back its winning wintry mix of live music, rare and delicious craft beer, tasty food and barrel-aged cocktails, locally-made goods, and charity that comes together in the form of Mitten Fest. The lineup won't be announced until January, but save the date!

Joshua Ray Walker @ Shank Hall
If you don't know the name Joshua Ray Walker yet, you're about to be hearing a lot about him. Since first gaining notoriety in country music circles with his 2018 debut, Wish You Were Here, the Dallas singer-songwriter has won fans all around the world and earned high praise from some of music's most renowned publications. Walker's sophomore album, Glad You Made It, has garnered even more acclaim and finds the up-and-coming country talent on the cusp of even bigger and better things. You can catch Walker at Shank Hall on Saturday, February 5.
Thursday, February 17
Low @ Cactus Club
Holy crap…LOW is coming to the Cactus Club in February. You won't want to miss your chance to see this long-running and legendary band perform in an intimate Bay View venue.
Peter Mulvey + SistaStrings @ The Back Room @ Colectivo
Last year, Peter Mulvey and SistaStrings joined forces to release Live At Cafe Carpe, a remarkable live album. A few months after reuniting for a show at Summerfest, they'll come together again to share the stage at The Back Room. Don't miss this one. It's going to be something special.
Friday, February 18
Letterkenny Live @ Riverside Theater
Since being brought to Hulu in 2018, Letterkenny—a Canadian television program about the "hicks, skids, and hockey players" in the eponymous 5,000-resident town—has caught on with American audiences in a big way. Now that the endlessly quotable, uproariously hilarious, and surprisingly progressive show has reached "cult comedy" status stateside, its cast and creators are ready to bring the show on the road. Letterkenny Live! will offer fans an opportunity to enjoy an evening with the likes of Wayne, Daryl, Miss Katy, and other characters. And yes, Puppers Golden Lager is a presenting sponsor.
Tuesday, February 22
Yola + Jac Ross @ Pabst Theater
We can't emphasize this enough: do yourself a favor and see Yola. Sadly, the multi-Grammy nominated musician was unable to perform her scheduled Summerfest set due to a positive COVID case, but this British-born singer that's destined for even bigger and better things is paying a belated visit to Milwaukee in February, where she'll perform cuts from her newly-released masterpiece, Stand For Myself, at Pabst Theater. Jac Ross opens.
Thursday, February 24
Tyler, The Creator + Kali Uchis, Vince Staples, Teezo Touchdown @ Fiserv Forum
Tyler, The Creator is great. He's performing at Fiserv Forum in February. Need we say more?
Saturday, March 5
Illuminati Hotties + Fenne Lily, Pom Pom Squad @ The Back Room @ Colectivo
Roughly five months removed from the release of sophomore album, Let Me Do One More, Illuminati Hotties—the "tenderpunk" band fronted by project mastermind Sarah Tudzin—will treat The Back Room @ Colectivo to what's sure to be a rollicking collection of summer-suited songs that will heat up the cafe in the waning days of winter. The tour is co-headlined by Fenne Lily and is further bolstered by awesome opener Pom Pom Squad.
Tuesday, March 15
Mitski + Michelle @ Miller High Life Theatre
After being moved from the Riverside Theater to the higher-capacity High Life Theatre, this show sold out immediately. So hopefully you got your ticket.