The "25 Facts" series features people, places, and stuff that make Milwaukee great. These articles are meant just for fun and we have nothing but love for everyone included. Brought to you by Milwaukee Food & Drink Specials.
There are more. There will always be more. There are endless facts about Milwaukee. We're never going to run out, whether we want to or not. And, sometimes, that's the problem. These lists are a ton of fun to write and we'll keep writing them so long as you're all interested or just bored at work enough to keep reading them. However, when there's realistically no end to these facts, where does
one start?
Anyway, we've decided to let the numbers 1-25 be our guide for this month's list of not-that-interesting facts. Each fact is tied to its corresponding list number, except for a few cases where we had facts we wanted to use but couldn't really tie them to a number, or other instances where we just felt like talking about the Brewers. There really isn't a whole lot of specific structure to this month's list, but we hope you enjoy it anyway. Thanks for reading!
1. Elsa Kopp opened the first Kopp's Frozen Custard stand at 6005 W. Appleton Ave. in Milwaukee in 1950. The three current Kopp's Frozen Custard locations are all located outside of Milwaukee—in Glendale (home to the cows seen above), Greenfield, and Brookfield. However, if you were able to fly (you're not, so don't try) in a straight line from the Glendale location to the Brookfield location, you'd fly right over the top of the original location.
2. The NBA-leading Milwaukee Bucks' 114-109 loss to the at-the-time last place Phoenix Suns on Monday night was the first time all season the Bucks have lost two games in a row. Furthermore, the Suns are the only team to beat the Bucks twice this season. Furthestmore, former Phoenix Sun and current Milwaukee Buck, Eric Bledsoe, is from Birmingham, Alabama, whose metro area has zero Kopp's Frozen Custard stands, but two Freddy's Frozen Custard & Steakburgers stands.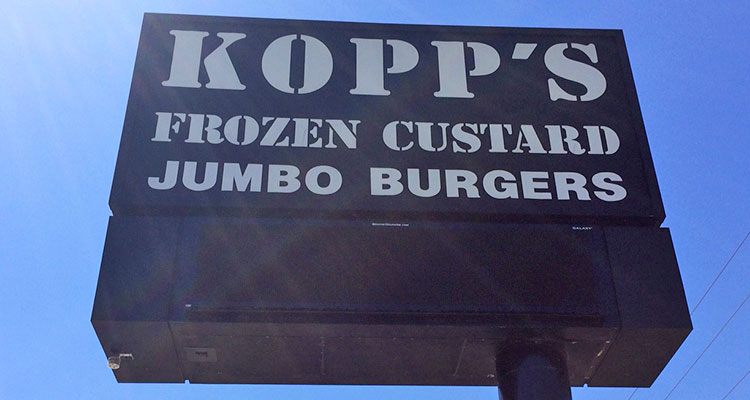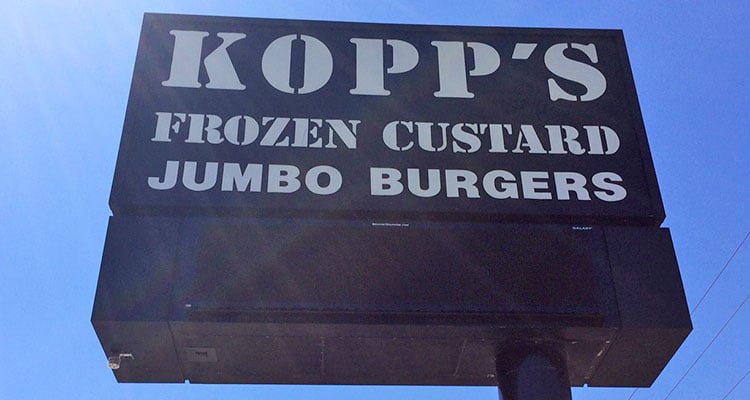 3. Words from menu items at Oak Barrel on Old World Third Street that refer to a location in some way: Scotch, Third Coast, Kentucky, French, House, Caprese, Southwest, Italian, Thai, Caprizza, Midwest, Nashville, Korean, Smokehouse, Ballpark, Wisco, Belgian, Cali, English, Oak Barrel.
4. Fore! Milwaukee is about 3.1 miles away from Lake Park Golf Course, which is a 1,154-yard course. To put it another way, Fore! Milwaukee is about 4.73 Lake Park Golf Courses away from Lake Park Golf Course. We recommend a driver.
5. The Milwaukee Police Department can issue a citation if they hear intermittent noise from a property 50 feet away. Fortunately for Screaming Tuna in Milwaukee's Fifth Ward, it's just a clever name, because a bunch of fish screaming all day and night would definitely result in noise violations.
6. While you should absolutely eat at Morel and their chef/owner's new seafood spot, Raw Bar, you really shouldn't eat raw morel mushrooms as they can make you sick. This has nothing to do with the number 6.
7. The Milwaukee Mile oval racetrack is approximately one mile long, but not actually located in Milwaukee. It's at the Wisconsin State Fair Park in West Allis. On the other hand, the loop created by W. 91st Street, N. Auer Avenue, W. 89th Street, W. Metcalf Place, and W. Keefe Avenue in the Kops Park neighborhood of Milwaukee is also one mile long. We're not saying that this loop on Milwaukee's northwest side should officially be called The Milwaukee Mile, but we're also not saying it shouldn't. This has nothing to do with the number 7, except maybe that I (Josh Hoppert) lived on that loop when I was 7.
8. The approximate minimum distance between Mad Planet and other nearby planets:
Mercury: 48 million miles
Venus: 24 million miles
Mars: 34 million miles
Jupiter: 365 million miles
Saturn: 746 million miles
Uranus: 1.6 billion miles
Neptune: 2.7 billion miles
Planet Fitness: 1.7 miles (to the one near N. Holton Street and E. Capitol Drive)
9. Nine Below is about 4.1 miles from the 18-hole Foot Golf course at Lincoln Park, which is a 2,620-yard course. To put it another way, Nine Below is about 2.75 Lincoln Park Foot Golf Courses away from Lincoln Park Foot Golf Course. Wear appropriate shoes.
10. Channel 10 in Milwaukee, owned by Milwaukee Area Technical College, has the call sign WMVS. "MVS" comes from Milwaukee Vocational School, which is what MATC was called from 1916-1948. However, WMVS didn't go on the air until 1957, when the school was called Milwaukee Vocational and Adult School.
11-13. If you run a Google image search for "Milwaukee 11," "Milwaukee 12," or "Milwaukee 13," you're going to find so many pictures of Milwaukee Tool-brand items. However, if you search for "Milwaukee 14," you'll find a ton of hits for stories about a group of 14 men who stole thousands of military service draft cards and burned them with homemade napalm near the intersection of N. Plankinton Avenue and W. Wells Street on the afternoon of September 24, 1968. 50 years later to the day, Milwaukee Brewer Christian Yelich was voted the National League Player of the Week for the third time of the 2018 season.
14. If you can't get enough of Milwaukee Day (April 14), then you might want to consider also celebrating "Milwaukie Day" on May 3. The Portland, Oregon neighbor sports the 503 area code.
15a. Thurman's 15 was established in 1987. The Grateful Dead did not play a show in Milwaukee that year—opting to play at Alpine Valley Music Theatre in East Troy instead for most of the '80s. Their next Milwaukee shows took place on April 15 and 16, 1989 at the MECCA Arena. Should you need some recovery music to get you through the Monday that immediately follows Milwaukee Day 2019, you could do worse than to listen to those 1989 sets on their 30th anniversary.
15b. The Dead also played at Alpine Valley on July 17-19, 1989. Footage from the July 17 and 19 shows was digitally remastered and made into an official video release on DVD and VHS, called Downhill From Here.
15c. Exactly 10 days shy of 10 years before those Alpine shows, Thurman Munson and the defending World Series champion New York Yankees visited County Stadium for 3 straight losses to the Milwaukee Brewers on July 27-29, 1979. Munson appeared in the games on July 27 and 29, going 1-for-8 with a triple. Reggie Jackson singled following Munson's triple, bringing Munson in to score.
15d. Robin Yount also tripled in that game.
15e. Four days after the July 29 game, Thurman Munson died in a plane crash. A Milwaukee bar owner from New York City later named a bar after him where they play a lot of Dead to this day. (That's Thurman's 15.)
15f. Nineteen years and two days after the July 29 game, the movie BASEketball premiered. In the final scene of the movie, Reggie Jackson walks out onto the field at Beers Garden in Yankees gear to congratulate Joe "Coop" Cooper, who's miraculous final shot had just carried the Milwaukee Beers to their first ever Denslow Cup victory. As a kid, Coop had seen Reggie hit three home runs in Game 6 of the 1977 World Series, catching the third one in the stands himself.
15g. Ernest Borgnine, long-time clown in Milwaukee's Great Circus Parade, played Ted Denslow in the movie.
15h. Shorewood High School's own David Zucker directed and co-wrote the movie.
15i. Kato was in it, too.
16. Oscar's Frozen Custard, which owns three of the five local burger Oscar'ses, is 15 years younger than Oscar The Grouch. This has nothing to do with the number 16, but we ran out of room on 15.
17. I, pregnancy womb
I, a wobblier musketeer
I, Ms. Elf Cape
That's a terrible yet oddly moving haiku you can write using anagrams of Company Brewing, Milwaukee Beer Bistro, and Simple Café, in that order.
18. In the early 1890s, Frederick Pabst bought the location now known as Rose Park in Milwaukee and turned it into an amusement park. In its heyday, it had a fun house, a roller coaster, and several other rides and attractions. At that same time, James Naismith developed the game of basketball to give cooped-up kids at the Springfield YMCA something to do inside during nasty Massachusetts winter months. Rose Park no longer has a roller coaster, but it does have basketball courts.
19. "Lethal sow dreams annoyed feral Yount." That's an upsetting short story you can write using anagrams of Lost Whale, Mader's, Anodyne, and Fauntleroy, in that order. Way to go on that triple, though, Rockin' Robin.
20. Transfer Pizzeria Café offers a "Walker Rebate Wednesday" which means that you get 20% off of your bill if you take non-car transportation (bus, bike, walking, teleportation, etc.) to Transfer on Wednesdays. By our calculations, the farthest point from Transfer that still offers the possibility of taking MCTS, biking, or walking to get your "Walker Rebate" is the Walmart Superstore in Germantown. It's about an 18 mile walk, so we'd recommend taking Route 57 or teleporting.
21. The City of Milwaukee Department of Public Works' Forestry Division maintains over 200,000 trees. That 200,000 includes 25 kinds of ornamental trees, three kinds of evergreen trees, and 21 kinds of shade trees, but excludes The Pasta Tree.
22a. The Milwaukee Journal-Sentinel and ESPN recently ran stories about Milwaukee Buck Khris Middleton's upbringing in Charleston, South Carolina and how trees may have helped him with his game. Large oak tree branches hung over the driveway of Middleton's childhood home, in some cases blocking his shooting lanes. Instead of trimming them, his father encouraged Khris to shoot around them. Seems to have worked.
22b. The American Transmission Company (or ATC) is now in the third year of partnership with the Milwaukee Bucks for a program called "Trees for Threes." Essentially, every time a Milwaukee Bucks player hits a 3-point shot in a game, ATC sponsors the planting of another tree. Since the beginning of this program, Khris Middleton has been responsible for the planting of 331 trees (and counting).
23. The Jerry Garcia Band's November 23, 1991 show at the Bradley Center was released as a live album in the "Garcia Live" series on March 10, 2017. The show ran 2 hours and 12 minutes. The day the album was released, the Milwaukee Bucks beat the Indiana Pacers 99-85 at the BMO Harris Bradley Center in a game that also lasted 2 hours and 12 minutes.
24. In the July 27 game of the 1979 series between the Brewers and Yankees mentioned earlier, the Brewers entered the bottom of the ninth inning tied 5-5. It had already been an emotional game. It was hot, Reggie Jackson was ejected for starting a fight with Mike Caldwell that led to a bench-clearing brawl, and Thurman Munson went 0-for-4. Paul Molitor grounded out to first base and then Don Money flied out to center field. With two outs, Cecil "Coop" Cooper stepped up to the plate. Four pitches later, Coop sent Goose Gossage's 1-2 fastball over the right field wall. The game-winning home run was Coop's third home run of the day.
32. UP Supply Co.'s recent article about how long it would take to resurface a frozen Lake Superior with a single Zamboni machine is so stupid and amazing that we're seriously jealous we didn't think of it first. Our hats are off to you, our Cheboygan-loving neighbors. In a desperate attempt to try and do something similar (but not as good), here's this:
Amount of water needed to make a 3-ounce packet of Lime Jell-O: 2 cups (1 hot, 1 cold)
Amount of water in Lake Michigan: Approximately one quadrillion gallons
Number of cups in a gallon of water: 16 cups
Number of cups of water in Lake Michigan: Approximately 16 quadrillion cups
Number of 3-ounce packets needed to make Lake Michigan into Lime Jell-O: 8 quadrillion packets
Total weight of gelatin mix needed to make Lake Michigan into Lime Jell-O: 12 trillion tons
Instructions for turning Lake Michigan into Lime Jell-O
1. In a large bowl, add approximately 8 quadrillion cups of boiling Lake Michigan water to gelatin mix; stir for 2 minutes or until all 12 trillion tons of mix has dissolved.
2. Pour the hot water and gelatin into Lake Michigan and stir.
3. Allow the winter weather to chill the mixture for 4 hours or until firm.
* Makes 32 quadrillion (1/2-cup) servings