Every Friday, Stuff We Missed looks to other Milwaukee publications (and beyond) for, well, stuff we missed throughout the week. This week: that proposed FPC Live venue and the neighbors who oppose it.
• Back in December, Madison-based promoter and venue operator FPC Live announced plans to build a new two-room venue in the Third Ward near the Summerfest grounds. A month later, at a "public listening session," questions of whether Milwaukee truly needed a new concert venue—especially a new concert venue from a company whose majority stake was owned by Live Nation—were largely drowned out by neighbors who were concerned about all the noise, traffic, and crime associated with venues that book Bright Eyes and Beach House shows. The horror.
Now, another month later, those folks are back at it. A newly formed group called Save The Third Ward is not only attempting to stop the venue, but it's proposing that the site—currently a largely unused Summerfest parking lot—be transformed into a mixed-use public plaza instead. They've got renderings and everything!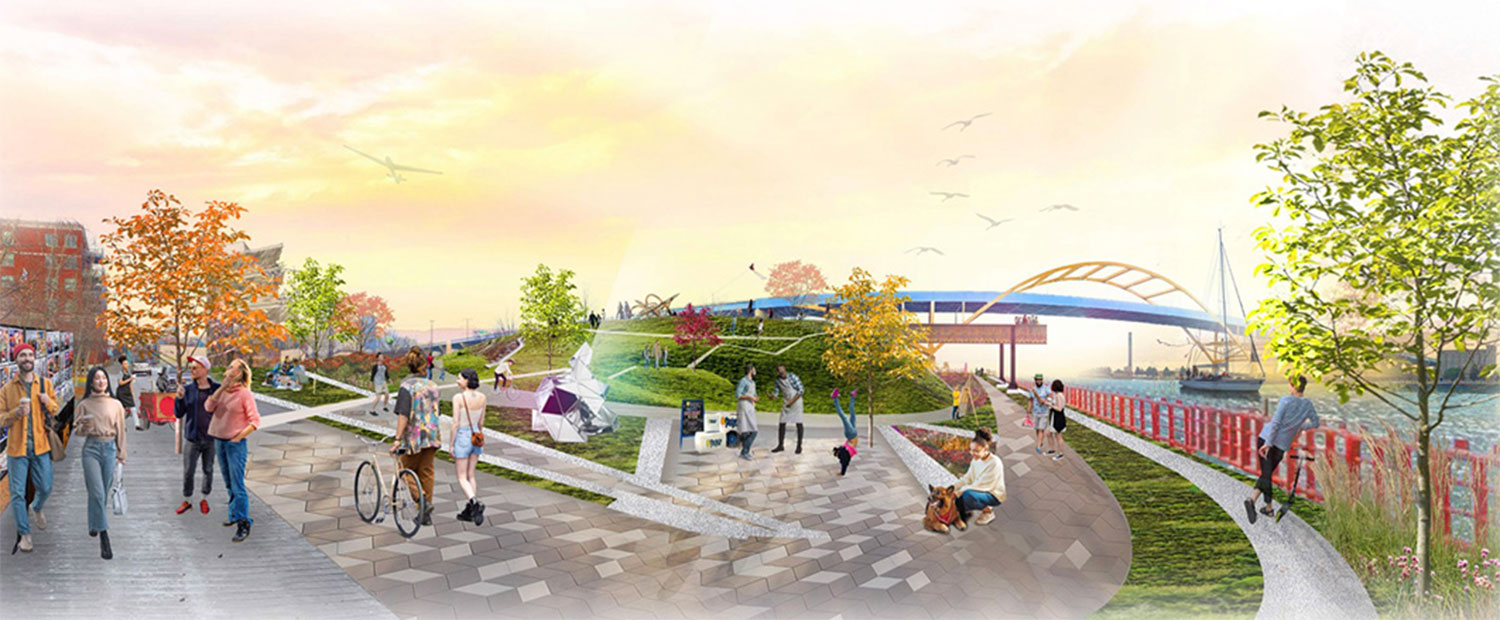 The group's spokesperson, Craig Peterson, was instrumental in blocking a similar development—a House of Blues proposed for the old Pabst Brewery site—in 2005.
"Forty or so years ago," reads the Save The Third Ward website, "a small group of visionaries had a plan to transform a historic industrial area into a chic urban community. The area has become one of Milwaukee's most vibrant neighborhoods. A developer now wants to add a massive concert venue that will forever alter the progress and hurt values in the area. We have a different vision. We believe the public land, given to Milwaukee for the public trust, can be used to enhance the progress into something that enhances The Third Ward."
Elsewhere, neighbors who, in recent years, moved immediately next door to Summerfest describe Summerfest as "The 11 Days of Hell," and bemoan the "200 days of hell each year for the next 50 years" the proposed FPC venue would bring to their neighborhood.
Does the group stand a chance? According to Alderman Bob Bauman, not as long as Summerfest's parent company, Milwaukee World Festival, holds the lease for the land—which it totally does. Also, claims Bauman, "This is part of an orchestrated effort to defeat the concert venue project. Once that's defeated, [the public plaza proposal] goes away." [BizTimes]
• BREAKING NEWS: You'll be able to legally gamble on sports at Potawatomi Hotel & Casino by the end of the year. The news comes courtesy of an agreement between Governor Tony Evers and Chairman Ned Daniels Jr. of the Forest County Potawatomi. It allows "casinos operated by the Forest County Potawatomi to offer 'event wagering' on sports and non-sports events—in other words placing bets on sporting games." [TMJ4]
• The James Beard Foundation has bestowed one of its America's Classic Awards to Solly's Grille and its butter-tastic burgers. [88Nine Radio Milwaukee]
• On March 11 and 12, the Milwaukee Admirals will be known as…the Milwaukee Fish Fry! [Milwaukee Admirals]
• The offices on the third floor of The Avenue—a.k.a. the old food court of the Shops of Grand Avenue—have an exciting new tenant: Marking Services Inc., which "sells tags and labels for pipes and electrical equipment." STILL NO WORD ON THE POSSIBLE RETURN OF THE LEONARD BEARSTEIN SYMPHONY ORCHESTRA. [Milwaukee Business Journal]
• Another year, another new restaurant for the restaurant space in Turner Hall. This time, it's Turning Tables Tavern and Eatery, a concept that will "involve a teaching kitchen that will give hopeful restaurateurs the opportunity to test their ideas." The first hopeful restaurant partner will be Mister Bar-B-Que. [Urban Milwaukee]
• Not one, not two, but three Tour of America's Dairyland bike races will land in Milwaukee this summer: June 20 in Bay View, June 23 on Brady Street, and June 25 on Downer Avenue. [Urban Milwaukee]
• A new bar, Upper East Bar, is now open in the old Eastsider space at 1732 E. North Ave. Just in time for that North Avenue bridge to be shut down for five months! [BizTimes]
• Taste & Toast will return to downtown Milwaukee March 7-11. [OnMilwaukee]
• Want to open for Bon Jovi during the band's April 5 show at Fiserv Forum? YOU TOTALLY COULD. [88Nine Radio Milwaukee]
• Have a great weekend, Milwaukee!
Exclusive articles, podcasts, and more. Support Milwaukee Record on Patreon.