Wednesday night, in a standing-room-only town hall meeting held on the second floor of Brady Street restaurant Casablanca, city officials and concerned neighbors came together to discuss Milwaukee's so-called "Swing Park." The popular city park, located under the Holton Street Bridge near the intersection of Brady and Water streets, was the site of a deadly double homicide in early August. (Or was it? More on that later.) Wednesday's meeting covered potential safety enhancements for the park, increased security and police patrols, and maybe just putting a fence around the whole thing. Oh, and the healing powers of ancient Mayan and Egyptian color theory. Pink is the color of love.
Leading the meeting was Ald. Nik Kovac. Joining him were Milwaukee Mayor Tom Barrett, Casablanca owner and Brady Street BID President Alaa Musa, District 1 Police Captain Diana Rowe, Community Liaison Officer Thomas Kline, and Public Works Coordination Manager Karen Dettmer.
Kovac set the stage by discussing the history of the park, and by applauding the city's early-'00s redesign of "what had been a totally forgotten and abandoned" area. "For the last several years, we've had swings up, which was not a city idea, it was a community idea," he said. (The swings were installed in 2014 by an "improv-architecture group.") "I think the swings have made the park even more popular. We've had a lot of positive feedback about the park. I've also gotten quite a bit of negative feedback, especially in the last couple of years, about mostly after-10 p.m. activity."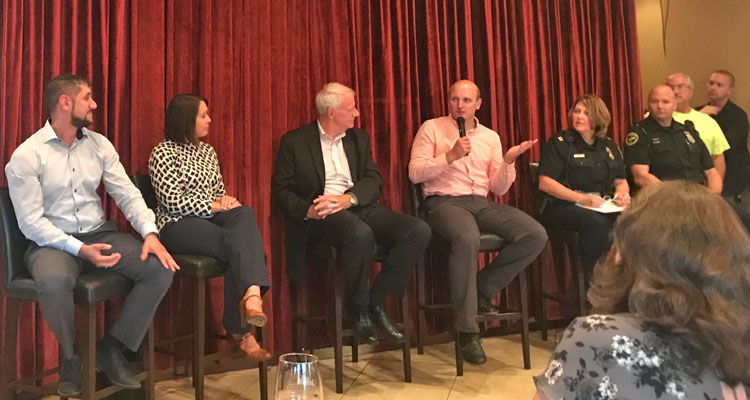 Rowe backed up Kovac's statements. "It's a very, very popular destination for people who live here as well as visitors to this city," she said. "I think everybody enjoys it during the day, but as everyone has said, once it gets dark, people want it to be quiet, they want to start to go to sleep. They don't want to have those issues."
Rowe said that since mid-April, police had been at the park 100 times. Seventy of those visits, she said, were police-initiated. "Obviously, we had the homicides, but the bulk of the crimes in the park are really a noise nuisance issue."
Rowe went on to reveal that thanks to a recent state grant, the area surrounding Swing Park had been one of a handful in the district to receive extra foot patrols. Unfortunately, she said, those patrols were not in the vicinity of the park the night of the homicides. According to Rowe, the extra patrols will continue until the grant expires in mid- to late-September.
Security cameras installed by the Brady Street BID were also discussed. Rowe said police were in the process of gaining access to those cameras in order to better monitor after-hours activity in the park. "I'm not saying we're monitoring 24/7, but it's certainly something we're paying attention to at 10 o'clock, 11 o'clock, when we start having the issues," she said.
Other issues discussed:
• Cleaning up the empty lot to the south of the park. Kovac noted that Wangard Partners owns the property, and is planning to eventually develop there. Barrett "guaranteed" Wangard would hear about neighbors' concerns.
• Further "activating" the Swing Park space. Musa spoke about more lighting under the Marsupial Bridge, more movie nights, more ice cream socials, and more art (and more cameras).
Members of the community were also invited to speak. One woman called into question the location of the early-August homicides. Media reports were quick to focus on Swing Park, but Rowe admitted that the crime actually occurred on the connecting Marsupial Bridge. Participants in the shooting, she said, ran to Swing Park afterwards.
A resident of a nearby apartment building floated the idea of erecting a fence around the park that could be locked at 10 p.m. "I can tell you firsthand that people who are there after dark are not coming to swing," she said. Kovac gently shut down the idea, citing logistic concerns, aesthetic concerns, and the fact that, you know, it's a city park.
"That dilemma, of how do you close a park, is true everywhere," Kovac said. "It's true in Sherman Park and it's true in Washington Park. We're not going to put a fence around Sherman Park. Well, actually, the Sheriff [David Clarke] did put a fence around Sherman Park for a few weeks.
"I generally think that trying to put fences around parks sends the wrong message about how public they are," he added.
And then there was the guy who brought up ancient Mayan and Egyptian color theory. "My apologies if what I'm about to say seems progressive or radical," he began, "but honestly, it's a principle that, if you do a lot of research, you'll see that the ancient Mayans and ancient Egyptians used to know that you can combat violence with certain aspects of light." He went on to posit that perhaps covering the park in pink LED lights would help diffuse potential aggression. Kovac noted that the park's lighting had been criticized in the past, and that installing LED lights was a possibility.
Judging by the community's comments, many felt their attendance at Wednesday's meeting was in service of "saving" Swing Park. Nearly everyone mentioned that they were "for the park," and that they wanted it to stay open. (Only one woman grumbled about how the so-called park was "just some sand and six swings.") Yet even in the immediate aftermath of the early-August homicides, no serious discussion of closing the park was ever put forth. "You don't close parks because bad things happen. You find a way to keep them open," Kovac told TMJ in the wake of the incident. That attitude carried through the entirety of the meeting.
Another thing that carried through: the unique—and perhaps tricky—nature of the park. Rowe explained that while a 10 p.m. curfew is enforced in the park itself, the Marsupial Bridge and the surrounding area have no such curfew. Unable to comment on this conundrum was the "improv-architecture group" that just went ahead and put the swings there in the first place. Disruption.
But things ended on a positive, proactive note. "Part of being a community is cleaning up and not putting the responsibility on those around you," a woman said. "If you want to be part of the community, you don't always need to complain about it."
Indeed, the overriding theme of the meeting was more involvement in the park—not less. More security, more activities, and more input from developers and neighbors. Those neighbors, especially, are clearly invested in the future of Swing Park, and want to see it evolve and continue. Based on Wednesday's meeting, it will.