Beginning today, Milwaukee will operate walk-in COVID vaccination clinics at North Division High School (1011 W. Center St.) and South Division High School (1515 W. Lapham Blvd.). The clinics are open Monday through Friday from 10 a.m. until 4 p.m. No appointments are required.
However, the clinics are only intended for folks 16 and older living in the following Milwaukee County ZIP codes: 53204, 53205, 53206, 53209, 53215, 53216, 53218, 53223, 53224, and 53233.
The chosen ZIP codes rank highest on the Centers for Disease Control and Prevention's Social Vulnerability Index.
Vaccines are free, and no insurance is required. "Residents do not need to bring official documentation such as a driver's license or utility bill to prove residency," notes the Milwaukee Journal Sentinel. "Rather, the address on registration documentation will be officials' method for verifying residency."
Sixteen- and 17-year-olds can only receive the Pfizer vaccine. The Moderna and Johnson & Johnson vaccines are available for folks 18 and older.
Also on Monday, the State of Wisconsin further widened vaccine eligibility, regardless of ZIP code. Individuals 16 or older with the following medical conditions can now receive a vaccine:
• Asthma (moderate-to-severe)
• Cancer
• Cerebrovascular disease (affects blood vessels and blood supply to the brain)
• Chronic kidney disease
• COPD (chronic obstructive pulmonary disease)
• Cystic fibrosis
• Diabetes
• Down syndrome
• Heart conditions, such as heart failure, coronary artery disease, or cardiomyopathies
• Hypertension or high blood pressure
• Immunocompromised state (weakened immune system) from solid organ transplant, blood or bone marrow transplant, immune deficiencies, HIV, use of corticosteroids, or use of other immune weakening medicines
• Liver disease
• Neurologic conditions, such as intellectual disabilities and dementia
• Obesity (body mass index [BMI] of 30-39 kg/m2)
• Overweight (BMI of 25-29 kg/m2)
• Pregnancy
• Pulmonary fibrosis (having damaged or scarred lung tissues)
• Severe Obesity (BMI 40 kg/m2 or more)
• Sickle cell disease
• Thalassemia (a type of blood disorder)
Previous eligible groups include:
• Frontline health care personnel
• Residents and staff in skilled nursing and assisted living facilities
• Police and fire personnel, correctional staff
• Age 65 and older
• Educators and Child care
• Individuals enrolled in Medicaid Long-term care programs
• Some public facing essential workers
• Members of the clergy
• Restaurant workers
• Criminal court personnel
• Non-frontline essential health care personnel
• Staff and residents in congregate living facilities
Eligibility is expected to extend to everyone 16 or older on May 1. Find a map of Wisconsin vaccine providers HERE.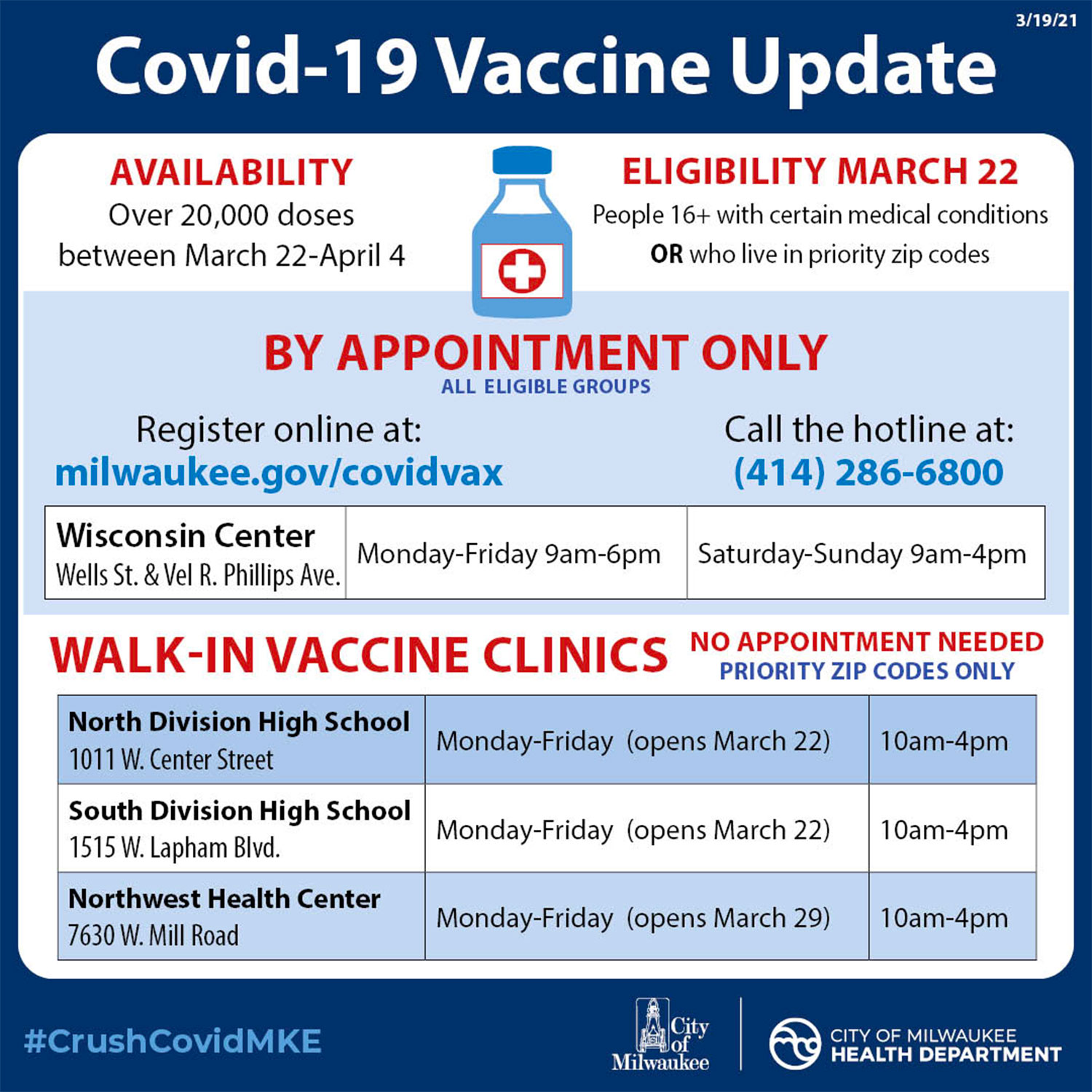 Exclusive articles, podcasts, and more. Support Milwaukee Record on Patreon.
---
RELATED ARTICLES
• Wisconsin COVID-19 vaccine registry launching March 1
• Stay updated on Wisconsin's COVID-19 response, vaccine progress with weekly newsletter