Some places come and go, while some places become icons. Mandatory Milwaukee is all about the latter. Join us as we revisit beloved and well-worn local staples with fresh eyes, and explore how they might figure in the city's future.
Home. Some people say it's where the heart is. Others say home is, um, a sweet home. Right now, state government officials and law enforcement are saying you should stay home because it's the safest place for you to be during the coronavirus/COVID-19 crisis (and they're absolutely right). By staying safe at home, you're limiting interaction with those who might be carriers of the virus and, if you're potentially a carrier yourself, you're helping to limit the spread to others by remaining in your place of residence. This should be obvious, but for reasons we can't grasp, some people are still struggling with this concept. Stay home.
Yes, there are moments where boredom creeps in, where sustained isolation becomes tough to handle, and where the walls start shrinking. That said, we're just going to come out and say it: Home rules.
Think about it. You probably keep most of your things at home, including stuff like: clothing, food, books, board games, electronics, records, sentimental belongings from your childhood, important documents, kitchen appliances, tools, past Halloween costumes, art supplies, your Mr. Show box set, toiletries, a little of that weed you bought like three years ago that you forgot about until recently and you hope hasn't gone bad (does weed go bad?), a computer and/or telephone with access to the internet, booze, and much more.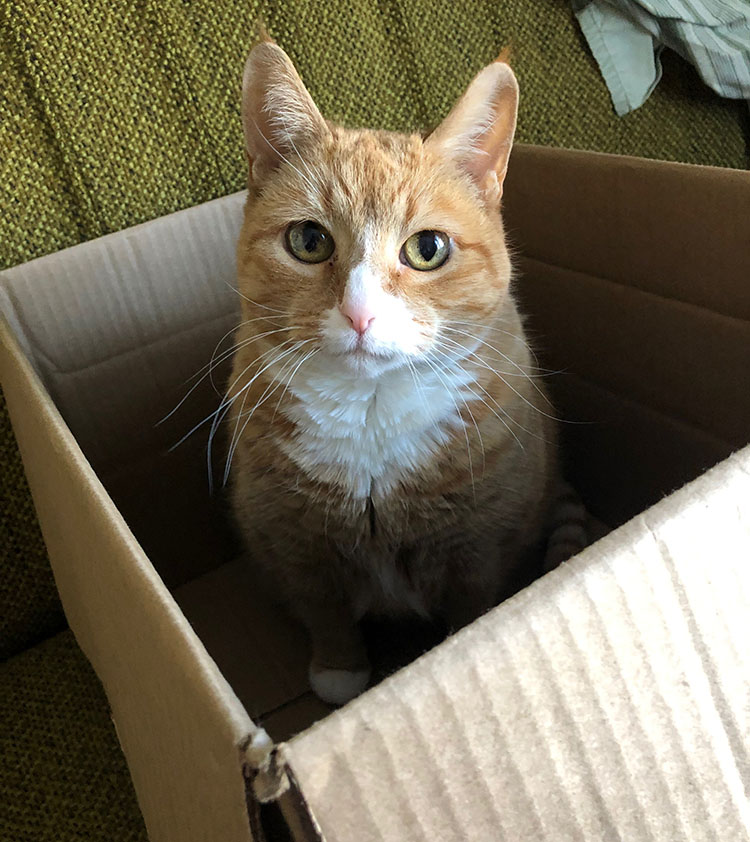 Your bed is at home. You might have a roommate/friend or a significant other at home to ride this pandemic out with. (And if you don't feel safe in isolation with your roommate, friend, or significant other, please know there are resources that can help you any time you reach out.) Perhaps one of your roommates is a cute pup or a curious cat like the "thicc queen" pictured above. Your TV is at home, and boy, it's safe to say we're living in golden age of television.
On the subject of prestige television, have you seen Devs yet? Watch Devs. Or go the other way with it and check out a bunch of trash TV and bad movies because you have extra time and, hey, watching people building elaborate LEGO structures on a reality show hosted by Will Arnett sure as hell beats thinking about death all the time. Start listening to some new podcasts. Listen to our podcast. Take some gambles on what you watch and listen to because, frankly, what does it even matter? You get to sleep at home. In fact, it's one of the only places where it's socially acceptable to sleep. So get some rest. Learn a new skill and take this time to become the best you that you can be. Or go on a bender and live one extended cheat day. Choose your own adventure!
We're not saying any of this to minimize the difficulty, the across-the-board financial impacts, the depression and loneliness or any other legitimate pitfall associated with being quarantined. We acknowledge that it's never been easy to be quarantined, but in terms of entertainment access, relative ease of obtaining food/beverages/necessary supplies without risking your health or the health of others, having the ability to see or speak to others thanks to technology, and being able to stay up-to-date on the pandemic on a minute-by-minute basis, there's never been an easier time for an admittedly difficult thing to be happening in society. You can have food delivered (please tip well!), you can arrange for curbside pickup for groceries and alcohol, you have hundreds of thousands of movies and TV shows at your finger tips, and you can connect to friends and loved ones in your city or across the damn planet with just a few clicks.
It's not easy and it's only going to get more difficult. But you can do this. You have to do it. Maybe try to take some comfort in knowing we all have to do it in order for this dark and uncertain time in history to gradually pass and for things to return to some semblance of normalcy sometime this year. Until that time comes, please PLEASE stay home. At this point in time, we couldn't think of a more fitting "Mandatory Milwaukee" place for you to be.