Depending on which news sources you follow, Milwaukee is going through either a "renaissance" or a "reinvention." Or maybe it's a "reboot" or a "reimagining," like that crappy Tim Burton version of Planet Of The Apes. However you want to define it, it's safe to say that Milwaukee is currently building a lot of new and wonderful things.
• Brookfield-based Milwaukee Tool wants to sink a cool $30 million into a largely vacant office building, 501 W. Michigan St., and turn it into its new corporate offices. The move would bring in at least 1,210 Milwaukee Tool employees to Downtown Milwaukee. Cool!
In addition to that, the company is mulling adding three stories to the top of the five-story building and bringing in at least 790 more employees. Even cooler! If all of that happens, "Mayor Tom Barrett's administration is proposing $20 million in two separate grants [via a tax incremental financing plan]" for the project.
Pending Common Council approval, "the building renovations would begin by Sept. 1, with completion of the initial project by the end of 2024." [Milwaukee Journal Sentinel]
• Another chunk of the former Milwaukee Journal Sentinel complex is getting new life. The Sentinel Building, 918 N. Vel R. Phillips Ave., will be home to an expansion of Tenor High School. The charter high school "educates students on-site for their first three years of high school before integrating them, at no additional cost, into Milwaukee Area Technical College for their senior year." Other parts of the former Journal Sentinel complex are set to become market-rate apartments and student housing for MATC. [Urban Milwaukee]
• Milwaukee's Plan Committee "gave a warm review" to that nine-story, 205-room Marriott Autograph Hotel proposed for a vacant lot at 420 W. Juneau Ave., just north of Fiserv Forum. [Milwaukee Business Journal]
• Proposed plans for an ugly, stunningly out-of-place, seven-story, 90-unit apartment building on E. North Avenue—across from Columbia St. Mary's Hospital and next to a bunch of buildings that look nothing like it—have been updated. Neighbors remain…unimpressed. [Urban Milwaukee]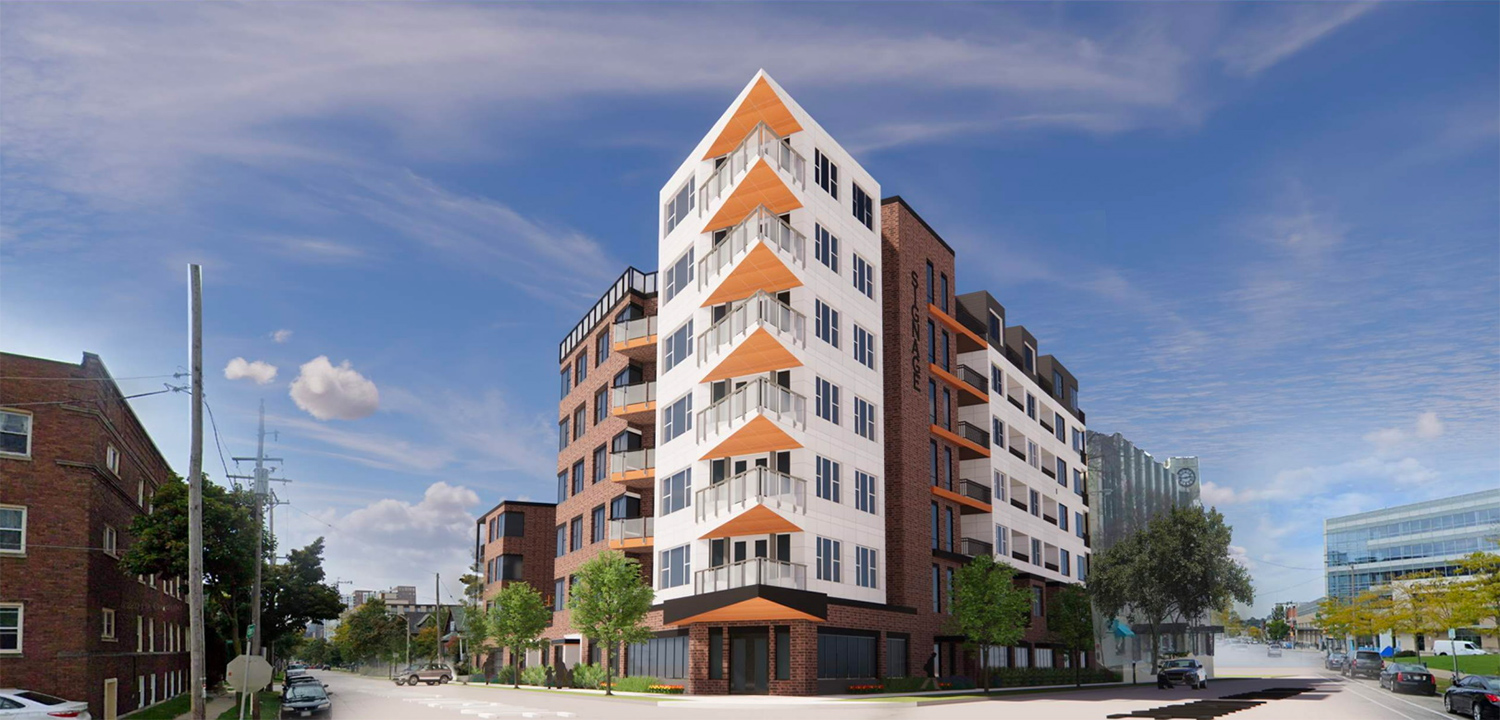 • Another mass timber project. This one on the downtown riverfront. [BizTimes]
• Looks like they're still building those streetcar kiosks. [Urban Milwaukee]
• And what did we learn this week? Well, they're always building something. Isn't that right, old song from my old band?
Exclusive articles, podcasts, and more. Support Milwaukee Record on Patreon.
---
RELATED ARTICLES
• Full "New And Wonderful Things" (formerly called "New Shit") archives