Depending on which news sources you follow, Milwaukee is going through either a "renaissance" or a "reinvention." Or maybe it's a "reboot" or a "reimagining," like that crappy Tim Burton version of Planet Of The Apes. However you want to define it, it's safe to say that Milwaukee is currently building a lot of new and wonderful things.
It's been a while since we've rounded up some new and wonderful things, so here's stuff from the whole damn month of December…
• Construction of the mass timber Ascent building, 700 E. Kilbourn Ave., recently topped off at a cool 284 feet and 25 stories. Neat! When it opens this summer, the 259-unit luxury apartment building will be the tallest mass timber hybrid tower in the world! Neater!
"Together, we've shown that we can build a more beautiful, sustainable and precise building faster, paving the way to transform development in the United States," said New Land Enterprise's Tim Gokhman at a recent topping-off ceremony.
What does it take to build the tallest mass timber hybrid tower on planet Earth? New Land says "to this point, Ascent's construction has involved more than 13,000 man hours for timber installation; using 335,554 square feet of CLT (cross laminated timber) panels; 1,149 columns; 1,365 beams; 645,000 fasteners; and 122,000 screws." [Milwaukee Journal Sentinel]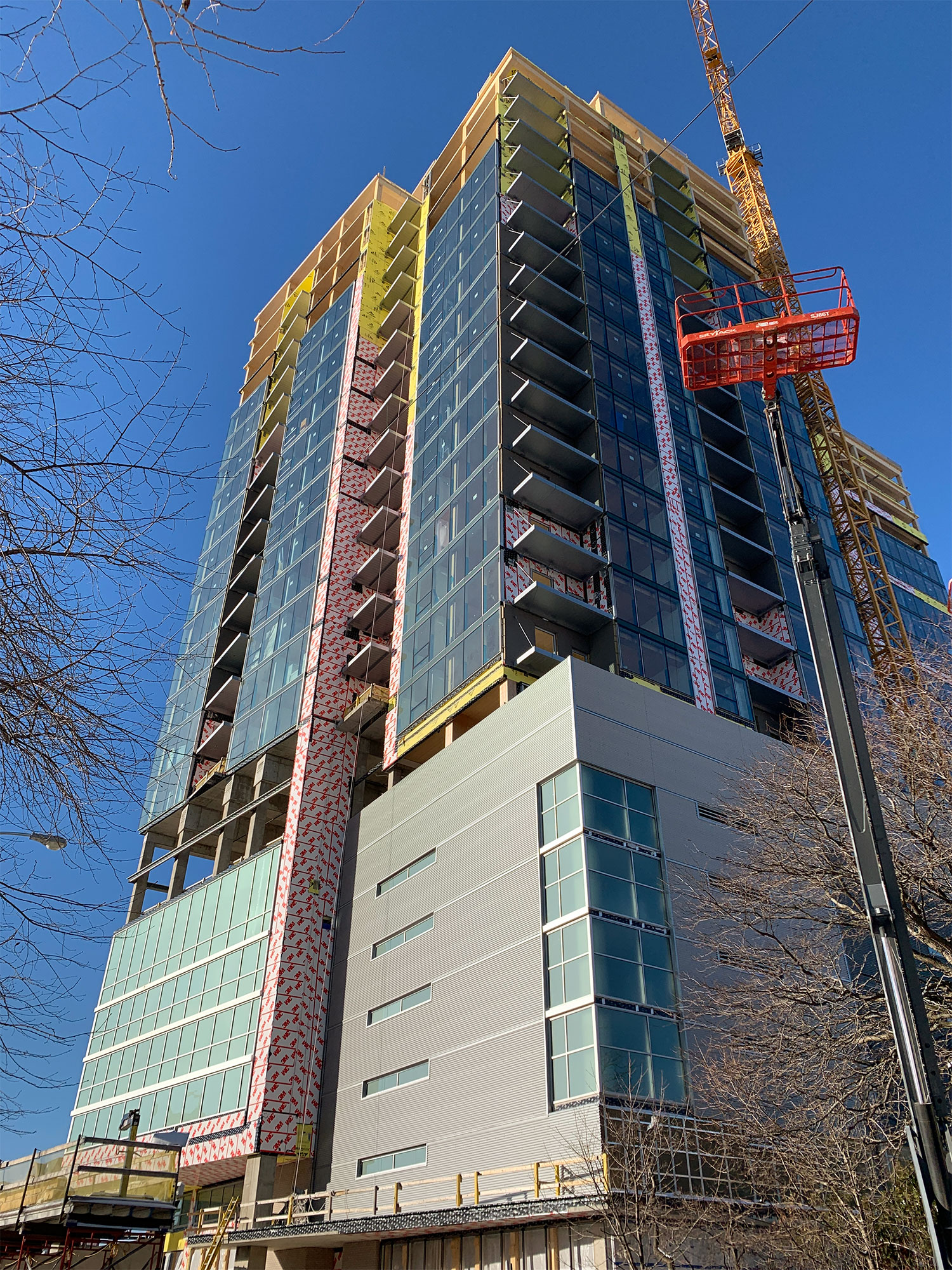 • Remember that giant new music venue coming to a site near the Summerfest grounds? The company behind it, Frank Productions/FPC Live, has scheduled two "public information sessions" to talk about it. The sessions are set for January 11 and January 18. Both will take place on the second floor of the Milwaukee Public Market from 5:30 p.m. to 7 p.m. [Milwaukee Business Journal]
• Speaking of new and wonderful things coming to sites near the Summerfest grounds, a Minneapolis firm wants to build some apartments on a site near the Summerfest grounds. [Milwaukee Journal Sentinel]
• The highly anticipated and long-delayed 3rd Street Market Hall is set to finally open on the first floor of The Avenue…soon. Until then, enjoy some pictures from a recent preview event, which doubled as a fundraiser for people affected by the Waukesha Christmas parade tragedy. [Milwaukee Business Journal]
• The vacant Boston Store attached to Southridge Mall might become apartments and commercial space. [Milwaukee Business Journal]
• A new art gallery is being planned for the Bronzeville neighborhood. The one-story Bronzeville Center for the Arts would occupy a vacant lot at 517-519 W. North Ave. The new building would be combined with an existing duplex at 507 W. North Ave. [Milwaukee Journal Sentinel]
• UPDATE: The old Paul Weisse Furniture Building at 1534-1542 N. Farwell Ave. is still gonna be turned into apartments. "But plans filed with the Historic Preservation Commission (HPC) show that the vision has grown," says [Urban Milwaukee]. "The effort now includes 12 apartments, a business center, tenant fitness facility and rooftop deck. A 10-stall parking lot would be included on the eastern side of the property."
• The downtown Kinn Guesthouse, 600 N. Broadway, is getting a rooftop event space. Named The Lookout, the space will have "room for 125 seated guests and will be available for all kinds of events, including weddings, rehearsal dinners, corporate and charity events." [OnMilwaukee]
• Houston company Nutex Health wants to build a micro-hospital near Milwaukee Mitchell International Airport. The lil' hospital will include "up to eight inpatient beds and 10 emergency room beds." [Urban Milwaukee]
• And what did we learn this week? Well, they're always building something. Isn't that right, old song from my old band that recently reunited for a show at Cactus Club and what the hell we're just gonna keep playing again?
Exclusive articles, podcasts, and more. Support Milwaukee Record on Patreon.
---
RELATED ARTICLES
• Full "New And Wonderful Things" (formerly called "New Sh*t") archives