Following three years of family-friendly and fall-focused fun, Cactus Club has decided to bring the Beet Street Harvest Festival back for another installment. On Saturday, October 12, the Bay View bar (with additional support from Goodkind and Palomino) will host a day of food, drinks, live music, baking competitions, youth-centered activities, and festival fun for all ages. Between noon and 6 p.m., a chunk of Wentworth Avenue between Goodkind and Cactus Club will be blocked off for the fourth annual event.
From noon to 6 p.m., a chunk of Wentworth Avenue between Goodkind and Cactus Club will be blocked off for the occasion. In addition to the music outside Cactus Club will offer local and nationally-noted talent all afternoon long, followed by a 21+ after party at the bar. Goodkind will be open for brunch, and other food vendors will be on hand, too. As always, Palomino will host the Great Midwestern Pie Championship as well. It's going to be great.
Given the event's relatively short history and the abundance of components involved with the sprawling, multi-pronged block party, we could understand how potential attendees might be a little confused about what they're to expect. In effort to get you up to speed and entice more of you to join in on the fun that's planned for Saturday (rain or shine!), we'll detail everything you need to know about this year's Beet Street Harvest Festival.
Who's playing again?
Of course, it wouldn't be a block party without tons of music. As always, Cactus Club has rounded up and eclectic and excellent entertainment lineup. Sarah Shook & The Disarmers will headline the outdoor installment, which will also feature a rare show by Slow Walker and a multi-faceted display of rapping, break dancing, and live band accompaniment known as the "True Skool Experience." Inside the bar from noon to 4 p.m., Cactus Club will screen its new long-form performance and interview video series that features the likes of Milo, Sessa, and Lavender Country.
Before Shook and her band take the outside stage at 5 p.m., Cactus Club will host its inaugural Beet Street Music Video Showcase, which will screen more than 20 music videos with local ties in the bar's back room. The outdoor entertainment will be immediately followed by a 21+ after party at 6 p.m., which will be headlined by Miami-based star in the making La Goony Chonga. Here's the full lineup.
Outside (acts listed headliner to opener – times subject to change)
5 p.m. — Sarah Shook & The Disarmers
4 p.m. — True Skool Experience
3:45 p.m. — Pie contest results and announcements
3 p.m. — Slow Walker
2 p.m. — Retoro
1 p.m. — Congo Gospel Music
Noon (and between performances) — DJ Dave Arnevik
Cactus Club After Party (21+, $15)
La Goony Chonga
Zed Kenzo
Browns Crew
Convert (First show! Members of Get Rad, Stink Lines, Brain-Bats)
S-E-R-V-I-C-E
Saebra & Carlyle
What's to drink?
So much stuff. Not only will Cactus, Goodkind, and Palomino all be offering full bar service inside their establishments, there's also going to be a Palomino bloody mary bar outside. Cactus will also have an outside bar, which will be well-stocked with Casamigos Tequila, Tito's Vodka, Pabst Blue Ribbon's new line of whiskey. Speaking of Pabst, traditional PBR will be flowing liberally outside at beer stations for just $4 a pop. Those wishing to imbibe in some craft beers or something different can enjoy the full selection or draft, bottled, and canned brews inside each participating bar.
For those wishing not to drink alcohol, Rise & Grind Cafe will have coffee and other hot beverages available. There will also be cider, kombucha, ginger beer, and root beer sold on the Beet Street grounds. And of course, each establishment involved will have its full arsenal of N/A beverages on hand as well.
What kind of food can I expect?
It wouldn't be a festival without tons of great food. This year boasts the widest range of dining options of any Beet Street to date. As noted above, Goodkind will be open for brunch service early on in the day (reservations are recommended). Beyond that, Palomino will serve up meat gumbo outside.
Last but certainly not least, Cactus Club has rounded up an impressive cast of vendors that will sell vegan dining options. Those vendors include: Maya Ophelia's, Cake Bandit, Twisted Plants, Algo Dulce, Meat On The Street (will also have meat options available in addition to plant-based items), and Centgraf Farms produce.
After Beet Street proper concludes outside, Frida's Cocina taco truck will be on-site to feed folks during the after party.
Tell me more about these pie events.
Palomino/Honeypie owner Valerie Lucks is a pie expert. She literally teaches pie classes. Throughout the morning, Palomino will be the site of The Great Midwestern Pie Championship, a contest where amateurs and pie professionals alike will have their work judged as they vie for sweets supremacy. The "Best In Show" winner will take home $100 and a coveted Best In Show Ribbon. Other winners in each category—Wisconsin Ingredient Pie, Classic Apple Pie, Crazy Chocolate Pie, Best Pie With Cherries—will take home gift certificates from Honeypie, SmallPie, and Palomino. The Pie Championship winners will be named on stage. You can find more details and registration info here.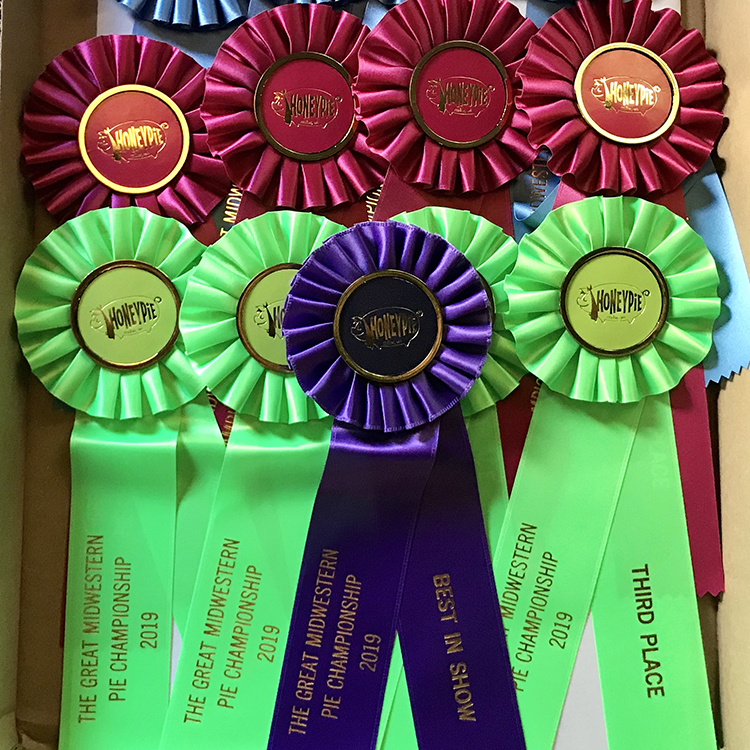 What else is going on?
The harvest festival will also have a beneficial and community-focused angle, as there will be on-site presence from groups like Teens Grow Greens, Sixteenth Street Community Health Clinic, Walker's Point Center For The Arts, Cine Sin Fronteras, Milwaukee High School Of The Arts, Alex Hayes (mosaic workshop), Milwaukee LGBT Community Center, The Midwest Renewable Energy Association, League of Women Voters, LSS Refugee Resettlement, and more. There will also be a voter registration area.
Additionally, there will be an installment of the Punk Rock Rummage Sale. Lion's Tooth booksellers will make its formal debut. Girls Rock Milwaukee will have a Punkin' Competition. And there will be a handful of other vendors and organizations present as well.
That's everything. There's literally nothing else you need to know about Beet Street. We'll see you Saturday! RAIN OR SHINE!