Wednesday afternoon, the Milwaukee Business Journal published a story that was an instant frontrunner for Headline of the Year: "Milwaukee DNC 2020 hotel pickings slim, expensive—room left at Sybaris." The piece explained how "nearly all hotel rooms in Milwaukee County and eastern Waukesha County already are committed to guests visiting town for the Democratic National Convention," and how available rooms via online hotel listings were "priced at premiums of 60% to 300% of their current rates." With exactly one year to go before the big DNC shindig (it's scheduled for July 13-16, 2020), it seems it's nearly impossible to book affordable accommodations.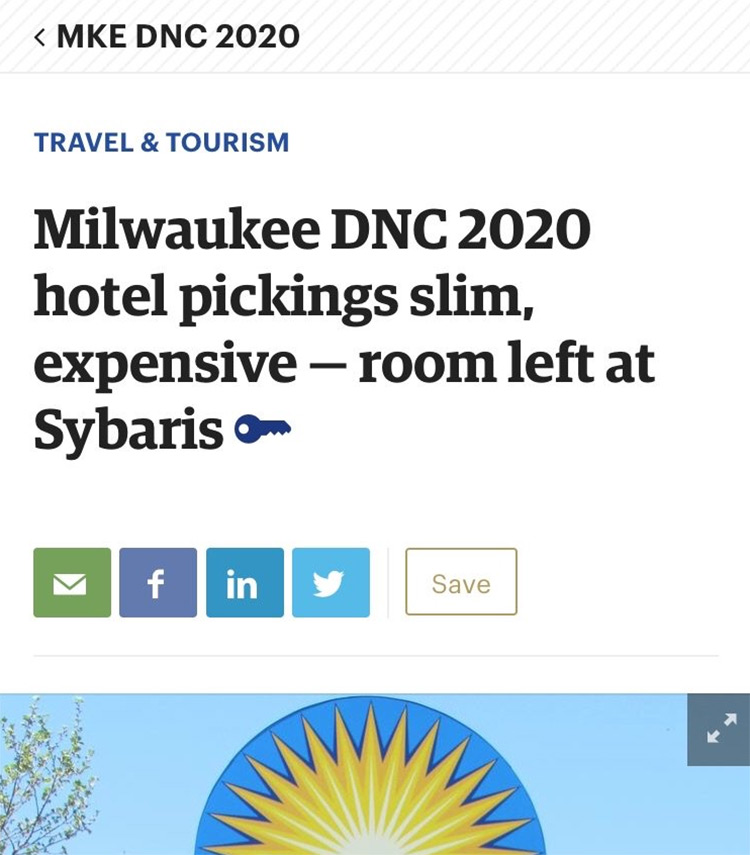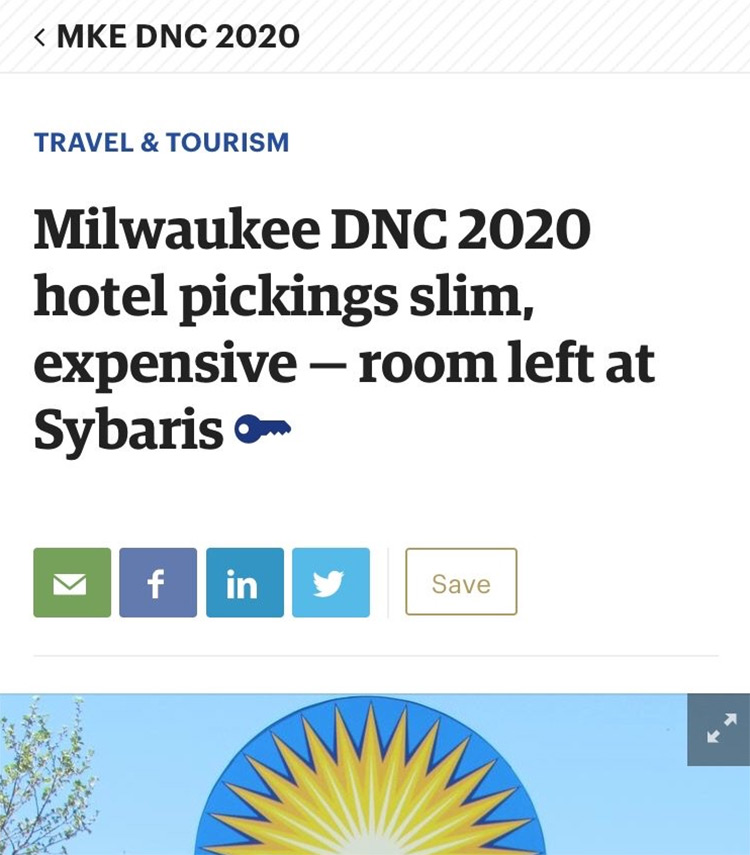 Which brings us to the Sybaris—a.k.a. those Midwest-based romantic pool suites where you and your partner can drink champagne and then tickle each other with roses and then slide down a waterslide and then hump. "At the Sybaris Pool Suites in Mequon, an online site says one unit is left at $436 per night," the Business Journal reported. "The overnight rate for a rental this summer is $171 to $441, depending on the suite."
Then, something strange happened: the Business Journal updated its story and edited its headline. If you click on the piece now, it simply reads "Milwaukee DNC 2020 hotel pickings left slim, expensive." No mention of the Sybaris. No mention of the one remaining room. And certainly no mention of the chocolate covered strawberries add-on for $35. Yet the Sybaris-related text in the body of the story remains.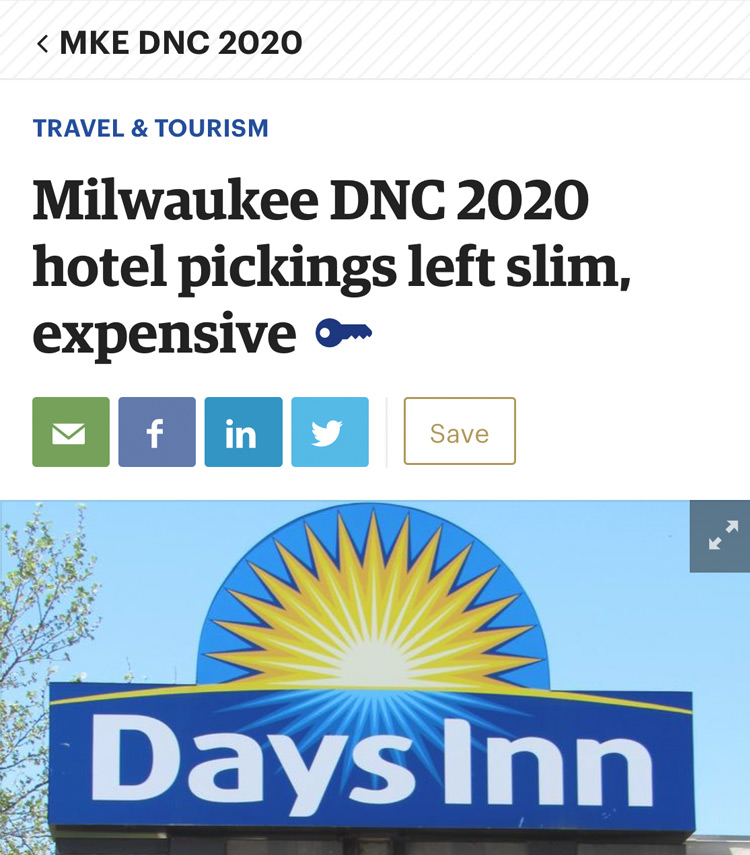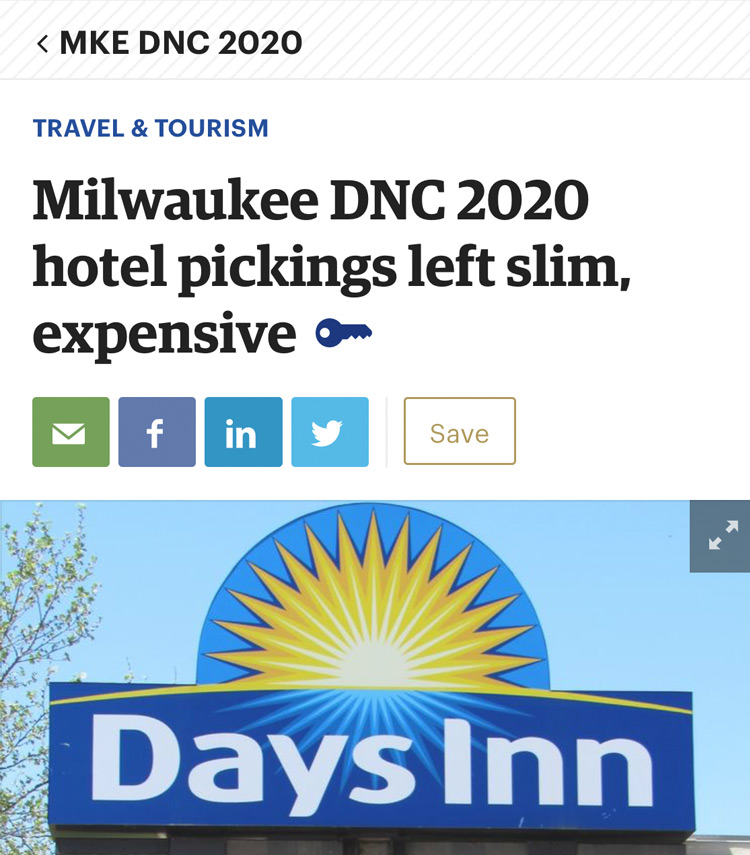 Stranger still, a cursory search on the Sybaris website shows plenty of rooms available for the week of July 13, 2020. Chalet Swimming Pool suite? Check. Majestic Swimming Pool suite? Check. Country Whirlpool suite? Check, if you're cheap.
So what's going on here? As part of our daily routine, we called the Mequon Sybaris for some answers. Turns out that, yes, just one room remains—if you only check the listings on Expedia.com. Dig deeper and/or make your reservation from Sybaris directly, and you'll find at least one available room in each of the five different suite styles. For a three-night stay, prices range from $547 (Country Whirlpool) to $1,847 (Chalet Swimming Pool). Oh, and you can totally get those strawberries and a massage candle for $35!
So there you go. There are plenty of rooms left at Sybaris for the 2020 Democratic National Convention. Hop to it, DNC attendees. No, the Mequon location doesn't include Love Swings, but you can't have everything.