What's better than the beloved Brady Street Pet Parade? How about the beloved Brady Street Pet Parade and the previously postponed Brady Street Art Walk happening on the same day—Sunday, October 2?
Yep, from 11 a.m. until 4 p.m., Brady Street will be alive, kicking, barking, and prancing with oodles of pets AND oodles of art. First, the pets…
Signup for the Pet Parade's delightful Pet Contests will begin at 11 a.m. at Brady and Arlington Place. Bring your dogs, cats, pigs, ferrets, and/or assorted reptiles! (Proceeds from the entrance fees will be donated to the Wisconsin Humane Society). Judging will begin at noon. Like previous years, the categories will be Best Pet Costume, Best Pet Owner/Lookalike, and Best Pet Trick. Anna Lardinois of Gothic Milwaukee and Andrea Albers from TMJ4 will be the judges, and you better believe Milwaukee Record's own Matt Wild (that's me) will once again be the emcee. To top it off, DJs TJ Kloeffler and John O'Grady will provide smooth '70s hits for pets and pet owners alike.
The parade itself will start at 1 p.m. at Brady and Franklin Place, led by Milwaukee Police Department horses and Samba da Vida drummers. The parade will make its way west to Cass Street, then south to St. Rita's Church for the annual Blessing of the Pets by Three Holy Women's Father Tim Kitzke. He's a swell guy!
Here's me, on the right, solemnly listening to last year's pet blessing while wearing a "Cat Daddy" t-shirt:
Now the art. The Art Walk (originally set for August, but canceled due to weather) will be happening simultaneously along Brady, from Warren Avenue to Astor Street. Participating artists include: Teri Regano, Malvy Westbrook, Terry Tayler, Diego Heredia, Drew York, Arielle Romano, Lexy DeGroot, Carol Curley, Curtis Miller, Dan Flemming, Marco Romantini, Kelis Ferguson, Stephanie Krellwitz, Bianca Brandolino, Cutesy Macabre, Danielle Doetsch, and River Clark. Check out and/or buy some art!
"The Brady St. BID is very excited to celebrate the 20th Pet Parade, a forerunner in Milwaukee's pet-focused events, and the chance to hold the postponed 2022 Art Walk," says Rachel Taylor, executive director for the Brady St. BID, in a press release. "This event will also provide a glimpse of what Brady St. would be like without car traffic from Franklin Pl. to Warren Ave."
Oh yeah, read about the whole "pedestrianize Brady Street" thing HERE. Also, here's a pig in a sweater from last year: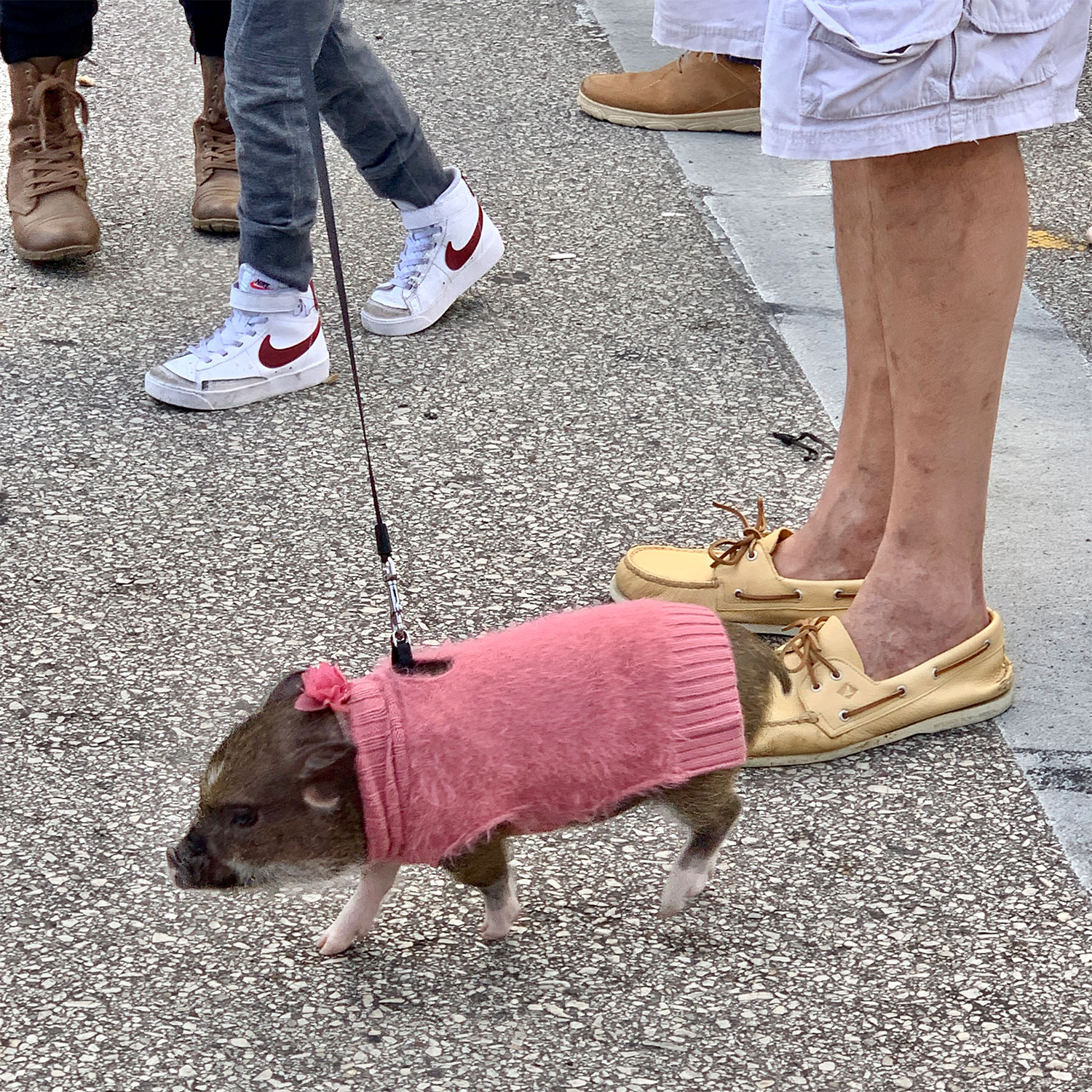 Exclusive articles, podcasts, and more. Support Milwaukee Record on Patreon.
---
RELATED ARTICLES
• Following recent tragedies, Brady Street BID will "look at options for pedestrianizing Brady Street"