Good news for fans of climbing stuff: indoor climbing gym Adventure Rock plans to open a third Milwaukee-area location. The new rock-climbing paradise will be at 613 S. Second St., a.k.a. the soon-to-be-former Milwaukee Brewing Co. in Walker's Point. Milwaukee Brewing's main location is in The Brewery neighborhood, and it plans to vacate its Second Street outpost soon.
As reported by the Milwaukee Business Journal, the new Adventure Rock is something of a necessity for the company, whose membership "has grown to 3,300 members and counting." Adventure Rock's first Milwaukee-area location is in Brookfield; in 2016, the company opened a second location on E. North Avenue.
Not that the Walker's Point location will offer full wall climbing. Due to height limitations, it will instead focus on "bouldering," which is basically clamoring around on irregular-shaped 15-foot structures (pictured above), and is a total blast. Fitness and yoga classes will also be offered.
The new Adventure Rock could open in about a year. Until then, read the opening bit of our 2016 piece on Adventure Rock, which we totally forgot about until today. It's not bad!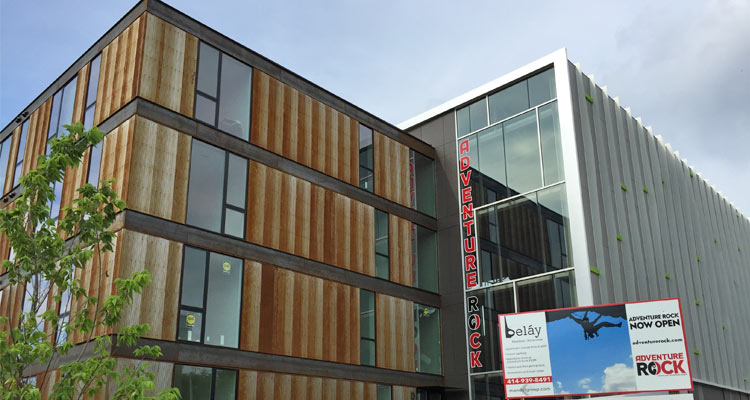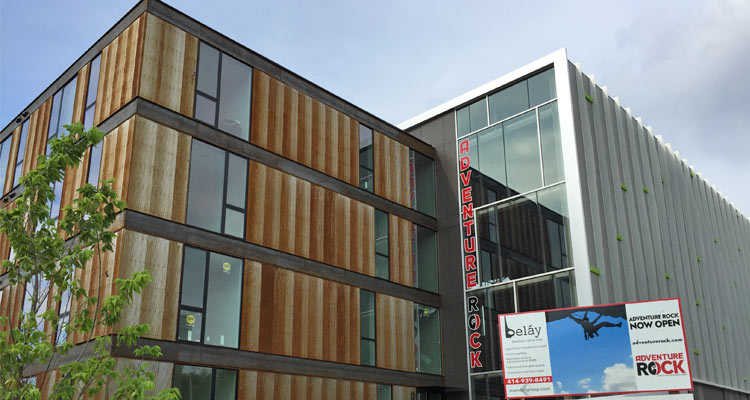 I'm scaling a 30-foot indoor rock climbing wall—in jeans and a button-up, because I'm an idiot—and all I can think about is empty space. Air, grass, an open field, an unobstructed view. A break from the monotony of more apartment buildings, more condos, more student dorms, more grocery stores, more mixed-use developments, more stuff. That's what used to be here, below my feet and all around me: nothing.
"Keep going!" a voice calls from below. "Climb with your legs, not your arms!"
I'm climbing with my legs and not my arms at Adventure Rock MKE, a hulking new indoor rock climbing facility on North Avenue, overlooking the North Avenue Bridge and the Milwaukee River. The voice belongs to Craig Burzynski, the general manager of Adventure Rock. I check the colored grips around me, tug at the tether that holds me, and glance up at the contraption that holds the tether. Jesus, am I really doing this? Yes, I'm really doing this.
I continue to climb. My knees are shaking. I'm sweating. I finally make it to the top. I'm done.
"So, um, how do I get down?" I call to Burzynski.
"Just let go!" he hollers. "The system will catch you!"
Right. The system. Something called an "auto-belay" system. That contraption at the top of the wall. The contraption that will slowly lower me to the ground. I vaguely remember Burzynski explaining how it uses the same technology as elevators. Or magnets, maybe it has something to do with magnets. I have to let go. I'm suddenly Indiana Jones, tired and weary from his search for the Holy Grail, making a leap of faith into the abyss. The colored grips are my lion's head, the ground below me is, I dunno, Sean Connery.
I sigh. I let go. The system will catch me. And sure enough, it does.