Spring in Milwaukee. It's not just for baseball and Sunday Funday patio drinking. John Malan gives us the impression that this is the first time since last July that God Himself will not indiscriminately punish art lovers foolish enough to walk the Third Ward in search of inspiration and brilliance on Gallery Night And Day.
Enter L.CHAPPELLE (nee, Luke Chappelle), an 18-year veteran of the Milwaukee art scene, and a consistent breath of fresh air to what can sometimes be the stifling proposition of finding unironic fun, blind vision, and seemingly effortless craftsmanship in a 30-piece solo show. "Expanded Landscapes" debuts at Cityside Plaza this weekend. And we're impressed. Why? Because puffy paint has never met with this much potentially obsessive compulsive sweat to create beauty in the form of otherworldly landscapes, self-portraits, and figurative works.
Milwaukee Record caught Chappelle on a break from his insanely productive schedule to answer a few questions, and preview the puffy painted show, which is a far cry from your Aunt Minnie's fan-made Neil Diamond sweatshirt.
Milwaukee Record: How did you get started with puffy paint as a medium? Or, in Michael's fancy parlance, "dimensional paint?"
L.CHAPPELLE: I found puffy paint because I bought some at a garage sale in a bag that had some acrylics in it. At first I would mix it into other paint to get a heavier, more textural quality. But I quickly found that using it straight from the bottle would produce gestural, drawing-like strokes. Then I think I went full bore into using it almost like a jeweler, like a white trash Fabergé.
MR: Why found objects rather than traditional canvas?
LC: I use traditional canvases from time to time, but I find that painting over pre-existing images both benefits the creative side of structuring a composition, and sets an atmosphere for the painting. Additionally, much of my personal aesthetic is rooted in post-modernist or situationist thinking, re-appropriating existing symbols in order to promote an entirely different idea. I plan to start working on handmade canvases soon, however, because I recognize the craft in painting that way, and think it would serve my emerging style well.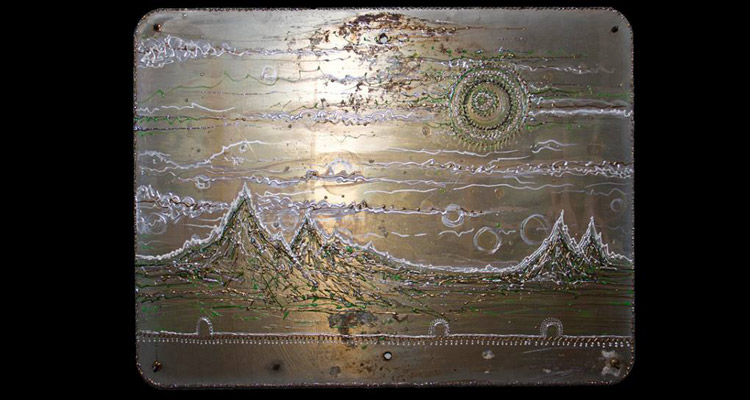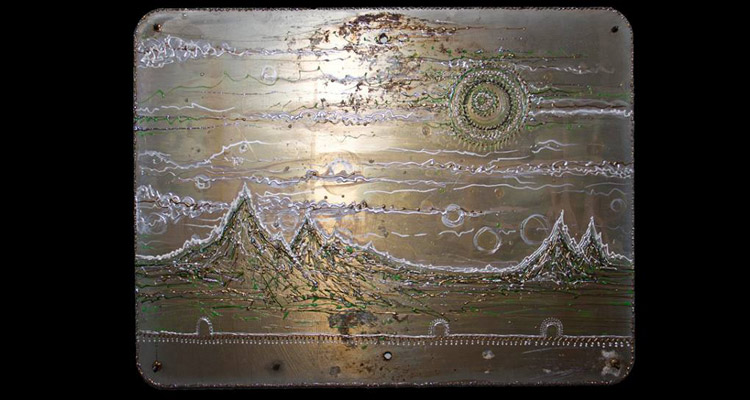 MR: So who are your influences?
LC: Many, many, many. Clyfford Still, Cy Twombly, Alberto Giacometti, Jean Michael Basquiat, Franz Kline, Egon Schiele, Jospeh Bueys, Aubrey Bearsdley, Edward Gorey, Mike Mignola, many other illustrators and cave painters, so-called outside artists, and creative friends.
MR: Music seems to influence you as much as art. What's the perfect soundtrack to act as a companion piece for "Expanded Landscapes"?
LC: Top five albums for viewing my work, in no particular order: Headstone: Contact Sessions by 13th Floor Elevators; Consumed by Plastikman, Exit Dreams by the Hunches; Full Moon Empty Sports Bag by the Country Teasers; and 333 by the A-Frames.
"Expanded Landscapes" is a 24-hour only show at Cityside Plaza, 233 E. Chicago Street. A companion to "Landscapes" is currently on display at Freya Salon through May. DJ Robert Evans will provide ambiance for the reception at Cityside Plaza this Friday, April 25 from 5-9 p.m. The show is on exhibit through Gallery Day, Saturday, from 12-4 p.m.