Ohio-based freelance writer Reyan Ali has spent a dozen years covering music, pop culture, and more for a wide variety of internationally-regarded publications and alt-weekly papers. In addition to his work in the realm of entertainment journalism, Ali also considers himself to be the world's foremost expert on NBA Jam. It's a bold, but understandable assertion for him to make because, well, he is the world's foremost expert on NBA Jam.
The writer-turned-gaming authority has spent the past four years researching, interviewing, and immersing himself in the daunting process of writing "the untold story of the greatest arcade basketball game of all time." Late last month, the product of Ali's effort finally saw the light of day in the form of his NBA Jam (the book). The 250-plus-page piece of literature grants a thorough and exceptionally interesting behind-the-scenes look at the iconic basketball game's origin story, its reception, and its lasting influence on hoops fans and gamers alike.
Exactly one day after his first book's release on paperback (it's also available in eBook and Kindle formats) and in advance of Milwaukee Record's November 16 "NBA Jamboree" tournament at X-Ray Arcade, we asked Ali about how the book came to be, what he learned about the game during his years of researching, tips to give you an edge on the competition, and whether the Milwaukee Bucks are truly the worst team on NBA Jam.
Milwaukee Record: Why did you decide to write a book about NBA Jam of all things? What sets this game apart from the rest?
Reyan Ali: I started freelance writing in 2007—just before I was about to graduate from college—and writing a book was always one of the big goals. Over the years, I wrote for all kinds of cool places: Rolling Stone, Spin, Wired, The Atlantic, The A.V. Club, Complex, American Airlines' in-flight magazine, Red Bull's international magazine, and dozens of alt-weekly free papers. I did a lot of music and pop culture journalism. Funny enough [I wrote], almost nothing about video games. And then I found Boss Fight Books around 2014.
Boss Fight Books publishes individual books about individual games. There are entries about Super Mario Bros. 2, Super Mario Bros., Galaga, World of Warcraft, and many more games, all by different writers. I saw an open call for pitches for new books in summer 2015. I had pitched a couple of books before, but those were rejected right out the gate. I was determined to get this one, so I'm racked my brain for a good subject. NBA Jam was the perfect fit.
In 1993, the same year Jurassic Park made around $340 million and was a global phenomena, NBA Jam just about tripled that, making one billion dollars—one billion—and in quarters and tokens at that. The game was huge for a number of reasons, so dedicating a whole book to it was a lay-up. I wrote a 37-page-long pitch, going above and beyond in an attempt to make this happen. Thankfully, Boss Fight Books bit, and here we are—four years later, with that first book finally out there.
MR: Over the course of your extensive research, what are some of the most surprising or interesting things you learned about NBA Jam, its production, or anything else related to the game?
RA: I've spent so long researching and talking about the game that I've probably lost track of all the things I've learned about the game, but here are a few things that really stand out.
Tim Kitzrow, the iconic announcer of NBA Jam, was almost cut from the home games by Acclaim. Kitzrow made just about $1,500 on the arcade version of NBA Jam—which, again, made a billion dollars—so he decided to ask for more money to voice the home games, just about $3,000, if I remember correctly. The game was clearly going to be a huge hit, so that's really not too much of a big ask. Unfortunately, Acclaim—the home publisher of NBA Jam—thought that Kitzrow was asking for too much, and almost cut him from the project entirely. In the end, the dispute was resolved, but still, we almost lost a key part of NBA Jam lore over a $3,000 check on a game that would sell six million copies on SNES and Sega Genesis…not even counting the adaptations that came afterward.
Shaq, Penny Hardaway, and other members of the classic Orlando Magic squad would hang out in hotel rooms after bus rides and play NBA Jam on the Genesis for cash. Big money would trade hands, and the guys could get competitive.
NBA Jam almost wasn't made in the first place. The NBA initially balked at the idea of giving their license to an arcade game and rejected Midway's advances over and over. Eventually, Midway licensing director Roger Sharpe was able to push through and convince the league that arcades were seedy havens of juvenile mischief that would tarnish their brand. It took roughly nine months to get them to say yes.
The NBA Jam and Mortal Kombat development groups were extremely close-knit. They worked next to one another in Midway's offices, going on an incredible run in 1992 and 1993, releasing Mortal Kombat, then NBA Jam, then Mortal Kombat II. If there's any non-sports game NBA Jam has a deep kinship with, it's Mortal Kombat.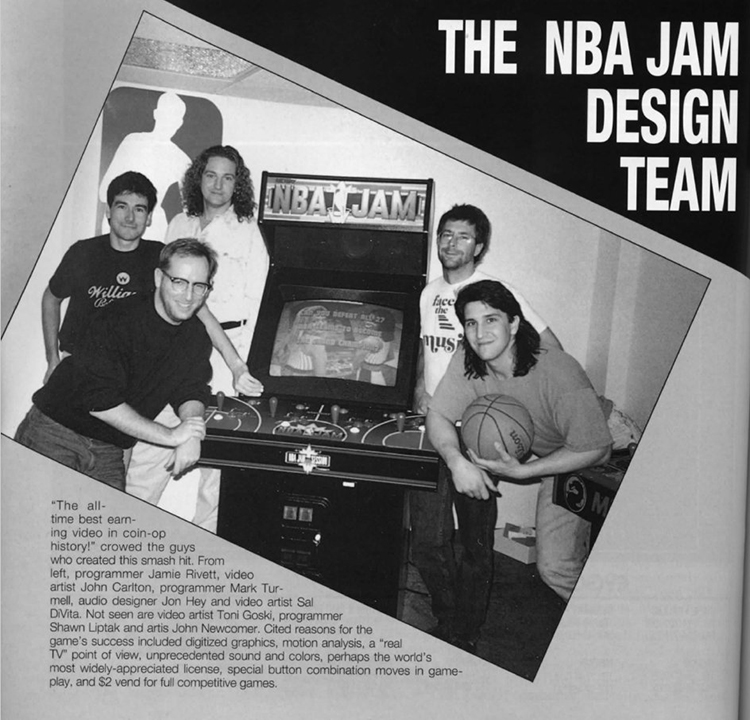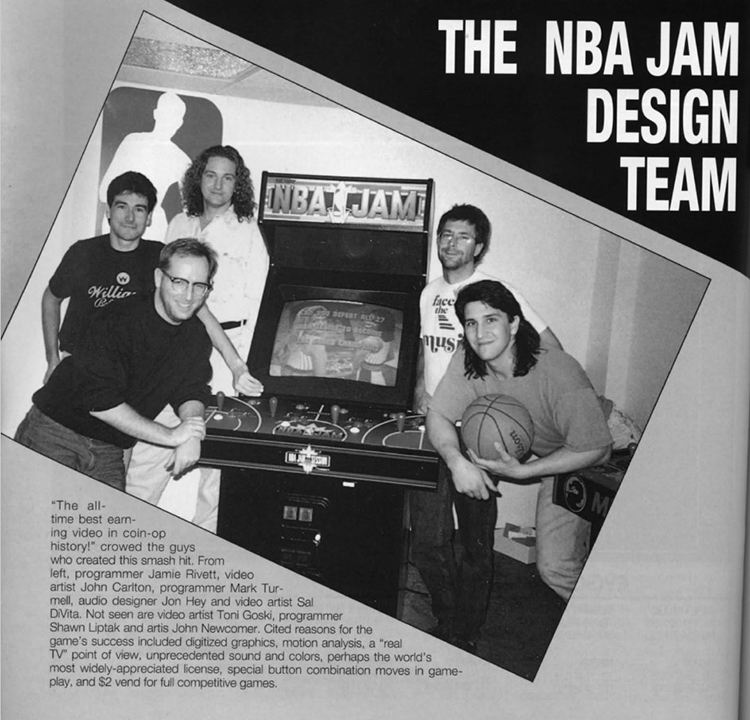 MR: Games come and go and, by today's standards, NBA Jam is far from cutting edge. So why has it continued to not only remain relevant for close to 30 years, but also continue to hold such a special place in people's hearts?
RA: The game just had so much going for it: the NBA license, the Chicago Bulls, the colorful graphics, the hand-drawn heads, '90s arcades were at a high point, Midway being on a tear with Mortal Kombat and the Terminator 2: Judgment Day coin-op games before Jam, the wild dunks, the "on fire" mode, the vibrant and over-the-top commentary, the secret characters, and so much more.
But ultimately, past nostalgia, NBA Jam is still a fundamentally very playable and very fun game. It really holds up. Let's say you haven't touched the game for a long while or even ever played it before. The look and vibe will interest you at first, but chances are before long, you'll be hooked on the actual game itself. It's still so satisfying to nail a great dunk or a prayer of a three, and the fact that the scores are always teeter-tottering means you need to keep paying attention to win. If NBA Jam wasn't actually a stellar game, all this other stuff might have just been window dressing.
MR: What do you think some of the most popular teams are for original NBA Jam, both the console and the arcade version?
RA: NBA Jam just has such a wealth of talent, but I almost always hear about people playing as the Chicago Bulls, even though Michael Jordan wasn't actually in the game. That combo of Scottie Pippen and Horace Grant with the googles was enough to do the trick. It was the '90s—anything and everything Bulls was money. Here's some evidence of this from an old arcade audit: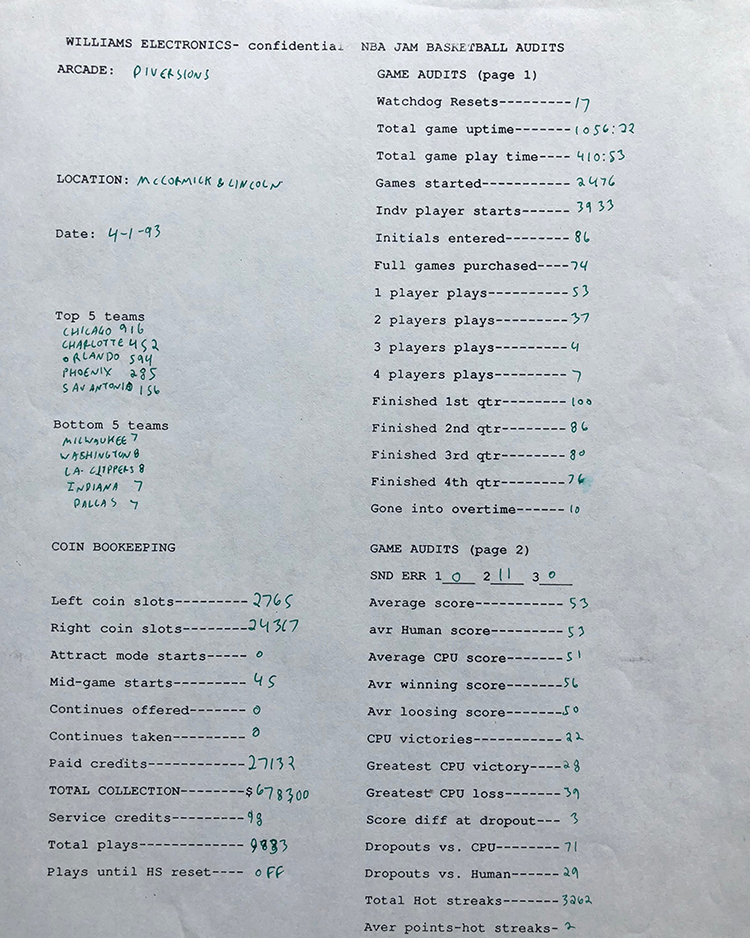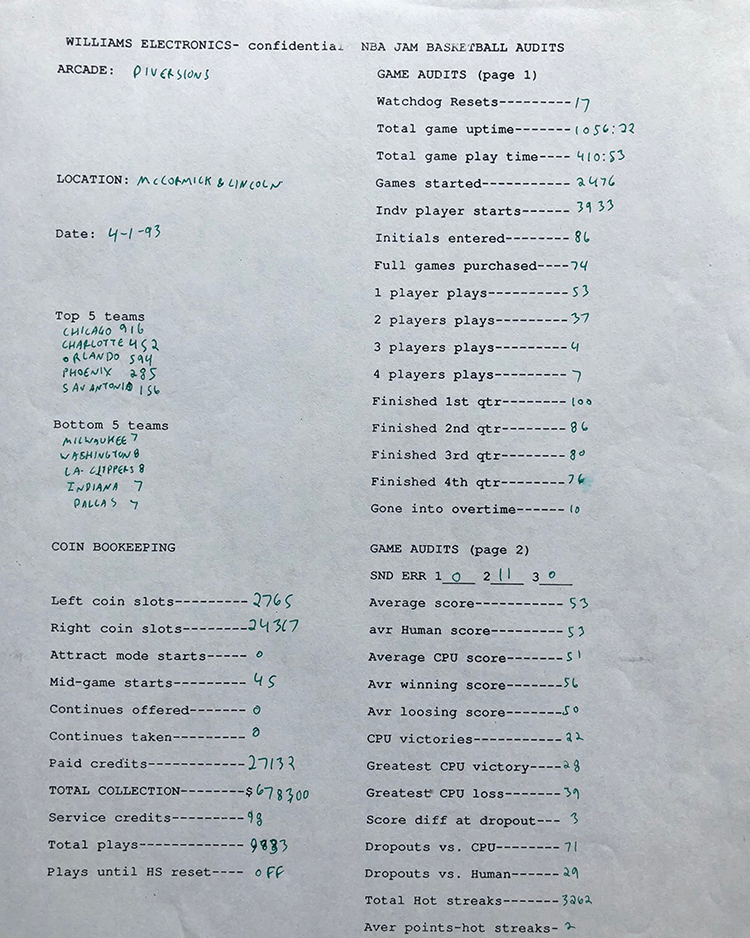 Besides the Bulls, the most popular teams would have to be the Phoenix Suns, the New York Knicks, the Utah Jazz, the Charlotte Hornets, the San Antonio Spurs, and the Orlando Magic. Honestly, the list keeps on going—and the fact that practically any player in the game can do something cool really helped make NBA Jam such a national phenomena.
MR: What's your go-to team?
RA: When it comes to the original arcade version, I'll always have to go with the classic combo of Karl Malone and John Stockton on the Utah Jazz. There are the archetype of a fantastic big man-small man team and they are a crucial part of NBA Jam lore. The players within the game didn't actually have real stats that separated the players until the Midway guys overheard people talking about John Stockton being good at stealing when, in fact, he actually played the exact same as Karl Malone. That issue was quickly rectified.
When it comes to NBA Jam: Tournament Edition, I have to go with my beloved Seattle SuperSonics—rest in peace—starring Shawn Kemp and Gary Payton. I loved the Sonics as a kid, and NBA Jam was a huge reason for that. Kemp's incredible athleticism and dunking made it feel like he was born to be an NBA Jam character.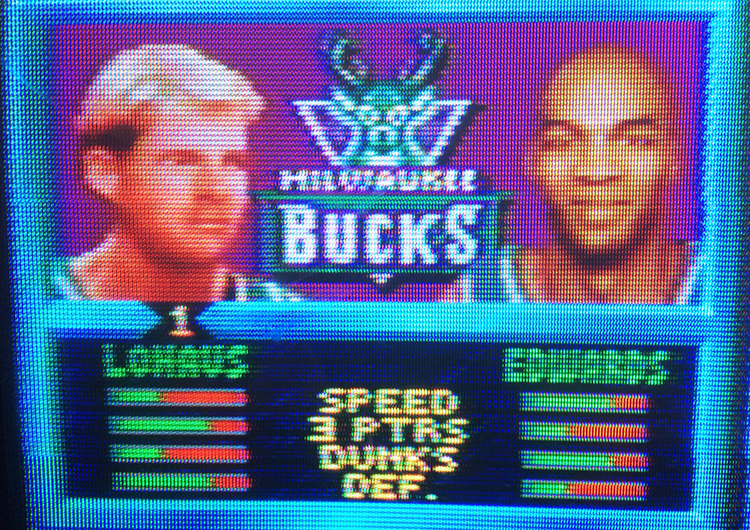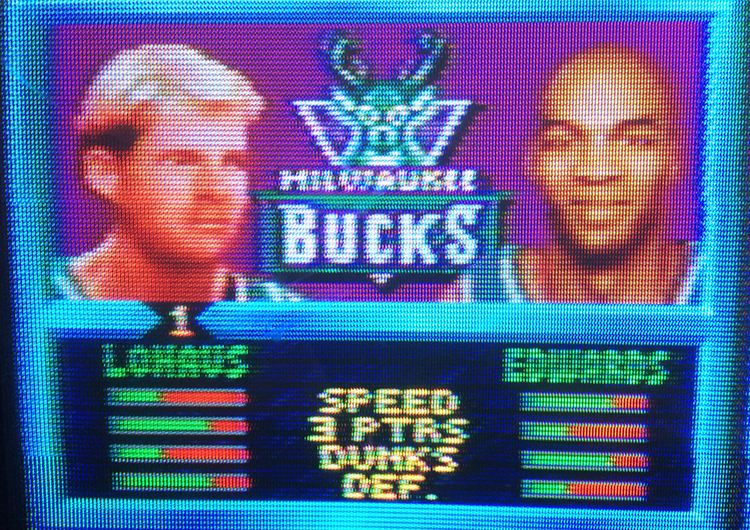 MR: Who's the worst team on original NBA Jam? It's the Bucks, right?
RA: Yes. I did a poll about the worst NBA Jam team, too, and the people have spoken.
MR: I know you won't be able to make it to this weekend's NBA Jamboree tournament, but as the foremost expert on NBA Jam—my words, not necessarily yours—what are some tips you can give competitors?
RA: When it comes to knowing about NBA Jam, I would agree that I'm the foremost expert, just because I've spent four years learning everything I can about the game and talking to everyone who made it. That said, I'm a pretty bad player and it's pretty easy to stomp me. It's almost a point of joy for my friends to beat the guy who wrote the NBA Jam book at NBA Jam.
But I would say to move awkwardly around the court versus staying in obvious patterns, and never take a lead for granted. NBA Jam can easily trick you into thinking your lead means that you've got the game in the bag when, in actuality, the see-saw is going to tilt the other way in a few seconds. Pressure, pressure, pressure.
MR: Is there anything more you'd like to say about NBA Jam, about the process of writing the book, or anything else I might've missed?
RA: NBA Jam is such a special game to so many people, myself included, so it was truly a privilege to be the one to tell the big, definitive story on how the game was created and how its story eventually shook out. The book took four long years to put together in the way I wanted, but finally having it out is so gratifying. Don't give up on your dreams or those big ambitions, kids, even when you're working in off-hours or on weekends to accomplish your goal. Keep grinding and stay positive, even when it isn't easy. There's no feeling like being at the finish line.
Reyan Ali's NBA Jam (the book) is available now in both paperback and digital formats at Boss Fight Books. The Kindle version is also available at Amazon. You can read a sample excerpt of NBA Jam (the book) here, and follow Ali's NBA Jam-related and other classic video game musings @NBAJamBook on Twitter.