Thursday marks another Opening Day for your Milwaukee Brewers. With the new season also comes untold opportunities for greatness. In addition to the Brewers having an outside chance to win its first World Series in franchise history, there is also infinite possibility for memorable highlights, record-breaking achievements, big league debuts, first hits, final games, no-hitters, cycles, accomplishments that might help pad Hall Of Fame résumés, and other things that might grant a player baseball immortality. Now that we're mere days away from a season with an altogether unknown destiny, we thought we'd demonstrate the world of possibilities in front of the Milwaukee Brewers and its players by talking about an on-field achievement that has only been accomplished by one person in the history of Major League Baseball.
Larry Yount—older brother of Brewers great and Robin Yount—is the only pitcher to ever appear in a Major League game without actually playing in a game. Confused? Allow us to elaborate.
Yount (Larry that is) was drafted by the Houston Astros in 1968. The pitcher worked his way up the organization's Minor League ranks and, following a solid showing in triple-A in 1971, he earned a spot in Houston's bullpen that September. During a game against the Braves on September 15, the Astros brought the young hurler in to pitch in the top of the ninth inning. What happened next—or what didn't happen next, more accurately—was nothing short of incredible.
After the change was announced, Yount reported to the mound for his Major League debut. He threw a few warmup pitches and felt pain in his right elbow. The 21-year-old prospect summoned the team's trainer, who examined him and decided Yount should leave the game. Yount was pulled before he could throw a single pitch in a big league game. He wasn't used by Houston the remainder of that season. He didn't make the Astros' roster in 1972 or 1973, and spent those seasons in the minors before Houston traded him to Milwaukee in early 1974.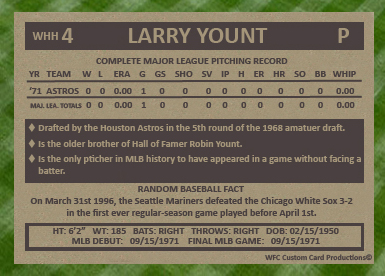 At that same time, another Yount—Larry's little brother Robin—was rapidly climbing his way up the Brewers minor league ladder. Unfortunately, the elder sibling remained in Milwaukee's farm system for two seasons before deciding to call it a career. Having never played in another big league game, Larry Yount became the first (and to this point, the only) pitcher to "appear" in a Major League game without ever facing a batter. Though it's probably not the way he wanted to be remembered, this strange accomplishment put the name Larry Yount in the record books, resulted in a file in the National Baseball Hall Of Fame, and even inspired a song. You can read more about Larry Yount and this statistical oddity HERE.