Last weekend, Genesis Jordan and Green Bay Packers great LeRoy Butler got married. Beyond the fact that one half of the couple is a future Hall Of Famer and the inventor of the Lambeau Leap, this momentous occasion was made even more special because it was open to the public. The lovebirds allowed fans of football and romance alike to purchase tickets to the wedding ceremony and reception at Lambeau Field, with "a large portion of the proceeds" from tickets and sponsorship being donated to Friends Of Autism, Hunger Task Force, and The Salvation Army.
After Butler told me more about the wedding and all of the other former Packers who would be involved in the special day, I decided it would be the perfect gift for my sister and I to give to my mom and stepdad last Christmas. On May 11, they were finally able to enjoy the present. Following the fun and joyous occasion in the company of some of their favorite players, my mom—who preferred to remain nameless because, unlike her son, I think she's hesitant to put information about herself on the internet for strangers to see—offered to write about the experience of attending LeRoy Butler and Genesis Jordan's wedding. In her own words, here's what she thought about it.
***
I've always wanted to attend a wedding at Lambeau Field. So you can imagine my delight when I opened my Christmas gift this year from my kids and there were VIP tickets to attend the wedding of LeRoy Butler and Genesis Jordon inside. I've spent the past few months in anticipation and excitement just waiting for Saturday, May 11 to arrive. Now I'd love to share some of the experience with you.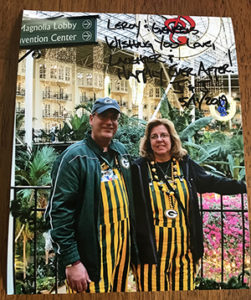 Upon arriving at the stadium, my husband and I instantly noticed that things were very organized. We checked in at a registration table, received a silver wristband, and were then instructed to drop our gift off at a designated area. My husband thought it would be funny to give the couple an autographed photo of the two of us. I'm sure they were really happy to receive that!
From there, we took the escalators to the top floor and joined other party goers. There were a lot of beautiful people there, including some groomsmen that I noticed as we passed through the crowded area. I recognized a few of them to be former Packer players and made sure I told them how handsome they looked in their dark tuxedos with matching pink vests and ties.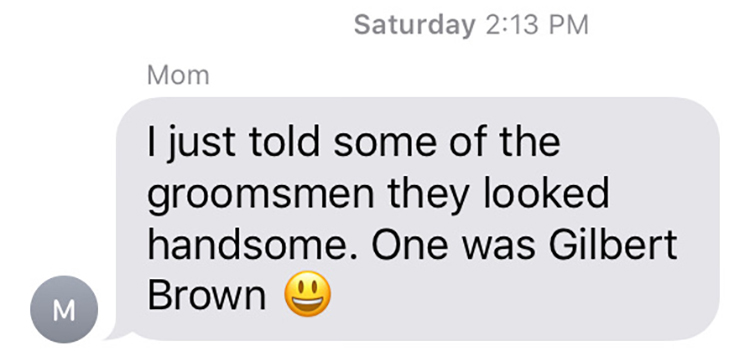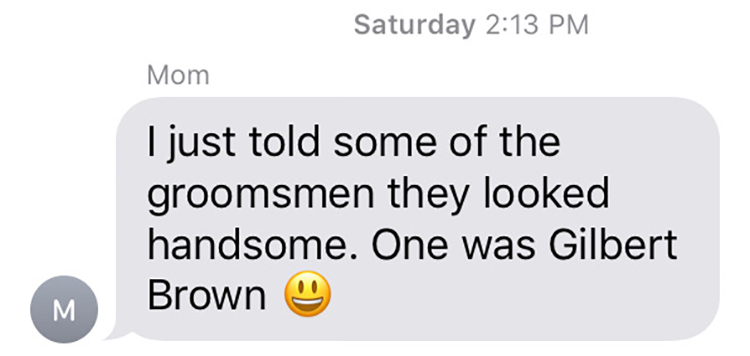 Soon, we noticed that the doors to the room where the ceremony was to take place were open and we were able to fill in the seats after the family and close friends of couple—the ones with Gold wristbands—were in their places. There was a beautiful white swag backdrop with ribbons and flowers along with two floor-to-ceiling crystal chandeliers that gave us a visual of where the nuptials would be exchanged. We were content with our seat choice, as there were as many as 500 spots to choose from, if my math was correct.
The first to enter was the pastor and his wife—who is also a pastor—while soft piano music played. The groom had a beaming smile as he came in with his chosen best man. As the Elvis Presley song, "Can't Help Falling In Love" started to play, the doors opened and the first of the 19 couples in the wedding party made their entrance. The women looked very elegant in their white gowns that crossed over one shoulder and had lace on the side. Each one carried a pink floral bouquet. As they walked slowly down the aisle, each woman was given a twirl by the groomsman on their arm when they reached the halfway point.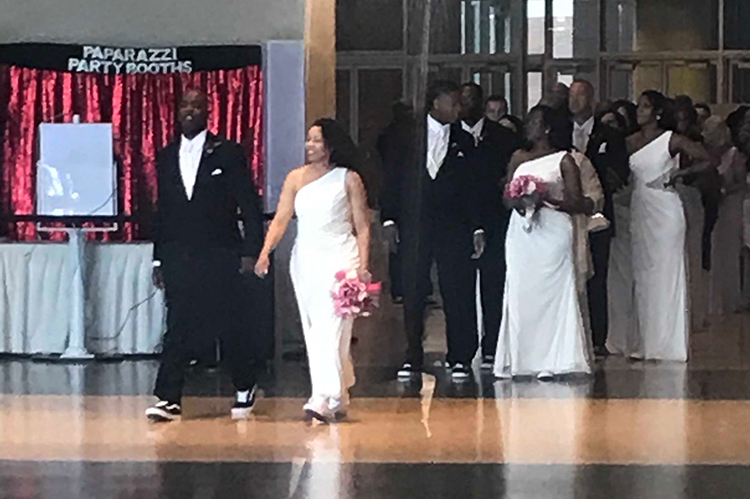 Four flower girls followed behind the attendants—all looking as cute as could be. The ring bearer (LeRoy Butler IV) stole the show momentarily as he broke out in some pretty fine dance moves wearing his dark sunglasses and tuxedo. Finally, the song "Speechless" began to play as the pastors gestured for us to all rise. Because I couldn't get a clear view of the bride, who was being escorted in by her parents, I chose to watch LeRoy's expression instead. He looked star-struck and his smile got even larger than it was before. Once we were again seated, I was able to see the beautiful Genesis who was a vision in her pink gown that sparkled when the light hit its silver accents.
The two pastors brought so much energy to the room as they began the ceremony, at times getting everyone in the room to laugh or shout an "Amen!" The wedding couple confidently exchanged the vows that they had personally written for each other. They were kind, sweet, humorous, and tender. It gave us all a feel of the kind of relationship they must have, and I was completely drawn into the moment. LeRoy gently kissed the bride's hand as he finished reading his and received an "Aw!" from those in attendance. After the rings were exchanged, the couple shared a kiss and the pastor introduced them as husband & wife.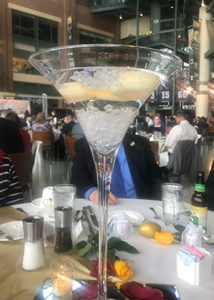 The celebration began immediately after the ceremony. Walking out, each woman there was handed a single rose and was wished a Happy Mother's Day. There was a seven-piece band playing some upbeat and fun music and beverages we now available.
We had some time to enjoy the atmosphere, visit with some of the other party-goers, and have a couple glasses of wine before being invited down to the main floor of the atrium to sit for dinner. The head table was an amazing display of white and pink. It was two-tiered, which was necessary to accommodate the entire bridal party. Round tables, set to seat 10 at each, filled the rest of the open space ready to serve 600 guests.
Each place setting had a small football with the names of the newly married couple and a mesh bag that held a shot glass that was filled with mints that both served as party favors next to each guest's name plate. The centerpieces were really large glasses that held fresh flowers inside. At this time, the entire wedding party entered the dinner area together, so I decided to take some video so that I could share some moments with my family and friends. I did manage to get some nice footage before realizing that it was me that the DJ was shoeing away from the area. OOPS!
Dinner service was nicely-done, especially considering the number of people in the room. And the salmon that I had pre-ordered weeks ahead was more delightful than I had anticipated. Even though I had secretly hoped that Chris Jacke would be seated on one side of me—opposite my husband—I was content with meeting the nice teachers from Milwaukee that were there instead. We had great conversation with the entire party that dined with us. My husband also shared a bite of his delicious steak with me.
A line formed for the cupcakes and cake pops that were beautifully displayed and being served up by some packer greats. Among them were Gilbert Brown, Doug Evans, and Gary Ellis. The bride and groom had a beautiful cake-cutting ceremony with an amazing looking cake, complete with the traditional feeding of one another. They didn't share that one with us, but it looked delicious.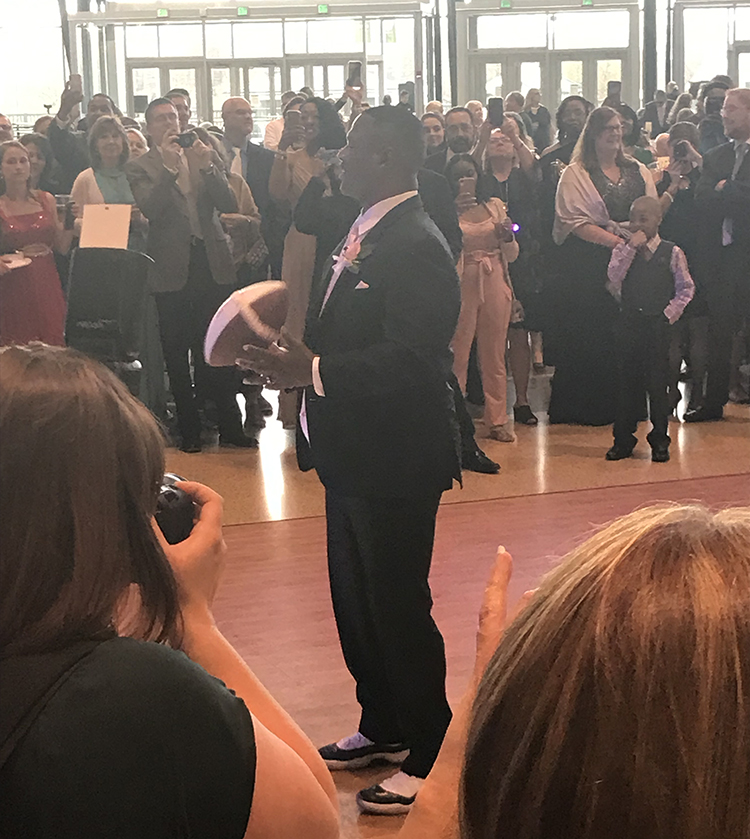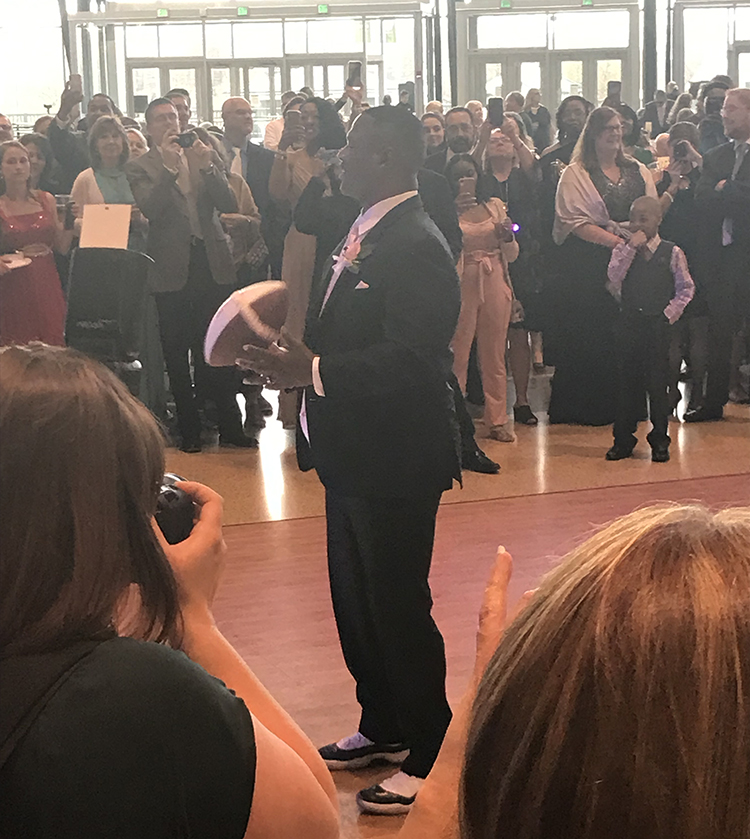 In no time at all, the dance floor was filling up as the DJ started playing some fan-favorites. We also enjoyed watching other traditional wedding events happening throughout the night, such as the tossing of the bouquet (which actually broke off into three separate bouquets) and the garter throw. The lucky gentleman that got this garter was actually a receiver, since LeRoy had strapped it to a football and threw it into the crowd of bachelors.
After enjoying a couple of cocktails and taking one last stroll around the dance floor, my husband and I decided to call it a night. Even though we really were strangers to the newlyweds, it did make my heart happy to share in their special day. I can tell that they are truly genuine people that care a lot for many and are cared for by many.
I wish them a happy life!