Hey, it's Moneyline Mo, the man in the know, continuing my march towards a winning season. The only thing better than double-digit wins last week is that we now can officially say bye to bye weeks! We haven't had a full slate of 16 games since Week 5! That's a span of nine weeks where at least two teams were off. There must be a better way! In fact, I know there is a better way. The current bye structure makes no sense to me: the inconsistent number of teams off from week-to-week, the frequent matchups between a team coming off their bye against a team that played the previous week, and the huge disparity of time between when teams got their break.
Here's a million fucking dollar idea I'm giving away for free: Have the bye window take place over four weeks. With eight teams off each week, you would still have 12 games played each week during this stretch. And it is simple to structure: have one team from each division in the league off each week. So, you have eight teams off every week and based on how the teams finished in their division the prior year, each week have two #1 seeds, two #2 seeds, two #3 seeds and two #4 seeds take off with the important caveat that each set of seeds plays in the same conference. So, for the example I shared, maybe the two #1 and #4 seeds are in one conference, while the #2 and #3 seeds are in the other conference.
This way, you can rotate through the entire league very quickly and always have top teams available for the 12-game slate. And everyone roughly has the same time frame for when they had their break AND every team coming off a bye would play the matching seed that also had a bye, so it's an even playing field for all. I would be happy to give a formal presentation to the league if they'd like to bring me in with the full details of this solution. Until then, here are my picks for Week 15:
THURSDAY
KANSAS CITY OVER LOS ANGELES (A)
This is the final Thursday night game available on standard television. There's one more next week, but you need to have access to the league's network in order to view it. And then next year, this thing apparently is only going to be available on Amazon. I know the games are already simulcast there and call me old-fashioned, but I'm not totally sold on games only being available through a streaming service. I occasionally stream games now, but sometimes the games freeze or have hiccups…I think it's a risk if there's an outage by the streaming service without an over-the-air way to watch the game. It's still a year out, but the soothsayer in me says we're going to have a Thursday night game next year that overwhelms the servers and leaves millions unable to watch the game. If this comes true, say a little "Moneyline Mo was right" in the middle of your frustration.
SATURDAY
CLEVELAND OVER LAS VEGAS
We officially have ourselves some Saturday football! My plan is to get a free trial of an online television service I have no intention of purchasing for the sole purpose of watching this Saturday doubleheader, next Thursday's game, and the Christmas night game since they are all exclusive to the league's network. And you better believe I will be canceling my trial the moment the final whistle blows on Christmas night. That's a Moneyline Mo Guarantee (patent pending).
NEW ENGLAND OVER INDIANAPOLIS
These two teams are both coming off their bye week, so it at least meets that prerequisite from my manifesto! I told you an Indianapolis surge was coming and right now they would have the six-seed in the playoffs. However, with their next two opponents being New England then Arizona on Christmas Day, they need to beat one of those contenders to keep their hopes alive. The early line has Indianapolis as a favorite for this game, but I have been so impressed with New England's run to the top the conference that I don't see them coming down from that spot. At least not yet.
SUNDAY
BUFFALO OVER CAROLINA
Buffalo has had back-to-back tough losses and now are right on the edge, as they currently would be the seven-seed if the playoffs started this week. I still have a Picasso's Pizza in my basement freezer, but I'm waiting for the team to contact me directly to declare that they need my assistance. I think they'll get the win this week without any help from me, but I'm standing by just in case.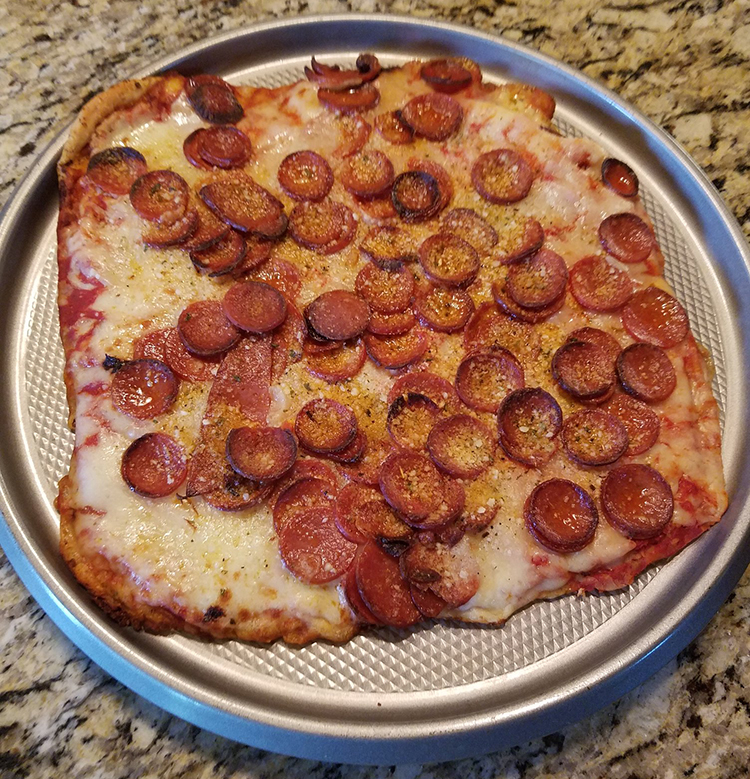 DALLAS OVER NEW YORK (N)
Mike McCarthy came through with his guarantee that Dallas would beat Washington last week, but I feel like that was a waste of a guarantee. We really don't see guarantees anyways these days, but if you're a head coach, I feel like you only get to do one guarantee in your career so if you are going to proclaim it, save it for something important. If you do again, it doesn't have the same effect and if you end up losing then you just become the coach who cried guarantee. For comedy's sake though, I hope he does it again when Dallas plays Washington again next week.
HOUSTON OVER JACKSONVILLE
Both teams are in disarray behind the scenes, but I think Jacksonville's issues are more likely to impact the product on the field, so I'm giving Houston the edge for this game. I hope tell-all books will eventually come out about both the Rick Smith tenure in Houston and the Urban Meyer era in Jacksonville.
MIAMI OVER NEW YORK (A)
We all counted Miami out, but they have very quietly won five games in a row. Maybe it is because of their loss to Jacksonville in London, but I still don't take Miami seriously. Oh, let that be another caveat for my bye week manifesto, that if you play an overseas game you immediately should get a bye week so your body clock can readjust! Miami played in London during Week 6 and didn't get their bye until Week 14, so this year's schedule has been really unfair to them in my estimation.
WASHINGTON OVER PHILADELPHIA
Injuries are piling up at the worst possible time for Washington, but it looks like Taylor Heinicke will play this Sunday against Philadelphia. There's also another damning report about the organization's leadership, so I wouldn't put it past them to announce the new name of the team to serve as a distraction. Can the release date of Robert Griffin III's book get bumped up? Let me read that Christmas morning while ignoring my family!
TENNESSEE OVER PITTSBURGH
I don't know what the heck Pittsburgh was doing for the first three quarters on Thursday night against Minnesota, but whatever it was didn't do them any favors in trying to make the playoffs this year. And even if they did make it in, does anyone consider them a threat? Did you know that Pittsburgh hasn't won a playoff game since the 2016-2017 season? That's five years! Even though Mike Tomlin signed a three-year extension earlier this year, could it be possible that next season is a hot seat year for him while they could be rebuilding if Roethlisberger retires? That's right, I'm already thinking of storylines for the 2022 season! You're welcome!
ARIZONA OVER DETROIT
Arizona is not going to lose to Detroit.
CINCINNATI OVER DENVER
It's a common refrain from me, but I really hope my guy Slick Vic Fangio has done enough in the eyes of John Elway to stick around for another season. Unfortunately, I think they would need to win out the rest of the way to make the playoffs and I don't see them doing that this year. If they just get the offense figured out, I think they will be a difficult wildcard team next postseason, but with regrets, I can't pick them this week and am resigned that my guy's team won't be making the playoffs this year. Also, something to keep an eye on, but I think the final game of the season that will get flexed to Sunday night will be Cleveland against Cincinnati with the division on the line. Let's get #SoothsayerMoneylineMo trending if I'm right.
SAN FRANCISCO OVER ATLANTA
I have to give credit to Arthur Smith for keeping them in contention this season. Do you think having the same first name as the team owner helped him or hurt him when interviewing for head coach of the team? My gut thinks that would be a hurdle, so kudos to him for clearing that and getting the job in the first place! However, Deebo Samuel and George Kittle are peaking right now for San Francisco and will be too much for Atlanta to handle this week.
LOS ANGELES (N) OVER SEATTLE
That was one heck of a Monday night game and kudos to Los Angeles for a huge win over Arizona. I don't think there's enough time for them to catch Arizona for the division, but they're firmly entrenched as at least a five-seed at this point for the playoffs. Remember when Troy Aikman said during the Green Bay game that he wasn't sure if Los Angeles was going to win another game this season? It was dumb at the time and two wins in two weeks makes it even dumber. Heed this warning, Troy, Moneyline Mo NEVER forgets!
GREEN BAY OVER BALTIMORE
And just like that, Green Bay is Mr. Big in the conference! The equation for this game really changed with Lamar Jackson getting carted off the field last week. Even if he can return, there's no way he'll be at 100%. Baltimore is really floundering at the worst possible time. If Cleveland wins their game on Saturday and Baltimore loses to Green Bay, Cleveland will slide into the top spot in the division. One time when I was interviewing for a job, the guy told me that if I flourished, I would be out of a job quickly and it didn't sink in until I was driving home that he meant to say floundered. For words that have totally opposite meanings, their structure is way too similar!
There are no words to adequately describe how important this Sunday's halftime show at the Cactus Club is. Holy Mary Motor Club is reuniting for a special performance that, rumor has it, will extend beyond the standard fifteen-minute halftime slot. I know Milwaukee Record is trying to work with the league to hold up the game to accommodate HMMC's full set, but even if they can't come to an agreement, do not miss this halftime show!
TAMPA BAY OVER NEW ORLEANS
If you read my column last week, I told you that Tom Brady was starting to pull away in the MVP race and now the moneyline really reflects that. Did I take my own advice and put money on him when I could have secured the better odds? No, but it would have been the smart thing to do.
MONDAY
MINNESOTA OVER CHICAGO
When Chicago had a lead over Green Bay at halftime and the sideline report shared that Matt Nagy said "I'm having so much fun," I have never been as certain in my life that Green Bay would come back to win. You can't say that in the middle of your fourth season as a head football coach and have a realistic expectation of winning. That's the language of someone who knows they've overperformed. It was vindicating to see the second half collapse immediately following that. On the flip side, I very confidently predicted a Minnesota loss last week followed by a Mike Zimmer firing, so my gut instinct isn't always accurate. What can I say, you can't get them all right! But last week, I got most of them.
LAST WEEK: 10-4 (good buddy)
SEASON TO DATE: 127-80-1