The writing was on the wall when Chicago released him back in March. The picture became even clearer when the Bears foolishly signed veteran backup quarterback Mike Glennon to a three-year, $45M contract days later, then inexplicably traded up to nab Mitchell Trubisky with the second overall pick in last week's draft. Even though it had become abundantly clear Jay Cutler would never again duck under center as the Windy City's quarterback, there remained an outside hope Packers fans could see the sulking interception machine on the field (or at least on the sidelines) in another team's uniform this season. Sadly, that will not happen.
Today, FOX announced Cutler would be joining the network to provide on-field coverage in 2017. Though Cutler hasn't said the word "retirement" just yet, the transition basically signals the end of the polarizing playcaller's pro football career. The quiet May announcement also functions as an acknowledgement that Green Bay greatest modern villain—and perhaps most consistently detested foe ever—has been vanquished by time, injury, and his own diminishing skillset. Wisconsin sports is now without a unifying enemy upon which fans could pile their blind hatred, schadenfreude, and collective ill will.
The highly-touted Vanderbilt quarterback was selected 11th overall in 2006, and after one season (mostly) on the bench, he earned the starting job. In 2007, the 24-year-old showed promise in his first full season, including 3,500 passing yards, 20 touchdowns (to just 14 interceptions), and flashes of greatness. That season, he pushed the Brett Favre-led Packers to overtime before his elder ultimately willed Green Bay to victory. As his comfort in the pocket increased, so did his disdain in Denver. Prior to the 2009 season, the Broncos traded him—weeks removed from a Pro Bowl appearance—to Chicago, which had most of its core players remaining from its 2006 NFC Champion team. For the first time since Jim McMahon left in 1989, the Chicago Bears had a legitimately good quarterback.
Meanwhile, Green Bay was breaking in a young starter named Aaron Rodgers, who was coming off a 6-10 season (statistically impressive as it was). For the first time in 20 years, the Bears had what appeared to be a complete offense and a star-caliber quarterback, which was pretty terrifying for a Packers fan base still in-fighting about whether parting ways with Favre was the right move. In 2010, Chicago won the NFC North—splitting the season series with Green Bay in the process—and advanced to the conference's championship, where they faced a surging Wild Card Packers squad. Cutler proceeded to complete just six passes for 80 yards, throw an interception, and finish the game injured and pouting from the sidelines. Things were never the same.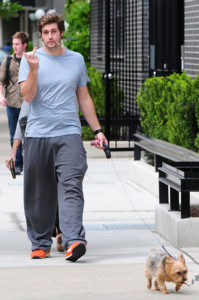 That would be the final postseason game of Cutler's career. Any semblance of divisional balance shifting to Chicago was squashed. Really, Jay Cutler was the only reason the decidedly one-sided rivalry between two hated foes was remotely worthwhile since 2010. The semi-recent Pro Bowler and once-purported franchise savior who was a single game from the Super Bowl turned heel. He got engaged to reality star Kristen Cavallari in early 2011, who he since married (and allows to photograph him naked).
His mannerisms and apparent apathy spawned countless memes and the illustrious Smokin' Jay Cutler website. Packers fans had a field day with him, including assertions that his flurry of interceptions against Green Bay make him the fourth best quarterback in team history, and a cottage industry inspired by Cutler's apparent affinity for wine coolers.
In his eight seasons in Chicago, the crotchety QB was nothing short of the perfect villain. In an increasingly uptight league that frowns on personality and attitude, Cutler—to use the most famous quote allegedly attributed to him—"DON'T CAAAAAAAAAAARE!" about much of anything. In the midst of a predominately prosperous (and ongoing) epoch of Packers supremacy in the division, and with an otherwise-lopsided modern rivalry between two of the NFL's oldest teams, he knowingly accepted the role of infamous leader. He brazenly captained a team that would almost always wind up losing against the Green and Gold, often as a direct result of his performance.
It wasn't all bad for Cutler though. In spite of his 51-51 career record with Chicago, he's the franchise leader in career passing yards, completions, and passing touchdowns. He leaves the game he seemingly barely tolerated as rich and relatively healthy man. Even if Glennon comes close to earning his laughably huge contract or Trubisky proves everyone wrong and isn't a huge bust, Packers-Bears games just won't be the same without the guy wearing six serving up picks.
Farewell, Jay. Packers fans could not have asked for a better player to cheer against.