For years, Ramie Makhlouf was a daily a part of the afternoon drive time commute and a trusted source of athletic information on metro Milwaukee radio waves. The longtime host of The Big Show on The Fan also offered a unique perspective of a displaced Illinois sports fans living in Wisconsin.
Unfortunately for local listeners, Makhlouf left The Fan late last year to take a job at Minneapolis-based SKOR North as the co-host of Mackey & Judd With Ramie. But Milwaukee's loss is Minnesota's gain, as he brings firsthand knowledge of Chicago sports teams through his fandom, as well as experience with Wisconsin sports from his years covering the Packers, Brewers, and Bucks on the Big Show. Before Sunday's matching between the Packers and the Vikings, we thought it would be a good idea to pick Makhlouf's brain and ask him about being a Bears fan in Minneapolis…who also happened to spent much of his life in Packers country.
Milwaukee Record: You have the rare distinction of being a Bears fan who covers Minnesota sports after starting your career on Milwaukee sports talk radio. Do you think that variety is an asset or is it tough to balance everything?
Ramie Makhlouf: I'm a bit biased because I'm talking about myself, but I think it's an asset. Growing up watching and rooting for teams that play in the same region, and in most cases, the same division as the teams that I now cover, I come with a certain amount of knowledge about these teams. If you're a serious sports fan you follow what's going on outside of your town, and especially have an eye on the teams that your teams are competing against, both on the field and in the standings.
It didn't take much studying to be up on the Packers, Brewers, Bucks, and now the Twins and Vikings. I've seen a lot of these teams in my life. And from a purely entertainment standpoint, I think everyone has that person in their circle of friends or office or factory or wherever they work who's a fan of another team—maybe even a rival—so it's relatable. Trash talk is fun and a part of sports for those who don't take it too seriously. There are those who only want sports talk from like-minded fans, just like there are liberals who only watch MSNBC and conservatives who only watch FOX News, and I think that's bullshit. If you're someone who thinks like that, we probably don't see eye to eye in the first place, and there are a lot of other things about my show you won't get or appreciate anyways. It was just never meant to be. Sorry.
MR: What are some things you've learned about Vikings fans, or Minnesota sports fans in general, during your brief tenure in Minneapolis?
RM: They have a great sense of humor about themselves. There is heartbreak in Minnesota sports…a lot of it. And a special kind of heartbreak; teams that show promise, get close, and then let fans down. Well, except for the Wolves, they've pretty much always been a dumpster fire, but I think that's about to change. Fans around here joke around about that, though, sometimes in the immediate aftermath of heartbreak. Hell, they often joke around about how teams will blow it when things are going well, like they are right now for the Twins. I loved my time in Milwaukee and Wisconsin sports fans were great to me, but they didn't laugh at themselves the way Minnesota sports fans seem to. I don't even think Chicago sports fans have as good a sense of humor about themselves as Minnesota fans do. As a comedian, I appreciate that.
MR: How do you think most Vikings fans see Packers fans in general?
RM: There is definitely the stereotypical caricature of the "overweight, cheese eating, beer drinking, self-entitled, whiny, thinks they're an owner of the team Packers fan"…their words, not mine. Okay, some of them may be mine. That's purely from a trash talking a rival point of view though, which again, I think is fun and part of sports. Catch us—both Vikings and Bears fans—in an honest moment, and I think there is a healthy respect there for the organization, its history, Lambeau Field, and everything else that goes with the Packers. We were actually just talking on the air a couple weeks ago about how great Lambeau is and how welcoming Packers fans are, even to opposing fans.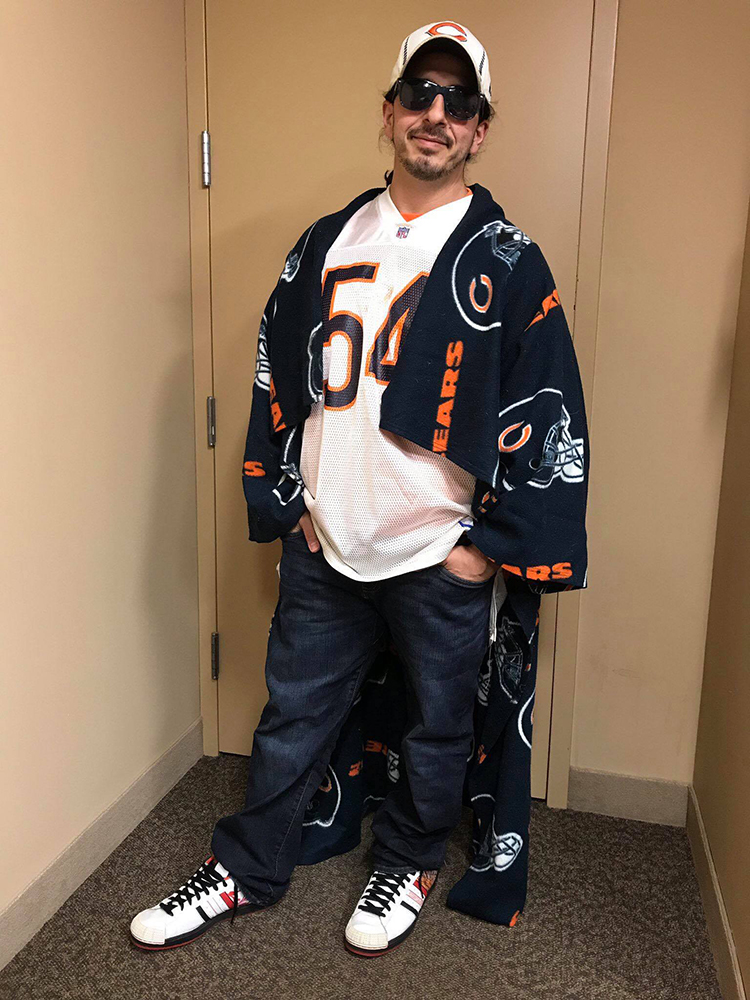 MR: How do Vikings fans treat you, being a Bears fan and all?
RM: They treat me okay as a Bears fan, but they take shots where there are openings. For example, they played some clips of Bears fans and hosts losing their minds on Bears post-game shows over the Bears fight song, "Bear Down," after they lost the opener last Thursday to the Packers. Ultimately though, we share a hate for the Packers above all to bond over. A lot of people reading this won't like this comparison, but the Packers are to the NFC North what the Cardinals are to the NL Central. Sure, there is some bad blood and trash talking among the rest of the teams in the division, but we all want anyone but them—the Packers or Cardinals—to win it.
MR: How do you think the rivalry compares to the Packers and Bears rivalry?
RM: The Packers and Bears is a rivalry that seems to hold weight and is important for both franchises and both of their fan bases, regardless of how good the teams are. Vikings fans see the Packers as their top rival and target pretty much all the time, but I don't think that goes both ways. If the Vikings are in a down year, Packers fans don't really give them a second thought. It's only when both teams are good that the bad blood goes both ways.
MR: Is there a noticeable contingency of Packer Backers in Minneapolis? How do they show their allegiance in enemy territory? Do you know of any good Packer bars in town?
RM: There is a large contingent of not just Packers fans, but Wisconsin sports fans in general in the Twin Cities. I can't tell you how many people I've met just in my own apartment building sporting their green and gold, ball and glove logo, Giannis jersey, or Bucky Badger hoodies. I never thought I'd say this, but it kinda makes me feel at home after 14 years covering those teams. It's also a good ice breaker for a recluse with social anxiety…but I digress. I don't know if there are any good Packer Bars. I did search Bears bars before I even moved here. Haven't been yet, but I hear Alary's is the place to be, if you're wondering.
MR: Of course, we need to mention that the Vikings have never won a Super Bowl. Do you think fans—or even some of your co-hosts—have a chip on their shoulder having never won it all?
RM: There is definitely a chip, but again, they don't take themselves too seriously. I'll tell you this; That 2009 season really sticks with him them. Not only did they think they were going to win the Super Bowl, but they were gonna do it with Brett Favre having arguably a better season than he ever had in Green Bay. As if finally getting that trophy wasn't enough, they were going to drive a dagger though the hearts of the Packers and Packers fans in the process…only to come up short and feel the disappointment Packers fans felt oh so many times thanks to the ol' Gunslinger, and give Packers fans more ammo to use against them. That one hurt. My station actually did a podcast about it if you're into schadenfreude.
MR: Have you noticed any traditions or tendencies that are super-specific to Vikings fans, like certain snacks or songs affiliated with game day, chants, or stuff akin to touchdown shots that us Packers fans enjoy?
RM: They have their Skol chant before Vikings games and that annoying ass horn, but I knew about that before I moved here. They incorporate Prince into everything in Minnesota, including their sporting events. Halftime shows, music at Target Field, merchandise giveaways at games, you name it, they've put a Prince symbol on it. And yeah, they like their touchdown shots, two-for-one beers on game day, alcohol in general, and a good sausage to go with it, just like all good Midwesterners. Juicy Lucys are a big deal around here. It's just a cheeseburger with the cheese on the inside. And "hot dish" is a thing I'm not sure I understand yet, but apparently is a popular dish in the fall and winter months. From what I gather, it's just a casserole made of whatever you have in your pantry, fridge, and freezer?
MR: What are some things you've come to miss now that you're no longer living in Packerland?
RM: From a sports standpoint and what I do for living, Wisconsin sports fans are a passionate and loyal bunch, and that translated to The Big Show and The Fan in general, so I miss that, but I'm trying to build that here and that's a cool process. Even though it sometimes was detrimental to my teams, I did appreciate watching Aaron Rodgers, Giannis, and Christian Yelich do what they do as good as almost anyone on a day-to-day or week-to-week basis. From a personal standpoint, I miss my family, my friends, especially those on the Milwaukee comedy scene, and walking my dog around my favorite park—Humboldt—a couple times a day. But above all, I miss The Vanguard.
MR: Coming off Sunday's dominating win over the Falcons, what's your assessment of this year's Vikings squad? Will they improve on last year's disappointing 8-7-1 record? What are some strengths and potential weaknesses with the 2019 team?
RM: I picked the Vikings to win eight or nine games and finish third in the division, and one game didn't change that, even as dominant as the Vikings were. Their defense is good and seems to finish in the top five every year, but it's aging and took a step back last year. On offense, I think they've put Kirk Cousins in a better position to succeed, but there is only so much room for improvement on what you got from him last year. The X factor and the guy who could make me eat my words is Dalvin Cook. He hasn't been able to stay healthy since coming in the league, but if he can, he may be a dynamic running back and a dangerous weapon that could take that offense to another level.
MR: Okay, so every team has one game in the books now. How do you honestly think the division shakes out?
RM: I got the Bears with 10 or 11 wins and winning the division, the Packers with nine or 10 wins and finishing in second with a wild card, and the Vikings on the outside looking in. If Matt LaFleur is even a competent head coach and offensive mind though, and can have a healthy relationship with his quarterback and get him back to being the best QB on the planet, that changes everything and they're probably the favorites. If what we saw Week 1 from the Packers D is real, well you can start to think about a whole lot more than the division.
MR: Any predictions for Sunday's game? Who wins and do you have any individual player predictions?
RM: I think the Packers win 17-10. This will probably be another defensive battle like both of these teams had in Week 1. These are two good defenses and two offenses that are still trying to figure things out in new systems and playbooks. The Vikings were able to run all over the Falcons last week, but they'll find that more difficult this Sunday. I believe that Packers defense is for real. Not as good as they looked last week, but good, and ahead of where the Vikings offense is right now.