Each and every Friday, people in Milwaukee and all around Wisconsin eat fish. Even coronavirus can't get in the way of the pandemic-proof Midwestern ritual of enjoying breaded, battered, and fried fish. Over the past few weeks, local restaurants have adapted to the circumstances by offering drive-thru fish fry and ramping up carryout options for the beloved Badger State staple. Customers have responded in kind by flocking to enjoy the traditional fare in these nontraditional ways as a means of supporting area establishments and feeding their weekly craving.
Speaking of unconventional ways Milwaukee establishments are allowing customers to partake in Friday fish fry, Celesta has specialized in a vegan "Fishless Fry" since it opened in 2018, and the East Side restaurant is keeping the meatless and fish-free offering going strong during these strange and uncertain times. Located at 1978 N. Farwell Ave. in the small storefront that most recently was home to Jow Nai Fourquet and was previously the longtime site of Abu's, the current tenant promises "globally-minded" and "otherworldly" vegan cuisine.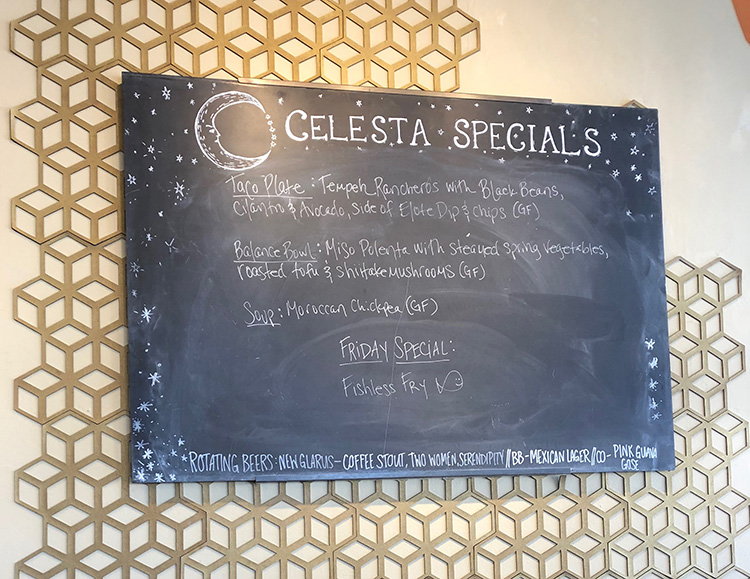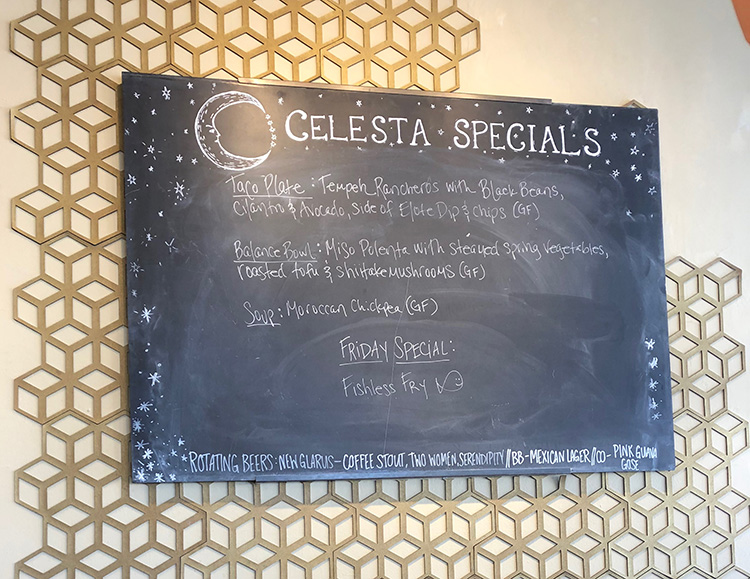 We were curious about how something as distinct and iconic as Friday fish fry could possibly be replicated in a vegan format, so we paid a visit to Celesta in early March (pre-COVID shutdowns) to take a seat at the cozy corner restaurant's bar and try a Fishless Fry for ourselves.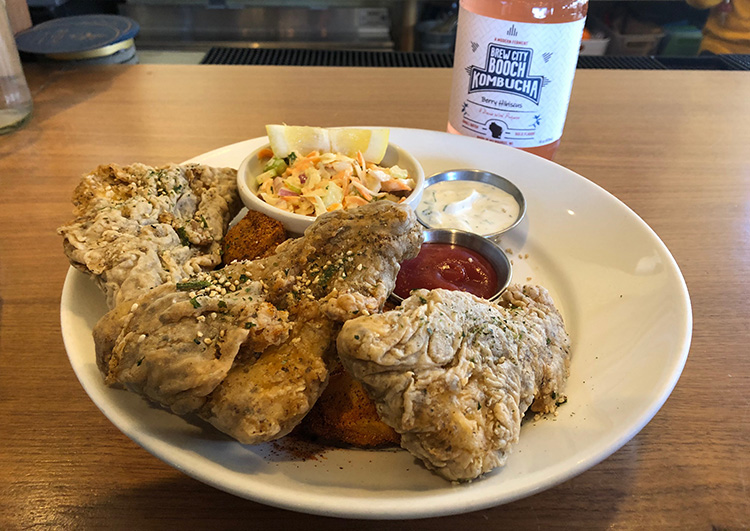 Though we visited the diminutive dining room during the Lenten season, it's our understanding that Celesta's Fishless Fry is offered every Friday of the year. Less than 10 minutes after placing our order, our Fishless Fry came out and it looked great. The sizable platter consisted of three massive faux fish fillets, a modest pile of seasoned potatoes, a dish of vegan coleslaw, a lemon wedge, and dipping containers for vegan tartar and ketchup.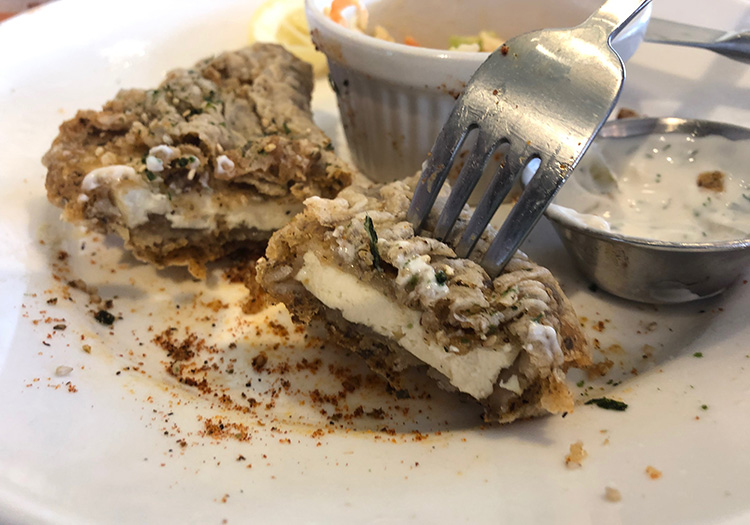 Taking the place of the pescetarian protein were three thinly-sliced strips of tofu that, as far as tofu goes, was surprisingly tender and offered at least a hint at the flakiness of a typical fish filet. They were coated with a thick and crunchy batter that our server told us helps give the Fishless Fry a "fishy" flavor by using dolce (seaweed) flakes. She also told us the bubbly and crunchy texture of the altogether enjoyable breading comes through the use of sparkling water instead of beer. With lemon squeezed on top and the rich accent of vegan tartar sauce at our disposal, Celesta's Fishless Fry is a more-than-respectable nod to its conventional counterpart, but it's also just plain great when evaluated as its own thing. When complemented by fresh coleslaw and hearty potato pieces that were covered with a spicy dusting, Celesta's Fishless Fry should definitely be something you consider incorporating into your Friday fish fry arsenal if you feel like changing things up and sparing a few fish in the process.
Celesta (414-231-3030) is currently open Tuesday through Saturday—11:30 a.m. to 8 p.m.—for curbside pickup and for deliveries through Eat Street.