For reasons we can't fully understand, people like to use their vehicles as a way to tell the world more about themselves. With the use of accessories like stickers, decals, window clings, flags, and god knows what else, one's means of conveyance can also act as a mobile display of their likes, dislikes, innermost personal and political beliefs, the number of children they have, and yes, even their preferred sports franchises. For one Bay View-based motorist, their car serves as a moving tribute to the greatest rivalry in football.
Last year, we told you about a Milwaukee resident who decided to transform their Chevrolet Malibu LS into a full-fledged Chicago Bearsmobile with decals, a navy and orange paint job, and even a "PAYTON" license plate. More than a year later, that car's parking spot on a Kinnickinnic Ave.-adjacent side street is now occupied by a beaten up Pontiac Bonneville that honors both the Bears and their longtime rival, the Green Bay Packers.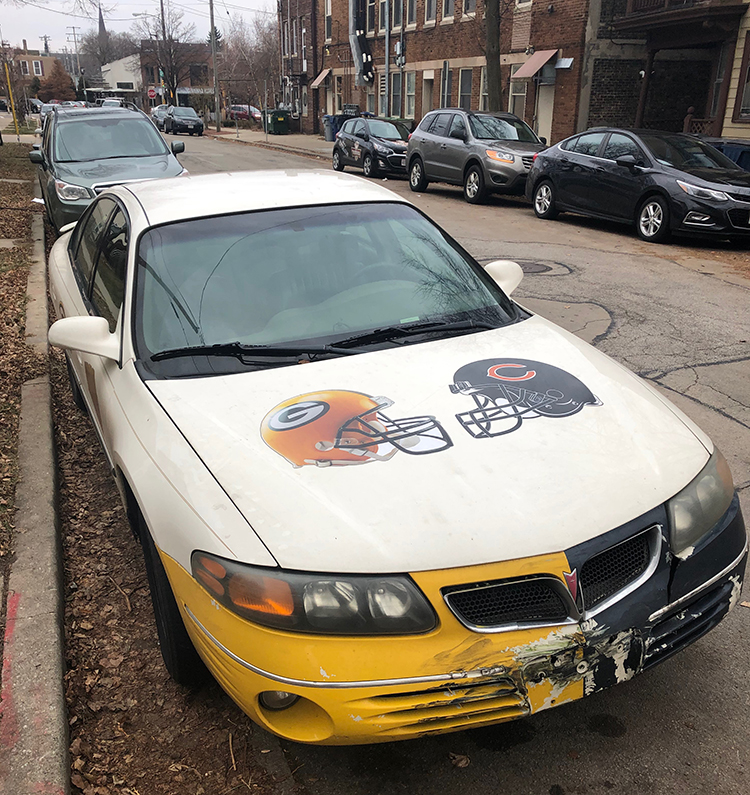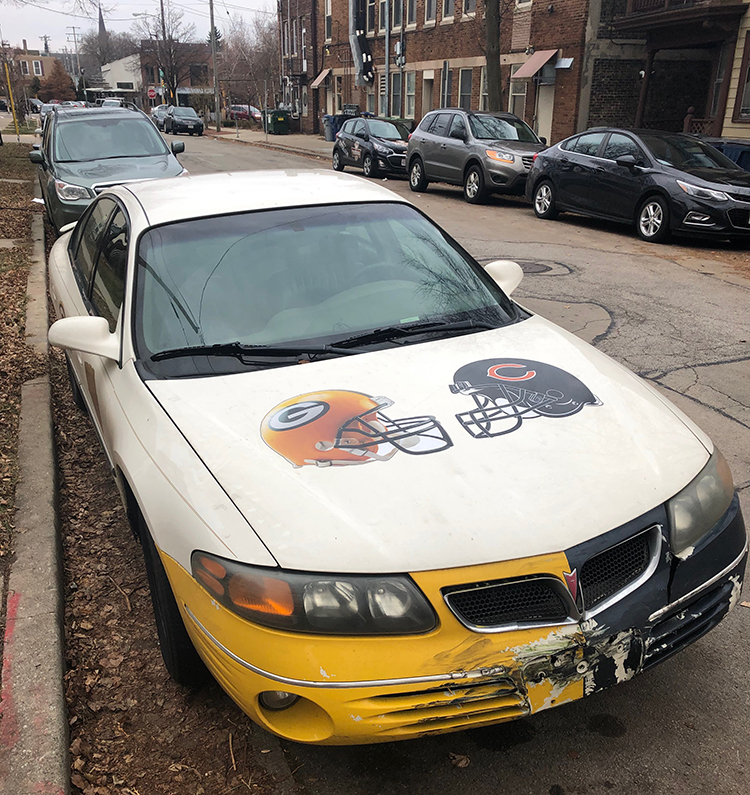 The two Midwestern franchises have been playing each other for 100 seasons and it's safe to say this car has been around for approximately a fifth of the games. Its battered bumper and weathered exterior are reminiscent of what players have gone through over the generations of hard-fought and brutal match-ups between these storied organizations.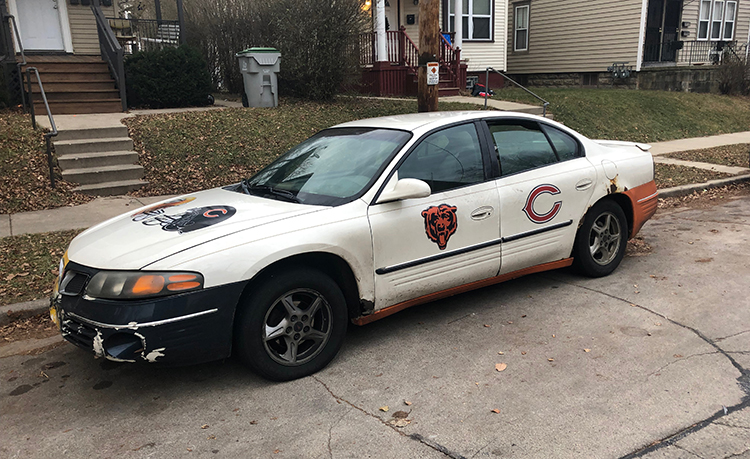 One side has the color scheme and decals that display an affinity for the Bears.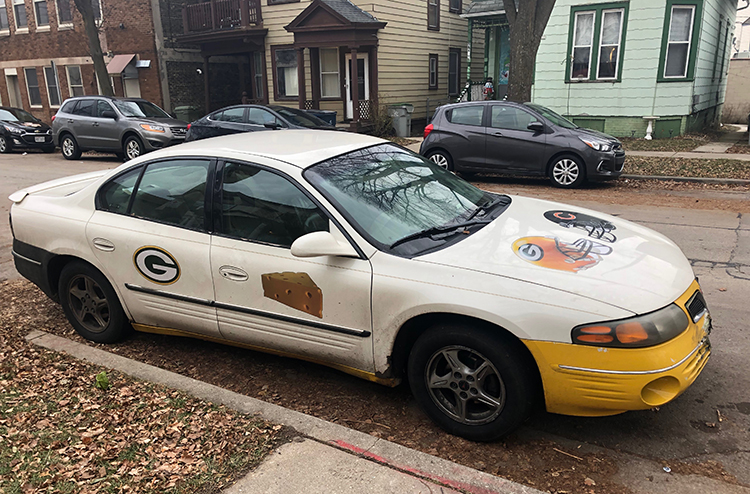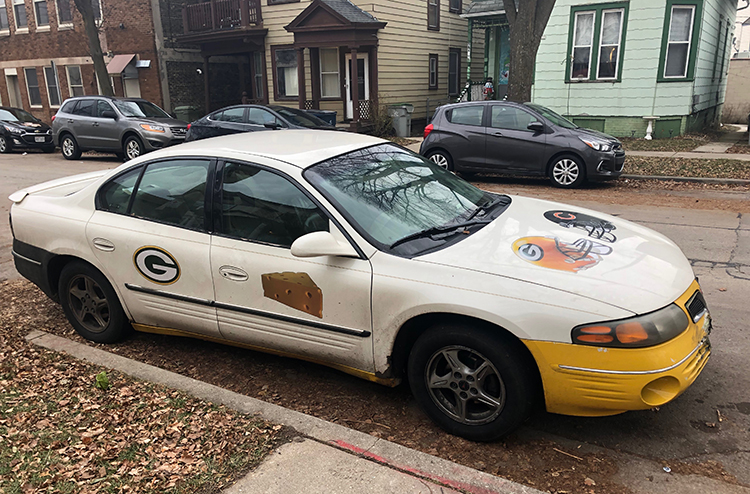 The other side features green and yellow trim, as well as Packers-themed stickers.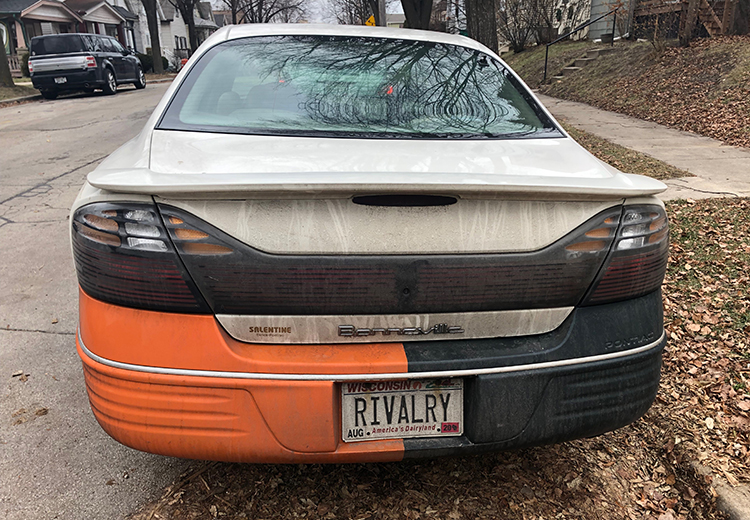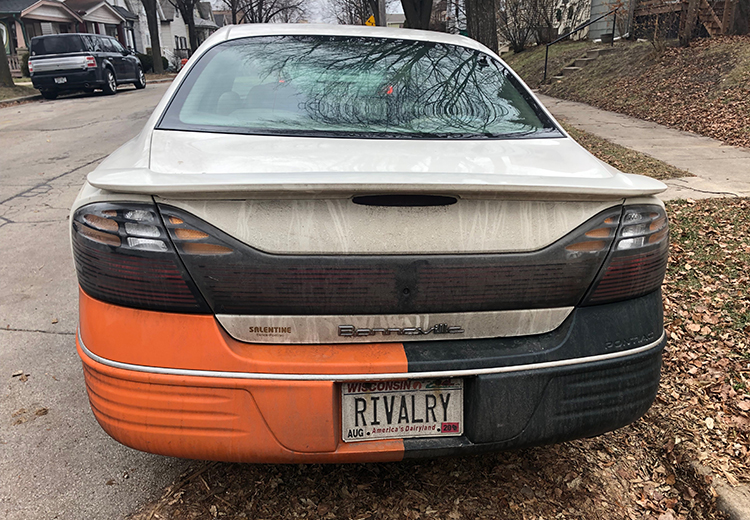 The hood shows the helmets of both teams. The rear bumper features bright orange and dark green paint clashing in harsh opposition, just as fans and players have over the course of the past 100 years. As if the paint and stickers weren't already enough of a commitment, the car's owner went the extra mile by getting a novelty "RIVALRY" plate for the automobile.
To be clear, we have no idea what the owner's motivation for this car was…beyond an obvious love of football. In fact we don't know much about this car or its owner. We kind of like not knowing. It's fun to pass by this aesthetically hideous and spiritually gorgeous car and wonder the circumstances that brought it into being. Is this the same person who had—or still has?—the Bearsmobile with the "PAYTON" plates? (We're almost certain it is the same person.) Did they fall in love with a Packers fan who made them buy a new car to reflect both teams? Did they lose a bet?
At the end of the day, it doesn't really matter why this car came to be. We're just glad that in a country that seems to be so completely divided by teams, parties, beliefs, and countless other ways, one person in Bay View has simply decided to embrace the rivalry. We'll take that over a stupid bumper sticker any day.