It happened again. The Packers failed to bring in a top-tier talent who was available for next-to-nothing, and a sizable faction of Green Bay's fan base is pissed. This time around, Patriots cornerback Stephon Gilmore is the player the Packers missed out on acquiring. Instead of winding up with Green Bay (who is now in need of another cornerback in the wake of Jaire Alexander's shoulder injury last Sunday), the two-time All-Pro and 2019 Defensive Player Of The Year went to Carolina, who coughed up a measly sixth round pick yesterday in exchange for the services of the four-time Pro Bowler with 25 career interceptions.
Whether it was the result of financial concerns for a team with very limited salary cap flexibility, an unwillingness to give up something more than a sixth rounder, the franchise's faith in first round selection Eric Stokes stepping up in Alexander's absence, or any number of other reasons, Green Bay was unable to bring Gilmore into the fold during what many are speculating could be a "Last Dance"-type season in Titletown. Instead, the famously thrifty front office acquired fifth-year corner Rasul Douglas from the practice squad of the Arizona Cardinals. Douglas—a third round selection by the Eagles in 2017—has five career interceptions in 60 NFL games (29 starts), but he's clearly no Gilmore.
We'll never know for sure whether missing out on Gilmore will directly impact the fate of the 2021 Packers. With any luck, Alexander will return before the playoffs and be instrumental in bringing the Lombardi Trophy back to Green Bay. On the other hand, the Packers could be left one shutdown corner away from a title. As we wait to see what happens and hope for the best, let's look at five other NON-deals through the years that easily could have changed the course of Packers history—for better or worse—as we know it.
New Orleans backs out of Archie Manning trade (1974)
Sometimes a deal just doesn't pan out. Such was the case in 1974, when Green Bay reportedly worked out a mid-season trade with New Orleans to acquire fourth-year quarterback Archie Manning from the Saints. The Packers sent personnel down to The Big Easy to make things official. Unfortunately, Manning's would-be replacement, backup Bobby Scott, suffered a knee injury during an October 20 game (which Manning was held out of on account of the impending trade) and rookie playcaller Larry Cipa was downright atrocious when he was forced to come in for Scott. The injury to Scott forced New Orleans to nix the Manning trade on the spot. Low on other options, Green Bay ultimately traded two first round picks, two second rounders, and a third rounder to the Rams for the 34-year-old husk of John Hadl. Archie stayed in New Orleans until the 1982 season (later playing in Houston and Minnesota) and the Packers pretty much sucked until 1993. You can/should read more about the Manning trade that wasn't HERE.
Green Bay drafts Tony instead of Barry (1989)
It's not productive or fair to play "what if?" when looking back at drafts. However, we're going to make an exception for the star-studded 1989 NFL Draft. That year, the Packers had the second overall selection. Once Dallas took Troy Aikman with the first pick, Green Bay had their choice of any other player from that loaded draft class, including future Hall Of Famers Barry Sanders, Derrick Thomas, and Deion Sanders. Instead of taking any of those guys (who went third, fourth, and fifth, respectively), the Packers took offensive tackle Tony Mandarich. Yes, instead of drafting a can't-miss running back who would become arguably the best running back in NFL history (or two generational defensive talents), Green Bay took a guy to block for a backfield consisting of guys like Brent Fullwood and Keith Woodside for three years. The Packers have whiffed in the draft a number of times, but never like this.
Kurt's cut (1994)
As most of the world knows by now, the Hall Of Fame career of Super Bowl champion and two-time MVP quarterback Kurt Warner technically began in Green Bay. In 1994, the Packers took a chance on the undrafted rookie from Northern Iowa during training camp. With newly-dubbed starter Brett Favre preparing for his first full year at the helm, and both Heisman-winner Ty Detmer and future Jaguars great Mark Brunell also vying for roster spots, Warner was ultimately sent back to Iowa before the regular season started.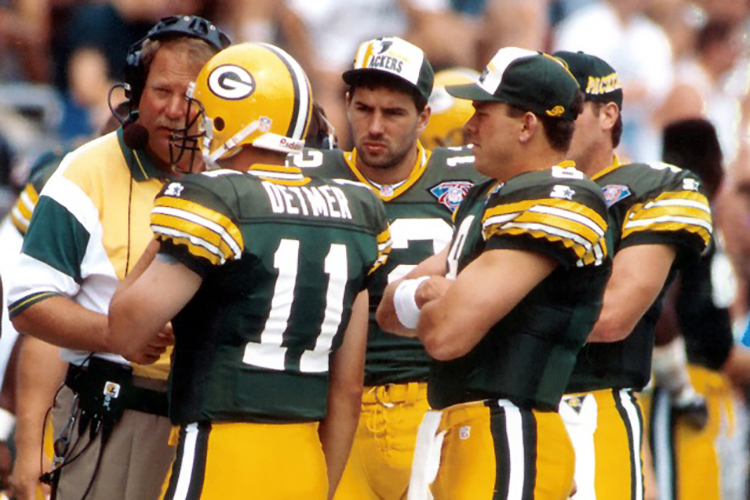 Even looking back at it now, it was probably the right call to cut Warner. Nobody could ever have guessed how great he'd eventually become. And had Warner somehow earned the right to hold a clipboard as the third quarterback behind either Detmer or Brunell and the historically durable Favre, he might have never wound up on the Rams, in Canton, and as the protagonist for what looks to be a pretty heavy-handed biopic that's coming out this December.
Shannon Sharpe gets hurt days before rumored trade to Packers (1999)
Earlier this year, Hall Of Fame tight end and Undisputed co-host Shannon Sharpe made an on-air claim that he was just days away from joining the Packers during the 1999 season. Apparently, "a little birdie" told the eight-time Pro Bowler he was going to be traded to Green Bay in the days following Denver's Week 5 game. Sharpe hints that a reporter told him sometime prior to that game at Oakland.
— shannon sharpe (@ShannonSharpe) February 18, 2021
"I was going to get traded to Green Bay on a Tuesday, but I played in a game against the Raiders that Sunday and guess what happened. I broke my collarbone."
After the injury, the reigning two-time Super Bowl champion Broncos—who had already lost John Elway to retirement that offseason and running back Terrell Davis to a knee injury in Week 4—could no longer trade their soon-to-be free agent All-Pro tight end. Green Bay, left to rely on Tyrone Davis and Jeff Thomason after Mark Chmura's 1999 season (his last in football) was cut short, went 8-8 and missed the playoffs. We'll never know how Sharpe would have fit on that Packers offense, if he would've changed the team's playoff destiny, if he would have opted to stay after the year was through, or if his claim of nearly being traded is even true. But it's interesting to think about what might have been.
Not feeling Randy (2007)
When All-Pro receiver and now-Hall Of Famer Randy Moss wore out his welcome in Oakland, the Raiders were shopping the wideout around to interested clubs. Green Bay was one of those teams, but it may have been costly for the Packers. Depending on what you read, the Raiders either wanted then-backup Aaron Rodgers for Moss OR just a third round pick. The first hypothetical would have altered NFL history as we know it and, despite the short-term boost a Favre/Moss tandem would have offered, would have set Green Bay back immeasurably for years to come. The latter trade hypothetical would have found Moss being on the Packers instead of eventual third-rounder Aaron Rouse (a short-tenured safety). At any rate, Moss wound up in New England, who sacrificed a fourth round pick for three-plus seasons of his services. During that span, Moss scored a total of 52 touchdowns in a Pats uniform.