Yesterday, the Bucks made a trade that brought Kansas State superstar and former second overall draft pick Michael Beasley to Milwaukee. A direct response to news that sharpshooter Khris Middleton will be missing most, if not all, of the 2016-17 campaign with a hamstring injury, the acquisition gives the Bucks much-needed depth at the forward position, as well as an above average three point shooter. More importantly, the addition of "Supercool Beas" significantly helps improve the Bucks' standing in the questionable tattoo category. However, the Bucks—and the Brewers and Packers, for that matter—haven't been hurting in the bad ink department for some time.
With tattoos becoming ubiquitous in both western culture and in the world of sports, more athletes than ever are putting their flesh beneath the needle. Even with massive salaries, some players still wind up with some strange or downright bad tats from time to time. Whether the result of poor judgement, a sub-par artist, or regrettable placement, here are 13 other Wisconsin athletes who we feel are worthy to join "Supercool Beas" on the tattoo parlor wall of shame.
1. Andrew Quarless, "God's Gift"
Around the time Andrew Quarless was a standout at Penn State, he had large text reading "GODS" and "GIFT" inked on his left and right arm, respectively. In 2010, the Packers accepted that gift from God in the 5th round of the NFL Draft. In his five-year stint in green and gold, the Packers discovered the gift was prone to breaking before eventually re-gifting Quarless and his pompous body art to Detroit.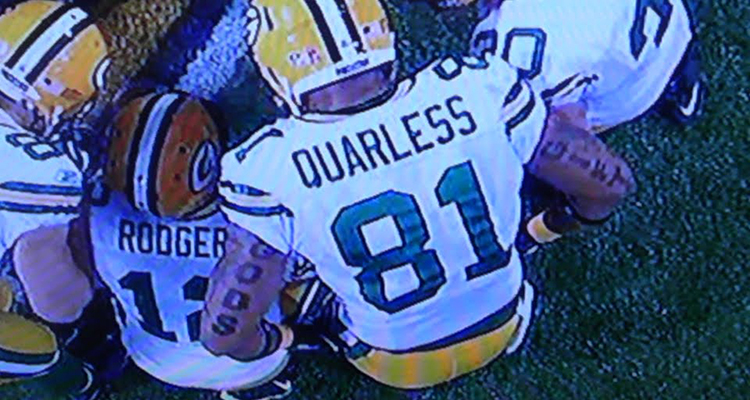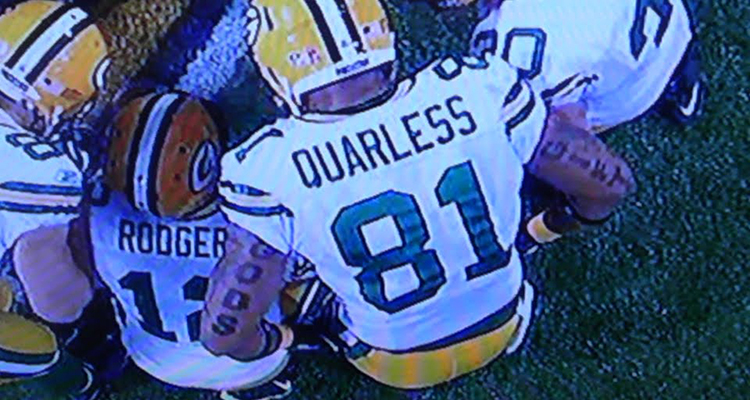 2. Brett Favre (and Frank Winters, Mark Chmura), Superman
During the Packers salad days of the mid-1990s, Hall Of Fame quarterback Brett Favre, center Frank Winters, and not-yet-disgraced tight end Mark Chmura wanted to commemorate their time as friends and teammates in a way that would stand the test of time. So they did what any tough-as-nails football men would do: got laughably tiny tattoos of a super hero's emblem. Small as the shield is, it'll probably go down as Winters' greatest regret, and Favre and Chmura's second biggest regrets.
3. Charlie Bell, "Flint"
The Michigan State alumnus wanted to pay tribute to his hometown. Unfortunately, he did so with a basic-ass, Arial-looking script on his right bicep. Even if the ex-Buck is proud to hail from Flint, Michigan, there's no reason to get a city's name permanently etched into your skin. Who does that?
4. Corey Hart, everything
A picture of his wife, a drawing of him and J.J. Hardy made by one of his 27 kids, a nautical star, a fire-breathing dragon, a flaming heart with a bible verse written on it, a topaz turtle, a dreamcatcher with a dolphin hanging off it, a four leaf clover, and the phrase "Why so serious?" running down his spine. Those are all things Corey Hart will have on his body for the rest of his life, and beyond.
5. Jason Terry, Celtics logo holding Larry O'Brien trophy
We've gone into this before. Back in 2010, veteran NBA baller Jason Terry shocked fans when he decided to get the Larry O'Brien (aka the NBA Championship) trophy inked onto his person before he and his Mavericks teammates started the 2010-11 season. Luckily, Dallas made good on Terry's gesture and won the title that year. Years later, he—then a member of the Boston Celtics—wanted to see if the badass decision would pay off again, this time by getting Boston's leprechaun mascot holding the same trophy on his finger. Boston lost in the first round of the playoffs, Terry was traded, and he was left with a garish reminder of his year in Beantown.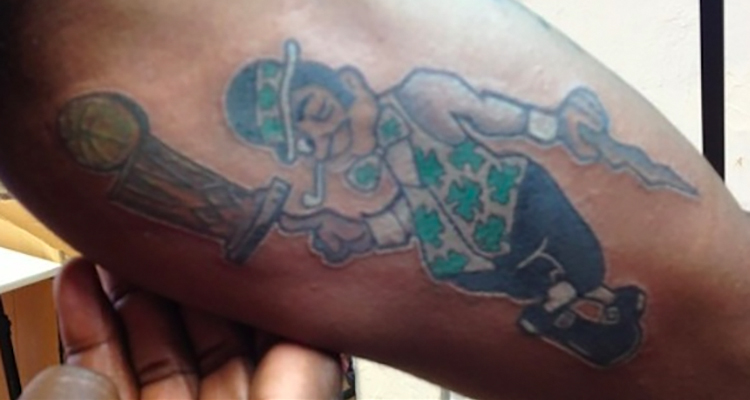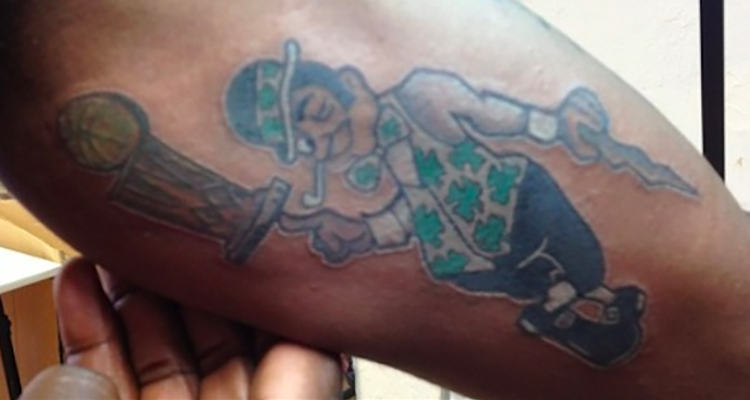 6. Kameron Loe, everything
Like Hart, ex-Brewers shitballer Kameron Loe seemed to get work done with an almost stream of consciousness pace. His sci-fi half sleeve that's rife with serpents, sea creatures, and some type of robot seems stylish compared to the "respect all" and "fear none" phrasing running down his sides, and the "Carpe Diem" in the center of a sun that bring the whole thing to completion. See a gallery of Loe and Hart's blemishes HERE.
7. Kenyon Martin, lips
Despite only donning a Bucks uniform for about a month last season, journeyman and Jason Kidd crony Kenyon Martin earns his place on this list with the bright red set of lips that he has etched into his neck. That's just one faux pas of the flesh he's committed. He's mentioned multiple times on NBA tattoo lists.
8. Larry Sanders, "Recieve"
Larry Sanders probably wishes he would've "recieved" a recommendation for a tattoo artist who could spell "receive" properly.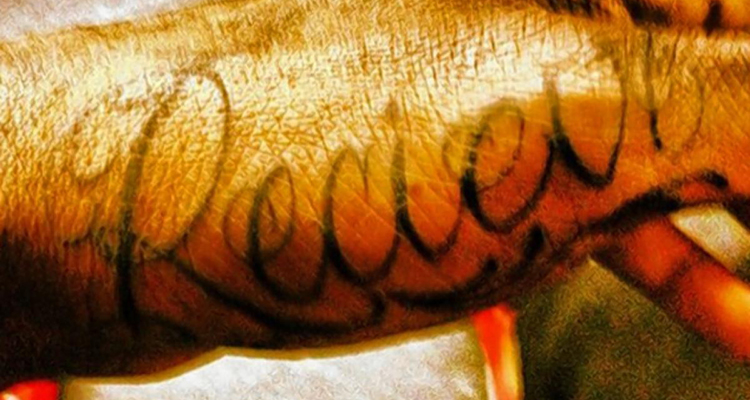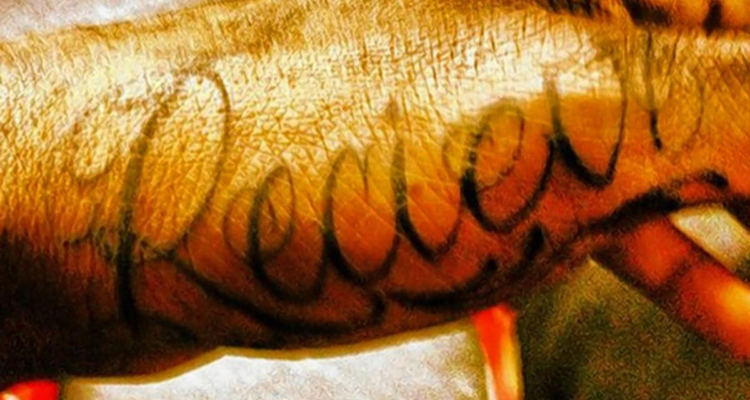 9. Monta Ellis, Golden State Warriors logo
Like Terry is about to do, one-time Bucks guard Monta Ellis suited up for Milwaukee while another team's logo was visible on his body. Since Golden State was his first team and he played there from 2005 through 2012, this likely made sense to Ellis at the time. However, it likely made things weird in the locker rooms of his three subsequent teams, not to mention the awkwardness when he played games in Oakland with the home team's symbol on his back.
10. Richard Jefferson, "RJ"
Laugh all you want, but the short-tenured Bucks player probably saved a ton of money having a middle school student design his "RJ" tattoo. It's actually pretty clever. You see, "RJ" stands for Richard Jefferson's initials. The crudely scribbled basketball inside the R represents that Richard Jefferson plays basketball.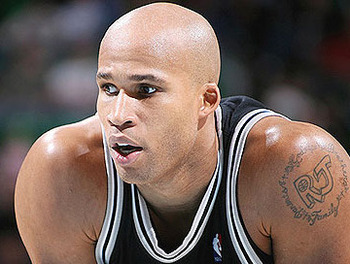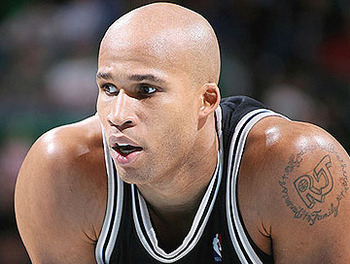 11. Ross Verba, barbed wire
In Ross Verba's defense, the former Packers offensive tackle and inarguable draft bust got his barbed wire tattoo in the '90s, well before most people knew they could get anything they wanted put on their bodies, not just stuff in the book. Since he got tatted up years before it was common practice to do so, we don't really blame Verba for strolling into a parlor and asking for the Pam Anderson.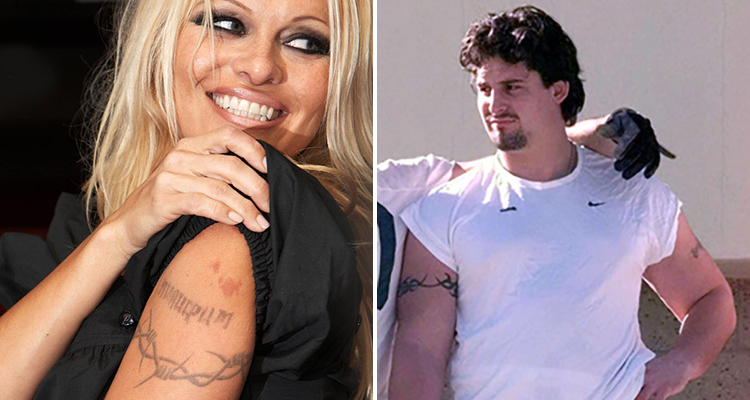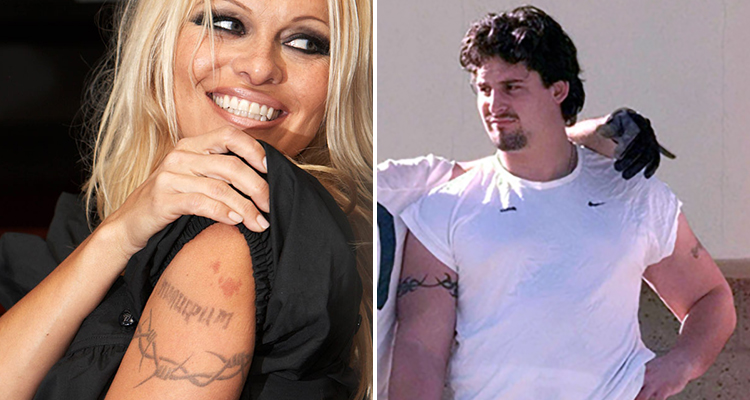 12. Sam Shields, Packers Super Bowl ring
Okay, so the gigantic Super Bowl ring Sam Shields has tattooed on his neck is actually pretty sweet, but it could've ended up being a huge mistake. Following the Super Bowl win in early 2011, Shields (fresh off his rookie season) got the massive neckpiece. But what if he'd been cut soon after? What if he was traded? What if he'd suffered a career-ending injury the following season? He was lucky none of those scenarios came to be, or else he'd be that guy on another team or back in Florida with a huge Packers ring on his neck. Ah fuck it, this tattoo is pretty awesome. Sam Shields is awesome.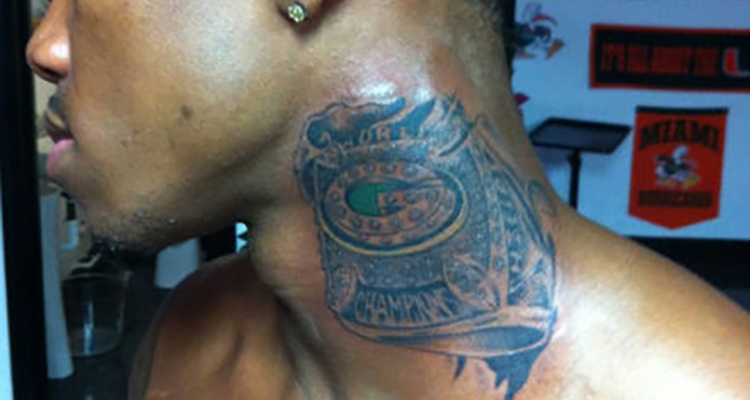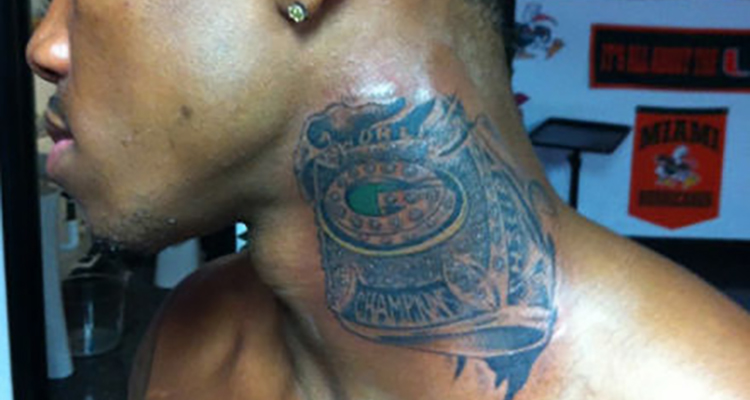 13. Tom Crabtree, tribal sleeves
In most ways, Tom Crabtree is a pretty likable guy. The retired ex-Packers tight end and special team wunderkind seems down to earth, and he's a funny guy to follow on Twitter. If one complaint can be registered against Crabtree's limited performance in his brief Packers stint, it's that he did so with a heinous tribal pattern on both his arms. We'll chalk it—and getting the Miami (of Ohio) logo—to youth, as Crabby seems like a guy we'd like to hang out with.