The following article originally appeared in the April edition of Colectivo Coffee's "Off The Record" print-only periodical/crossword puzzle. You can pick up "Off The Record" free of charge at all 13 Milwaukee-area locations.
We have nothing but good things to say about Giannis Antetokounmpo of the Milwaukee Bucks. The local MVP-to-be is a 6'11" wizard on the court and a 6'11" endlessly likeable and interesting guy off the court. The internet is full of stories and statistics that illustrate his rapid jump to the top of the basketball world and into everyone's hearts, but that's not what we're exploring here. Today, we're focusing on the goofy, bizarre, and generally unhelpful facts about "The Greek Freak" that you just won't find anywhere else, and probably for good reason. Enjoy!
1. While Giannis' love for basketball is apparent, his first love was actually soccer. Had he stuck with it and become a professional soccer player, he would be tied with Danish goalkeeper Simon Bloch Jørgensen (also 6'11") for the title of world's tallest professional footballer.
2. Following his rookie season in 2013-14, Giannis was named to the NBA's All-Rookie Second Team, receiving the seventh most votes of all rookies that year. While dozens of All-Rookie First Team players have been elected to the Basketball Hall Of Fame, only three Second Teamers have ever received that honor. Of those three, two of them are former Milwaukee Bucks, and they both received the seventh most votes in their respective rookie classes: Ray Allen, who started his career with Bucks in 1996; and Gary Payton, for whom the Bucks traded Ray Allen to the Seattle Supersonics in a 2003 blunder.
3. Giannis made his first career three-point shot in a 118-95 loss to the Miami Heat on November 12, 2013. That same day, Season 8 of Deadliest Catch came out on DVD and Blu-Ray.
4. His shooting percentage during his rookie season was 0.414, because Milwaukee.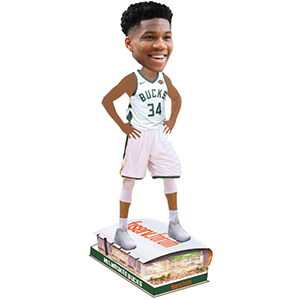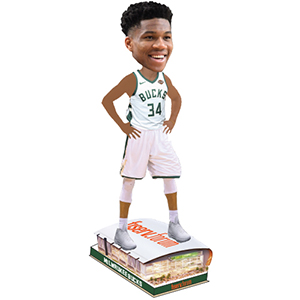 5. The distance from Giannis' hometown of Athens, Greece to his new home in Milwaukee is about 5,387 miles, or about 3,923,222 of his 87-inch wingspans.
6. Giannis' birthday is December 6, 1994, making him exactly 60 years younger than celebrated Midwest professional wrestler, Nick Bockwinkel.
7. This past January, the topic of a wrestling match between wrestling super-fan Giannis and wrestling superstar Dwayne "The Rock" Johnson made for some fun social media exchanges between the two athletes. While the battle will almost certainly never happen, it would've been fun if it happened on July 11, 2017, when The Rock was exactly twice The Greek Freak's age.
8. In January 2014, Giannis announced to the world via Twitter that he had just enjoyed his very first smoothie. As of this writing, that post has 26,942 likes, which is four fewer than the amount of points Hakeem Olajuwon scored in his NBA career. Advantage: Hakeem.
9. This season (his sixth), Giannis is averaging more than twice the assists that Olajuwon had in his sixth season, and he has more than 11 times as many Twitter followers. Advantage: Giannis.
10. Giannis' career high for assists in one game is 14. He hasn't done that lately, but it's scary to know that he can. Appropriately, there are 14 letters in the word "cervidaephobia," which is the fear of deer. #fearthedeer
•••
Here's the answer key for the American Values Club Crossword Puzzle from the April edition of "Off The Record."