While even the lowest-paid NFL player still makes more annually than the majority of the people reading this article, the average professional football player's career lasts only 3.3 years. With a high risk of injury and countless other gifted athletes vying for a very limited number of jobs, a player's career can end at any time…oftentimes without notice.
For every long-tenured star that's pulling in an unthinkably enormous salary and swimming in endorsement dollars long after retirement, there are hundreds of other players who don't enjoy the same fate. When the job you've worked a lifetime to land ends without warning and the game checks stop coming well before your 30th birthday, former players are left to figure out their next career or—even if they earned a lot as a player, saved their money, or invested wisely—how they're going to occupy themselves in the football-less years ahead.
Many players wind up coaching. Some become sports TV or radio personalities. Some supplement their income with local commercials, trade shows, and fan-focused appearances. Sadly, lots of former players are left rudderless and broken without the game in their life. However, there's also a breed of ex-athlete who goes in an entirely different and unexpected direction once their playing days are through. Here are 10 such former Green Bay Packers who have managed interesting post-football careers in other fields.
Samkon Gado — Doctor
Nigerian-born former Packers running back Samkon Gado suited up for the Packers (and five other teams) during his six-season NFL stint. He scored 12 career touchdowns, which is especially impressive because he was undrafted and, well, because pro sports was never the end goal for Gado. Once teams stopped calling in 2010, he shifted his focus to medicine. He's now an ear, nose, and throat specialist in Virginia and he also co-founded and organization that aims to improve health care in his native Nigeria. How many other NFL Offensive Rookie Of The Month honorees can say that? Maybe, like, one at most. Probably none.
Jeff Janis — Tire & Auto Shop Owner
We're willing to bet your mechanic probably didn't catch a game-tying Hail Mary in the waning seconds of a Packers playoff game. Well, unless you're a customer at Janis Tire & Auto in Oscoda, Michigan. After his four-year career as Packers receiver and returner concluded in 2017, the Saginaw Valley State alum returned home to Northeast Michigan. In 2019, he purchased Timmy Tire Center (a shop owned by his uncle and where he worked in high school) and renamed it Janis Tire & Auto. If you're ever in the area and need new tires, why not have an ex-Packer hook you up with a new set?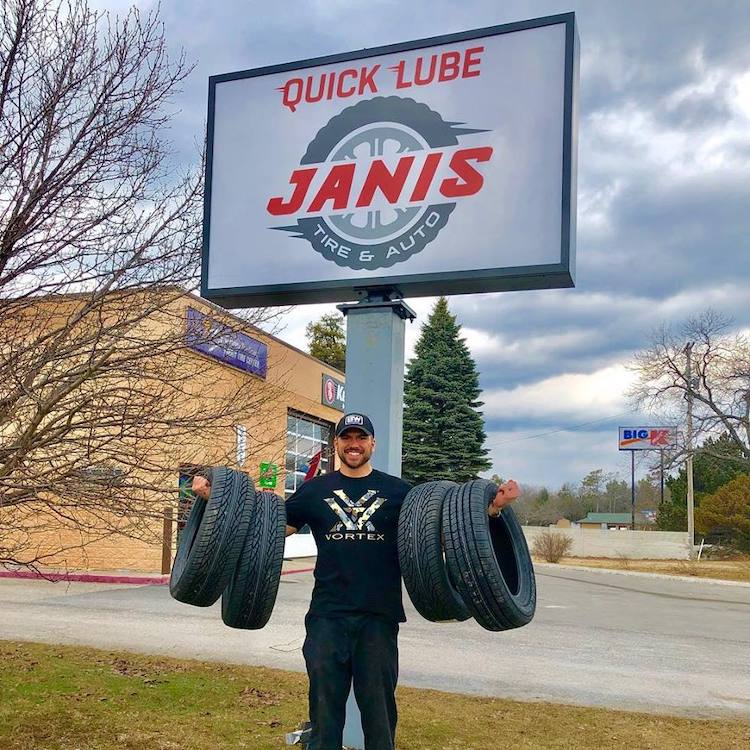 George Koonce — Higher Education
In the 1990s heyday of the Packers, fans referred to linebacker George Koonce as "KOOOOOOONCEE!!!" Today he's known as Dr. Koonce. After he hung up his cleats and put away his helmet, the beloved member of the Super Bowl XXXI team went to law school at Marquette, then eventually got his PhD in Interdisciplinary Studies. He's currently the Senior Vice President of University Relations at Marian University in Fond du Lac and the namesake of a new scholarship program there.
Bob Kuberski — Financial Analyst
Somewhat obscure Packers defensive tackle Bob Kuberski has lived a strange and winding life. After attending the Naval Academy and excelling on the football field, he was drafted by the Packers in the 7th Round in 1993, served two years in the Navy, then began his NFL career in 1995…the year he notched his only two professional sacks. That first offseason, Kuberski worked as an intern at an investment firm, then returned to Green Bay to help the Packers win a Super Bowl and appear in another. Though his playing career ended in 1999, his life in finance was only beginning. He went from lining up beside Sean Jones to keeping track of the DOW Jones. He still works in the industry to this day.
Ruvell Martin — Realtor and Real Estate Investment CEO
Before the Packers had Jeff Janis catching passes, they had Ruvell Martin, another Saginaw Valley State receiver who would also pivot careers once he retired from the NFL. When the former wideout who played in Green Bay (where he did his best work), St. Louis, and Buffalo filed his NFL retirement papers, he got his real estate license. In time, he became CEO of Costello Real Estate & Investments in North Carolina. If you're looking to touch down for the long haul and buy property in the Charlotte or Fayetteville area, you're likely in good hands with Martin as your realtor.
Jordy Nelson — Farmer
Unlike most of the guys on this list, Jordy Nelson made more than enough money playing football to allow him to live out the rest of his life in carefree comfort when he decided to retire from the game. However, a life suddenly without ambition, direction, and routine might be a frightening prospect for someone who's not even 40 yet. Instead of laying around, the Kansas native returned to his home region to work on his brother's farm in the small town of Riley, which is said to have more cows than humans living in it. He might not be playing anymore, but he traded one type of field for another.
Seneca Wallace — Wingstop Franchise Owner
Veteran Seahawks and Browns backup quarterback Seneca Wallace played his last partial NFL season with the Packers, starting one game in place of an injured Aaron Rodgers before also sustaining his own season-ending injury. Once his quietly solid football career was through in 2013, he moved back to Iowa (where he excelled at Iowa State) and started his second act: Wingstop franchise owner. He now owns more than half a dozen locations of the famed chicken chain that are scattered throughout Iowa.
Tony Moll, Daryn Colledge, and Jason Spitz — Winery Owners
We leave you with a three-for-one endeavor. Packers linemen Tony Moll, Daryn Colledge, and Jason Spitz were all drafted by Green Bay in the same year. The O-linemen quickly built a bond around their shared love of fancy food and fine wine. With the help and guidance of then-Packers teammate and fellow wine aficionado Charles Woodson, the trio started Three Fat Guys winery in 2009 and it has steadily grown both in its output and its reputation ever since, far surpassing the success each enjoyed during their respective pro football careers. Cheers to new beginnings!