In the wake of a massive music festival that brought hundreds of acts from all corners of the country (and beyond) to town, it would have been totally understandable for Milwaukee to lay low and keep things quiet in the first weekend since Summerfest mercifully ended. The city had other ideas. Venues that have been dark or underutilized since June 26 came back strong with the kind of convergence of local talent that only comes about a few times a year.
Friday brought about album release shows of New Red Moons (at Club Garibaldi), Ramma Lamma (at Linneman's), and Sat. Nite Duets (with The Fatty Acids and Dogs In Ecstasy on a stacked Riverwest Public House bill). Saturday saw Jon Mueller and Old Earth occupying Cactus Club, as Argopelter debuted across the street at Club Garibaldi, and Linneman's hosted its third album release show in as many days when Kevin Heinzel took the stage. Beyond the heft of great local shows at traditional clubs, there were also some intriguing events with uncommon formats at unconventional sites. With dozens of bands taking traditional stages throughout the city, we sought out entertainment from a secret assemblage of bands in the living room of an East Side upper, and on the drenched deck of a boat cruising the shores of Lake Michigan.
The concepts of house shows, living room tours, and the like aren't exactly groundbreaking. Yet the musical mystery that shrouds the Sofar Sounds concert series puts an exciting spin on a well-tread performance format. Friday marked the inaugural concert of the Sofar Series—which is spread internationally throughout more than 80 cities—in Milwaukee. Essentially, people RSVP to a concert that will take place at somebody's house, somewhere in the city. The location won't be revealed until the day of the show, and the bands won't be made known until the show begins. Depending on the site and the lineup, Sofar has the ability to range from incredible to absolutely terrible. Knowing almost anything could happen, we RSVPed to the event. A few hours before show time, we learned the concert would take place on N. Bartlett Avenue, nestled behind Noodles & Company on Oakland Avenue, and in the shadow of UW-Milwaukee's campus.
We arrived right at the posted 8 p.m. start time and founded the quaint upper's living room, dining room, front stairwell, and part of the kitchen full of people equally intrigued by the show's creative construct. As we picked up a flyer near a punch bowl full of complimentary cookies, we were able to identify the band promptly playing: The Middle Ground. The quartet wasn't re-inventing the wheel with its sound, but Joe Neary and company were filling 800 square feet worth of real estate with smooth, lush acoustic pop-rock that seemed to go over well with the quiet, captivated audience of about 55 people (trending college age). After the requisite four songs, the opener gave way to a pair of Oshkosh-based acts: Rockers The Traveling Suitcase and bluegrass band Dead Horses. The unplugged format forced drummer/singer Nicole Rae out from behind the kit, and made the usually loud band change the sound and pacing of songs that have captured the adoration of the state for some reason. Still, Rae's wavering voice and the redressing of songs ultimately proved successful. With its gorgeous four-part harmonies and songs seemingly written to be played in a sunny living room, Dead Horses was built for a show like this.
Finally, Soul Low brought the first of hopefully many Sofar sessions to a close with stripped-down versions of UNEASY songs "Son," "Wake Up Pains," and "Silence" as well as a great brand-new song the band had never attempted live. Drummer Charlie Celenza was absent because he's on tour with Animals In Human Attire, but Soul Low filled out by expanding its horn section to two pieces—saxophone and trumpet. Altogether, the bands proved to be worth well over the $2 suggested donation. The sound quality was shockingly good as well, despite bands singing into one shared condenser mic. The next Sofar installment will take place at someone's residence somewhere in the city with four unknown bands. The date is August 22.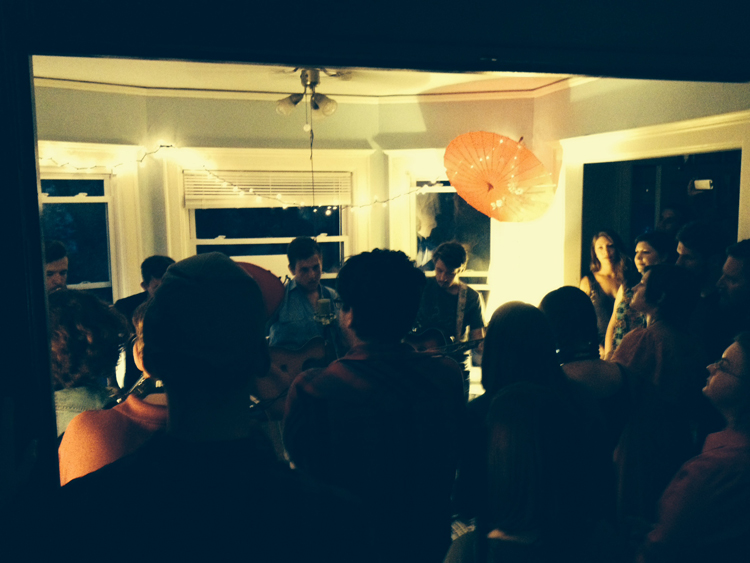 After Friday's intimate house show, we sought to spend Saturday outdoors and on the open water. We'd always been interested in MKE Boat Line's concert cruises on its 80-foot, 200-person capacity Vista King vessel, but have never got around to taking a show in. With indie rockers Midwest Death Rattle serving as the evening's concert crew members, we finally felt it was high time to hop aboard. Not only was it one of the band's only (non-KNE New Music stage-affiliated) shows of the summer, it was on a goddamn boat!
As we approached the docked vessel, the day-long mist began to intensify to a full-on downpour. Undaunted, we boarded. About 50-60 others joined us on the top deck, that, fortunately, was covered from the elements—save for water that pooled along the edge of the ship. Between the experience of being on a cruise during a lightning storm and the staggeringly potent $3 margaritas, the brave passengers seemed to enjoy the two-hour cruise. Of course, the musical guest also played a pretty big role in our collective fulfillment.
MDR filled its 90-minute block with especially energetic renditions of songs from its Milwaukee Record-lauded self-titled debut album (not counting when essentially the same members played strikingly similar music under the name Revision Text), highlighted by a screamed five-part harmony in "Food Chain," two guys playing one keyboard at the same time during "Run! Shark!" and a tacitly related interlude of the Miley Cyrus "Wrecking Ball" chorus before the "I feel like a wrecking ball" line in "Vowel Movement." To fill time and to appease bachelorette parties and other walk-up sales with no knowledge of the band's catalog, Midwest Death Rattle also tossed in a few crowd-friendly covers, including Hall & Oates' "Maneater" and "Your Love" by The Outfield. Singer Nick Perow's between-song boat banter ("Can I get more boat in my monitor?") was also an under-appreciated element of the memorable, rain-soaked introduction to a weird concert series we're going to make a point to attend at least once each summer from now on.