Last night, nationally regarded "nerd rapper" MC Chris performed at Cactus Club. This morning, before the veteran musician, animator, and Adult Swim mainstay—who Aqua Teen Hunger Force fans might know as "MC Pee Pants" or his evil "Sir Loin" alter ego—made the short drive to Chicago for tonight's show at Schubas, he joined us at one of our favorite Milwaukee haunts. MC Chris met us at Rush-Mor Records today and we gave him a $40 budget to buy whatever he wanted.
"I like record stores. I like the way that they smell, and I like the rush of air that comes out of records when they kind of flap together," MC Chris says. "I normally like soundtracks. I like buying kid's albums that are old. You know, I think one of these days I'm going to buy a sampler and start sampling some of that stuff. I just like record stores. I could be here all day."
With Rush-Mor's huge post-Record Store Day selection at his disposal, he had some flexibility. However, both his budget and his time were limited. After close to half an hour of browsing, here's what he bought.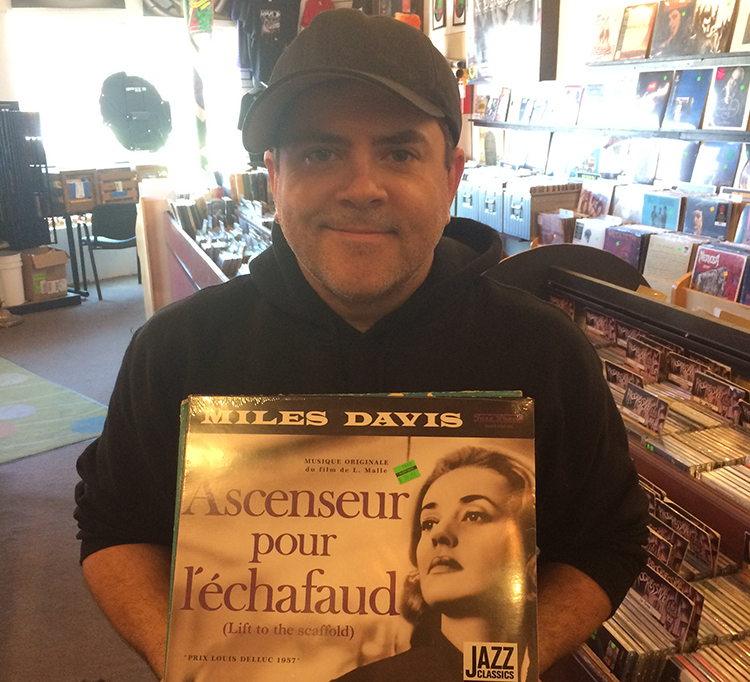 Record #1 — Miles Davis, Ascenseur Pour L'échafaud ($18.97)
"Ooooo! I'm going to have to take this one. Miles Davis, Lift To The Scaffold. This is a Louis Malle movie. Louis Malle is one of my favorite French directors and I have this movie. My brother got it for me for my birthday. And I like Miles Davis a lot. It's interesting to think that Louis Malle and Miles Davis collaborated on a project. That excites me and I'm drawn to that project. Yeah, I'm going to take this as my first one, that's half my budget."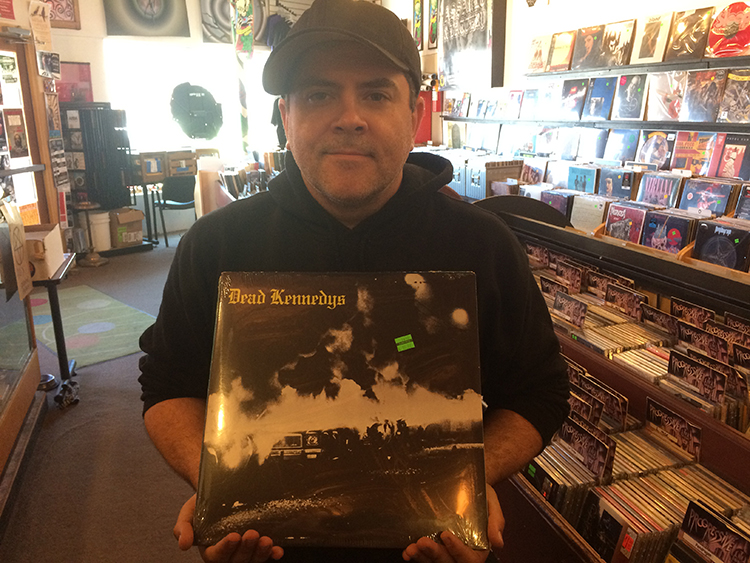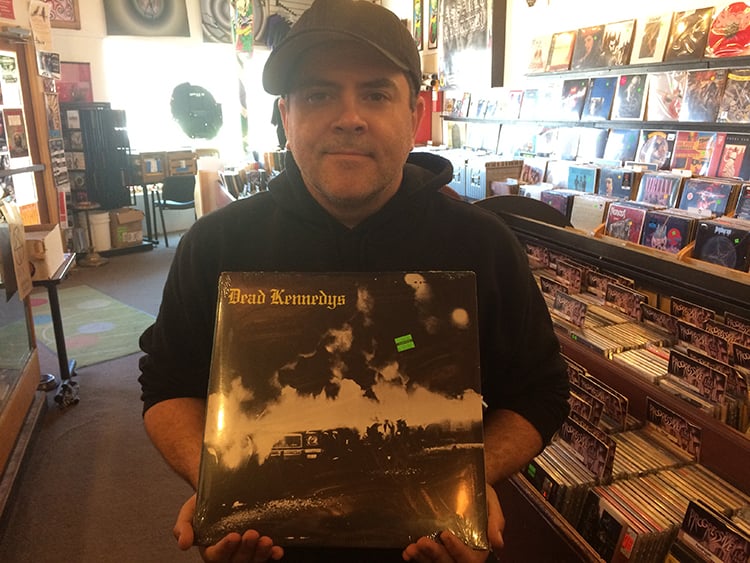 Record #2 — Dead Kennedys, Fresh Fruit For Rotting Vegetables ($18.97)
"Dead Kennedys! 'Kill The Poor' and 'California Uber Alles,' that's all you need. It's got all the hits. It's got the burning car on the cover. That always makes me feel like I'm ready to listen to music. I used to drive around with my buddy in Atlanta and we'd listen to Dead Kennedys. It's a good memory and I like the Dead Kennedys.
"So far we've got Dead Kennedys and Miles Davis from the D's. I don't even know if I'm going to get to another letter in this store, but let me just say that my taste is great. If anything can be established in this story, it's that my taste is just unparalleled."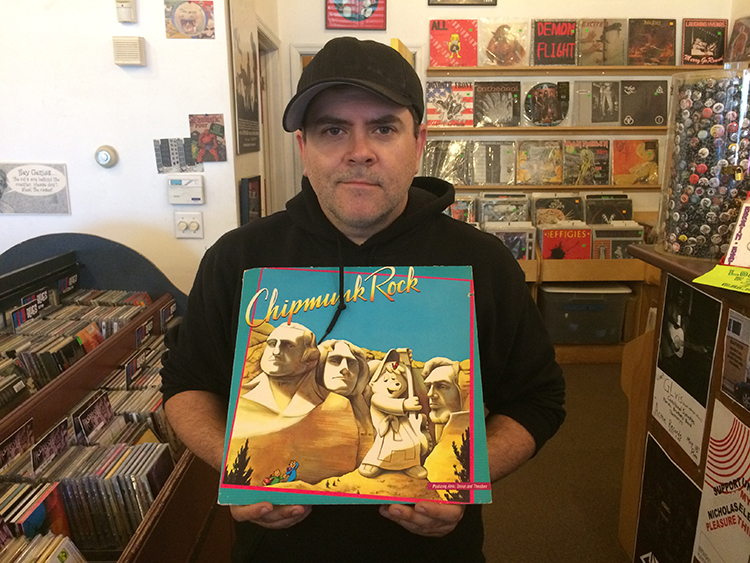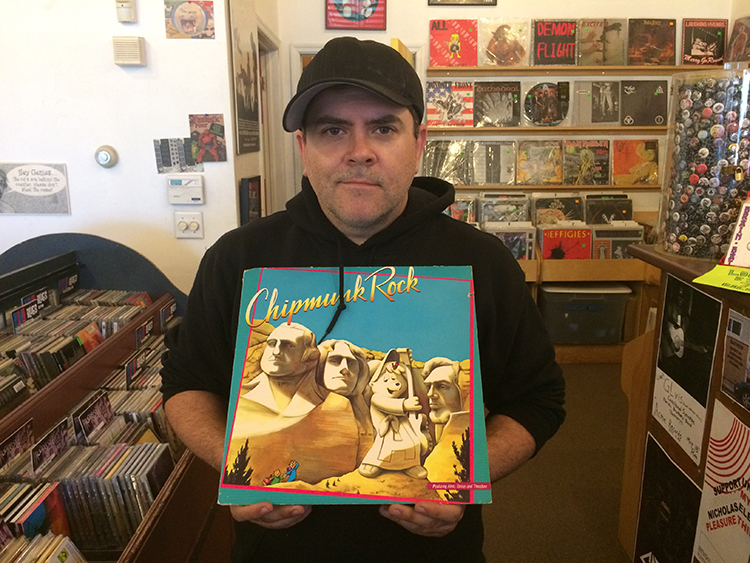 Record #3 — Chipmunk Rock ($1)
"Chipmunk Rock! These are always good. There's "Bette Davis Eyes," "Jesse's Girl," "Take A Chance On Me." I love Chimpmunks. One of my first records was a Chipmunk record and they covered Billy Joel."
When asked if he ever adjusted the speed of the record to change the voices…
"No. I'm afraid I might hear some messages about how Simon is dead or something."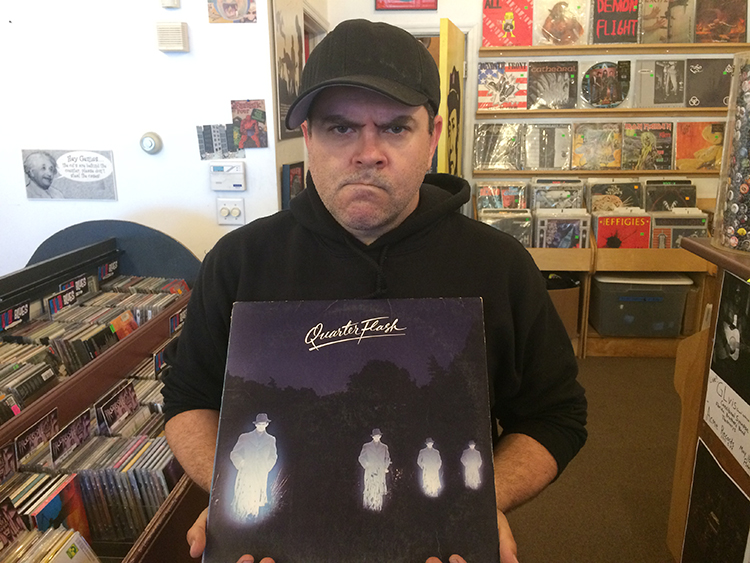 Record #4 — Quarterflash, Quarterflash ($1)
"Quarterflash. 'Harden My Heart!' Picked this one because there's four spooky dudes on the cover and I like the single from the album. This is one of the songs from the '80s that I would listen to while I pondered the great mysteries of life. Okay, that part's not true, but we can pretend.
"I just love how many dorks there are in the music industry. They come and go, and I'm one of them. You know, it makes me feel like I'm a part of this big line of dorks. They paved the way. They paved the dork road."
Total: $39.94
Records In Consideration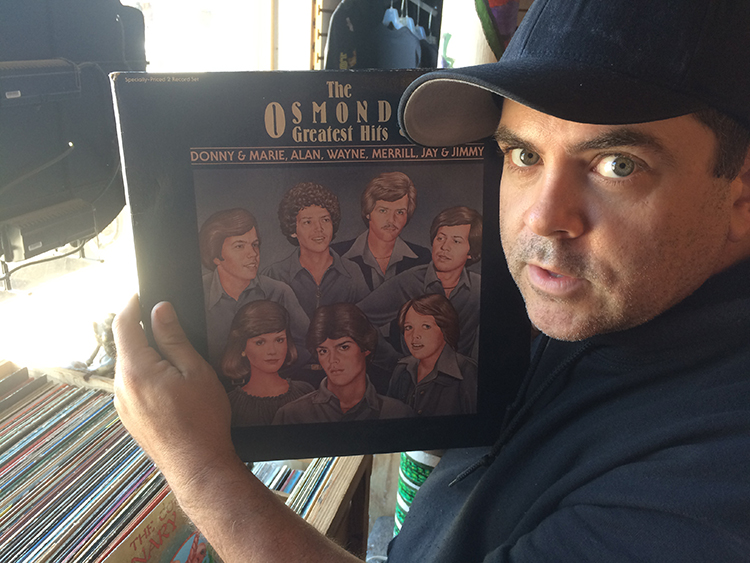 The Osmonds — The Osmonds Greatest Hits
"Look at these guys! What a bunch of beauties. What a bunch of beautiful people. I could've been an Osmond, don't you think? Look at how many kids they had. You know how much intercourse you have to have? You basically have to quit your job.
"I used to watch Donny & Marie all the time. But let's not forget about Alan, Wayne, Merrill, Jay, and Jimmy. They're the backbone—the cornerstone—of The Osmonds. Yeah, there's actually 5,000 Osmonds in one family. I would get that had they not included all the bad Osmonds."
Circle Jerks
"Circle Jerks. That's not easy to do. I know from first hand experience."
Martin Mull — The Best Of Martin Mull
"Ah here's The Best Of Martin Mull. Aw, that's tight. I've never seen a young Martin Mull. That might be on the list. Martin Mull is a comedy genius. He was great in Mr. Mom, and he was great in a movie that was just on Netflix [A Futile And Stupid Gesture]."
Joni Mitchell — Court And Spark
"What are they doing putting Court And Spark in the dollar bin? That ain't right. It's a good record."