Pedro The Lion is touring on a couple of its classic albums, 1998's It's Hard To Find A Friend and 2002's Control. Why would a band decide to play its first and third albums more than 20 years after they came out? Who cares. The albums are great.
Erik Walters opened Monday night's show at The Back Room @ Colectivo with a slick collection of folk songs. He's a songwriter from Seattle playing selections from his self-titled 2022 release. With strong vocals and a three-piece band built from Pedro The Lion members, Walters' set offered a great introduction to the evening.
The Back Room was packed full of (mostly) guys in their 30s ready to cry together. Pedro The Lion is one of those bands that you've either listened to for 20 years, or you wonder why that guy sings so sad. Maybe that's why the band is revisiting a couple classic albums despite the fact that it released a great album called Havasu last year.
David Bazan—singer, songwriter, and basically the entirety of Pedro The Lion in the studio—took the stage flanked by Erik Walters on guitar (remember him from 10 minutes earlier?) and Terence Ankeny on drums.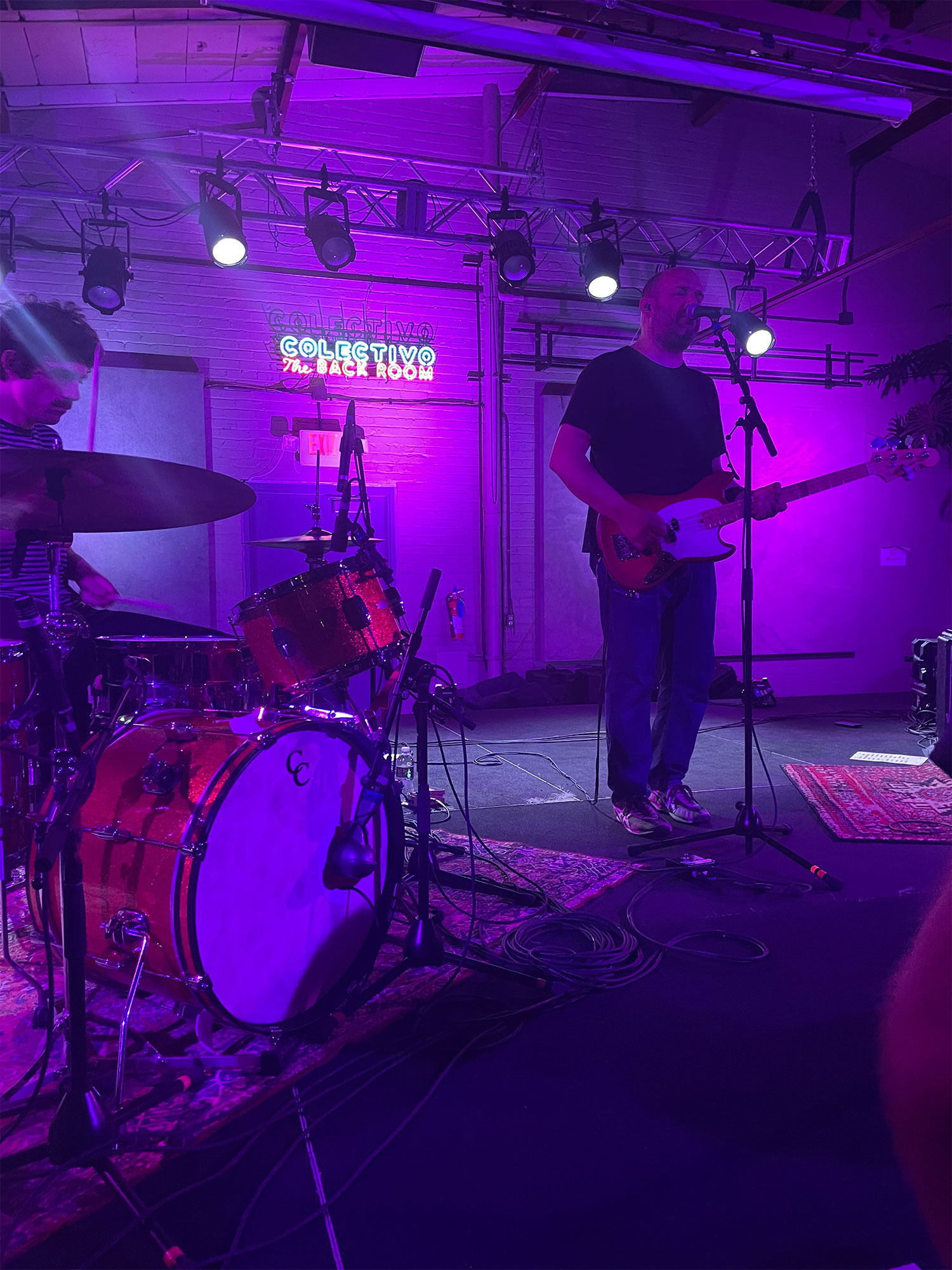 There are some albums that scream of a certain time. Nu-metal only existed for about six years (you get arrested if you rap anywhere near a guitar after 2004). Pedro The Lion albums, however, weren't connected to any form or movement. Look them up on Wikipedia and they're simply described as "indie rock," which is so vague it might as well say "music." Pedro The Lion has a unique form of sad-sack music that could probably be connected with both Sunny Day Real Estate and Elliott Smith, which don't sound anything like each other.
The group's first album is considered to be a Christian album, which is a pretty huge contrast to the fatalistic, depressive nature of the third album, Control. Here are a couple examples of the headspace Bazan was in while writing lyrics to the band's third record:
"The mattress creaks beneath the symphony of misery and cum." – "Second Best"

"Lately I have been wondering why we go to so much trouble to postpone the unavoidable and prolong the pain of being alive." – "Priests And Paramedics"
Fun!
But just because the music and lyrics make you want to drive full speed into a wall doesn't mean the live show will turn into a pool of blood. In fact, turning away from the stage to look back into the sea of dudes at any moment during Monday's show would have shown you equal amounts of smiles and people singing along.
The songs from It's Hard To Find A Friend and Control weren't played in tracklist order. The set wove songs from the two albums together to create a cohesive flow that kept the crowd guessing. This way, nobody could justify a quick bathroom or beer break without risking missing their favorite songs.
Bazan's voice sounds just as good through a microphone in the back of a coffee shop as it does on the albums. The music doesn't lend itself to dancing or crowd surfing, but Bazan manages to emote enough to draw in audience members throughout the room by simply closing his eyes and fuckin' feeling it, man.
Bazan brings this level of intimacy simply through his legacy of vulnerability, the transparency of his lyrics, and the endearing nature of a man who is genuinely amazed that people listen to his music. Talk to him after a show and you'll find the most grateful and humble musician you've ever met.
The show was long; there's no getting around that. And I don't want to call the music "easy listening," but it's not an exhausting setlist. The crowd mostly stayed still, besides slight wobbling back and forth and some head bobs, so everyone had the capacity to allow the band to pack in as many songs as possible.
The fun part of playing two classic albums that are 25 and 21 years old is that every time a song starts, there's at least one enthusiastic "Woo!" from the crowd. It's somebody's favorite song! So even if you aren't a die-hard sad-music fan, this enthusiasm is contagious.
The sound in The Back Room was crisp. Even standing in front of the stage, audience members were able to hear everything the three-piece did without risking the "pyoooo" of ringing ears when they finally went to bed.
Whenever a band revisits old material, there's a risk of it feeling like the group is pandering to its audience by playing battle-tested songs that are guaranteed to sell tickets. But with this tour, it felt more like a celebration of Pedro The Lion's lengthy history. Bazan sang every song with as much feeling as (I imagine) he did when the albums were fresh. And the audience was appreciative of the opportunity to connect with songs they've been crying to in their bedrooms since the days of AOL startup discs.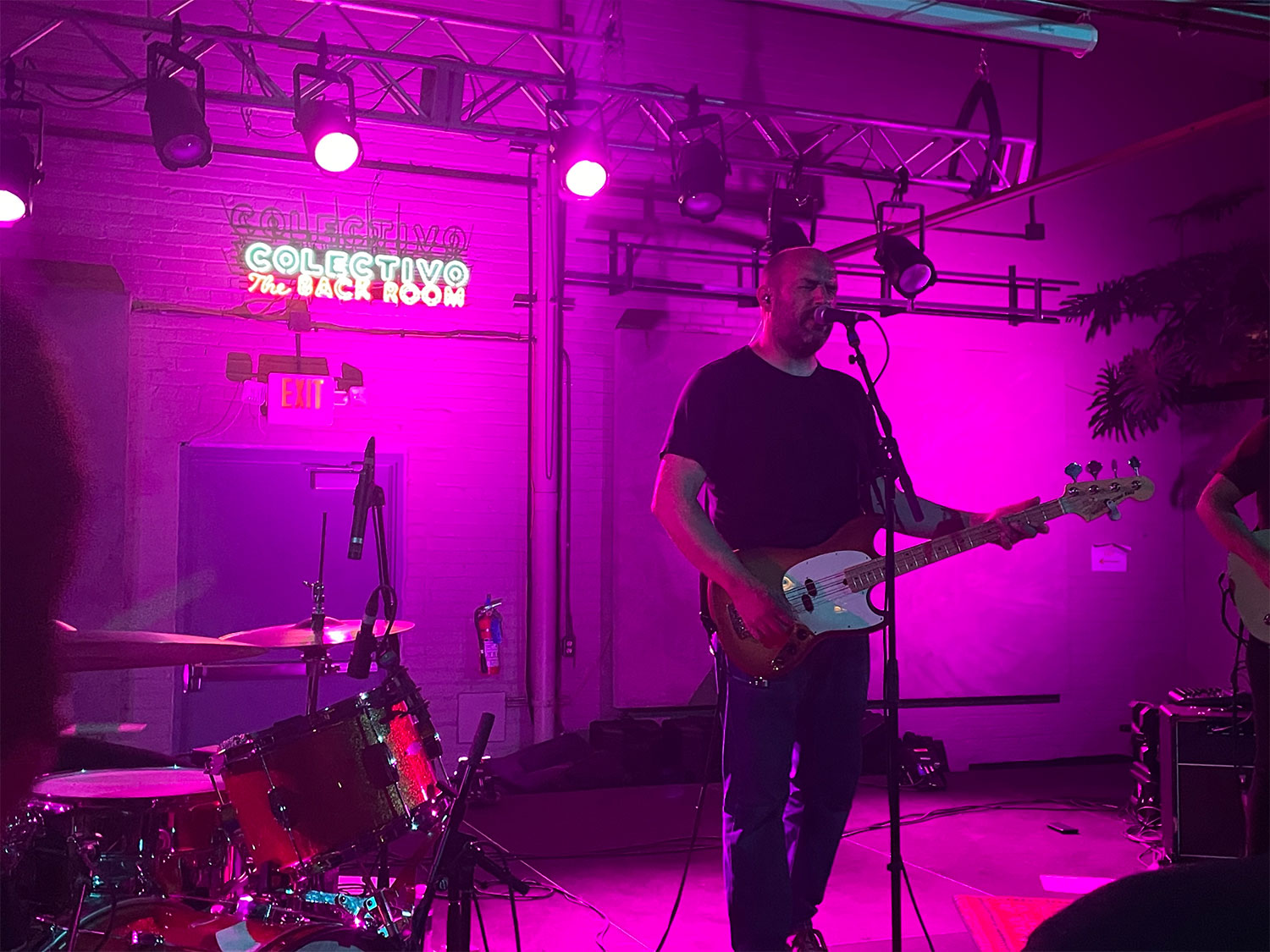 Exclusive articles, podcasts, and more. Support Milwaukee Record on Patreon.