"Al Jourgensen and Ministry are the undisputed kings of Industrial music," says the event description for the band's Sunday night show at Turner Hall Ballroom. It is a difficult statement to argue against. Though many fans still lament Jourgensen's abandonment of his synth-pop past, there's no denying the magnificence of Ministry's late-'80s/early-'90s output, and there's no going back. The band's forays into heavier and heavier styles culminated with its "anti-Bush trilogy" in the mid '00s and the C-U-LaTour in 2008. Since reconvening the band in 2011, Jourgensen hasn't exactly been forging any new musical ground, but no one can be a pioneer forever, and no matter who happens to be flanking Al onstage, the riff of "Just One Fix" is still bound to get skulls flailing in the crowd.
The current tour supports the month-old AmeriKKKant album, the band's first offering since breaking up again in 2013 following the untimely death of longtime guitarist Mike Scaccia. This lineup could essentially be considered a Fear Factory side project, borrowing three members from the L.A. metal vets; as such, unsurprisingly, the new material continues Ministry's gradual slide from a distinctively industrial sound into nondescript metal. The potential wild card was the addition of renowned turntablist DJ Swamp to the fold, although his talents were certainly under-utilized on the album. He was one of several elements of Sunday's show that brought to mind the question, "What's the point?"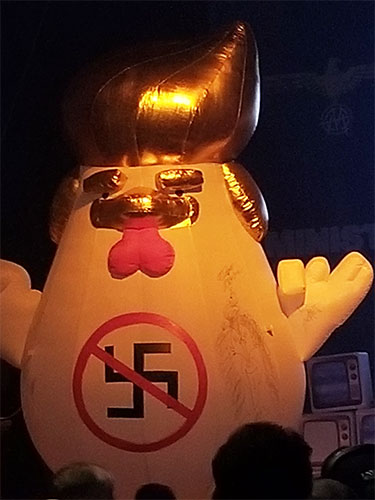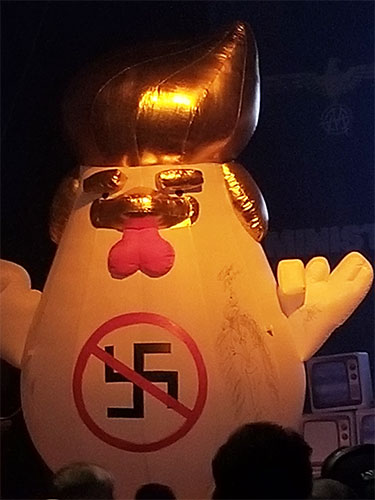 Framing the stage were a couple of giant inflatable, um, Donald Trump chickens? They had shiny gold hair and their bellies featured crossed-out swastikas. As the band emerged onto the stage, Trump's face appeared on the projection screen, not for the last time; "We will make America great again," it said, its voice slowed down to a slur (as in AmeriKKKant's opening track, "I Know Words"). It was hard to say for sure, but it almost seemed as if Ministry was taking a somewhat anti-Trump stance. Either that, or Ministry believes that Trump would be against nazis, if he were a chicken. We could only hope to be beaten over the head with generic left-wing propaganda for the next hour or so. Oh good, Al's wearing a shirt that says "TRUMP HATES ME." That settles it. Admittedly, the video backdrop for "Punch In The Face" was very entertaining, but the George W. Bush imagery of "Señor Peligro" was pretty quaint. Is there really any use continuing to lampoon that guy in this day and age?
Fear Factory frontman Burton C. Bell had previously toured with Ministry in 2008, and he did bring the energy levels up onstage at this show. He pulled off Jourgensen-style screams with aplomb, but isn't Jourgensen perfectly capable on his own? This may be a case of an aging star padding his entourage with buddies in need of a paycheck, and there's no harm in that, of course. Despite the blunt political rage of the songs, the band seemed to be having a lot of fun up there, although Jourgensen remarked a couple of times that the crowd was too mellow.
Perhaps peppering the set with a few more oldies would've gotten fans a bit more fired up, but Jourgensen insinuated that the lack of enthusiasm was because we were sick of all the political stuff. How exactly are classics like "N.W.O." and "Thieves" not political? Isn't it possible that songs like "Antifa" ("We're not snowflakes! / We are the antifa!") just strike us as a tad uninspired? But it was all post-millennial material until the last four songs of the set, two apiece from ΚΕΦΑΛΗΞΘ and The Mind Is A Terrible Thing To Taste, and yes, the crowd erupted during these tunes. "Thieves" unexpectedly showcased some wicked scratching from DJ Swamp; where had this been all night? As the band came out for an encore, Jourgensen led the audience in singing "Happy Birthday" to drummer Derek Abrams, admitting that they were all "a little wasted" in celebration. "This show's, like, really weird for me, man, I don't know," Jourgensen announced prior to the "Bad Blood" finale. At least it was weird for somebody.