Because 2020 has been so unusual/unprecedented/awful, we're putting our year-end "25 Best Milwaukee Albums" list on hold and opting for something more loose and personal. Despite the pandemic, there was a LOT of great Milwaukee music released in 2020. Here's some of it. Enjoy!
MATT'S 5 FAVORITE MILWAUKEE RECORDS OF 2020
Go figure that one of my favorite Milwaukee records of 2020 sounds like the end of the world. William Bush took some time away from his main gig in the excellent Milwaukee electro project Immortal Girlfriend (a group he co-fronts with his brother Kevin) to craft his own collection of sleek, dark, and ominous instrumentals under the moniker Black Challenger. Fans of John Carpenter, Stranger Things, and the retro-future apocalypse take note.
Field Report – Brake Light Red Tide
Chris Porterfield of Field Report, meanwhile, released his finest work to date in Brake Light Red Tide, an album that revels in the familiar yet embraces the unexpected. The stunning chorus of opener "Peoria" zigs where it should zag, opening up and parting like clouds after a storm (complete with a wonderful vocal assist from Caley Conway). Field Report is a perennial "Best Of" artist; here's hoping that streak continues for years to come.
Speaking of the unexpected, Lorde Fredd33 is at his live-wire best on the excellent Folklorde. One minute he's floating through a neon-drenched soundscape ("Summer Breeze"), and the next he's screaming through a techno-tinged nightmare ("Jumper"). Once again, it's impossible to pin him down. And don't forget "Norf Korea," a standout track that features a show-stopping guest spot from Queen Tut.
In the endlessly miserable year that was 2020, Operations' aptly named Fog Museum was my go-to Milwaukee record when I wanted/needed to put on some headphones, turn off the lights, and lose myself for 30 minutes. Charles Markowiak and Alisa Rodriguez trade off vocal duties here, acting as guides through a gorgeously rendered record that demands complete late-night listens. Opener "Perfect Day" is a stunner.
Everyone loved Rexxx's Pure Pleasure II in 2020, and with good reason. The album is filled with the kind of poppy, hard-partying garage-rock that Milwaukee has always excelled at. Is penultimate track "Rock N Roll" a shout-along rock and roll song about, well, the power of rock and roll? Yes it is. Is it a song that lodges itself in your brain after just one listen? Yes it is. Is it a song that does its thing in fewer than two minutes? You better believe it.
TYLER'S 5 FAVORITE MILWAUKEE RECORDS OF 2020
Barely Civil – I'll Figure This Out
Forgive us for being so incredibly late to the Barely Civil party. Now that we're aware of this Milwaukee-made emo act, we're fully on the bandwagon and have no plans to get off anytime soon. The band's latest, I'll Figure This Out, has earned local love and national nods alike with 10 outstanding tracks that ably alternate between math-y and moody offerings reminiscent of Tiny Moving Parts, subdued servings of American Football-esque ambiance, and other lush and lyric-driven output that's altogether its own.
Cashfire Sunset – Age Before Beauty
Age Before Beauty offers—in Cashfire Sunset's own words—the same "noise, distortion, abstraction, dreams, reality, fatalism, single mic drums, over-driven five-string bass, tubes, solid states, digitals, analogs, analogies, hyperbole, and hope" of previous releases. However, the shoegaze outfit turns up the tempered heaviness and welcomes new singer-guitarist Amber Parrett on this eight-song effort, both of which pay off big.
Back in February, which now seems like a lifetime ago, GGOOLLDD released a new record. Here We Are, fittingly, announces the Milwaukee/Louisiana synth-pop staple's return with nine stunning songs, including the smooth and dreamy "Welcome To My House," an uplifting earworm simply called "Success," along with the plucky and pounding "Money." Margaret Butler and company have never sounded better.
Hayward Williams – Every Color Blue
Though the world threw some personal and pandemic-related curve balls his way prior to recording his seventh album, Hayward Williams rolled with the punches, made adjustments, and managed to squeeze some good from a particularly chaotic point in time with Every Color Blue. His eight vibrant, soulful originals are accompanied by tremendous covers of four friends' songs. Together, the 12 tracks push back against the darkness and give the veteran Milwaukee singer-songwriter his best record yet.
Soup Moat – Be Brave, Run Away
Soup Moat has quietly become one of the best bands in Milwaukee. A couple years after the purveyors of—in their own words—"heavy, silly sludge" truly hit their stride with Harvester Of Likes, the band returned this fall with an even bigger, better, and sludgier effort. Be Brave, Run Away is rife with exceptional drum work, intricate guitar work, and grimy gang vocals that permeate each of the record's 10 exceptional songs.
MATT'S 5 FAVORITE MILWAUKEE EPs OF 2020
Back in 2018, Devil Met Contention hung up its matching suits and moved toward a more modern, sleeker sound. That year's single, "Take A Chance," was all David Bowie vocals, Lost Highway sax, and synth-flecked come-ons. That transformation continued in 2020 with the four-track Wait. Singer Ehson Rad shines on the moody title track and "Neighborhood Lights," while "Neon" and "New York" perfectly embody their respective titles.
Johanna Rose – Only Good Nites
The four-track Only Good Nights finds the tireless Johanna Rose going solo and largely setting aside the folk and bluegrass of their past. From the whiskey-soaked strut of opener "A Nite Like This" to the tender acoustic back-and-forth of "Only Good," Only Good Nites is a concentrated blast of an artist working at the top of their game—strange and socially distanced times be damned.
Margaret Stutt may no longer call Milwaukee home, but her long-running Pezzettino project still boasts plenty of hometown ties. Lisa Ridgely, Chris DeMay, and Allen Coté all appear on the five-track Venus, lending their expert playing (and production) to Stutt's haunting and poetic confessionals. The achingly beautiful "Quake" is worth the price of admission alone.
Rum Revere is the wonderfully warped pandemic-era solo project of longtime Milwaukee drummer and musician Brock Gourlie. With little more than various samplers and some time off of work, Gourlie released not one, not two, but four collections of instrumental Rum Revere music in 2020. The Aye Aye EP is arguably the best; "That's Just Fine" is a deranged dance-floor rave-up, while "Amen With Del" takes cuts of John Candy's "You wanna hurt me?" speech in Planes, Trains And Automobiles and pairs them with Enya's iconic "Orinoco Flow."
The follow-up to 2019's Self Checkout EP, Sc2 features veteran rapper Yo Dot in prime form, swinging for the fences and delivering some of his most swaggering and self-assured tracks yet. Opener "YeaMan" is irresistible, while closer "Sometimez" is filled with raw sentiments: "They cattled my community then bought us out / Gentrified and dropped us at the slaughterhouse / Police tell me to put my hands up, don't resist / Then gun me down in bullets 'til I don't exist."
TYLER'S 5 FAVORITE MILWAUKEE EPs OF 2020
Cairns – This Is Also The Place
At the tail end of a year in which Cairns also released its boundary-nudging empty space // sacred place album, the eternally active and continually growing project released This Is Also The Place. The EP finds the band—primarily, its founding member and singer John Larkin—going back to basics on five lo-fi and self-recorded songs that feature the bandleader's nylon-string acoustic guitar and hushed vocals as the primary instrumental vehicles that bring the release to delicate and immersive expanses.
Birds—the follow-up to 2018's My Mother The Moon—finds the dynamic duo of Sarah Vos and Dan Wolff (and a few featured players) bringing Dead Horses' well-established roots stylings to new territory. The stripped-down quintet of songs is a brief but memorable effort that shines with mesmerizing standouts like "Birds Can Write The Chorus" and "All I Ever Wanted."
Even though experimental pop endeavor Golden Coins plays live "nearly never" and takes its sweet time to put out music, the husband-wife duo of Travis and Ashlee Whitty make it count when they do decide to dust off the project. Case in point: Golden Coins' new Fade Diagram, the group's first release in more than nine years. Over the course of the short (just over 20 minutes long) and sweet EP, the Whitty family is joined on eight lovely songs by Christopher Porterfield, Todd Umhoefer, Shane Leonard, Eric Arsnow, and even their son Arlo.
In 2017, Kevin and William Bush's synthwave project Immortal Girlfriend came onto the scene in a big way with the release of its Daybreak EP. While playing out frequently and taking advantage of exciting new opportunities the wonderful debut afforded them, the sibling duo also wrote enough material for a new EP. The long-awaited release, RIDE, is a six-song continuation of Immortal Girlfriend's trademark brand electronic sound with next-level production, memorable hooks, and a futuristic sheen.

Following a breakout 2019 in which NilexNile put out two albums, the up and coming Milwaukee rapper chased that productive year with event more (and even better) output in 2020. The crown jewel of NilexNile's 2020 material is Forest Of Giant, a five-song EP that showcases his smooth, dynamic lyricism and his prowess as a producer.
MATT'S 5 FAVORITE MILWAUKEE SONGS OF 2020
Daydream Retrievers – "Static On TV"
Dogs In Ecstasy – "I Died Shazaming"
Fuzzysurf – "You Belong In My Arms"
TYLER'S 5 FAVORITE MILWAUKEE SONGS OF 2020
adoptahighway – "I'm beginning to understand a little / about the reverse side of mountains"
B~Free & Quinten Farr – "Say It"
Ms. Lotus Fankh – "No Funerals"
FAVORITE MILWAUKEE RECORD THAT FUNCTIONS AS A CRITIQUE OF RETRO POP CULTURE BUT ALSO TOTALLY RULES
The Beat Index – Volume One: Juvenilia
Harrison Colby pulls off a neat trick with The Beat Index. Each song on Volume One: Juvenilia manages to be a tongue-in-cheek send-up of retro-addled pop music (dig the Strokes sound of "Record Collection," or the Gary Glitter vibe of "Brand New Somebody") without ever being too snarky or obnoxious. Instead, the record's 11 tracks are exactly the kind of effortless, endearing, expertly written pop tunes we've come to expect from the former NO/NO leader. Also, "Dead Mall Soundtrack (Love Is Vacant)" contains a great monologue about shoplifting holiday thongs. [Matt]
FAVORITE MILWAUKEE RECORD FROM A PANDEMIC SIDE PROJECT THAT SHOULD ABSOLUTELY KEEP MAKING AND RELEASING MUSIC AFTER ALL THIS IS OVER

As a member of GGOOLLDD, Nicholas Schubert has helped craft some of the catchiest and most upbeat synth-pop earworms Milwaukee has heard in quite some time. Unbeknownst to most GGOOLLDD fans, Schubert—who grew up listening to bands like HIM and New Order—also has a darker artistic side that was fighting to get out. In October, that aural alter ego bubbled to the surface, when the keyboardist and multi-instrumentalist released Testamental under the name project name of BLOOD. The collection of 10 songs is chock full of swelling synths, bleary production, blunt vocals, and enough standout tracks to make the side project's impressive debut something we hope to hear more from, even if/when the world returns to "normal." [Tyler]
FAVORITE MILWAUKEE RECORD I LISTENED TO WHILE I WAS GRILLING OUT THIS SUMMER
Go figure that one of the highlights of my summer was…grilling out. Yes, week after week, it was just me and a dinged-up Smokey Joe on my concrete slab of a fourth-story East Side "porch." Oh, and L'Resorts were there, too, providing a constant soundtrack of marimba-tinged melancholy. Not that Bad Love is brat-and-burger background music—it's an album brimming with sunniness and sadness, and an album that will always remind me of Summer 2020. The good parts of Summer 2020, that is. [Matt]
FAVORITE MILWAUKEE RECORD THAT COULD SERVE AS THE SCORE FOR THE YEAR 2020
Nicholas Elert – Infinity Gate

If asked to assign one Milwaukee album to represent the way 2020 has felt, we'd point you in the direction of Nicholas Elert's just-released Infinity Gate. The Cream City composer's latest is marvelous mood music, with nine otherworldly electronic tracks that take listeners to frantic, occasionally uncomfortable, deeply dour, and imposing places over the course of its almost 40-minute runtime. In many ways, this year has felt like a dystopian horror film set in the cold and unrelenting realm. And Infinity Gate could absolutely serve as its score. [Tyler]
FAVORITE MILWAUKEE SONGS THAT NAME DROP DAVID GRUBER
Yo Dot – "YeaMan"
Mari Boy Mula Mar – "David Gruber"
As if Yo Dot's David Gruber shout-out in "YeaMan" wasn't enough ("Talkin' one call / Hit and run, David Gruber"), 2020 saw Mari Boy Mula Mar dedicate an entire song to the Milwaukee mainstay. Just two songs? That probably wasn't all. [Matt]
FAVORITE MILWAUKEE ALBUM/RECORD ARTWORK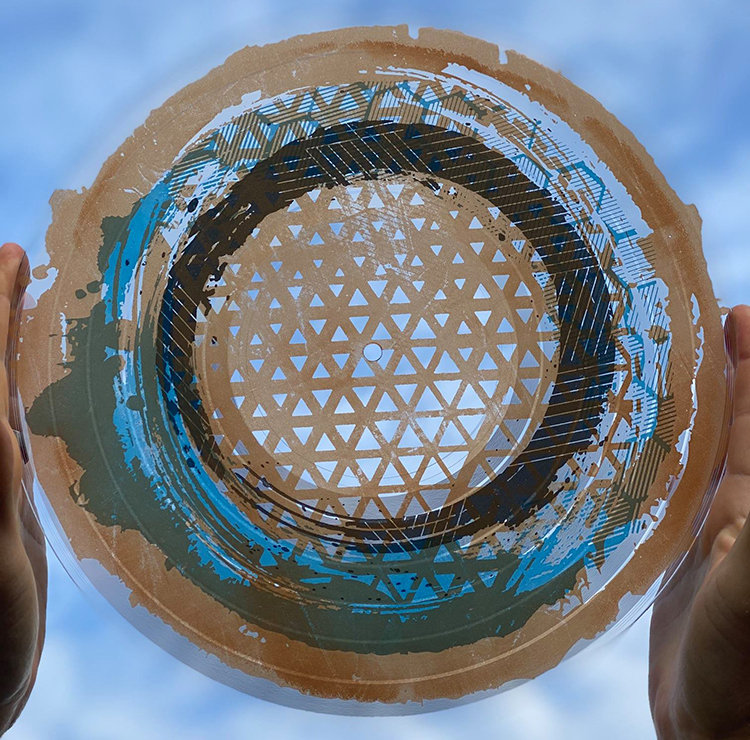 Summoner, the latest effort from Sam Sumner—an electronic musician who releases material under the Hot Science moniker—is an altogether excellent six-song EP. Moreover, the release also has far and away the best album artwork we've seen this year. Summoner was briefly available on a single-sided 12″ vinyl lathe, which Little Elephant Custom Vinyl cut by hand. Triple Eye Industries co-owner Francisco Ramirez of Bureau of Print Research & Design screen printed on the blank side. Unfortunately, only 26 of these beauties were made, and they're long gone. [Tyler]
FAVORITE MILWAUKEE SONG I PLAYED FOR MY KID EVERY TIME WE CROSSED THE MILWAUKEE RIVER
Pete Freeman – "Milwaukee River"
Pete Freeman's excellent Meat & Potatoes is stuffed with breezy folk ditties shot through with a winking sense of humor. Take "Milwaukee River," a song about catching old carburetors in said river ("But it was catch and release, so we gave back that beast,") swimming in said river ("If I took a dip right now I'd probably grow an extra leg"), and some pedal tavern revelers getting gobbled up by a "big bad ugly river monster" in said river. I must have played this song 50 times this year every time my kid and I crossed the Milwaukee River on our way to my office/her classroom (thanks, virtual learning!) It never failed to bring the house down. [Matt]
FAVORITE MILWAUKEE LIVE RECORD
Peter Mulvey and SistaStrings – Live At The Cafe Carpe
With all due respect to Chicken Wire Empire and the band's two Live From Deutschland live albums they put out this year, we give a narrow live album edge to Peter Mulvey and SistaStrings. In Live At Cafe Carpe, the veteran Milwaukee-born troubadour called upon SistaStrings to join him on stage and breathe new life into his material at the cozy and inviting eponymous venue in Fort Atkinson, Wisconsin. This record serves as a reminder of how magical live performances can be. [Tyler]
FAVORITE MILWAUKEE COVER OF AN OLD MILWAUKEE SONG
Abby Jeanne – "Stop And Listen"
Up until this year, The Shag's groovy 1967 garage-rock classic "Stop And Listen" was one of Milwaukee's Great Semi-Obscure Songs. But thanks to a scorching cover by the indomitable Abby Jeanne, the song was everywhere in 2020. "I always felt like this tune follows me around throughout my life. Even the first time I heard it, I got that special feeling like I was supposed to hear it. It never gets old," Jeanne said. We couldn't agree more. [Matt]
FAVORITE MILWAUKEE COVER OF AN OLD TOM PETTY SONG
Following a huge 2019 that featured an excellent new album, frequent tours, and a co-writing credit with none other than Bob Dylan, Trapper Schoepp laid relatively low in 2020 due to pandemic-specific reasons entirely out of his control. Though he kept fairly quiet this year, he did manage to record a few tremendous covers, including a take on Warren Zevon's "Keep Me In Your Heart" and re-imagined versions of TWO Tom Petty songs. We love Trapper's "Free Fallin'" cover, but his soft and soothing rendition of "Walls" takes the cake. [Tyler]
FAVORITE MILWAUKEE COVER OF AN OLD SHERYL CROW SONG
Vinz Clortho – "If It Makes You Happy"
Back in 2019, Milwaukee supergroup Vinz Clortho released its debut EP, Fool's Paradise. This year's follow-up (handily titled Fool's Paradise II) is a self-described "grab bag of B-sides," but what a grab bag it is. Rounding out the collection of swirling psychedelia and tropical respites is this dreamy, six-minute take on Sheryl Crow's 1996 hit "If It Makes You Happy." Who knew the endlessly sunny Sheryl Crow and a haunting shoegaze vibe would go so well together? Time to get down. Real low down. [Matt]
FAVORITE MILWAUKEE HOLIDAY SONG WE DIDN'T KNOW WE NEEDED IN OUR LIVES

Telethon – "Christmas Burger"
Name a more iconic duo than Christmas and burgers. We'll wait. They come together in Telethon's awesome new holiday anthem. [Tyler]
FAVORITE MILWAUKEE RECORD THAT COMES COMPLETE WITH AN ACCOMPANYING 8-BIT VERSION (AND A VIDEO GAME)
Space Raft – Positively Space Raft
Space Raft's Jordan Davis went all out in 2020 when he took his band's already excellent Positively Space Raft record and used it as inspiration for an NES-style video game. Space Raft The Game is a riot of old-school graphics and play mechanics mixed with oodles of Milwaukee locations (Cactus Club, High Dive, Humboldt Park) and characters (Kelsey Kaufmann, Mark Waldoch, other bands like Holy Shit!) Oh, and there's the accompanying Approximately Space Raft record, an 8-bit reimagining of Positively Space Raft that scores the game.
WMSE GUEST LISTS
We asked a few of our pals at WMSE 91.7 to share their favorite Milwaukee records of 2020. Here they are!
CAL'S 5 FAVORITE MILWAUKEE RECORDS OF 2020
adoptahighway – Coaxing A Ghost Into The Room
Cashfire Sunset – Age Before Beauty
Johanna Rose – Only Good Nites
Randall B. – Huett
Shroud Of Despondency – The Silent Note Of The Coldest Night
CHRIS' 5 FAVORITE MILWAUKEE RECORDS OF 2020
The Beat Index – Volume One: Juvenilia
DaveKevinAdam – Lonely Cactus
Rexxx – Pure Pleasure II
Soup Moat – Be Brave, Run Away
Space Raft – Positively Space Raft
ERIN'S 5 FAVORITE MILWAUKEE RECORDS OF 2020
Cashfire Sunset – Age Before Beauty
Field Report – Brake Light Red Tide
Joe Wong – Nite Creatures
Operations – Fog Museum
Space Raft – Positively Space Raft
SID'S 5 FAVORITE MILWAUKEE RECORDS OF 2020
Blood – Testamental
Dogs In Ecstasy – Welcome Back
Juiceboxxx – It's Easy To Feel Like A Nobody When You're Living In The City
Rexxx – Pure Pleasure II
Space Raft – Positively Space Raft
Exclusive articles, podcasts, and more. Support Milwaukee Record on Patreon.
---
RELATED ARTICLES
• The 25 best Milwaukee albums of 2019
• The 25 best Milwaukee albums of 2018
• The 25 best Milwaukee albums of 2017
• The 25 best Milwaukee albums of 2016
• The 25 best Milwaukee albums of 2015