Our fat-free, dolphin-safe Milwaukee events calendar is chock-full of things to do, but only a handful of events are worthy of the lofty honor of "Record Recommended" (patent pending). Here are our recommendations for October 31 – November 6, 2022.
MONDAY, OCTOBER 31
Videovomit's VHS Night: 'Halloween III: Season Of The Witch' + 'Creepshow' @ X-Ray Arcade
Stop by Cudahy's X-Ray Arcade on this All Hallows' Eve and watch two horror classics the way they were meant to be watched: on VHS! First up is the once-reviled-but-now-celebrated Halloween III: Season Of The Witch, a.k.a. the one that has nothing to do with Michael Myers and instead involves Tom Atkins trying to take down an evil Halloween mask company, as god intended. Next is the original Creepshow, a.k.a. the one where Leslie Nielsen buries Ted Danson in the sand and Stephen King turns into a space plant. Both films absolutely rule.
Matthew Davies (record release) + Natural Satellite @ Circle-A Cafe
Milwaukee musician Matthew Davies describes himself as a "songwriter, singer, swimmer, and father of four." That's quite a load, even without his regular gig as frontperson for local four-piece Thriftones. Now, Davies has recorded a solo album of affable and eclectic tunes, Skywriter. Describing the title track, Davies says: "Essentially a subconscious escapist fantasy. Fatherhood is easily the most rewarding and joyful part of my life but I sometimes long for solitude, adventure and the unknown. Creating a character who is daring, arrogant and flying solo above the world must have been what I needed when I wrote this tune…and airplanes are cool."
Cosmic Country Showcase: Tobacco City @ Cactus Club
VOYAGER: Stand Up Spooktacular @ Landmark Lanes
TUESDAY, NOVEMBER 1
WMSE Local/Live: Dead Horses @ Anodyne Walker's Point Roastery
Accomplished Milwaukee-based Americana duo Dead Horses recently celebrated the release of their latest album, Brady Street. Primarily recorded during the height of the COVID lockdown, the record—in the band's own words—"turns inward and reflects the introspection many of us encountered over the course of the often-melancholy pandemic." It's a lovely piece of work, highlighted by the twilight-hour ode to the titular Milwaukee street. See Dead Horses—a.k.a. Sarah Vos and Daniel Wolff—play selections from Brady Street (and more!) at this free live taping of WMSE's Local/Live.
Kevin Morby + Coco @ Turner Hall Ballroom
WEDNESDAY, NOVEMBER 2
Midweek Music: The Door Stoppers @ Crafty Cow Tosa
Midweek Music is back! Join us at Crafty Cow Tosa on Wednesday nights in October and November for a total of eight Midweek Music performances. There's no cover for these all-ages shows, which run from 7 p.m. to 8:30 p.m. If a free weeknight show isn't already great enough on its own, Crafty Cow Tosa will offer $4 Indeed Brewing Company pints. They'll also have a "Cheap Date" special, which includes two entrees, an appetizer, and two drinks for just $39. This week: Aidan White and his vintage '30s-'50s group The Door Stoppers.
The Goo Goo Dolls @ The Pabst Theater
The Silos + Liv Mueller @ Anodyne Walker's Point Roastery
The 5 Card Studs @ Nashville North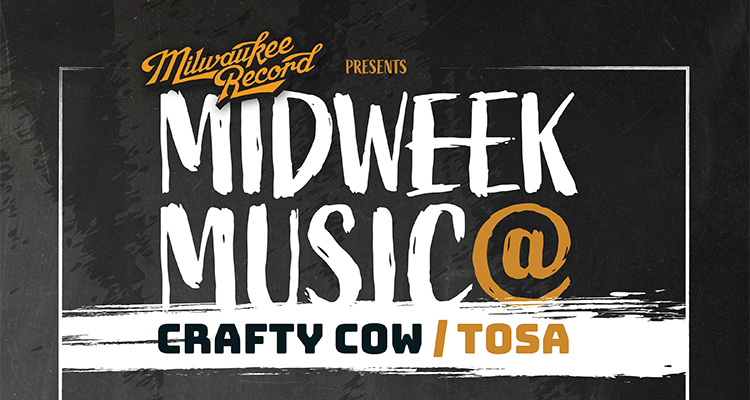 THURSDAY, NOVEMBER 3
REYNA + You Win !!! @ Cactus Club
Vic and Gabby Banuelos have been fixtures of the Milwaukee music scene for a decade. After changing their name in 2016 (the band went from Vic And Gab to the more stylish and succinct REYNA) and shifting sonically towards electro pop, the sisters spent the next few years getting acclimated with the industry. From co-writing with prominent hitmakers to recording in legendary L.A. studios, REYNA was checking boxes that a majority of Milwaukee acts could only dream of. Now, the sisters Banuelos are finally ready to celebrate the release of their excellent five-song EP You Could At Least Say Goodbye. Fellow electro-pop duo You Win !!! will open this can't-miss show.
Video Vision + CONVERT, Lavish Waste @ X-Ray Arcade
Humbird + Sprig Of That @ Anodyne Walker's Point Roastery
The Smithereens featuring guest vocalist Marshall Crenshaw + Colin Peterik @ Potawatomi Hotel & Casino
FRIDAY, NOVEMBER 4
Dark Star Orchestra @ The Riverside Theater
Hot off Widespread Panic's four-night residency at The Riverside Theater, Grateful Dead tribute act Dark Star Orchestra sets up shop for a two-night Riverside stint. Says keyboardist and vocalist Rob Barraco: "For us it's a chance to recreate some of the magic that was created for us over the years. We offer a sort of a historical perspective at what it might have been like to go to a show in 1985, 1978 or whenever. Even for Deadheads who can say they've been to a hundred shows in the '90s, we offer something they never got to see live."
Xposed 4heads + Fuzzysurf @ Linneman's Riverwest Inn
There aren't many certainties in life right now, save for death, taxes, and everything being awful all the time. Oh, and the gleefully geeky and goofy sounds of long-running new wave Milwaukee band Xposed 4Heads! In the video for "Kink In The System"—a highlight from the group's 2021 record Planet A' Go-Go—frontman Mark G.E. assumes the role of an institutionalized truth-teller. "There's a theory without any facts," he begins, before spouting off about thought-controlling radar, idea-stealing insects, and Roswell. It's all set to the group's signature Devo-esque sound, and accompanied by the group's retro-DIY video production.
The Cult Of Nasty + Bev Rage & The Drinks, Rat Bath, Delicious Monsters @ X-Ray Arcade
Tenci + Apollo Vermouth, 9 A.M. @ Cactus Club
SATURDAY, NOVEMBER 5
Clerks III: The Convenience Tour @ The Pabst Theater
Does the world really need another Clerks film? Sure, why not! Hell, perhaps director Kevin Smith can make an even better case for the new film when he screens it tonight at Milwaukee's Pabst Theater. Yep, hot off that time Smith did not appear at the Mooby's pop-up at Up-Down MKE in 2021, he will appear at this traveling roadshow event for a post-film Q&A.
Sleepy Gaucho + Diet Lite, Dandy L. Freling @ The Cooperage
Lost Tribes Of The Moon + High Gallows, Emissary, Cryptual @ Cactus Club
Man Random + Doubter, Handmade Wolves, Socially Suspect @ Bremen Cafe
Lake Drive + Uncle Muscle @ High Dive
Dark Star Orchestra @ The Riverside Theater
SUNDAY, NOVEMBER 6
Milwaukee Record Halftime Series: Florida Brothers Band @ Cactus Club
Our Milwaukee Record Halftime Show series has returned! This season, we've assembled a stacked roster of 16 performers that will provide FREE entertainment during halftime of Green Bay football games. Miller High Life, Miller Lite, and Rehorst Vodka Bloody Marys will be on special. Meanwhile, Awkward Nerd Events will occasionally pop by for giveaways to their upcoming events and other fun complements to the in-game/on-stage action. There will also be touchdown shots (both regular and N/A)! This week's Halftime Show features a performance from delightful wrestling-obsessed pop-sludge group Florida Brothers Band.
Will Sheff / Okkervil River + mmeadows @ The Back Room @ Colectivo
After nine albums and countless accolades, Okkervil River frontman Will Sheff is putting his group to bed. Sheff's new album under his own name, Nothing Special, is an alternately gorgeous and painful album, full of uncertain futures and reckonings with the past.
PALM + Water From Your Eyes, Large Print @ Cactus Club
Exclusive articles, podcasts, and more. Support Milwaukee Record on Patreon.