Our fat-free, dolphin-safe Milwaukee events calendar is chock-full of things to do, but only a handful of events are worthy of the lofty honor of "Record Recommended" (patent pending). Here are our recommendations for January 9-15, 2023.
TUESDAY, JANUARY 10
How To Build A Sustainable Music Career + Collect All Revenue Workshop @ Nō Studios
"Emily White is Partner at Collective Entertainment and the Founder of #iVoted Festival. She is the author of the Amazon #1 best-selling: How to Build a Sustainable Music Career & Collect All Revenue Streams and hosts the #1 Music Business podcast globally of the same name. The podcast has charted on six continents with listeners in 115+ countries. White is bringing Season Two of her hit podcast to Nō Studios as a live podcast taping and interactive workshop to solve musicians' problems and answer audience questions in real time. This workshop series covers the entire modern music industry—from creation to execution or recording to release. While ensuring you're not missing a single revenue stream along the way. The How to Build a Sustainable Music Career & Collect All Revenue Streams live podcast taping + workshop series is being produced by Nō Studios from Jan.10th—Feb. 18th."
WEDNESDAY, JANUARY 11
Mr. Nice Guy Presents: Plvgues + Colorblind Chameleon, Robot Witch, RIOTNINE! @ Cactus Club
It'll be a loud, psych-y, witchy night at Cactus Club when Mr. Nice Guy (a.k.a. Milwaukee music writer and podcast host Ben Slowey) brings a quartet of solid local acts to the stage. Colorblind Chameleon and and Robot Witch will supply the psych, while Plvgues and RIOTNINE! will bring the electro and punk, respectively.
THURSDAY, JANUARY 12
Felonious Munk @ The Laughing Tap
Chicago-based writer, actor, and comedian Felonious Munk—whom you might recognize from his roles on For Life, Block Party, The Nightly Show With Larry Wilmore, or his many years on stage at comedy clubs all around the country—heads up to Milwaukee to perform a total of three times at The Laughing Tap January 12-14.
Midwinter Gaming Convention @ Hilton Milwaukee City Center (through January 15)
Since its start over 20 years ago, the Midwinter Gaming Convention has been a source of non-digital gaming fun during the dead of winter. Get ready for four days of family events, board games, creator-run tabletop role playing games, live action role playing events, miniatures, and more.
An Evening With John Gurda @ Milwaukee County Historical Society
One word: GURDA. Some more words, from the event description: "Join us for an evening with John who will present his work 'City of Nations: The Promise and Challenges of Diversity in Milwaukee.' John will be available for a Q&A after. His new book Brewtown Tales will be available for purchase, and he will happily sign them. MUST purchase tickets to reserve your spot- we may sell out before the event, so purchase in advance!"
Clementine + LoBi, Rustix @ Bremen Cafe
Ivory Daze + The Credentials, Spoy, Geology Club @ Cactus Club
FRIDAY, JANUARY 13
Sprecher Mocktail Creation & Tasting @ Sprecher Brewing
"Choosing to cut back? Interested in learning more about exciting changes in the nonalcoholic space? We are happy to partner with Great Lakes Distillery for this mocktail workshop. Friday, January 13th at 6pm, join us at 701 W. Glendale Avenue for a hands-on experience creating cocktails (and mocktails) with Sprecher mixers, sodas, and locally distilled liquors from Great Lakes Distillery. We will be demonstrating how to create side by side recipes of each cocktail and its nonalcoholic option. Just as delicious and great options for a Dry January. Live music, hands on creation of each beverage, small bites to compliment cocktail/mocktails. Each guest will go home with a Sprecher mocktail mixing package."
Felonious Munk @ The Laughing Tap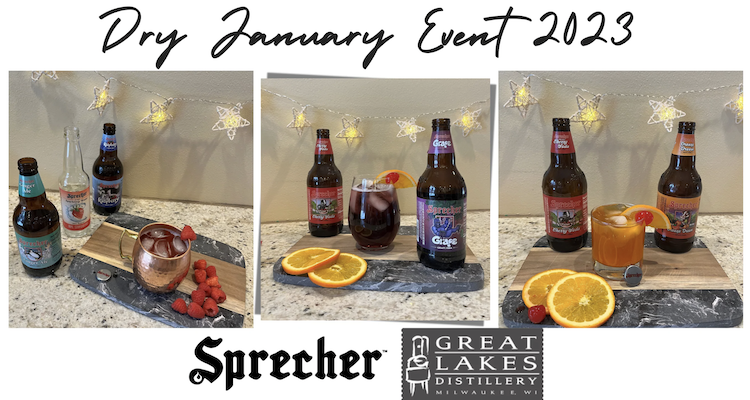 SATURDAY, JANUARY 14
Music Go Round + Volta Records Present: Marielle Allschwang + Crawlspace, Loveblaster, Combat Naps, Volta Records DJs @ Cactus Club
Twenty-twenty-two was another stellar year for Marielle Allschwang. While serving as artist in residence for an empowerment organization that serves survivors of sexual violence and human trafficking, Allschwang—in her own words—"collaborated with four survivor-writers who created poems that explore their experiences of joy, resilience, and renewal in the aftermath of sexual trauma." With the harrowing stories of those survivors as her guide, and with the instrumental accompaniment of her Visitations backing band, Allschwang combined that emotional source material with carefully crafted arrangements she thought could "hold and honor the words and voices" of the storytellers. Somewhere To Swim, a four-song EP, is the end result. It's powerful, vulnerable, difficult, and beautiful all at once.
The Rocky Horror Picture Show @ Oriental Theatre
How To Build A Sustainable Music Career + Collect All Revenue Workshop @ Nō Studios
Felonious Munk @ The Laughing Tap
SUNDAY, JANUARY 15
David Spade @ The Pabst Theater
David Spade became a household name in the '90s as a castmember of the then-stacked cast of Saturday Night Live. His fame only rose when he starred opposite pal Chris Farley in both Tommy Boy and Black Sheep. Since the, Spade has been featured in television shows like Just Shoot Me! and Rules Of Engagement, starred in Disney's The Emperor's New Groove, and continues to perform stand-up across the country.
Zero-Proof Party @ New Barons Brewing Cooperative
"Here at New Barons, beer is our game but we have love for all the zero-proof badies too! If you're doing Dry January and want to celebrate the halfway mark, if you don't drink, or if you're looking to do something social without boozing—today is for you! We will be expanding our N/A menu this month to include new varieties and hot drinks to warm your bones. BEER IT FORWARD! You can also buy a beer for your future self or a friend through our beer it forward board. Come grab a table and a board game and spend your Sunday with us!"
Big Head Todd And The Monsters @ Turner Hall Ballroom
Sorry Eric + Toadskin, Toecutter, Bunk Bed @ Cactus Club
Exclusive articles, podcasts, and more. Support Milwaukee Record on Patreon.