Last October, Boone & Crockett—in partnership with The Cooperage, Taco Moto, and Pedal Tavern—hosted a celebration of music, food, and seasonal attire known as "Flannel Fest." The 2019 iteration brought hundreds of people to the Harbor District bar on a brisk fall day/night to see performances by the likes of Poliça, Har Mar Superstar, REYNA, Klassik, Immortal Girlfriend, and many more. We were there. It was fun!
Of course, since we're currently living in an unending hell and we're still months (maybe years?) away from seeing live music in any meaningful in-person capacity due to people's selfishness and months of government inaction in midst of disaster, the 2020 iteration of Flannel Fest will have to be enjoyed in a livestream format. Even though it will be an entirely virtual affair this time around, the lineup is still absolutely worth watching.
This week, Boone & Crockett and The Cooperage announced the impressive, Milwaukee-focused list of performers, along with the date of this year's event. This time around, Flannel Fest will also serve as a way to benefit The Cooperage—which, like many other venues, has been hit especially hard by the COVID-19 pandemic—and the Save Our Stages campaign. Put on your favorite flannel attire (or just wear whatever, since you'll be at home) and tune to a Saturday, November 7 livestream with…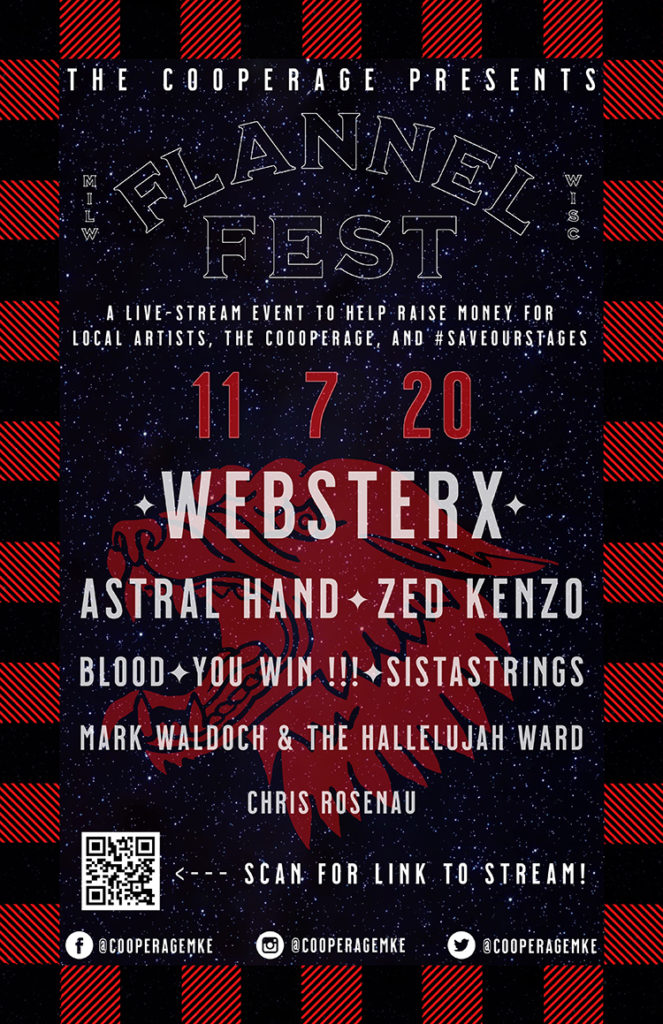 You can access the stream HERE or by scanning the QR code on the image above. You can get more info HERE.