It's been more than half a century since British Invasion and California groups like The Zombies and The Beach Boys took the American pop charts by storm. During Sunday night's Riverside Theater performances, The Zombies and founding Beach Boys member Brian Wilson proved their music sounds just as fresh today as it did in the late 1960s.
The large crowd gathered for the so-called "Something Great From '68" tour consisted of mostly Baby Boomers, and some Gen Xers and Millennials (including this Milwaukee Record writer) who likely prefer their parents' chart-topping tunes to the pop music of today.
Recent Rock & Roll Hall of Fame inductees The Zombies performed first. The British rock/pop group's touring band (founding members Colin Blunstone and Rod Argent, guitarist Tom Toomey, drummer Steve Rodford, and bassist Søren Koch) played four songs, including the breathy 1964 single "She's Not There" ("This is the first song I ever wrote," announced keyboardist and vocalist Argent) and the newly released disco-rocker "Merry Go Round." After that, original Zombies members—drummer Hugh Grundy and bassist Chris White—joined Blunstone and Argent to perform the 1967 album Odessey And Oracle in its entirety. The only member missing was guitarist Paul Atkinson, who died in 2004.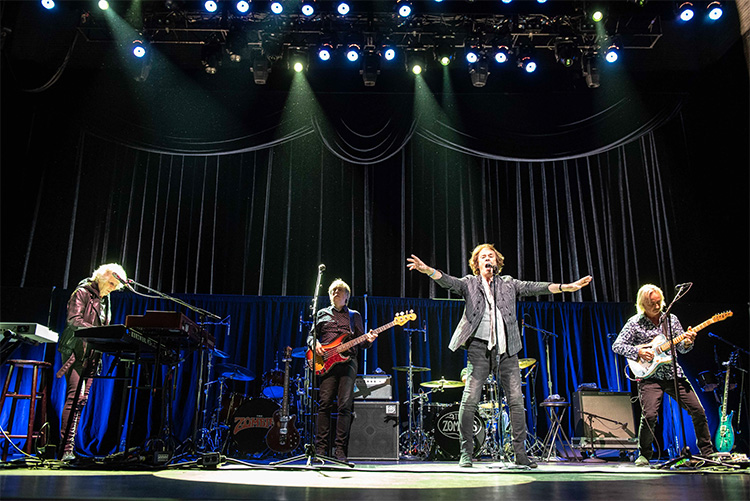 While each musician held their own during The Zombies' one-hour set—Blunstone, dressed in skinny black pants and a black shirt and blazer, still maintains clear, strong vocals after more than 50 years performing and recording—the bespectacled Argent, with his bushy head of white hair, was exceptional. He blazed through his signature rock organ solo on "Time Of The Season," and easily switched to gentler, melodic electric piano on songs like "A Rose For Emily." Argent also infused jaunty riffs into upbeat songs like "I Want Her She Wants Me," and employed a Mellotron, an instrument with a storied history. He explained to the audience that The Zombies recorded Odessey And Oracle at Abbey Road Studios, where the Beatles were recording their iconic Sgt. Pepper album at the same time. "John Lennon had left behind a Mellotron, and we just happened to use it on every track of the album," Argent said. The versatile keyboardist even played the baroque-sounding harmonium for anti-war song "Butcher's Tale (Western Front 1914)," which featured White on vocals.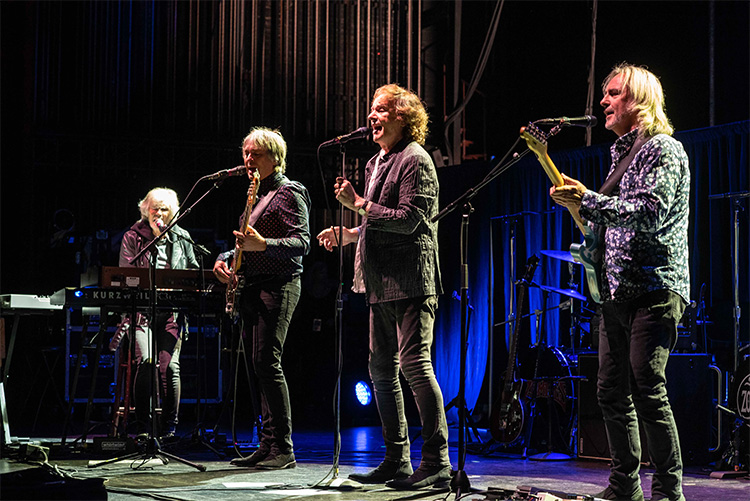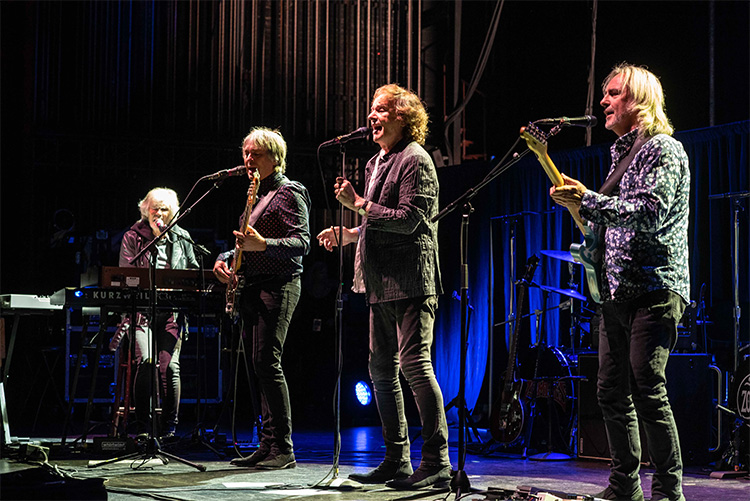 Brian Wilson's band featured Wilson on piano and vocals, and nearly a dozen additional members, including founding Beach Boys member and rhythm guitarist Al Jardine. Jardine's son, vocalist Matt Jardine, and guitarist and singer Blondie Chaplin, who joined The Beach Boys in the 1970s, rounded out the group.
Wilson has faced his share of tragedy. His brothers, founding Beach Boys members Dennis and Carl Wilson, have passed away (Dennis in 1983, and Carl in 1998). Sadly, the years, as well as past substance abuse and personal and mental health issues seemed to have taken a toll on his singing and piano-playing abilities. (Wilson had to postpone his summer tour.) Wilson had trouble staying in key, and seemed to slur his words while performing hits like the band's opener, the sunny "California Girls." The audience didn't seem to mind, however. They clapped enthusiastically after every song, especially after Wilson's poignant rendition of 1966's "God Only Knows."
Wilson's band was energetic and talented. Matt Jardine showcased his impressive falsetto vocals on hits like "I Get Around" and "Don't Worry Baby," and Chaplin demonstrated powerful guitar chops and vocals on Wilson's 2015 single "Sail Away." They did the celebrated singer and songwriter's music the justice it so richly deserves.