Milwaukee is in the throes of change: new buildings replacing old buildings, new businesses replacing old businesses, new spaces "activating" old spaces. It's a lot to take in. For decades, however, there's been at least one Milwaukee thing that hasn't changed: Colectivo Coffee Roasters. Well, sort of.
Yes, 2018 marks the 25th anniversary of the beloved local coffee empire. Plenty of things about the company have changed—the name, for one—but Colectivo's unwavering presence and dedication to Milwaukee have remained constant. As the company prepares for a slew of anniversary specials and events (more info on that in the press release below), relive its history with this nifty illustrated timeline. It's all here: the birth of Alterra, the growth of Alterra, the Colectivo name change (remember when everyone got so bent out of shape about that?), and more. (Click here for a larger version.)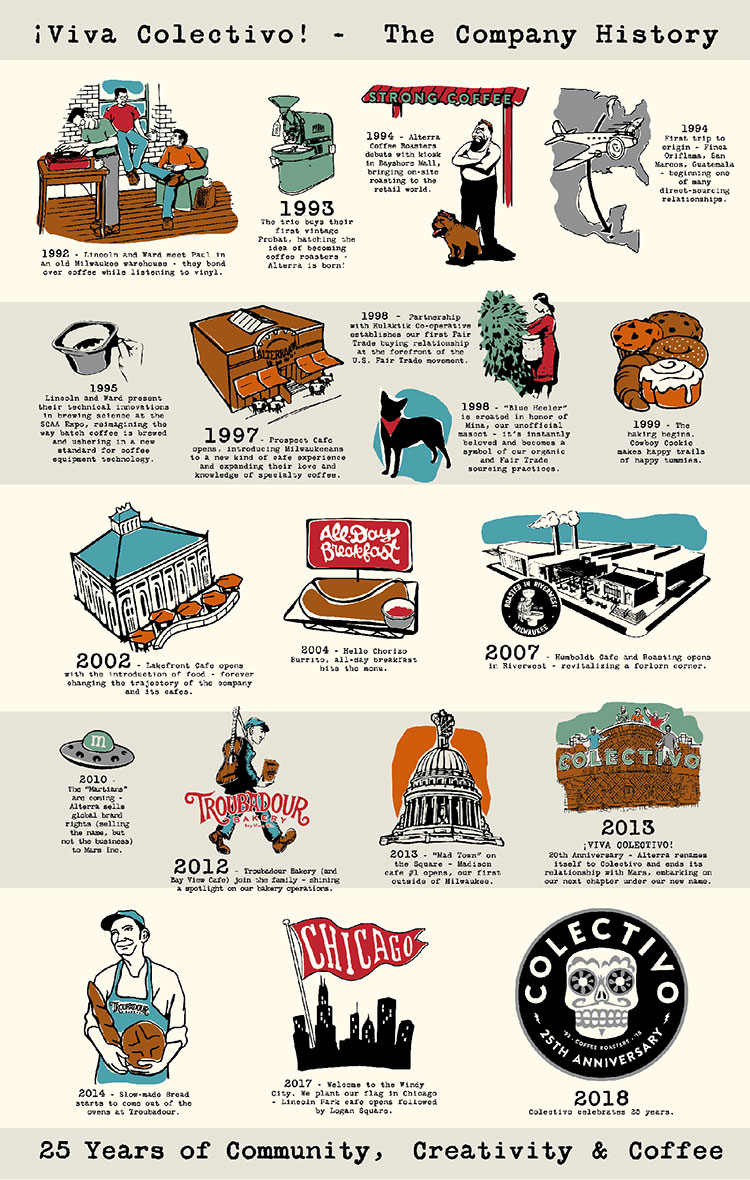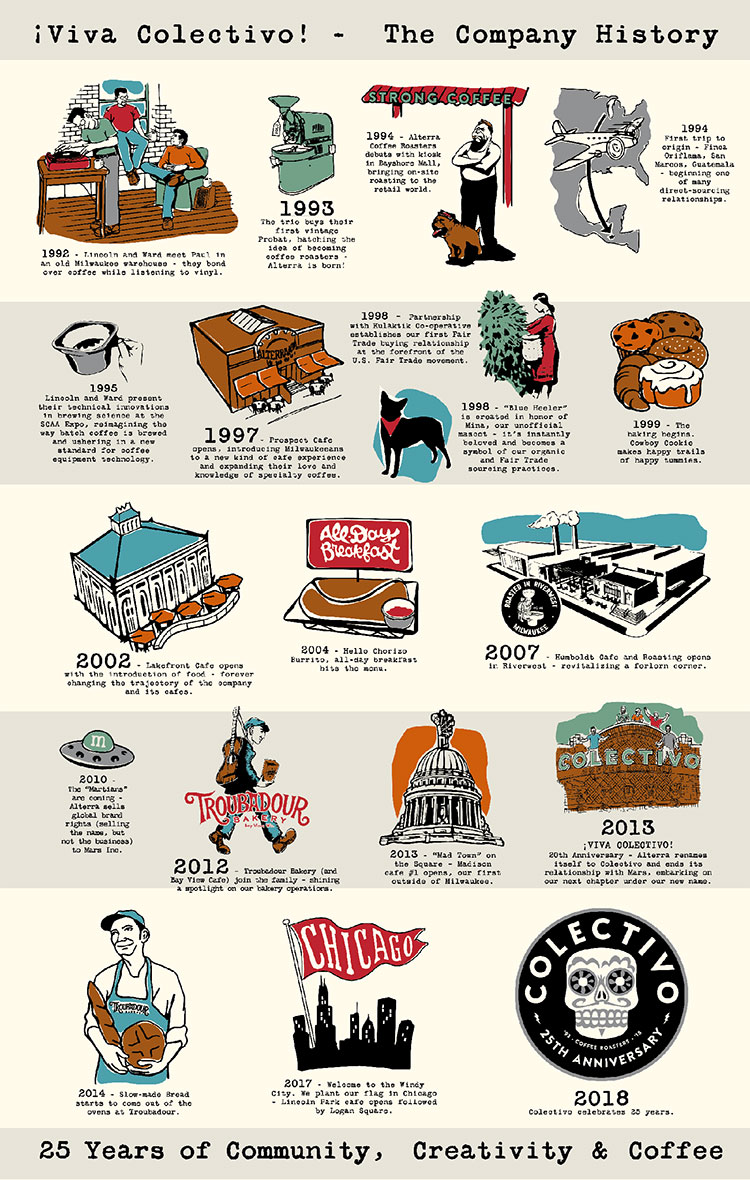 Twenty-five years after starting in the basement of a Walker's Point warehouse, Colectivo Coffee Roasters celebrates a milestone anniversary. Founded by Paul Miller and brothers Lincoln and Ward Fowler in 1993, Colectivo has grown into one of the nation's most respected roasters and a pioneer in specialty coffee.

Colectivo currently employs more than 600 people, from Troubadour Bakery—home of its scratch-made baked goods—to its Riverwest roastery, as well as across its 18 cafes located in Milwaukee, Madison and Chicago. "We are constantly amazed that what started as a small idea to simply do something really well has evolved into the organization it is today," says co-owner Lincoln Fowler.

Throughout 2018, Colectivo has been highlighting "25 years of community, creativity, and coffee" with plans to celebrate its unofficial birthday this September. Customers are invited to learn more about Colectivo's commitment to the community and a small sampling of the company's partnerships over the last 25 years with organizations like the Urban Ecology Center, Pabst Theater Group, Florentine Opera Company, Hunger Task Force, and local cycling groups.

A celebration of creativity can be seen not only in Colectivo's support of local music, arts, and film, but is also evident when stepping into a Colectivo cafe. A short film will be released later this year highlighting the company's longtime collaboration with husband-and-wife duo Joe and Janice Niedzialkowski and graphic designer Kevin Callahan. This team of talented artists is responsible for nearly all of the cafes' artwork, interior/exterior design, and fabrication ranging from gargoyles to lighting to custom-made furniture.

Twenty-five years after starting, Colectivo's work at origin and commitment to coffee quality has never been stronger. Coffee will be at the heart of upcoming celebrations this fall, including a Willy Wonka-style Silver Ticket Giveaway. Twenty-five lucky customers who purchase a pound of Colectivo's Limited Edition 25th Anniversary Blend may find a silver ticket inside that can be redeemed for a one-year monthly coffee subscription. Plans are also in the works to offer free cups of brewed coffee at all cafes as a one-day thank you to Colectivo customers.

In October, Colectivo will focus on its coffee sourcing relationships and looks forward to hosting producers from Brazil and Colombia, with public receptions highlighting the coffees and the individuals behind them.

Learn more and follow along at ColectivoCoffee.com or #CCR25.